Adventures
The Ariel Nomad, Top Gear's Freak of the Year
To celebrate the Nomad's freakishness, we've taken it surfing. In Scotland. In a storm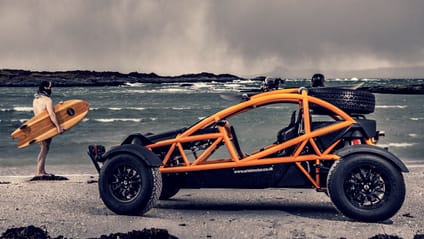 Everything is pain. And what isn't burning with the blunt shear of broken nerves has gone worryingly numb. Fingers have long since ceased to function with any kind of useful dexterity, and I'm pressing pedals with someone else's feet. Even more profoundly, the pool of water that has collected in my crotch has frozen, and I can't feel the ice, or the… area. I would cry, but my tears have congealed into unhappy slush.

But that's what you get when you commit to driving an Ariel Nomad in a particularly virulent Scottish winter. In a hurricane. Yup, this morning's forecast involved, and I quote, "hurricane force winds with speeds of up to 12 Beaufort" and "considerable widespread damage to vegetation and houses, with airborne debris".

Not what you want to hear when the car you are driving doesn't have sides, a roof, a windscreen that is more windbreak, and a 300+bhp supercharged 2.4-litre Honda four-cylinder that does without the comfort of traction control. By any standard, this shouldn't be fun.

Photography: Justin Leighton

This feature was originally published in the May 2016 issue of Top Gear Magazine.

Advertisement - Page continues below

More so if I describe accelerating through fourth gear on a single track rollercoaster of a back road and have the 'charged Nomad merrily light up the rear Geolander all-terrain tyres without any apparent effort, flick up and over a small rise and pull a small wheelie. Sounds terrifying, right? But we're on a soft, semi off-road set-up and the car lands like a thrown cat, settling with the kind of long-legged immediacy you only get with expensive damping and unstinting travel.

The steering is heavy and a bit odd, but at 1.7 turns from one lock to the other, there's enough precision to land where you need it. Strange, then, that even though most of my vital organs have begun cryogenic slowdown, the only bit of me that seems to be working properly is my mouth. Because it's frozen in a smile that reaches my back teeth. If you didn't think you needed this car in your life, know this: I am on the verge of having significant parts of my anatomy turn black and snap off, and I still think this is the most fun I've ever had.

There is a point to this. We at Top Gear have decided that the Ariel Nomad is possibly the most visceral, silly, happy little manifestation of driving currently available for road-going humans. It's not practical, or justifiable, or very good at shopping. It's just fun. An extreme sports super-motard of a car: there's very little point, but every reason to have a go.

Still, if the Nomad is the physical manifestation of automotive lifestyle culture that you can actually afford (a basic 235bhp, unsupercharged Nomad starts at a not-fantastical £30k-ish), then does it match up to more traditional thrilling pursuits? Keen on a bit of snowboarding and willing to surf, I decided to try all three in the same day. In northern Scotland. In winter.

Advertisement - Page continues below

Not one to back down, even in the face of blatant stupidity, I strapped my snowboard to the roof of the Nomad, borrowed a rather lovely handmade wooden Otter shortboard, and headed off to the Nevis Range in the Scottish Highlands. This, among other – probably more fundamental – things, was both a brilliant idea and a terrible mistake. The main thrust of which is that I should have gone to Spain.

The Nevis Range has had some truly wonderful snow this year. Unfortunately, the only way to reach it is via gondola, and due to screamingly high winds and a forest being gaily flung around by an enraged Mother Nature, the fiercely swinging pod lift was shut on safety grounds.

Attempts to get the rather wonderful people of the Nevis Range Mountain Experience to attach the Nomad to the gondola lines fail, which means round one then, to the Nomad. After all, you don't need to rely on other forms of transport to access the Ariel's peculiar type of wintery masochism.

For that, you just need to get in it, and drive. Anywhere. At pretty much any speed. Even though the off-road capable Ariel is more than capable of scaring a sports car from a standstill, the big grins are all available at 50mph, rather than 150. And the back roads around the Highlands make the point. These are not forgiving country lanes full of softish hedges and pillowy ploughed fields. These are rock and drop-facades with the feeling that if you take liberties, mercy will be in short supply.

And yet, with the Nomad there's an ability to deal with disastrous roads that makes you feel a bit giddy. The unbreakable, immortal sense of not needing to slow down for potholes or thumping subsidence or, I don't know, ditches and humpback bridges. Single-track and sighted? You can cut the odd corner and watch the suspension punch skyward and suck back down, spring stops clacking together in an uneven tempo.

Bumps that would have you braking and wincing in a hot hatch are smothered into faint concussions. Flick through the six-speed manual and rev with abandon, and you're greeted by the cruel whoop of the supercharger just behind your left ear, underlaid by a hiss of induction roar and a vague burr of exhaust. I start to laugh, but struggle as I realise my beard has frozen my mouth shut.

It's exciting, even when every passing lorry fires a horribly freezing personal tsunami directly into your face. Addictive, especially when you have the A830 through Glenfinnan and across the top of Loch Eilt, through Lochailort and down past Loch nan Uamh on the way to Mallaig. Everything is wrong, and yet so perfectly right. In these severe conditions, the Nomad is a mass of simple contradictions.

It's both easy to understand and yet quite hard – and fairly scary – to drive quickly. First up, the engine. It makes over 250lb ft from relatively low, pulls hard and revs cleanly to 7,000rpm. But the motor is far more powerful than the tyres are adhesive, and that leads to wheelspin, unchecked by electronics.

And these aren't performance-car tyres – they don't warm up and get stickier. If you do happen to find a dry bit, they have a tendency to roll over their sidewalls when you turn in, leading to the initial impression that the Nomad is about as precise as PPI marketing. But all the squish and roll, the brake-dive and acceleration-rear, hide a chassis that is perfectly stiff.

And because the essential structure of the Nomad is so rigid, the suspension reacts in precisely the same imprecise manner every time you throw it at something. After a while, you get used to it, and it becomes – and I think I'm not overstating this – utterly hilarious.

Advertisement - Page continues below

High-speed corners in the wet are thrilling/terrifying, bringing with them as they do a mixture of understeer and short-wheelbase oversteer that feels like trying to balance on a tightrope wearing rollerblades. But find the balance and symphony between gearchange, braking, steering and acceleration, and you can slither your way around a long corner swinging happily on the wobbly tip of the grip pendulum. Perfectly balanced between two states of being. Finding the Tao of the Nomad.

Mistime one of those vital beats, start to wander off-cadence, and the whole tune starts to fall to bits. But get it right, and it's pretty transcendental. Not as speed-scary as an Atom – because you're essentially going at half the velocity – but you feel you've achieved. So many modern sports cars leave you feeling like the least important or reliable component in their technical war game. Not so for Ariel. This is no domesticated, gelded thrill. This is a company that makes cars that are as much about the driver as the car.

But we have one final trial. And it's the most daunting. Surfing in the North Atlantic Ocean. It's -2°C, there's a storm blowing and the sea is surging. And I haven't got a wetsuit. The Nomad, unsurprisingly, fears no off-road beach approach, and oozes its way over the bumps and flotsam to find itself on some sort of poster for the Mallaig Tourist Board.

I unstrap the Otter – something you should never do unless among friends – strip, and head for the water, sensibly keeping my hat on. I'd just like to point out at this point that you should not do this. Not just because there were no actual waves to surf, but because jumping mostly-naked into a freezing ocean in minus temperatures makes your heart stutter and your entire body sort of… stall.

Advertisement - Page continues below

There were cheers from the assembled watchers, though I was more concerned by the fact that I had apparently sucked important parts of my anatomy back inside my body, and I couldn't feel my skin. A brief few minutes later, and photographer Justin mentions that I probably need to get out, because I have apparently turned grey and my lips are a jolly shade of blue. It's like being anaesthetised while fully mobile.

It's also the first time getting into a Nomad has ever felt warm, which leads me to an inevitable conclusion. There's nothing that compares to an Ariel Nomad. No extreme sport, or outdoor pursuit, no off-roader, or sports car, or combination of the two. It's a unique and utterly magnificent proposition. And it's Top Gear's Freak of the Year 2016.