Advertisement Feature
Ad Feature: Hyundai - Future Proof
Hyundai's new generation is here to save the world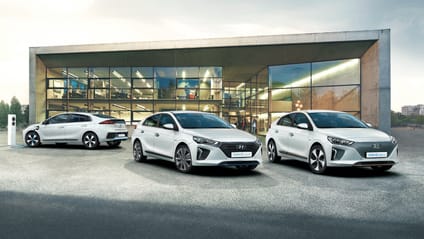 ADVERTISEMENT FEATURE by Hyundai
What is an advertisement feature?
Since making its very first car in the 1960s, Hyundai has always had one foot in the future. It made its first electric car in 1991, its first hybrid in 1995, and in 2013 – after several successful prototypes – launched the world's first production hydrogen fuel cell vehicle. And just wait until you see what's next...

Advertisement - Page continues below

All new Nexo: hydrogen here and now

Hydrogen isn't just a future fuel – it's right here, right now, and a big part of the zero emissions revolution. Just look at the all-new Hyundai NEXO.

Under the bonnet is an advanced hydrogen fuel cell, which makes electricity from an electrochemical reaction between hydrogen and air.

The electricity it produces directly powers the car via a 120PS motor. When the hydrogen runs low, you simply refill the tank, just like a traditional petrol or diesel car – it takes only five minutes – for a maximum WLTP electric range of 414 miles.

Its aerodynamic design creates a streamlined look, flowing rearwards like water, which just so happens to be its only tailpipe emission. Even better, the NEXO actually cleans the air as it goes, by absorbing polluting particulates then using the resulting pure oxygen in the fuel cell.

In fact, one NEXO driving for one hour purifies 26.9kg of air. That's the equivalent amount breathed in by 42 adults in the same time.

There's even more tech on board, including a system that displays a live view of your blind spots on a screen in the centre console while changing lanes. And the Remote Smart Parking Assist system enables NEXO to autonomously park or retrieve itself from a space with or without a driver in the car.

Kona Electric: for EV adventures

The KONA electric has a real-world range of up to 279 miles, and can be recharged to 80 per cent in just 75 minutes (when plugged into a 50kW rapid charger). So it's an everyday EV capable of real road trips too. And because electric motors deliver instant torque, it's also great fun to drive – whether overtaking or darting through traffic – and 0-62mph takes just 7.6 seconds.

Advertisement - Page continues below

Ioniq: the power of three

The IONIQ is the first car to offer three electrified powertrains in one body shape, giving you a trio of ways to futureproof your daily drive. There's a pure electric version, a plug-in hybrid and a hybrid, all wrapped up in the same efficient package. Inside the IONIQ, you'll find all sorts of clever materials, such as lightweight recycled plastic combined with powdered wood and volcanic stone, while the IONIQ electric's cabin is enhanced by copper décor elements. The IONIQ is also one of the most aerodynamic cars on sale today, with a streamlined silhouette and forward-thinking design from bumper to bumper.

Click to Buy: ready to check out?

With Hyundai Click to Buy, it couldn't be easier – you can configure your car, compare quotes, pay a deposit and apply for finance, all online within minutes. In some cases you can even have it delivered to your driveway.