News
The beginner's guide to Bentley
Le Mans wins, Pikes Peak wins, and much luxurious chauffeuring in between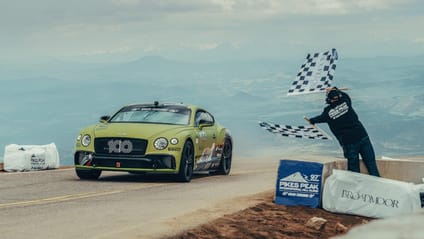 What's Bentley, and when did it start making cars?

Bentley makes some of the most luxurious and sought-after cars in the world, competing with the likes of Rolls-Royce to meet the needs of the world's wealthiest drivers. There are no budget hatchbacks or family crossovers here - if there isn't a billionaire in the back seat and a chauffeur at the wheel, you're probably not looking at a Bentley. Unless, as we'll discover, it's being timed...

The company was founded by Walter Owen Bentley in 1919. Preferring to be called W.O, his journey began as a nine-year-old when he bought and then dismantled a bicycle, just to see how it worked. An apprenticeship with Great Northern Railway followed, and when the First World War broke out, W.O. used his know-how to great effect in the Royal Naval Air Service, fitting fighter plane engines with aluminium pistons to greatly improve their power and reliability.

When the war was over W.O. was awarded an MBE and won £8,000 from the Commission of Awards to Inventors, giving him the funds to start his own car company. Bentley Motors was born, and its founder's ambition was "to make a fast car, a good car, the best in its class."

And boy did he do just that. After developing the EXP 1 and EXP 2, the Bentley 3-Litre entered production in 1921 and three years later it had won the 24 Hours of Le Mans.

Advertisement - Page continues below

Where are Bentleys built, and how many does it build a year?

Fast forward 100 years and Bentley employs more than 4,000 people. Although it's been owned by Volkswagen Group since 1998, every new Bentley today is built at the firm's headquarters in Crewe.

In 2020 Bentley sold 11,206 cars worldwide, a record number for the company made even more remarkable by the fact that it was achieved right in the middle of the You-Know-What-19 pandemic. The Americas made up 27% of its total global sales last year, although China was a close second making up 26% of all cars sold. As for the UK, only 10% of Bentleys built in 2020 went to homes on these shores.

What cars does Bentley build?

The Bentley line-up currently consists of three cars, although there are iterations of each that almost count as models in their own right. Well, nearly.

The most popular of the three is the Bentley Bentayga, an SUV that went into production at the tail end of 2015. The entry-level variant is the Bentayga Hybrid, which combines a 3.0-litre V6 turbo engine with plug-in hybrid technology. Then there's the V8, which harnesses the power of - yep, you guessed it - a V8 to develop 542bhp. The S model uses this same engine with a sportier chassis beneath while at the megabucks end of the scale is the Speed, which packs a mighty W12 capable of 626bhp yielding 0-62mph in 3.8secs and a 190mph top speed.

The Continental GT is Bentley's grand tourer: you can have it in coupe or convertible forms, with V8, Speed and Mulliner versions of each. The Speed unlocks a highly tuned version of Bentley's W12 to produce 650bhp and 664lb ft of torque, hitting 0-62mph in 3.5secs and reaching a dizzying top speed of 208mph. Meanwhile, the Mulliner is the go-to option of maximum emphasis on exquisite, hand-built detailing.

Last but not least is the Bentley Flying Spur, essentially a four-door version of the Continental GT. Again there are V8 and W12 options, but it's a fraction slower than the Continental GT with a top speed of 207mph. How ever will you cope.

Advertisement - Page continues below

What's the cheapest car Bentley builds? And what's the most expensive?

'Bentley' and 'cheap' aren't words that belong in the same sentence. But seeing as you've asked, the, er, least expensive car that Bentley makes is the Bentayga - the Hybrid and V8 models cost just shy of £150,000.

The most expensive is the Continental GT Mulliner at over £200,000. However, you can break that barrier on the standard car quite easily by playing fast and loose with the options list, as we found out a couple of years ago when we were let loose in Bentley's Commissioning Suite in Crewe.

What's the fastest Bentley ever built?

Depends on your definition of the word fast. The Bentley Speed 8 prototype that won the 24 Hours of Le Mans in 2003 had a top speed of 215mph, with power coming from a 4.0-litre twin-turbocharged V8 developed by Audi.

If you prefer your test of speed to focus more on cornering, acceleration and an ability to not fall off the edge of a cliff, then the limited edition version of the Continental GT that broke the production car record at Pikes Peak in 2019 is hard to ignore.

It took an impressive 8.4secs out of the previous record set by the Porsche 911 Turbo S, clocking an average of 69.8mph up the 12.42-mile hillclimb in Colorado, USA. This came a year after the Bentayga had set the record for the fastest SUV up the course, and Bentley is going for a hat-trick in 2021 with a modified Continental GT3. Yep, turns out not every Bentley is chauffeur-driven after all...

What's been Bentley's best moment?

It's hard to look past any of the occasions that Bentley has won Le Mans, especially those early victories in the 1920s which helped set the course of the brand for the century that's followed.

Its first victory came in 1924 - in only the second edition of the race - courtesy of a 3.0-Litre Sport driven by John Duff and Frank Clement, who beat an almost entirely French grid after completing 120 laps.

After a couple of years of not finishing the race, Bentley hit back with four consecutive victories between 1927 and 1930, and in 1929 it locked out the top four positions in the race.

Drivers included Henry 'Tim' Birkin, Glen Kidston, Dudley Benjafield, Sammy Davis and Woolf Barnato, who among others were known as the Bentley Boys. All drawn from various walks of British high society, the exploits of the Bentley Boys both on and off track "attracted the public's fancy and added a touch of colour, of vicarious glamour and excitement to drab lives", in the words of W.O. Bentley himself.

What's been Bentley's worst moment?

Few 100-year-old-plus car companies have got through a century of existence without coming close to financial ruin once or twice. The Great Depression of the 1930s saw Bentley fail to keep up with payments, and the company was eventually bought by Rolls-Royce.

Then in 1970 the aeroplane engine side of the Rolls-Royce business collapsed, and as a result the automotive department became a separate company. This was acquired by Vickers in 1980 and later sold to Volkswagen in 1998.

However, while Volkswagen got the Rolls-Royce factory and rights to the Spirit of Ecstasy mascot, the rights to the brand name and logo were still controlled by the separated Rolls-Royce aero-engine business. This entity sold these rights to BMW, and after a stand-off it was agreed that from 2003 onwards, only BMW could build cars badged as Rolls-Royce and only VW could sell cars with the Bentley badge. So the Bentley of today is the Bentley and Rolls-Royce of old rolled into one, while Rolls-Royce as we know it now is an entirely different company that began life in 1998.

Confused? Us too.

Advertisement - Page continues below

What's Bentley's most surprising moment?

Imagine starting your own car company today from scratch, armed with some engineering experience, an idea and not a lot else. Then after a few years grafting away with your first vehicle, you get a phone call from none other than the Queen to ask if she can buy one. That would be… unexpected.

But it's basically what happened to Bentley in its early years. Among its aristocratic customers were the Prince of Wales and the Duke of York, who later became King Edward VIII and King George VI.

When you've got future monarchs on your order books, you know you're doing something right.

What's the best concept Bentley built?

Even though Bentley is heavily defined by its heritage, you could argue that its best ever concept car is one that looks to the future. Every Bentley built from 2026 will be fully electric or a plug-in hybrid, after all.

The EXP 100 GT was Bentley's way of marking its 100th birthday in 2019, with a vision of what its cars could look like in 2035. The most striking element is that front grille, which isn't really a grille at all, as the vehicle is fully electric and doesn't need the cooling. It's made from a clear acrylic housing hundreds of LEDs that change pattern depending on what driving mode has been selected.

The scissor doors are suitably theatrical and the interior is just what you'd expect from Bentley: the wood inside is 5,000 years old. So no veneer in 'ere.

The electric powertrain can theoretically whisk you around in near silence for 430 miles. And should you instruct your chauffeur to put his or her foot down, Bentley claim the EXP 100 GT could do 0-60mph in 2.5secs and hit a top speed of 186mph.

Advertisement - Page continues below

Tell me an interesting fact about Bentley

Rolls-Royce has the Spirit of Ecstacy, Bentley has the Flying B. The mascot was designed by artist F. Gordon Crosby, and was first offered on the company's cars in the 1920s. By the 1930s an emphasis on silent performance meant that a sleeker, single-winged design was commissioned, but it wasn't popular and a dual-winged alternative was made.

The Flying B looked like it had gone for good in the 1970s when new health and safety laws banned ornaments on the grounds that driving around with a metal spike on your bonnet wasn't a great idea. But in 2006 it made a long-awaited return when the company struck upon a mechanism that made the Flying B fully retractable.