Best of 2018
Take a look at Italdesign's incredible collection
A few of TG's highlights from the famed Italian design house's history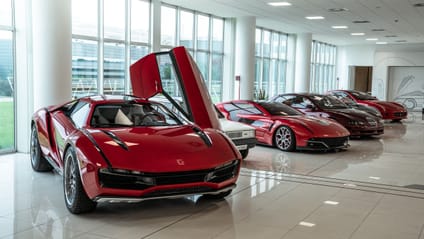 Aston Martin Twenty Twenty, 2001

For such a quintessentially British brand, Aston Martin's dalliances with Italy's carozzerie are well-documented. When Zagato rebodied the DB4 GT in 1960, it created what remains arguably the most beautiful Aston ever made. Bond's DB5 wore an Italian suit courtesy of Touring of Milan, easily the most famous Aston of all, but Italdesign had a crack at it with 2001's Twenty Twenty. As it happens, Giugiaro was a young tryo designer at Bertone in 1961 when the company created the sublime one-off DB4 GT 'Jet' car, so perhaps he felt there was unfinished business. If the Twenty Twenty was touting for new work, it was out of step with the ethos at Aston HQ as irascible new boss Ulrich Bez was getting his John Lobb-clad feet under the table and methodically refining his vision.

Advertisement - Page continues below

Based on a DB7 Vantage, and thus powered by a 6.0-litre V12, the targa-roofed Twenty Twenty's signature was a series of exposed and extruded structural elements, including huge door hinges that evolved Aston's classic wing vents. Plastic and carbon fibre body panels were screwed onto the aluminium 'exo-skeleton'. This was a very buzzy, turn-of-the-century idea, but we've checked and there's no sign of an inside-out Twenty Twenty influence coming in yer actual 2020 Aston. Or 2019.

History records it as the folly of an American megalomaniac. But in terms of pure design, the DeLorean is an epic distillation of Giugiaro's 1970s wedgey preoccupations (see also the Lotus Esprit, Maserati Boomerang and Porsche Tapiro), one that transcends the joke status that saw it star as a time machine in Back To The Future and go meta 30 years later in Spielberg's love letter to the 1980s Ready Player One.

Advertisement - Page continues below

Its development was concertinaed into 24 months, during which time DeLorean's ambitions for an ethical sports car collapsed, and the DMC-12 ended up with the lumpen Peugeot/Renault/Volvo 2.8-litre V6, a piffling power output of 130bhp, and laden with the broken dreams of an entire country. But it still looked absolutely sensational even as the FBI carted DeLorean off in 1982, and by Giorgetto, it still does now.

Post-Gallardo, and as the Huracan's face-lift ramps up for an early 2019 reveal, the idea of a 'baby' Lamborghini is firmly entrenched. But back in 1995, bacon sandwiches were dropped left, right and centre at the prospect of a small Lambo that would replace the Jalpa (a mere seven years after it ceased production) and slot in below the fearsome Diablo. The Calà, another fully functional Italdesign proposal, rocked up at the Geneva show that year, utilising the aluminium chassis and 395bhp V10 engine Sant'Agata had developed for its aborted P140 programme.

In the Piedmontese dialect spoken near Giugiaro's birthplace of Garessio, Calà translates broadly as 'look here! (NB: Countach is also a Piedmontese term, but it's a bit more… forceful.) VW bought Lamborghini in 1998, and the through line to the Luc Donckerwolke-designed Gallardo is obvious.

The 612 Scaglietti has its fans, but 2003's four-seater Ferrari is not blessed with what one might call conventionally attractive proportions. Nor is Ferrari known for being amenable to others taking the angle-grinder to its creations. Still, when Giugiaro decided he fancied commemorating his first 50 years as a car designer, what better present than a Ferrari clothed in your own one-off body? Cementing his status as a national treasure, Giugiaro was gifted a 612 chassis by then Ferrari President Luca di Montezemolo, without a lawyer's letter hidden in the glovebox.

Advertisement - Page continues below

Interestingly, rather than going off the visual deep end, the GG 50 is all about comfort, versatility and useability. It's 9cm shorter than the 612, and adds a fastback. The fuel tank was redesigned so the rear seats could fold fully flat; the great man wanted a car he could use with his family, but may have sown the seeds for 2011's Ferrari' FF in the process. In which case, he should have sent them a legal letter.

By Giugiaro's own estimation 'one of the most important projects in my career'. VW was in a mess prior to the Golf's launch, struggling concurrently to replace the ancient Beetle, cope with the soaring Deutsche Mark, as well as huge financial losses in Europe and the US. Giugiaro got the gig when former VW boss Kurt Lotz visited the Turin Show in 1969, and discovered that four of his six favourite cars were Italdesign-ed. Although beaten to market by the Passat in '73 and the Scirocco in '74 (also by Italdesign), the Golf's crisp shape and clever packaging was a hit with buyers worldwide, and saved VW's arse in the process.

Advertisement - Page continues below

The GTI began life as a secret project masterminded by the company's press office, approved in May 1975 with plans for just 5,000 units so it could be homologated for Group One touring car racing. By 1983, a whopping 462,000 had been sold. The example in the Italdesign museum is one of only two four-door MK1 Golf GTIs ever made. The other one was built for the Austrian conductor, Herbert von Karajan. Not that you could fit an orchestra in one.

No sooner had the 'new' Mustang appeared – and 2005's reboot was the best-looking 'Stang since the '65 original – than Giugiaro's son Fabrizio began badgering Ford's legendary styling director J Mays to let Italdesign re-dress it. Once again, this was a fully functioning one-off, not just a show pony Pony car. It's also shorter, lower and wider. The roof was made out of a crystal that filters out 100 per cent of the UVA rays, and there are scissor doors.

Three screens replace the side- and rear-view mirrors inside, and orange leather inside jostles with what Fabrizio Giugiaro calls 'horsehide', but is in fact… leather. The supercharged 4.6-litre V8 is good for 500bhp. NB: Giugiaro senior led a Mustang one-off programme while he was at Bertone, in 1965. Its rear window treatment is pure Giugiaro, and the car hasn't been seen in the flesh since 1966...

Way before VW bought out Italdesign, Group CEO Ferdinand Piech commissioned Giugiaro to create a Volkswagen supercar. The resulting W12 Syncro appeared at the 1997 Tokyo show, a piece of sublime Italdesign eye-candy that also prefigured Piech's ambitions to take VW into the upper echelons via Phaeton and Touareg, as well as reincarnate Bentley and Bugatti.

Concept car later morphed into a Roadster, and the more powerful Nardò – now producing 600bhp – that set a world record when it covered 4,809 miles at an average speed of 200.6mph in February 2002. The main goal was to demonstrate the robustness of the powertrain, so while Piech's luxury aspirations for Vee-dub may have stumbled, the car certainly did its bit.

Another one-off show car robust enough to really work – and over the sort of terrain it's aimed at. Apparently, and unsurprisingly despite still riding trials bikes at 80, Giugiaro senior wasn't much of an SUV fan until recently. But he's also pragmatic enough to know that SUVs have eaten the world, so here's Italdesign's take. In fact, it's a concept that the automotive world has yet to fully embrace: the supercar SUV crossover coupe.

The Parcour uses Lamborghini's 542bhp, 5.2-litre V10 and other bits and pieces purloined from the Gallardo, but with ground clearance up to 330mm, unique suspension, and four chassis settings. Can't climb walls or do that free-running thing that traceurs do, but it's not far off.

Despite his track record in the creation of unfeasibly beautiful cars – Giugiaro himself cites the 1967 Maserati Ghibli as his favourite – this could actually be his true masterpiece. Commissioned by Fiat to create an economy car to replicate the success of the Topolino, 500 and 600, this was the tallest of all possible orders.

Yet with its upright windscreen, plastic cladding, and astonishingly clever interior, the Panda demonstrated that Italdesign's genius wasn't just in the aesthetics of car design, it was also in engineering solutions. And, most of all, in adhering to the brief set out by the client.

Bugatti had recently been reactivated under the command of businessman Romano Artioli, who commissioned this one-off from Italdesign. Respectfully referenced the original Type 57 Galibier, pre-empted the later EB 218 (1999) and the even later (2009) aborted super-saloon that dusted down the Galibier name.

Debuting at the 1993 Geneva show, the EB 112 was powered by a 6.0-litre V12 and used a carbon fibre chassis and aluminium body. Italdesign is rumoured to have built one for a Monegasque client.

Shiver, shudder or thrill, according to Google translate. Not all of Italdesign's 21st century work hits the spot, but this one triggers the right sort of collywobbles. Powered by VW group bits including a 360bhp petrol-electric hybrid engine, Giugiaro claimed at the reveal that 'my intention has always been to design something that is close to industrial reality and could easily be released into the market'.

An Audi A7/Merc CLS/Porsche Panamera rival, with single-piece gullwing doors that reference the wonderful 1967 Lamborghini Marzal (a Bertone design, that one), the Brivido was proof that the old master still had plenty of, um, lead in his pencil. There's also a version in the Martini Racing livery, with a big wing.

With a carbon fibre chassis, lightweight composite body, and three electric motors, this was the first concept car done under Italdesign's excellent new design boss, ex-Alfa Romeo, ex-Lamborghini Filippo Perini.

It's a shooting brake, which we love. It also looks a bit like Perini's Lamborghini Asterion, which we also love.