Best of 2020
Has the new VW Golf GTI run out of ideas?
After the near-perfect Mk5 Golf GTI, did VW's classic hot hatch recipe go a bit stale?
Imagine you're browsing a giant museum dedicated to the history of cars. You've just crossed into The Great Hall of Hot Hatch fame, and the walkie-talkie tour-guide gestures to an immaculate VW Golf Mk1 GTI perched daintily on a plinth. "Here we have what's generally agreed to be the world's first hot hatchback," she trumpets. 
The tour immediately descends into a miniature riot as disgruntled Brits go into bat for the Mini Cooper, and a furious French family chokeslam a Swiss couple for dismissing the Renault 5 Gordini.
Advertisement - Page continues below
After the guide straightens her glasses and pockets her knuckledusters she continues, noting the faster, four-headlight Mk2 Golf GTI, and then its children's steep decline into middle-aged obesity with the frumpy Mk3 and Mk4 GTIs. "However, VW eventually got its act together, as the Mk5 GTI was released to huge acclaim, big sales and the title of Top Gear's 2005 Car of the Year. Please follow me to the gift shop."
The Golf GTI story is one of those fairytales all petrolheads can recite by heart, like Ford beating on Ferrari at Le Mans to avenge Enzo's refusal to sell his factory keys. It's folklore. It's got a beginning, a middle, there are heroes and villains, and after the Mk5 GTI we all lived happily ever after.
Except, the Mk8 GTI has come along now, and for the first time in a long while, it's a Golf GTI we can pick fault with. It's flawed. And what's more, the competition hasn't been asleep. Is it possible the GTI has got cocky and tripped up over its own reputation? Or is the Golf GTI's problem the very fact that we're all a bit allergic to change sometimes? That VW's damned if it mixes things up, and screwed if it stays the same?
Cars aren't built to live in exhibitions, so we've invited a couple of GTIs to the Top Gear test track instead. 
Advertisement - Page continues below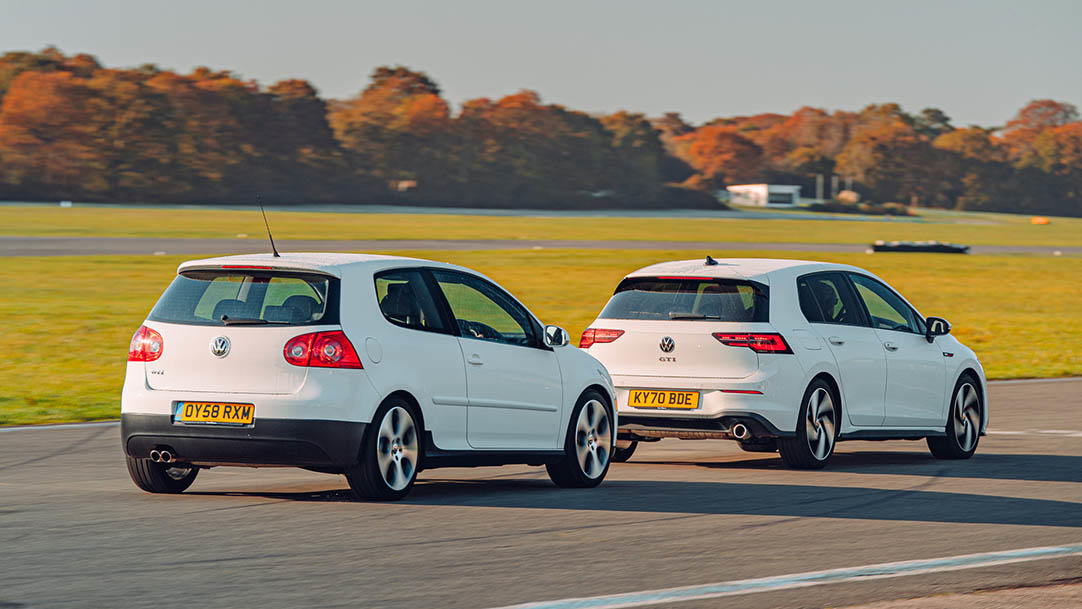 This particular Candy White Mk5 GTI might as well be a museum piece. It belongs to Volkswagen UK and it's done less than 4,000 miles from new. That means it still feels box-fresh, which summons up nostalgic memories for Top Gear's Ollie Marriage who ran a Mk5 Golf GTI as a long-termer back in 2005. "This was just one of those cars that you got in and thought 'this feels spot on' before you'd even left the car park."
I know what he means. While this is a young example, the Mk5 GTI is now over 15 years old. The Mk5 Golf predates YouTube and the iPhone. Its time on sale outlasted the entire existence of The Pussycat Dolls. 
Yet, it's aged a whole lot better than 'Don't Cha feat. Busta Rhymes'. The driving position feels suspiciously modern and Golf-ish. Look at the seats: bolsters just big enough to clasp you in the corners, but not so tall you risk a wedgie every time you climb aboard. Just like every hot Golf since.
Top Gear
Newsletter
Thank you for subscribing to our newsletter. Look out for your regular round-up of news, reviews and offers in your inbox.
Get all the latest news, reviews and exclusives, direct to your inbox.
The engine, distantly related to today's 2.0-litre turbo, makes a remarkably similar noise to the latest Mk8: flat and uninteresting on start-up, then gruff and purposeful as it picks up speed. The new car cheats a bit, and burbles through the speakers in Sport mode, replacing the volume muffled by its new emissions filters.
Ah yes, modes – that's what the Mk5 did without. There's an ESC-off button, but you can't muck about with the steering weight, stiffen up the suspension or re-map the throttle on the fly. So what? I've always suspected 99.5 per cent of Golf GTIs spend 99.5 per cent of their lives in one mode. Only the IFUs (internet forum users) swap the settings mid-journey. 
So, has VW got bogged down adding all this electronic garnish? It's hardly as if the Mk5 GTI is an unruly torque-steering hooligan. It's as docile as a recently fed Labrador – barely any firmer or fruitier than a normal Golf. Nowadays, 'modes' are as expected in a hot hatch as electric windows or fake carbon fibre trim. So, the 8th GTI has them – buried in the touchscreen's sub-menu dungeon – but it never needed the multi-personality garnish. That's why some people thought the Mk5 was boring, and everyone else bought one.
The 2005 GTI has a 2.0-litre turbo four-cyl engine with 197bhp. One and a half decades later, it still has a 2.0-litre turbo engine, with another 50bhp. You now get a limited-slip front differential as standard, and it's half a second quicker from 0-62mph. Looks like a lot, but the Mk8 GTI is actually one of the slower hot hatches around today. It's utterly nuked by the Hyundai i30N, Honda Civic Type R and Ford Focus ST, and next year's Hyundai i20N will keep it honest despite costing £10k less.
And yet that alchemy of splicing a chassis that's pointy and agile when commanded to misbehave – but otherwise just as placid as a normal Golf – has been honed into a freakishly rounded product. The Mk8 GTI is outrageously comfortable. As refined as a Passat. It'll do 35 to the gallon. 
In short, every other hot hatch, from a Suzuki Swift Sport to a Merc-AMG A45, asks for some sort of compromise in return for being The Quick One. The GTI just doesn't.
It has to fight harder with its family, though. In the Noughties, the only hot Golfs were the GTI and the V6, 4x4-drive R32. Now there's the R, the R with a Performance Pack, the GTE hybrid, the GTD, and not one but two GTIs. This one is the base spec. There's a 296bhp Clubsport inbound shortly. 
Perhaps VW is caught between a crematorium and a sex shop here. Damned if it does change anything, damned if it doesn't. Examples, you say? Easy. Take the looks. 
Besides its telephone dial wheels and red grille lipstick, the Mk5 is a gorgeously subtle machine. If you know, you know. The new Mk8's polka-dot foglights, tarty LED striplighting and fussy gills are trying very hard to get your attention, which is the job of a fast Ford or racy Renault, not a dignified GTI.
Driving the Golf is like watching University Challenge – you sit there quietly dumbfounded at its intelligence.
The old Golf has a better interior too. VW aced the Mk5's switchgear, the layout, the sheer common sense of everything. For the Mk8, it came over all wannabe Tesla and hid all the controls in the screen, or on touch-sensitive gloss panels. 
Result? This Golf is harder to operate than the old one, and the one before that. Actually, it's a bit of a disaster. Besides looking cheap and nasty, one member of the Top Gear team now sports singed eyebrows because he couldn't fathom how to turn down the heater. 
Obviously the new Golf has more features. Stuff that would've been only found on a Mercedes S-Class back in '05. There's radar cruise control, lane-following steering, a reversing camera and on-board wi-fi. Those will make it a safer, cleverer, connected car to live with. An extension of your Hey-Siri-how's-Alexa-where's-my-Amazon package life. Technology has marched onward. But what makes a great hot hatch has pretty much stayed where it was. 
That's why the new car doesn't seem like it's a game-changer. It's being pulled in different directions. It has to be seen to be safer and techier to remain relevant in 2020, but it doesn't need to be any faster or grippier to be a cracking everyday sports car. 'Fun' doesn't age like tech. 
And the uncomfortable truth is the likes of Hyundai and Ford build rivals that are now as nice to live with as the Golf, but palpably more exuberant and gregarious. Driving the Golf is like watching University Challenge – you sit there quietly dumbfounded at its intelligence. Driving an i30N is more like heading down the student union in a toga for jaegerbombs and shots. 
That's the curse of getting a product spot on, isn't it? The look of an iPhone or how you use YouTube hasn't fundamentally changed much since 2005 either. And neither, really, has the Golf GTI. It's still a car for all seasons, but it's somehow not quite the 'everything you'd ever want' bullseye it used to be. 
When the giant museum of all cars is eventually built, the plaque under the Mk5 GTI will say: 'Not the fastest or the brainiest, but this was all we ever actually needed. They just didn't realise at the time. Fools.'
Photography: Mark Riccioni