Best of 2022
Car control with Catie: lift-off oversteer
Extreme E driver, TV presenter and British rallying star Catie Munnings shares some driving wisdom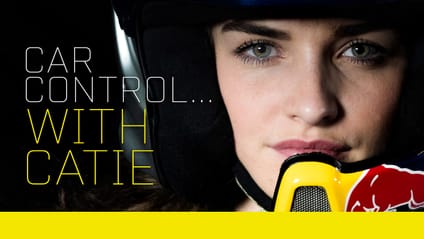 Sliding a front-wheel-drive car is an art that takes a lot of learning. I began rallying in FWD so it was a big part of my steep learning curve and not something I often got right in the beginning. This technique is as it sounds, lifting off the power to create oversteer. Like most driving it's all about weight transfer and timing. To be competitive on any surface the tyres have to be just on the limit of lateral grip and any driver input mid-corner has an impact.

Advertisement - Page continues below

As always, best to practice on a wide area and start slowly. Try maintaining a constant throttle around a long curve and then take your foot off the gas. If you have enough weight on the outside wheels this will make the fronts slow, shifting the weight forward and unweighting the rears which, depending on speed, will keep going and try to overtake the front. Keep the steering pointed the way you want to go and you've just created some nice rotation.

Things will get way more dramatic the faster you go and I promise it can easily end in tears! The big thing to remember is that going back on the power once the back end starts to drift will pull you out of the slide. The front literally drags the rears forward and stops the back end spinning. If you feel yourself over-rotating, this is your get out of jail free card, not hitting the brakes, which will throw more weight over the front and cause you to spin.

Advertisement - Page continues below

This is all quite fun at lower speeds, or when the road surface is wet, but I'd recommend an awful lot of practice. It will only work when you are right on the limit of your rubber and one small mistake will send the car in totally the opposite direction... and probably into the nearest ditch. Keep your practice to tracks or controlled areas, build it up gradually and stay smooth whatever the speed.