Best of 2022
Progress report: 2009 Aston V12 Vantage vs Aston V12 Vantage 2021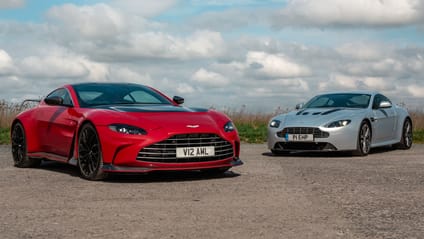 WOWSERS...

Pretty special, right? You'll surely know the pedigree by now: Aston's biggest engine, shoehorned into its smallest car. To the right we have the gorgeous original V12 Vantage, the star of one of Clarkson's and TGTV's greatest ever features (S13 E7 – if you haven't watched it, go check it out on iPlayer immediately), and to the left the latest and last ever Vantage that'll carry a 12-cylinder engine.

Advertisement - Page continues below

REMIND ME OF THE SPECS

The old one features a 6.0-litre nat-asp V12, producing 510bhp and 420lb ft of torque, whereas the latest model gets a 5.2-litre twin-turbo V12 with 690bhp and 555lb ft of torque. More numbers? Zero to 62mph takes 4.2 seconds and 3.5 seconds respectively, while a top speed of 190mph in the former plays 200mph in the latter. Which, pub fact fans, makes this not the fastest ever V12 Vantage – that honour instead goes to the 2013 V12 Vantage S, which topped out at 205mph. More slippery, see.

THE OLD ONE LOOKS PRETTIER, THOUGH

Aged like a fine wine, hasn't it? Classy, elegant, understated. As an Aston Martin should be. Whereas the new one... looks like an extra from the Fast and Furious franchise. The track is 40mm wider than a regular Vantage, while it also wears a bigger grille, a new full-width front splitter, a new carbon-fibre bonnet featuring a horseshoe-shaped vent, new sideskirts, and that rear wing, which offers up 204kg of downforce when travelling at 200mph. But don't panic – it's a no-cost option to remove.

Advertisement - Page continues below

IS IT AS INTIMIDATING TO DRIVE?

Press the start button and the engine fires into life, though it feels strangely muted inside the cabin, especially compared to its predessor. On the move it doesn't take long to live up to its racecar for the road looks, thanks to its lovely precise steering, endless grip, on the road at least, and, unsurprisingly, stupendous speed. But – and it's quite a big but – while there's no doubt it's impressive to drive, where the original was brilliantly bonkers, this one gives the impression it's taking itself a little too seriously.

SO THE OLDER CAR'S MORE FUN, THEN?

Slot the key into its central dash position and it fires into life; noticeably louder, instantly more exciting. It's immediately more involving, from the heavy steering, to the six-speed manual gearshift, grand tourer style seats and fly-on/fly-off handbrake, and all the better for it. And then you hit the Sport button, which sharpens the throttle response and makes the exhaust note even louder, and it's even more exhilarating. Choosing between the two? We know which we'd rather in our dream car garage.