Big Reads
30 years and counting: the big interview with John Hennessey
Hennessey is 30 years old. TG speaks to the big boss about how far he's come, and what's next
Hennessey Performance celebrates 30 years in the business. Top Gear talks to the boss, John Hennessey, on his journey, and where he goes next...
Top Gear: What was your first car memory? What did little Hennessey think about growing up?
Advertisement - Page continues below
John Hennessey: My dad had a 1964 Pontiac GTO, a 389 with a four speed. I would sit in his lap and he would let me drive, he'd teach me how to pull the shifter and stuff. My mom had a VW Bug and one day it was parked in the driveway, she put me in the car with it in gear and the handbrake on and went in to get my twin sisters to put them in the car. She comes back out and there's no car in the driveway. I'd managed to undo the handbrake and get it into neutral. It was parked on a hill and it rolled down the driveway, across the fairly busy street into a church parking lot. She comes running out and I say, "Car goes boom mom. Car goes boom." Downhill from there, right?
TG: Were your parents into cars?
JH: My dad was totally a car guy, always buying some sort of new car and getting in trouble with my mom. When I was 10 or 11, my dad had a '68 Pontiac GTO with the dual gate shifter. I knew I was supposed to be home at a certain time, but I was hanging out with my friends a couple of blocks away. My old man came out looking for me. I'm hanging out and talking to my buddies, he rolls down his windows like, "Get your ass home". So I have to walk home. I don't even get to ride with him.
And he's angry, so he pops into gear. And he does this 100-foot smoky burnout down the street. And all my buddies from the fifth grade looked at me like, "Man, that's pretty cool." That's when I first realised if you want to be cool and have some friends, a cool car will take you a long way towards that.
Advertisement - Page continues below
TG: So what was your first car?
JH: I started driving way before I had a licence. I had an aunt with a Plymouth Valiant who would let me drive. And I would just go driving through Kansas City three years before I had a licence. I had a couple of motorcycles, a Honda CV100 and a Kawasaki 400. Then I had an accident, got a hole in my knee, spent a week in the hospital. A buddy of mine was riding on the back, broke his leg, but I fixed my bikes and kept riding them because it was the only way I could get around. My neighbour across the street had a 1969 Olds 442 convertible and I ended up trading my motorcycles and some money to him and that was my first car. I bought it with my own money when I was 16. The first thing I did was take the lid off the airbox of the carburettor and flip it upside down so it got a little more air into the intake. I'm spinning the wingnut off the top of the old Rochester Quadrajet, we called it the "Quadradog". I was modifying that thing in my front yard the first day I got it.
TG: So where did the tuning thing come from, was it just inbuilt in your brain?
JH: I've always been competitive – there was an older guy in high school with a 70 1/2 Z28 Camaro that had a built motor in it and I raced him one time. I thought my car was fast and he just kicked my ass. That started a recurring theme over the last 30 years. As I tell my kids, I like to win, but I really hate to lose.
TG: What did you study at college?
JH: Engineering, for a couple of years and I ran out of money and wasn't really sure if I wanted to continue with engineering. So I took a break from school, I didn't drop out. I went back to take some flying classes, but that was kind of it for me.
TG: Some flying classes?
Top Gear
Newsletter
Thank you for subscribing to our newsletter. Look out for your regular round-up of news, reviews and offers in your inbox.
Get all the latest news, reviews and exclusives, direct to your inbox.
JH: Yeah. I got five or six hours of seat time, but then forgot my licence because I didn't have the money. I've always liked aviation, but I liked cars more.
In my 20s I started an environmental clean-up business removing asbestos from buildings. It paid well, but nobody ever handed me a cheque and said "good job". Back in the Eighties, I was really fascinated with Group B rally cars, so my next cool car was a 1984 Audi Ur-Quattro coupe. I loved that car. I modified the exhaust a little bit on that, but I learned something very important about dealing with German cars – they give away their cars and make a fortune off the parts.
I was fascinated with the Porsche 959 30 years ago but I knew I couldn't afford it, and you couldn't bring them into the US in those days. I thought I'd buy a modern car and modify it. That's when I read about the Mitsubishi 3000 GT VR4 – twin turbo V6, all-wheel drive, active aero. I thought I could buy that and modify the motor and make it go faster and go racing.
Back in the Eighties, I was really fascinated with Group B rally cars, so my next cool car was a 1984 Audi Ur-Quattro coupe
TG: So this was a big car for you, because this was your Silver State car, wasn't it?
JH: Yeah, that's in the top 10 most significant cars, because that's what started the business. HKS was a big deal for modifying JDM cars back then, but they didn't have anything for this car. So I started working with local shops to put a boost control on it, build intercoolers for it, modify the turbos.
My original plan was to take it to Pikes Peak, but then I found out about the Silver State races –  1991 was the first year they had the Nevada Open Road Challenge. I turned up, ran the 90 miles and did it in 35 minutes, averaged 164mph. The funny thing is when I turned up, I asked all these old timers what speed class I should go in. They said the 140 – I thought I could go faster than that, but I listened to them. I ended up passing lots of cars because I was in the 140 class but I was going 175 or 180. I got to the finish line and they said if I was going to run that fast next time I needed to have a roll cage and a parachute, a halon system.
So I went to Pikes Peak, and I didn't win anything, but I realised there's more than just having a fast car. I needed to develop my driving skills if I wanted to compete with guys like Reeves Callaway and Rod Millen. I had a good time, didn't crash. Drove the car there and back. I went to Bonneville the next month and set a class record there, in September I went and won the limited class at Silver State.
That was when I realised the asbestos removal business was thankless, even though it paid well. I was engaged, getting ready to get married. We bought a house, we bought furniture. We went on our honeymoon, paid for all that. But I wasn't doing the asbestos thing as much because I was out having fun racing my car and modifying it.
So when we came back from honeymoon in October '91, I said to my wife, Hope, that I wanted to start a business modifying cars for people. I looked at Carroll Shelby, Reece Calloway and Ruf. I thought maybe the guys with Mitsubishi 3000 GTs would pay me to modify their cars. I started getting calls from people and I thought I could do it.
TG: So Hennessey Performance was formed.
JH: That was it. Actually in '91 it was originally Hennessey Motorsports, we updated the name to Hennessey Performance in 2005.
TG: So you started modifying GTs. How did the business grow?
JH: The first couple of years I was just having a good time and trying to make enough money to do my next Silver State race. The next evolution of the business happened in 1993 when a guy called me up, said he had a 93 Viper and wanted to do the Silver State race and would I help him set the car up with the safety equipment to do that. I said, "Look, I'll make a deal with you. I think we can get to maybe 500 horsepower. If I do those modifications for free after the Silver State race, would you let me take it down to LA to Car and Driver and MotorTrend?" As soon as some of those articles started coming out, our Viper business took off.
So starting out in 1993 through to 1996, we were doing normally aspirated, 500 horsepower. I was trying to think how we could brand it, what can we call it? I had a name for my Mitsubishi 3000, I think it went around 200mph, so I called it the VR 200. The Viper became the Venom 500.
We were running 0–60 in the mid to low three second range back in those days. Then we built an 800 horsepower twin-turbo and eventually up to 1,000 horsepower. We did a race with Road & Track, we brought our twin-turbo Viper to a runway out in California to see which car was quickest 0–200, and we went head to head with the new Veyron. I think we were 0–200 in like 20 seconds and the Bugatti was 24.
TG: Names are a big thing for your cars, who comes up with them?
JH: It's all me. The team here and my kids and my son-in-law, they're my focus group. But I still name all of them. The Raptor needs to be the VelociRaptor, the Demon needs a competitor, so I came up with the Exorcist, we had the name before we even knew what the car was.
TG: But despite you ignoring their name ideas, family is a big part of Hennessey isn't it?
JH: It's huge. The kids have grown up in the business, I've still got two in college, but when we went to Geneva in 2018 to show off the F5 display model, I needed people to help me work the booth and I didn't want to take people out of the day-to-day business. I noticed on the calendar that it happened to be during Spring Break, so I asked the kids how they would like to go to Geneva to work and get paid. More than any accomplishment, any money we made in 30 years, being together with the family and experiencing those types of things as a family has been definitely the highlight of my automotive career.
Experiencing those types of things as a family has been definitely the highlight of my automotive career
TG: So Vipers were a big thing and that built your brand equity, but what was the biggest challenge in the early days?
JH: I had a knack for developing product and promoting it, but what I didn't realise that I didn't have back in the late 1990s, early 2000s, was the back-end organisation to schedule it, to build it, we had some delays in getting products to customers.
When 9/11 came along, the Viper was popular and doing well, we stayed busy but our business slowed down. I knew I needed a deeper team to be able to take care of customers and to manage quality and to make sure we delivered on time. It was a hard lesson I needed to learn.
TG: What's the size of the team now?
JH: 55 employees.
TG: It's a close family though?
JH: Yeah. I think I know everybody's name out there. Maybe not one or two of the newer guys, but it's still a family business. Early on my wife worked with me, both in the same office all day long, that doesn't work. So now the business is 50,000 square feet and it's spread out enough that we're not on top of each other. We have different areas and different departments. That works pretty well.
TG: And you have a new building?
JH: Yeah, it's an all new production facility for the F5 and gives us a total of 51,000 square feet. We'll build all 24 cars in that facility… then, well, then we have some more exciting plans!
TG: Let's talk about trucks, a vital part of your business?
JH: Yeah. People ask us all the time if we'll modify anything, and I say no. It goes back to the very beginning – we modified vehicles that we liked, where we felt there's a market where the client who owns a vehicle might want to personalise it, make it go faster. We've really learned in the last 10 years that it's got to be scalable.
It's a very tough business to build one-off race cars with crazy horsepower. You might build one, but you don't know when you'll build the next one. That's what led us to modifying Ford Raptors. In the last five years we've modified over 2000 Gen 2 Raptors.
Our business has evolved from a tuning shop to a very big tuning shop and then in the last 18–24 months, into a factory. When we added the new building, the whole goal was to be able to scale, to be able to build 1,000 units a year. I think the most we've built so far is about 550 and I think we can get to building 20 units a week.
TG: In terms of the trucks, the VelociRaptor, the Maximus, how important is it to you to have those extreme products in your portfolio?
JH: If you asked me 10 years ago to modify a truck, I would have wondered why anybody would want to. But as we found with the Gen 1 Raptor, there's a lot of people out there who want faster trucks. So when the Gen 2 arrived in 2017, I thought we needed to remind the world we created the VelociRaptor.
I wanted to do something small-volume that was good publicity and kind of outrageous. And I remembered the Mercedes 6x6 that AMG did and wondered if we could do that with the VelociRaptor. We've built 25 of them now. Every now and then building something that's over the top and outrageous gets attention and makes the phone ring.
For every 6x6 we sell for $400,000, we'll sell 200 VelociRaptors for a hundred grand and that's really grown our business to the next level.
TG: So when did you decide that you'd moved from tuner to car creator?
JH: When we did the Venom Viper versus the Bugatti in 2005, that was a big success. We were on the cover of Road & Track. We sold a bunch of twin-turbo Vipers, but it's fundamental to our DNA not to rest on our laurels. We're always looking for the next mountain to climb. So it was two months after that I started thinking about what was next. We joked about taking a Lotus Exige and putting a twin-turbo Viper engine in it.
I went to the SEMA show in November 2007 with a printed sketch of the car in my backpack. Some journalists came and stuck a microphone and camera in my face, asked me what was new, I just pulled the picture out of my backpack and said it was our Venom GT concept. It went viral two days later, and then two weeks later I had a guy in Dubai wanting to order one. We decided to move forward with the car, but by the time we built the first car we realised it was costing four times the money the first guy paid us. I realised I needed to sell more cars. We never intended to become a manufacturer of supercars or hypercars, but when we built that car and started making it go fast, I thought maybe we could build our own cars someday.
TG: In 2014 the Venom GT beat Bugatti's speed record, how fundamental to you is being the fastest in that market?
JH: Back in those days, it was everything. We just wanted to win and we wanted to be the fastest. But with the Venom GT people would look at it and say how it was derived from the Lotus, I felt like the car didn't get the credit it deserved. That's what really drove me. I came up with sketches to try to evolve that car and I shared them with Phil Schiller, who'd just recently retired as chief marketing officer for Apple. He said we weren't going to get credit for having our own car until we built our own car. I felt like I'd been kicked in the balls, but that's when I started planning how we could create the F5.
TG: What's more important to you? Beating Bugatti or setting a number?
JH: Back in those days, no doubt it was setting a number and beating Bugatti. But it's evolved since then. The F5 is going to be the fastest, but it's really about engineering excellence and giving an amazing car to our clients.
The F5 will go super fast in a straight line. It will have an amazing top speed, but we want our clients to be able to jump in an F5 at some point in the near future and say it's as fun on winding country lanes as it is going 250mph on the autobahn.
TG: Do you think the high speed stuff has lost its lustre?
JH: Yeah, a little bit. Wolfgang Dürheimer came up to me after we beat his number and said that there aren't very many players doing what we're doing. He felt it was valuable for his company and his car to have the competitor. As long as you've got crazy people like me, Koenigsegg and SSC who knows where it will end but it's great to have competition, it drives engineering. I know Winkelmann said Bugatti is out, but I don't really believe him. They'll come up with something faster at some point, I know they will. I just love that competition of it, and I think that those competitive juices over the history of automobile are what have pushed the boundaries and inspired other people to do cool, crazy things with cars.
TG: OK, now you're developing the F5, how's that going?
JH: We are in the very initial stages of beginning our road testing and validation process. So that's wide ranging from acceleration to top speed to road course to road driving. And again, the overall goal is to give our clients an amazing car. John Heinricy on our team will ensure the performance, drivability and reliability will be everything our clients expect.
Along the way, we'll validate a top speed. I'd love to show the world what 0–500kph looks like in terms of straightline acceleration, but it's about having a properly well-rounded car. I don't know if we'll get there this year, but it's certainly on the list of things to do. Then the Nordschleife is in our sights. We're not trying to go out and go five minutes or something crazy like that, but we would like to validate a proper lap under seven minutes with the car.
The aggressive testing programme is really from now through to summer. We'll begin delivering cars to clients probably mid- to late-summer, probably by Pebble Beach. The evolution and testing of the car will continue and we'll continue to update our client cars as we go.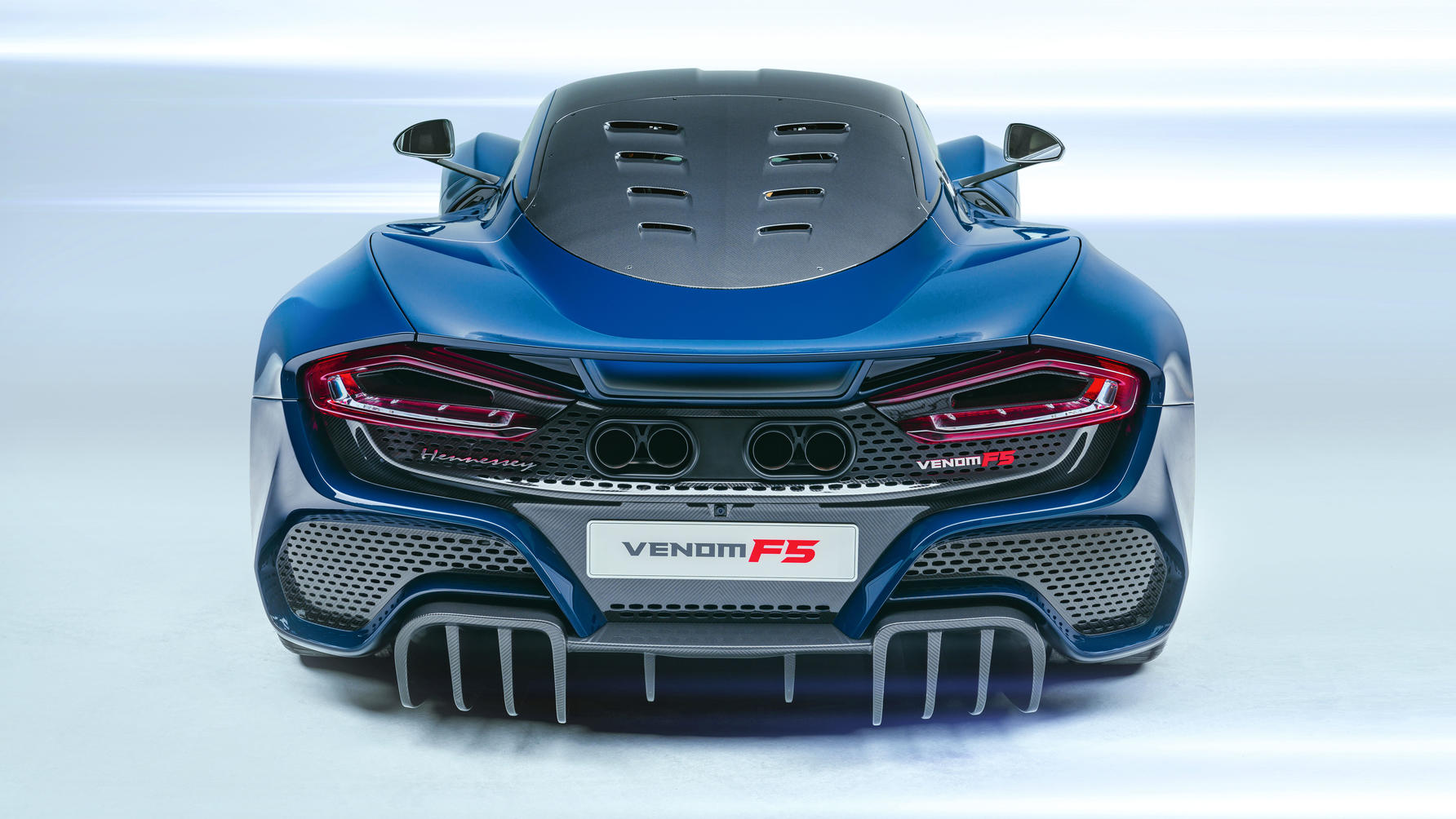 TG: SSC's recent record run was hugely controversial and has called into question the approach to high speed runs and there have been a lot of calls in the community for those attempts to be done publicly… How are you going to approach it?
JH: We'll validate everything that we do with the F5. When a manufacturer with a hypercar thinks it has a car that can establish a new world record, the whole world is watching. There has to be absolute transparency, with data and validation that's above reproach.
And that's not something that we'd just do before the record run. During all of our testing, we've got massive amounts of telemetry on the vehicle measuring everything that we can measure. From the powertrain, downforce at each corner to tyre temperatures and pressures. We're doing that whether we're going 20mph or 320mph. When we go to an autobahn, public road or NASA runway, if we're able to run a number, we'll have all that.
When we feel like we're in a position to set a record, we'll do it in two directions. We'll bring in the Vbox guys as an independent verification. Then we'll have witnesses there to support that. That's exactly how we did it when we ran the Venom GT back in 2014. We couldn't run two directions back then because NASA was testing something at the end of one of the runways, we could only run one way.
TG: Do you think there should be a standard way for all high-speed runs to be conducted?
JH: Well, as soon as the VW Group lets us into Ehra-Lessien, we'll be glad to go there. The challenge is where to run these cars – we're never going to run absolute top speed on 2.4 miles of NASA runway. Maybe at some point we'll get onto a nice new wide, smooth Texas highway and see how fast it'll run. We think we might go 500kph in a little over two miles. If we do that even just in one direction, we'll probably stop with that.
TG: In that market, do you not need to be the fastest?
JH: Look, it's about risk versus reward. We've got 20 orders for the 24 cars. We'll probably be sold out before we set some sort of speed record, and we need to manage risks. We're not about winning at all costs and I'm not going to put a driver or car at undue risk just for glory.
The flip side is, 311mph, 500kph, that's our target, and we'd like to do it sooner rather than later. It's really about validating a great product for our clients, proving that we can do it safely. Then we'll move on to other things, whether it's road course stuff or acceleration or drag racing or whatever it might be. We want to make sure the F5 performs at the highest levels in all disciplines of performance.
TG: Are you going to do different versions of the F5? We've seen the original car. Knowing you, you'll want to do other derivatives.
JH: Right now we're focused on the car as it is. We do get the question from time to time, whether we might do a track-focused car, or other derivatives. I think right now we've got another year's worth of testing for different records we want to set with the car. We'll see what the future holds, but I can tell you that the F5 will only ever be internal combustion. There won't be an electrified version, but at some point I think a high-downforce GTR-type version would be cool to do.
There won't be an electrified version, but at some point I think a high-downforce GTR-type version would be cool to do
TG: What do you think is the Hennessey secret formula? What do you do that others don't if you had to encapsulate it in a sentence?
JH: I think it boils down to the driving experience. There are plenty of places where you get wheels, tyres and body kits. But I think having a proven process to deliver an increase in performance and horsepower and in a reliable way, a car that runs on pump gas and comes with a warranty – that's why customers come to us.
TG: Where do you see the industry going? Three decades is a long time in cars and in the next 30 years, you'll be handing over to the kids. What does Hennessey look like in 10, 15, 20 years?
JH: We'll continue to build cool, exciting cars. At some point we may build an electrified car. I don't see the internal combustion engine being gone in 2035. Governments may say that's what we're doing, but I think the public says differently. Enthusiasts still want manual cars to drive, they still want the smell, the vibration, the visceral experience of internal combustion. So I think we'll stay busy doing what we're doing. As things evolve, we'll probably be modifying hybrids and we may offer things for electrified cars. Obviously it will have to evolve as we go into the next 30 years.
TG: One of the things you have a huge skillset in is cracking the codes of the ECUs, is there potential there?
JH: If we do something with an EV, I don't know that I'm interested in trying to change the algorithms on how the engines make power or how the batteries work. I think that rather than tinkering with other's EVs it would be cool to make something of our own that breaks the mould a bit. A Tesla Plaid model is going to probably satisfy most people's desire for acceleration, but it's $140,000. Some people can afford that, and there will be others who can't.
TG: Would you do a Hennessey electric car in line with your more extreme vehicles?
JH: Yes. We're looking down the road at what comes after F5. It will be the fastest car we've ever built in terms of all-out top speed and performance. But I do believe we'll come out with a fully electrified car at some point after F5. But that's all I'll give you at this stage. If and when we do something electrified, it will be completely radical. It'll be completely different to anything you'd see.
TG: What do you want to be remembered for?
JH: I'd like to be remembered for being a good husband and a good dad. And hopefully for the 12,000-plus vehicles we've built or modified over the last 30 years and the vehicles that we will build going forward. Hopefully those vehicles will provide some level of connection, enjoyment for other families.
I've told people for years that we're really more in the entertainment business than the automotive business. Through what we've created maybe we've inspired some people. Maybe people who have gone through our tuner school programme, or just enthusiasts like me. Maybe we've inspired a few people along the way that there's something cool about cars or technology. That it ended up having a positive effect on those people and their families and maybe on society in general.