Adventures
Across Europe in the new Ford Focus RS
Seen the TG TV film? Here's when we took it 2,000 miles across the Alps
It's properly caked on now: a crust of mud, salt and grime streaming down the boot in a series of abstract waves – an art car, TopGear style. I'm surprised "clean me", or the French equivalent, hasn't been inscribed on the back by a witty local. Perhaps they appreciate that every particle of it has been hard-earned, that we've chosen to wear them like a billion tiny trophies, each a reminder of the colossal examination we set for the RS.
It's time to shut out the media maelstrom and put the car through the wringer in a pilgrimage from Cologne to the fabled cols of the Rallye Monte-Carlo
Advertisement - Page continues below
Stop. Rewind four days. I'm at Ford's Pilot Plant in Cologne, trickling a pristine car out of the gates. Given mine are the first hands outside the company to be granted access to the RS, I decide it's prudent to prove they're a safe pair. I indicate left, look both ways, feed the wheel and trundle onto the public road grinning and waving as I go. This can't last. I've poured over the specs too many times, seen too many viral videos, I'm too aware of what this car is capable of. Like a champagne cork with its wire cage removed, at the first roundabout, I pop. Reaching down, I select drift mode and give it a boot…
Words: Jack Rix
Photography: Rowan Horncastle
This feature was originally published in the March 2016 issue of Top Gear magazine.
Advertisement - Page continues below
Is it just me, or is there a sense of foregone conclusion about the new Focus RS? The hype surrounding its launch has bordered on hysterical and not just because of its icon-studded bloodline, but because the bald stats are deeply impressive. For a little under £30,000 (cheaper than the lesser-powered Volkswagen Golf R, and a chunky £10k below the Mercedes-AMG A45) you get a 345bhp freer-breathing version of the Mustang's 2.3-litre four-cylinder with a new low-inertia twin-scroll turbo, adaptive dampers, launch control and a trick four-wheel-drive system that claims to let even the most ham-fisted owners drift like their WRC heroes.
You can see why it's being hailed as the second coming before the testing has even begun, and that's precisely why we can't – mustn't – give it an easy ride. It's time to shut out the media maelstrom and put the car through the wringer in a pilgrimage from Cologne to the fabled cols of the Rallye Monte-Carlo and back. Between, there will be forest routes with a bit of wiggle room, icy mountain passes without an inch to spare and thousands of bum-numbing motorway miles to contend with. On reflection, we may have bitten off more than we can chew.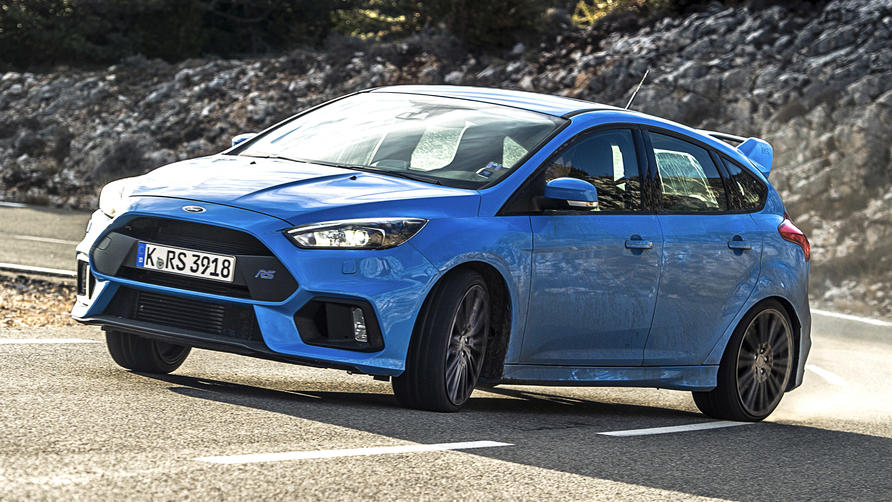 Still, no time to dwell on that – our schedule is tighter than Donald Trump's immigration policy, and we need miles under our belt. But straightaway there's a problem... well, several actually. The optional fixed-height bucket seats are, erm, fixed too high. Rather than dropping into the driver's seat and becoming part of the machine, I'm perched and can't get the wheel quite close enough to my chest – anyone who's driven the Fiesta ST will know the feeling all too well. The seats themselves are supportive and squidgy in all the right places, they look good too, but are a lone highlight in an interior that feels too close to a fleet-special Focus, besides a bank of gauges atop the dash.
And then there's the design. I'm loath to tell you what your eyes do and don't like, but we can all agree that the MkII RS's chav-magnet styling has been boiled down into something more palatable for the masses. Despite that sizeable wing and a new front end, it's definitely lost some of its inner Essex boy – even the exhausts are a trifle apologetic. We're told flared arches would have required entirely new pressings for the doors and front wings, and were ruled out to keep costs down. Shame, but then where would you rather Ford spent its cash – on comedy arches or perfecting the powertrain? 
So far, it's looking like money well spent. This engine might be turbocharged, but it does a damn good job of hiding it – responding cleanly to the throttle with a confidence-inspiring linear thrust that runs right up to the 6,800rpm limiter. There's none of the dead spot followed by a surge you had with its predecessor, or the whistling and puffing you got from its turbo either. In fact, it just pulls like something larger in capacity with more cylinders at its disposal. Wind it up and the hardening warble is a dead ringer for the old five-pot, and in Sport, Track or Drift mode it leaves anti-lag-style detonations in its wake. 'Rallye Sport' – it's on the bootlid – and the Focus wears its heritage with pride.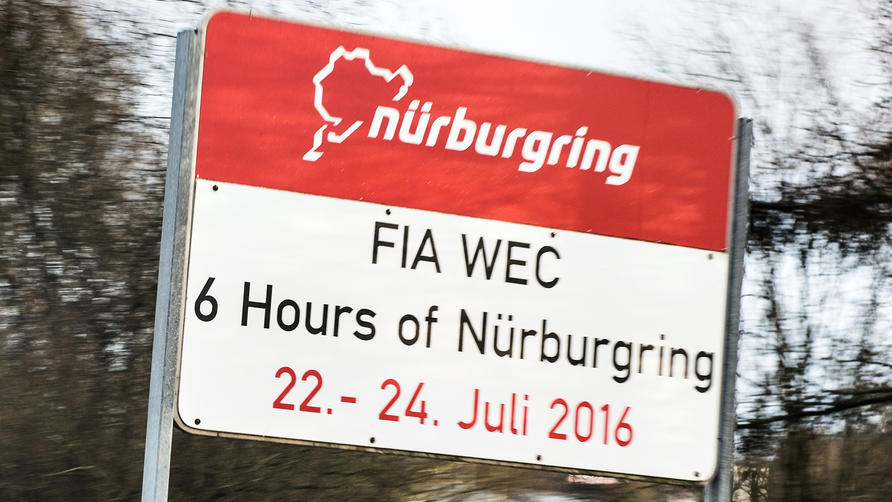 First stop is the Nürburgring, an hour's cruise from Cologne. We know the track is sleeping for the winter and off limits, but it's too close not to pop by, especially when the surrounding roads will give us our first real opportunity to up the ante. Back into Drift mode, hold the ESC button for five seconds and we're on our own, with 70 per cent of the power being channelled to the rear axle. Approaching a tight left-hander, I tuck the nose in, give it hell and, against all the odds, hold a neat drift, slotting perfectly back into the right-hand lane. Either I've woken up a driving god, or there's some sort of voodoo in this torque-vectoring AWD.
Top Gear
Newsletter
Thank you for subscribing to our newsletter. Look out for your regular round-up of news, reviews and offers in your inbox.
Get all the latest news, reviews and exclusives, direct to your inbox.
Sadly, it's the latter, but I can live with that, because the sensations I'm downloading are extraordinary. Unlike something powerful and rear-wheel drive, the front end isn't just a static rotation point, it's constantly clawing you forward, all but eliminating the possibility of swapping ends and kissing the Armco. 'Satisfying' doesn't do it justice – being able to drive it up to and beyond the limit, but still feel well within your comfort zone, is a near-spiritual experience.
Of course, you don't have to take corners crossed-up: select Sport (weightier steering, sharper throttle, poppier exhaust) or Track (same settings as Sport but with firmer suspension and slacker ESC), and it adopts a more neutral mid-corner stance, locking into the road much like our reigning hot-hatch champ, the VW Golf R. The real genius of this transmission (explained in nerdy detail in the panel at the end) is the way it can pre-emptively send up to 100 per cent of what's available at the rear axle to the wheel with the most grip. You sense it, too: the outside rear drives you through corners, while the system uses dabs of brake at the front to help tuck the nose in. All you need to know is it makes you look more talented than you actually are and covers ground several notches quicker than anythingfront-driven could dream of.
When it's mildly moist and there are other cars nearby with unpredictable humans at the wheel, brave pills are recommended
Enough hooning for now: our first overnight is in Baden-Baden, the gateway to Germany's Black Forest, and between us lies several hundred miles of drizzly autobahn. On the upside it's largely derestricted, so we take a swipe at Ford's claimed 165mph top speed. I'm not going to claim flooring the throttle in a straight line requires skill, but when it's mildly moist and there are other cars nearby with unpredictable humans at the wheel, brave pills are recommended.
Haribo will have to do. We scythe our way down the outside lane in sixth and close in on our target – 160mph… 161mph… brake, brake, brake! A Mini is crawling along at 150mph in our lane and forces us to abort.
Lessons emerge from our high-speed experiment; there's rock-like stability even at 160mph-plus, and the way the RS builds speed is gobsmacking. However, despite a 40bhp advantage, it doesn't feel any quicker than a Civic Type-R in a straight line – blame the porky 1,599kg kerbweight for that, over 200kg up on the Honda. Nevertheless, the Focus's 325lb ft of torque (347lb ft on overboost for 15 seconds) hits quick, early and stays around, too. The only thing that delays the onslaught is having to use a human foot and hand to change gear manually. Not that we're complaining, mind.
With 600 miles to cover on day two, we're up before first light hoping to have the B500 to ourselves. Its expansive, well-sighted bends make it a favourite for kamikaze bikers, and we've beaten them to the punch. Unfortunately there are other visitors – snow and heavy fog rolling in from the valley and smothering visibility. Every corner is a blind guess, the road surface is light on friction, but the RS is in its element. We're on winter tyres to adhere with German law, and right now they're working miracles, holding their line as the surface transitions from dry to wet, ploughing through standing water and rounding off chinks in the road surface courtesy of the softer compound. The price is ever-so-soggy steering feel just off-centre, but the wheel is still loading up beautifully on the longer arcs and whispering encouraging messages to my palms. On this road, the RS is mighty: leave it in fourth, ride the torque, flick it to third and rev it out for the hell of it, drop it to fifth through villages to keep a low profile then rip out the other side.
The next motorway schlep arrives just before I get too carried away – a three-hour hump that takes us over the Swiss border and towards St Moritz in the Alps. We're climbing now, the first sugar-sprinkled hills flash past followed by our first alpine village, our initial sight of fresh powder and the craggy mountains looming over it all. Our destination is the 1,815m-high Maloja Pass (quickly renamed Marjorie for ease of elocution), one of a handful of alpine passes open all year, that also happens to be among the most spectacular. En route, we encounter a pinch-yourself set of perfectly symmetrical hairpins drizzled on the hillside.
Something's clicked now, and we fly up it. The key is to forget about tightening your line by lifting off. Turn in, then as the front wheels push wide you feed in the throttle to tuck the front end back in, and exit in a flourish of oversteer or a controlled four-wheel slide depending on your drive mode of choice.
Ironically, it's the starter that tastes better than the main, because 'Marjorie' is one of those roads that's better to photograph than it is to drive – the turns are too steep and the exits too tight to have any real fun. No matter – it's proved the RS's all-weather credentials beyond doubt. At no point, even at -9°C, does it feels like a handful, too big on the road, lacking in grip or out of its depth – it just cracks on, eager to please.
And crack on we should, because there's another 300 miles to swallow if we're to make Monaco tonight. It's a mark of the Focus's cruising ability that the distance doesn't feel like a chore, but soon my eyelids are sandbagged with fatigue. Right on cue, we cross into Italy, and the locals' erratic driving and wanton disregard for speed limits puts me right back on my toes – like a caffeine shot through the eyeballs.
We descend into Monte Carlo around 10.30pm and feel instantly out of place – it's like turning up to a gala dinner in your filthy football kit – so we do what any sane person would and head for the smartest joint in town. Parked up in Casino Square next to the immaculately detailed Lambos, Rollers and Ferraris, the grubby RS looks like a reprobate. When the doorman strides towards us, fresh from his hourly dip in aftershave, I'm convinced we're about to be turfed. Turns out he wants to take a look inside, so we oblige, opening the door and releasing nine hours' worth of man-fug into the air. His nose wrinkles, and we take our cue.
The next morning, it's a perfect bluebird, not a cloud, so we hotfoot it to explore the Col de Braus and Col de Turini, two of the most photographed roads in the world, to put the RS's rallying stripes to the test. We're shocked to find snowless slopes and dry roads – almost unheard of with the 2016 Monte just two weeks away, but it lets new attributes shake their way to the surface. The rubber's purchase is tenacious on these constricted switchbacks, only first gear and full beans can unstick the rears. It means working the gearbox hard, but the RS just soaks up the punishment, takes a lungful of the clear mountain air and asks for more. It's us that calls time before the car does – the history, the vistas and the challenge are all present and correct, but the lack of width and room for error begins to grind. Fortunately, the antidote is just around the corner.
Starting in Grasse and unfurling all the way to Digne, 70-odd miles north, I've long since suspected the Route Napoléon to be the greatest road in Europe; now, I'm certain. With its soaring mountain portion carved into and through the rock, followed by flatter sections that sweep through meadows before coiling into a series of broad but acute turns, it's breathtaking and utterly relentless. The RS is showing off now, changing direction like a fly, moving around predictably underneath me and letting me lean on the brakes and enjoy the high biting point and textured feel. Every gearchange sends gunshots ricocheting off the rock face; every corner, it wags its tail like a puppy on its first walk. Those problems I mentioned earlier? Right now, I couldn't care less – they've melted away, and I'm having the drive of my life.
Adrenaline subsiding, we truck on and eventually collapse in Mâcon, just north of Lyon, poised for one final push the next day. We set the satnav for Cologne – it's all about crushing the miles now, but we still find time for a drive-by at the old Reims-Gueux circuit. We pass through Belgium, skirt Luxembourg and as we roll back into Cologne and surrender the keys, the trip computer ticks past the 3,300km mark (2,050 miles) at an incriminating average of 20mpg.
It takes a while and some distance from the RS for my thoughts to crystallise, but now it's as clear as alpine air. This isn't a car that's set up to break lap records – there's a smidge too much movement and roll built in for that – it's designed to be enjoyed, to make you grin inanely, to flatter and goad you at the same time and, crucially, it never takes itself too seriously. A twin-clutch gearbox would have been faster, but a manual gearbox is more engaging, so that's what you get. The best compliment I can pay it is that on this trip, money no object, I can't think of another car I'd rather have driven. Honestly, it's that good.
And I'll take things a step further – it's a genuinely significant car this, a potential game changer. From now on, four-wheel drive no longer means lumpy and heavy, it means faster, grippier and driftier. It means no less nimble, but a lot more versatile. The Golf R got the ball rolling, this moves expectations to another level. Dirty it may be, but the Focus RS is about to clean up.