Big Reads
Alfa Romeo Giulia vs BMW M4 Competition
The Top Gear twin test: 503bhp Giulia Quadrifoglio takes on 444bhp M4 Competition Pack
A battle royale, a slug fest, a proper ding-dong. You can call it what you like, but this is the face-off we all want to see: Alfa Romeo Giulia QV versus BMW M4.
OK, so it's not an M3, and while the four-door would have sat better with us – both visually and psychologically – we simply couldn't get hold of one at the same time as the Giulia.
Advertisement - Page continues below
Words: Ollie Marriage/Images: Mark Fagelson
But as any M3/M4 aficionado knows, BMW set the two cars up to drive identically, so while the suspension settings do differ fractionally, it's only to take account of the M3's 20kg extra. The track widths are identical, the M4's boosted 40mm from its base car, the M3's a delicious 80mm.
This M4's a Competition Pack, to try and narrow the gap in power and price to the more potent, more expensive Giulia. Let's focus for a second on the BMW – the Giulia has had so much coverage lately you're probably fairly familiar with it.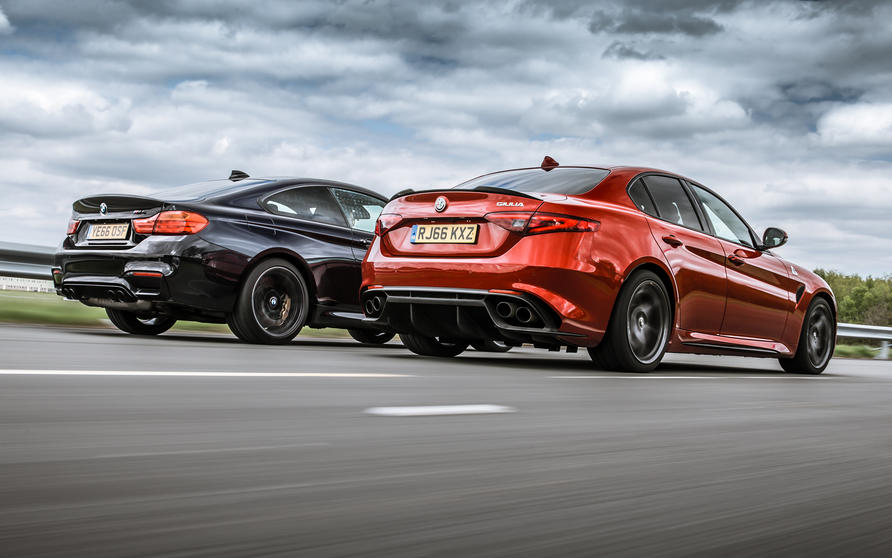 Advertisement - Page continues below
The Competition Pack is a £3,000 option that uses the same 3.0-litre twin-turbo straight six, but now produces 444bhp instead of 425bhp. As a result the 0-60mph time has fallen by 0.1secs, to four seconds exactly. Torque remains at a prodigious 405lb ft, available at just 1,850rpm.
The springs, dampers and anti-roll bars are all-new both front and rear, and the driving modes on the adaptive suspension have been reconfigured. On top of that, the rear differential settings have been changed, so now, instead of trying to splay sideways when you accelerate out of a corner, the M3 just hooks up and drives. It's not only faster and more engaging, but has considerably reduced the fear factor.
Outside there's black: black badge, black exhaust tips, black grille, plus 20-inch wheels wearing 265/30 and 285/30 tyres. But not on this car. The ride on the 20s is firm to the point of harshness, so this one is equipped with standard 19s, 10mm narrower front and rear. That's sensible speccing. All told the front-engined, rear-drive, twin-clutched M4 weighs in at £60,965 and 1,572kg.
The cash in your wallet might well sort out the difference in price between this and the £61,000 Giulia Quadrifoglio. Separated by £35 they might be, but the Italian still has healthy 59bhp and 37lb ft advantages and is some 48kg lighter. The chassis is aluminium and steel, there's double wishbone front and multi-link rear suspension, and the torque is divvied up by a vectoring diff able to send 100 per cent of thrust to either wheel.
Ahead of the carbon prop shaft sits ZF's eight-speed automatic, standard in the UK (some markets offer a six-speed manual, but it's no great shakes, so rest easy British buyers – the auto is better) and shoving the whole thing along is a 2.9-litre twin turbo V6 'inspired by Ferrari expertise and technologies', which also happens to share bore and stroke measurements with the eight cylinder Ferrari California T motor. The Alfa sports 10mm-narrower 245/35 front and 10mm wider 285/30 rear tyres on 19-inch wheels.
So here they both are at Dunsfold. Let's start inside. This makes sense because one thing serves to characterise each car – the steering wheel. The BMW's is fat: thick-rimmed and squidgy. The Alfa's is firmer, more slender. Now it's possible that personal preference plays a role here, but if you like the BMW's better, you're wrong. The M4's makes the car feel clumsy and hard to get hold of, while the Alfa's implies delicacy. 
Both have good driving positions – seats that can be tilted to cup your thighs and steering wheels that pull a long way out of the dash. The full touring car. The Giulia is more simply laid out inside – Alfa hasn't tried to pack too much functionality into the infotainment or added too much data into the dashboard.
Top Gear
Newsletter
Thank you for subscribing to our newsletter. Look out for your regular round-up of news, reviews and offers in your inbox.
Get all the latest news, reviews and exclusives, direct to your inbox.
So revs and speed are easy to read and you can find your way between navigation destinations and radio stations without too much faff. Until you want to zoom in to the map. Then things get trickier.
The BMW is better organised in terms of information hierarchy and accessing it, but the area where it really pulls out a lead is, inevitably, build and material quality. It feels like you'd hope a £60,000 car would. The Alfa doesn't.
You can overlook most of the Alfa's trim and plastic issues because they're not too intrusive, but the gearlever and central screen control wheel really deserve to be better. They look fine, but the actions of both are cheap and there's play in them which shouldn't be there.
I'm going to ignore practicality. You can get people in the back and luggage in the boot of each. Enough for four of you to go away for a weekend, but there's not much dignity involved with posting yourself into or out of the M4s back seats, so have the M3 if that's your thing. Personally I think the four-door BMW looks better, too. Bigger arch blisters…
So, the driving. The Alfa feels notably faster. I know the figures suggest it should (330bhp/tonne plays 282), but BMW has always provided extremely healthy horsepower and I hadn't really been expecting to be able to detect much of a difference in the way these 3.0-litre twin turbo motors picked up and went.
But you really, really can. The BMW is so muscular low down; it drips torque and delivers it with a deliciously deep, rorty note. But it never builds enough from there. It's just colossally fast wherever you go in the rev range. Although the engine note varies a little, there's not enough of an improvement in noise or acceleration to make it necessary to venture beyond 5,500rpm.
I kept on being disappointed the Alfa wouldn't go beyond 6,800rpm. It would be nice if it revved a bit higher, but to be fair, it's already dispatched the BMW in a straight line. It needs more revs to really wake up, but once past 3,000rpm it forces itself harder down the road than the M4.
Make no mistake the Alfa will unhook its back end. When owners take theirs to a Cars and Coffee morning it'll be YouTube gold
The BMW cannot match the Alfa's top-end surge, which feels more vibrant and hedonistic, nor is the exhaust note as zingy. I know the figures say that the Alfa is only a tenth faster to 62mph (3.9secs plays 4.0), but don't forget the BMW is assisted by a quicker-shifting twin clutch gearbox, where the Alfa 'makes do' with a regular automatic.
You might think this gives the BMW's gearbox the edge, but no. I've said this before, but I think BMW was so nervous about the shift to turbocharging with the current M3/M4, that it deliberately made it a bit savage in other areas – traction specifically, but also gearbox response.
Up the shift speed (which you can, via the configurable settings) and an uncomfortable surge accompanies each shift. The Alfa's ZF auto makes a far better fist of being a sports transmission than you'd credit. It's best when you pull the paddles yourself as I don't think Alfa quite understands this ZF gearbox software as comprehensively as BMW does in its non-M cars, but that's no bother because the paddles themselves are a tactile delight.
In a straight line, then, the Alfa feels more urgent and brighter, hits harder and faster as long as you've got some revs on the dial, and sounds better, too.
There's a downside to this though. In the BMW you have complete control over all the settings for engine, suspension, steering and gearbox. There are buttons on the centre console and you can have them wherever you like.
In the Alfa there's a DNA mode dial – you twist it where you like (All-weather, Normal, Dynamic, Race) and the car configures itself to suit. However, the sport exhaust is only activated in Race, and in Race the traction control is turned off. As in totally disabled. Hmm.
But you want the sports exhaust all the time, because it sounds great. So you find yourself at traffic lights being concerned about possible massive wheelspin and at roundabouts about possible barrier interface just because you want to listen to the V6 sing.
Because make no mistake the Alfa will unhook its back end. You can see that in the picture above. Its 442lb ft of torque will easily overcome even the near-slick Pirelli P Zero Corsas that our test car comes equipped with. Properly smoky they are, too. Imagine what's going to happen when owners take theirs to a Cars and Coffee morning. It'll be YouTube gold.
As I mentioned earlier, the Competition Pack M4 is a much more cohesive, together car than the regular M4. It brings more feel and control to the back axle so you can manage it better on the way out of corners. Personally I always enjoyed the challenge of the standard car, but I'm happy to admit that the Competition loses nothing and gains considerably.
The M4 is a really good car in isolation – grippy, well balanced, predictable. It's got great turn-in grip, there's little roll, it delivers plentiful speed and as we've found in the past, it's a sharper handling, more satisfying car than a Mercedes-AMG C63.
But alongside the Alfa it feels rather blunt and inert. The Alfa is not only a tremendously magnanimous car to drive, but its sharper, much faster steering rack (2.2 turns between locks) lends it a sense of energy and response that's missing from the BMW. That could easily make the Alfa feel edgy and nervous, but the genius of this car's set-up is that it never feels less than stable, so although sharp, it's also driveable and friendly at the limit, which the BMW isn't. Even in this more approachable tune, it's more aggressive and unnerving.
Through medium and long radius corners the Alfa's nothing short of glorious: the tyres take up an edge and it's all tippy-toey. You feel it moving around, it's adjustable and controllable. Yeah, it has a little more roll and that ought to make it feel lazier on turn-in, but the super-fast steering overrules that.
The springs are detectably softer, to the benefit of the ride. And while road roar from the semi-slick tyres and (ahem) less well attached interior trim mean it's no quieter on a long journey than the BMW, around town it's calmer and gentler. It also has a terrific turning circle.
Just going back to the handling, you have to ask how much of the Giulia's ability is down to the tyres, which are notably more aggressive than the Michelin Pilot Super Sports worn by the BMW. But even wearing identical rubber I'm certain the Alfa would feel the more alert, sweeter and controllable car. All the systems – steering, back axle, differential, chassis, engine power delivery – feel better integrated and amalgamated. It's a purer, simpler and more satisfying car to drive. 
One note here. All these impressions relate to road driving. On track, the more tautly suspended BMW does stage a slight fightback, a place where its on-limit chassis balance really starts to come alive. But it still never flows as happily as the Alfa, isn't as playful or forgiving in a tight spot. It's a moodier, darker car.
Is there any dynamic area where the BMW has the edge? Well, it definitely has the more positive brake. They're firmer underfoot from the word go, while the Alfa's need some heat in them before they start working properly. And of course there has to be some residual concern about how well built the Alfa is, and how it'll last.
But I tell you this. I ran a BMW M3 for a year and quickly grew to adore it – in fact I think it's one of the very best cars I've ever run – small enough to fit on British roads, big enough to be usable, beautifully assembled, subtle enough to be under the radar. It was more dexterous than an Audi RS6 and almost as rewarding as the R8. I adored it and love everything it stands for.
But given a straight choice now, I'd have the Giulia QV. Yes, you'd have to shell out extra for the carbon brakes and carbon seats, and a part of me would (let's hope groundlessly) be concerned about mechanical reliability, electrical functionality and bits falling off – there is a hint of frailty to it – but I'd totally take a punt on this Alfa Romeo. I think it's brilliant.
Fundamentally this is a better car than the BMW M4. More hedonistic, more exciting, more rewarding, faster, better balanced, brighter. Fully deserving of all the praise heaped on it, in other words.