Big Reads
And the winner of TG mag's 2022 Speed Week is...
Time to declare our Speed Week winner at Europe's premier truck racing event... and get way more involved than we thought
A translator was present but not necessary as the stocky policeman's rules were firm, fair and fell within my basic grasp of international hand signals. "NO BURNOUTS. NO SPEEDING." Unfortunately, these rules were ignored and broken immediately.
The plan (in the loosest definition of the word) was to hold a simple yet jovial parade from the circuit to the centre of Most. To the annoyance of the local Czech constabulary, the truckers joining us didn't get the memo. They went full truckhana, drifting around every roundabout, foot-wide tyre marks behind 200-metre rolling burnouts and completely forgetting about something called 'braking distances'.
Advertisement - Page continues below
Photography: Mark Riccioni & John Wycherley
Now, I'm not sure if you've ever seen a racing truck lock up all six of its tyres and nearly rear-end a Lamborghini Huracán Tecnica, but it's a terrifying situation. One that – thanks to an overexcited teenager – you can now see on TikTok. A six-tonne love tap would've been puckering in the safe surroundings of the pristine racetrack we'd been pounding around for the previous two days, but we were – I can't believe I'm writing this – on the streets. Not closed streets, either. Streets filled with traffic and lined with thousands of ebullient locals; complete with babies in prams and grannies behind Zimmer frames.
Moving on. As Top Gear's involvement came about due to a weird mixture of serendipity, luck and muddled language barriers. See, when I fired an email to an anonymous inbox earlier in the year asking whether we could use a relatively unknown track in the Czech Republic to host Speed Week, how was I to know our preferred dates would coincide with the 30th anniversary of the Czech Truck Prix? Which – it turns out – is the Monaco GP of truck racing. Just without any of the Monaco bits. But they did coincide. Which gifted us an opportunity we'd never had before: to share Speed Week with others and announce the winner live... to a crowd where English isn't even their second language.
Advertisement - Page continues below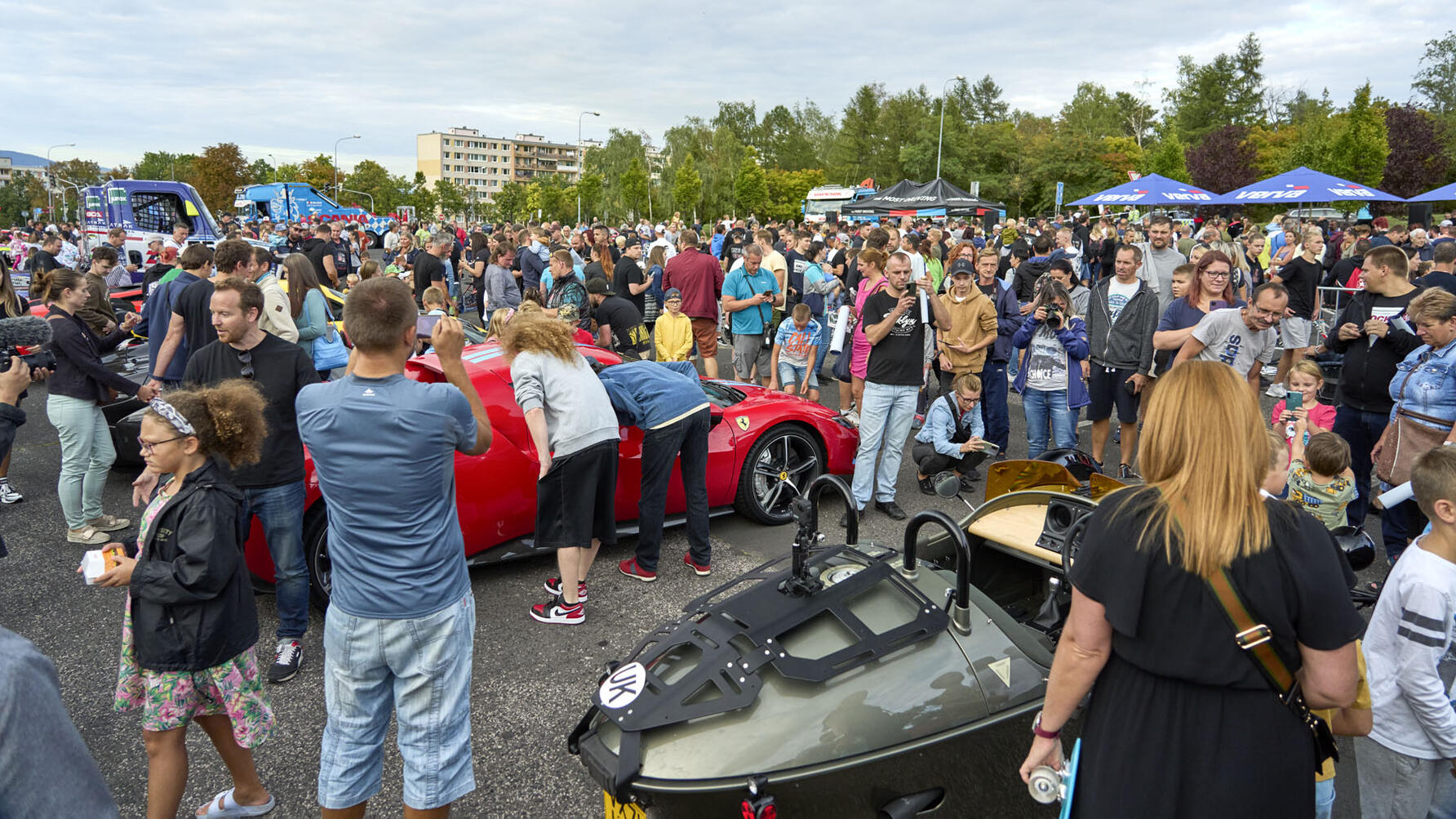 But to make sure there were some people in the grandstands, we needed to drum up some attention. Hence Stig leading the town parade like some sort of Pied Piper of horsepower and hooning. And boy did it work. The energy and reaction in Most was nothing short of insane. In fact, I'm pretty sure Harry Styles streaking couldn't cause this kind of stir. The locals love their cars. They scrambled for selfies, some desperately tried to find the fourth wheel on the Morgan, and kids, dogs and those grannies behind Zimmer frames swamped Stig for an autograph... unaware that Stig doesn't have a signature. Let alone know what one is. But the parade was just the start.
The next day we went back to the circuit and opened the doors to the Top Gear magazine Motor Show. Or that's what we'd tell Alan Sugar if we were on The Apprentice. In reality, we swept up the crisp packets, made half an attempt to park the cars neatly and pulled up some banners we printed off the internet so people didn't mistake our shiny glass box above turn 1 for the canteen. But to our surprise, people actually came. In their thousands. And it was fascinating to gauge public sentiment.
Naturally, you'd think the bright, colourful, expensive ones would have the magnetic pull to draw families away from the sausage and tat stands. But you'd be wrong. It was the bloody Morgan that acted as the sandwich board, doing the majority of the heavy lifting of getting people through the door. Once they were in (you can sleep easy Geneva Motor Show organisers) they would pinball around the other cars, peer into the Praga, tap the CSL's carbon bits, be flummoxed at the MC20's door hinges. Bizarrely, they would then take a selfie with a cardboard Stig and leave. Instantly. Like someone had set off a stink bomb. But they hadn't. It was just the racing had started. If there's one thing this crowd loved more than their cars, it was racing. And the Truck Prix was proper grassroots hotdogs and beer racing. And all the better for it.
Some motorsport has become overly manufactured in recent years, so the passion and enthusiasm at the Truck Prix was refreshing. It was rich with flavour and full of warmth as truckers, families and fans from all over Europe descended to show their support. You could smell the cholesterol in the air and the big rigs lining the track were pretty much an event in themselves. Many were airbrushed to within an inch of a nightmare, all had an assortment of lights and horns and one even had a weeping odometer that showed it had effectively been to the moon and back three times.
Not wanting to stand out, we ate XL pickles and raided the merch stands for straw cowboy hats and patriotic shutter shades before joining the builder's bums on the grassy bank to watch the action. And there was a lot of action. And noise. And excitement. It was amazing how quickly our ears adjusted to the whistling turbos spooling up out of the last corner to then see diesel fumes spew skywards as these big, heavy units smashed into their limiters before tussling into the exceedingly tight first corner.
One thing we did quickly learn is that in each race there's normally a big crash. Not necessarily because of velocity, but due to the fact that panels and parts the size of cars tend to fall off. But sitting two metres in the air, these racers don't care – they keep it pinned until someone finishes first. Then they hobble back to the pits so burly mechanics can winch out engines the size of wardrobes, put some more car-sized body panels on and go again. While they did, we took the opportunity to do a parade lap. A final time to unleash our inner Terry Grant, do a few more burnouts, rev the engines and declare our winner in front of the crowd. And what a winner.
Believe it or not, consensus is hard to come by at Speed Week. But this year there was one car that had a rare and near revelatory appeal to all. A car we never thought would exist, mainly because it'd mess too much with the internal hierarchy of what fast car should go where in Porsche's family tree. But as the curtains are evidently starting to close on the ICE age, there's a palpable energy of 'it's now or never' to this car.
Top Gear
Newsletter
Thank you for subscribing to our newsletter. Look out for your regular round-up of news, reviews and offers in your inbox.
Get all the latest news, reviews and exclusives, direct to your inbox.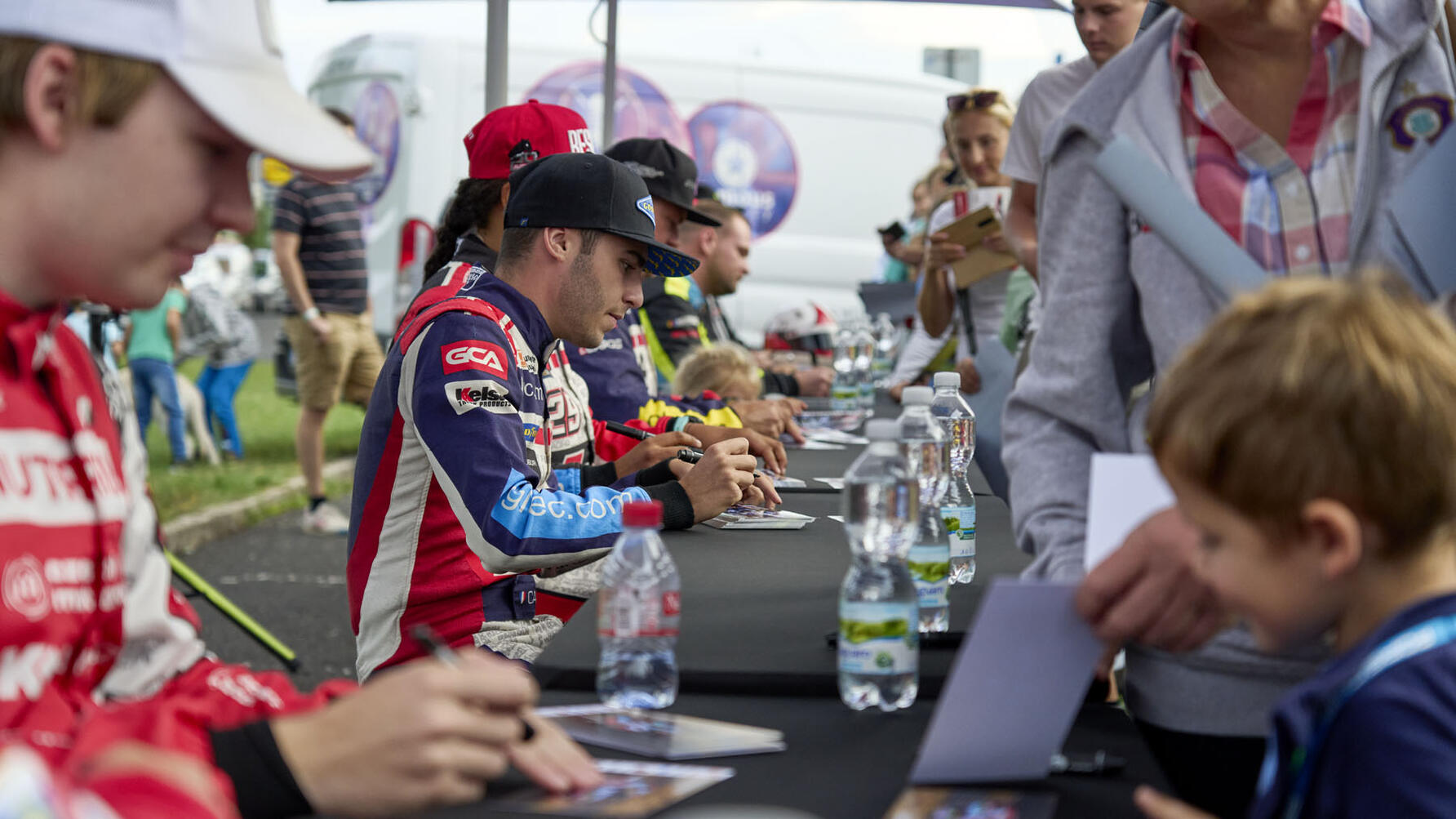 So the engineers threw bureaucracy and doubt out the window and mated one of the one of world's best sports car engines to the world's best sports car chassis. Then gave it utterly delicious steering, powerful brakes and made it walk a tightrope of design where restrained aggression could look purposeful but not outlandish. They made it fast but not supersonic to inspire confidence that taunts you to push harder, challenge your limits and go faster. It's authentic. A car that doesn't pander and flatter you for the sake of making things easy. It rewards you for doing things right. But doesn't spank you for doing them wrong either.
It's immersive and tactile. Shares satisfaction equally between all your senses. It's a car that makes your ears crave more noise wherever you are in the rev range, but gifts chilling goosebumps each time you take it to its zingy, zappy, metallic 9,000rpm redline. Which you can do, legally. But it's also the world's first empathetic sports car – a car that shouts at you and not others. It's small, aggressive and usable. It's an advent calendar you can open every day. Your favourite song you don't ever want to take off repeat. It's the tonic that the car world needs and the winner of Speed Week 2022. It's the Porsche Cayman GT4 RS.