Retro
From the archives: 208 GTi vs Clio RS vs Fiesta ST
A throwback to 2013 and three baby hot hatches on a mountain road in Wales. Perfection...
Handbrakes. Thank the merciful Lord that all three of our contenders on this test have got proper old-school handbrakes. You know the score. Small, stubby little cars, lots of turbocharged grunt and empty tarmac equals harmless fun. Don't try this on the public road; do try it if you have a private airstrip and nobody's looking. Into a super-tight turn, through the 'box into second gear - paddle-shifting in the Renault - and a judicious yank on the lever sends the back end skittering gloriously round. It really shouldn't be as much fun as it is, but in those few seconds of silliness all of modern life's rubbish buggers off for a bit. And who doesn't need a moment like that?
It seems 2013 is one of those years when the car stars truly align. If you're a Russian oligarch or aspirant Mark Zuckerberg, you'll be all over the LaFerrari, McLaren P1 and Porsche 918, three hypercar heavyweights that we'll be driving - miraculously - within weeks of each other pretty soon. But here's the killer: I doubt they'll be that much real-world faster than the Peugeot 208 GTi, the Clio RenaultSport 200 Turbo or the Ford Fiesta ST. These are nimble little hypercars in their own right, evocative throwbacks to people presumably old enough to know better, but sufficiently democratically priced to pull in a new breed of fan who was barely a glimmer in someone's eye back in the day. It's hard to believe the 205 GTI is almost 30...
Advertisement - Page continues below
This feature was originally published in Issue 244 of Top Gear magazine (2013)
A mere £100 separates the Gallic duo - £18,895 for the Pug, £18,995 for the Renault - while the Fiesta weighs in at a compelling £16,995 (a grand more in tastier ST2 guise). They each weigh around 1,200kg, pump out approximately 200bhp, nudge 62mph in less than seven seconds and max out at around 140mph, average about 45mpg (claimed, at least), emit similar amounts of CO2, and will cost much the same to insure. If their makers really have got their acts together and rebooted the genre that each of them at one time or another epitomised, then who needs 965bhp?
Advertisement - Page continues below
For some reason, I'm most curious about the 208. Its spiritual ancestor, the 205, is perhaps the sweetest-looking hatchback ever (Pininfarina designed it, you see). Plus, actor Christopher Lambert did daft things through Paris in a 205 GTI in mid-Eighties cult French movie Subway, so I expect to get the full Proustian rush the moment I get into 2013's 208. But it's an odd start. I'm driving it from north Essex to mid-Wales to rendezvous with the Clio and Fiesta, so I've got time to grapple with its foibles. The biggie is the same one that afflicts the rest of the 208 range: its oddball driving position. It's mainly down to the steering wheel, which is both flat-topped and bottomed, and set weirdly low. Meanwhile, the main instrument binnacle sits some way back on top of the dash rather than nestling in it, with all the multimedia stuff handled by a tablet-style module sprouting from the middle bit. This is an interior with excretions, and the upshot is that I'm still fiddling with the wheel by the time I hit the M25, vainly searching for a combo that allows me to sit properly and read the speedo. Either that or the wheel has to be dropped so low my crotch is in charge. And nobody wants that.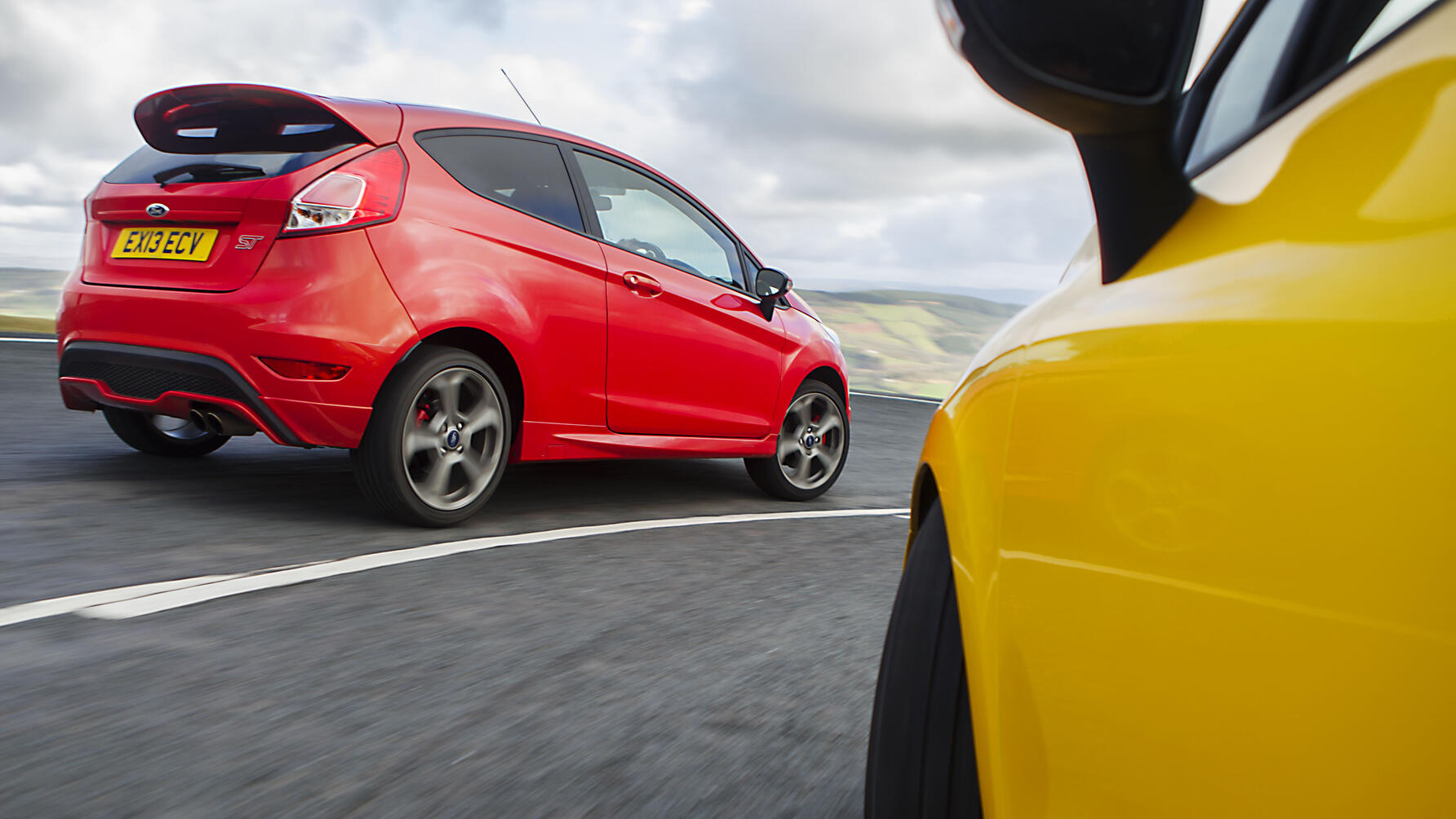 Foible number two is the tablet display, a game attempt at parachuting iPad touchscreen tech into the motoring mainstream which, despite nicely resolved graphics, is borderline unfathomable. Quite simply, trying to shuffle a playlist or scoop through the DAB - which itself is a monumentally hit-or-miss affair - means taking your eyes off the road for far too long. A separate iDrive controller by the gearlever would be a better bet. The rest of the 208's cabin is pretty good, though, a reasonably restrained and classy blend of materials only lightly undone by the 'I love 1984' graduated tint on the doorgrabs.
More significantly, the 208 GTi is an unexpectedly subtle companion on the 250-mile motorway schlep west. Its 1.6-litre, 200bhp four-pot twin-scroll turbo - the unit co-developed with BMW and also used in the Mini - might not be massively characterful, but it's refined and punchy. It also has just over 200lb ft of torque from 1,700rpm, which suggests that Peugeot is favouring broad-shouldered mid-range oomph over narrow but more thrilling high-rev nuttiness. It rides well, too, like a bigger car, and doesn't pogo delinquently down the M4. It feels grown-up, and I like it. I'm not sure everyone will, though, and there's also the nagging doubt that the A4069 in the Brecon Beacons will comprehensively foil this new-found finesse.
Which is precisely why we're here, in a gravel-strewn car park wreathed in Welsh cloud, where a small donkey is currently sniffing photographer Lee Brimble's bottom. I'm sniffing the Clio's interior and prodding bits of plastic. The stuff on the doors is flimsy rubbish, and our yellow Clio's exterior paint clashes with the copper/orange finish around the gear selector and the red accents elsewhere. Despite this Pantone mismatch, it's the most cohesively designed of the three inside, there's flair in some of the details, and its touchscreen is the most effective iPad tribute, down to accruing unsightly smears (especially if one of your number likes greasy corn snacks - step forward, Ollie). The Clio also ups the connectivity stakes by adding a system called R-Link, which trumps the Nissan GTR's throttle/braking/g-force telemetry for track-day amusement, and even allows you to synthesise a different engine noise entirely.
In these respects, it's a galactic leap forward from the Clio Williams - probably the second-greatest hot hatch ever, after the 205 GTI - but elsewhere Renault's plunge into the brave new world feels retrograde, at least in the fun stakes. The fact is, the Clio RS 200 is legislatively obliged to be cleaner and more economical, which means downsizing the engine from the old model's riotous normally aspirated 2.0-litre to a 1.6-litre turbo. Meanwhile, the marketing guys reckon that most potential buyers prefer the convenience of a paddle-shift DSG, and will trade edge for ease of use. They're probably right, but not this driver (and I ran a Clio Williams for nine months and a 172). It also has some trick new front dampers, which isolate nasty road-surface imperfections, reduce tyre load and rebound unpleasantness, while promoting front-end bite. Rather than a proper diff, the Clio uses ESP-related electronics to brake the inside front wheel that's losing traction. I'm no Luddite, but, for some reason, I distrust the Renault.
The suspicions carry over into those crucial first moments behind the steering wheel. Aren't small autos usually the preserve of the elderly or infirm, about as amphetamine-charged as a tartan-patterned shopping trolley? The Clio RS 200 is as fast and frantic as ever - sub-7secs to 62mph - yet you can tell immediately that the intimacy and interaction that has been the hot Clio's signature since day one has leached away. It's partly down to the cheap action of the paddles and the way it actually changes gear. But the RS 200 has also come down with that modern-day malady, the 'Button', in this case 'RS Drive'.
The idea, clearly, is to deliver the best of all worlds - everyday usability in Normal mode; beefier steering, sharper throttle response and faster gearshifts in Sport; all bets off in Race. The reality is that the Clio feels mostly a bit fuzzy and unresolved, wherever you end up. There's no question that the fundamentals are as excellent as ever, and what RenaultSport don't know about wringing the goods out of a front-drive chassis isn't worth knowing. But it feels oddly doughy and squidgy, the dual-shift 'box gets on my nerves faster than it gets from second to third, and though the ride smothers surface nasties very effectively, the Clio also pitches and hops a bit. This first blat across the mountain has been as rewarding as Brimble's donkey run-in. Unlike that encounter, however, I'm prepared to give it another go...
But first, the Fiesta. Your honour, I refer you to my notes: "Now this is more like it." Yes, the ST's interior ergonomics are a disaster, with a central console whose design mimics a mobile phone and has dated just as fast, and a screen so small and distantly located that it's like that vanishing-point moment in sci-fi movies when the spaceship does the jump to hyperspace. And, yes, the plastics manage to feel hard-wearing and a bit shonky at the same time. But the Fiesta simply feels right in your hands the nanosecond you hold the chunky little wheel in a way neither of its French rivals do. Affordable, multipurpose tools they may be, but if there's one thing a hot hatch should communicate it's this: drive me. The Fiesta does this with all the nuance of R. Lee Ermey's magnificently barmy drill sergeant in Full Metal Jacket.
Top Gear
Newsletter
Thank you for subscribing to our newsletter. Look out for your regular round-up of news, reviews and offers in your inbox.
Get all the latest news, reviews and exclusives, direct to your inbox.
What a truly fantastic little car this is. It, too, has been downgraded from 2.0 litres to a forced-induction 1.6-litre, this one a version of Ford's brilliant EcoBoost unit, and, with 175bhp, it's 25bhp shy of the 208 and Clio. Though there is an overboost feature, which allows 198bhp for short periods. Other ST-specific changes include uprated suspension, a 15mm lower ride height and its relatively unsophisticated torsion beam rear has been bolstered. But in its tactility and the instant wham of its performance, it wastes no time setting itself up as the new hot-hatch hero. OK, it's more unsettled and boomy on the motorway than the Peugeot, and it doesn't ride as nicely as the Renault, but it has excellent steering - the rack has a faster ratio - wonderfully crisp throttle response, and every aspect of its major controls just sends tingling little signals to your fingertips. You go, brake, turn in and go again, finding a pace and rhythm that is deeply, deeply impressive for something so small and affordable. Push it hard, or throttle off suddenly mid-corner, and it'll keep you amusingly honest, too, but it always feels and moves like an object that's thrillingly coherent.
Let's put it this way: I got out of the Clio and simply stared at it for a bit, slightly baffled. I found myself admiring the clever design cues on the Peugeot, particularly the chromed strip on the window line. When I got out of the Fiesta, I got straight back in again and went for another 10-minute monster across the mountain.
The conclusion, then, is surprisingly clear-cut: there are no real losers here, and all three make you glad to be alive in 2013. The Renault is better than it's currently allowed to be, and a harder version of the car is coming. Good; this iteration feels confused. The Peugeot isn't the 205 GTI reborn, but it has a breadth of ability its trailblazing forebear never possessed. It looks great, it's well-made and it might even be the best all-rounder, if you're on the motorway a lot and don't have a Welsh mountain pass on your front door. The Ford is the cheapest, and by some margin the most fun to drive. In fact, it's a little stroke of genius. But, for some reason, it was surprisingly rubbish at handbrake turns. We forgive it.