Retro
From the archives: a cross-continental coffee run in the E61 BMW M5
Remembering the time we deployed BMW's V10-engined M5 Touring on the world's longest coffee run
I don't drink coffee. Some might say that's a bit strange, but I don't – I never have drunk coffee, and never will. I don't like the taste. So when one of the rather strange senior editors here at Top Gear asked me to drive from London to northern Italy to collect a coffee machine for our new office, I jumped at the chance.
But only because the vehicle to be used for this adventure was a new BMW M5 Touring. Try sending me on a 2,000-mile round trip in a Kia Carens to collect a device for producing a drink I don't drink, and my resignation letter would be on the table before the 'C' in 'Carens' was uttered. But this was different. This was OK. The M5 Touring has 400bhp, and that's before you've hit the 'power' button, which unleashes an extra 107bhp. If ever there was a vehicle for taking on a long, pointless trip, for reasons not relevant to me in the slightest, this is the one. In fact, we came up with a reason to go somewhere far away simply because the M5 Touring exists. It is brutally fast, and practical with it. 
Advertisement - Page continues below
This feature first appeared in Issue 172 of Top Gear magazine (2008)
A quick phone call to BMW to check whether our cargo would fit, and bingo, we'd soon be creating the fastest land-borne coffee machine in the world. The plan is to go directly there on the fastest route – espresso if you like – then come back over the mountains and fling the coffee machine around, froth things up a bit.
Advertisement - Page continues below
Details arranged, and I'm powering down one of France's brilliant toll roads, heading south toward Retorbido, the tiny Italian town that houses the Brasilia factory, one of the country's largest coffee-machine producers. Most of the manufacturers in this industry are based near Milan in Italy's northern industrial heartland, for the entirely unromantic reason that making coffee machines is an industrial process.
Brasilia itself is an innocuous and uninspiring factory unit. Walk inside, and you can smell the coffee, but it's all very modern – not a hint of the archaic or the rustic. I wanted to see a couple of old boys working away with a screwdriver, fag on the go, knocking back thimble-sized shots of espresso between expertly shaping components on a lathe. You can't blame Brasilia for this, of course – after all, they turn out 30,000 professional machines a year, what with all the demands made by the behemoth that is Starbucks, among others.
My yearning for stereotypes is satiated somewhat by the laid-back Latin attitude to formality. Walk into the reception area, speak to the lovely lady behind the desk, nip round to the warehouse and exchange enthusiastic hand and facial gestures with a gregarious soul on the shop floor, sign a bit of paper and it's job done – a Brasilia Roma is ours. I should add that some of the credit for the ease of this must also go to Caffe Society, our contact in the UK, who helped put us in touch with Brasilia.
As for the ease of the journey, all credit there goes to BMW, builders of the larger (but no less wonderful) machine in this story. The M5 Touring is guiltier than most cars of not revealing its talents for a long time, mainly because you've got to press so many buttons to get it working in full-on hardcore mode. For example, on the way to Italy, I'd reached Dijon before I even remembered that there was a 'power' button. It's not as if the M5 is sluggish in normal 400bhp-mode, after all, but push that button, and the trees blur even faster.
The semi-auto gearbox frustrates and delights in equal measure. The M5 is the only car that you shouldn't leave in auto mode for town work because the shifts are too clunky and slow. You can speed them up (another button required for that), but then the car simply holds onto the revs for ages. Not the relaxing system I'm looking for. But every time you start the car up, it slips back into that rubbish auto mode. It's not difficult to get it into manual because you simply push the gearlever across to the right, but having to do it every time seems to make little sense.
Speaking of making little sense, I give you Switzerland. We had intended to head up through Switzerland, take in some awesome Alpine roads (very M5), then onto Germany for de-restricted autobahns (very M5). That was until the guys at Brasilia pointed out a few home truths about the European Common Market – namely that Switzerland isn't a member. We needed an official bit of paper and couldn't get it in time. Oops. So it's back through northern Italy, the French Alps, up via Val d'Isère and Mulhouse, then onto Germany to test the M5 on high-speed autobahns as well as the switchbacks on an Alpine pass.
I always thought Switzerland was a small country, but when you've got to divert around it, it suddenly becomes an enormous pain in the backside. Something like this suddenly makes the whole EU common-border thing seem sensible.
Get onto an alpine road, switch the M5 Touring to manual and Sport, and all troubles with Switzerland fade to insignificance. Milan might be one of the world's most vibrant cities, but the surrounding area is a bit dull and flat. Start climbing into the Alps, the temperature drops and you've got some seriously interesting roads. The D902 starts in a forest, which is OK, but you can't really see far enough ahead. Once you're above the tree-line, things get much better. There are loads of bikers here, some sort of UK Honda Civic Type R gathering, an eclectic mix of 2CVs, and some weirdly modded original Fiat 500s – all prove we've come to a decent spot.
Top Gear
Newsletter
Thank you for subscribing to our newsletter. Look out for your regular round-up of news, reviews and offers in your inbox.
Get all the latest news, reviews and exclusives, direct to your inbox.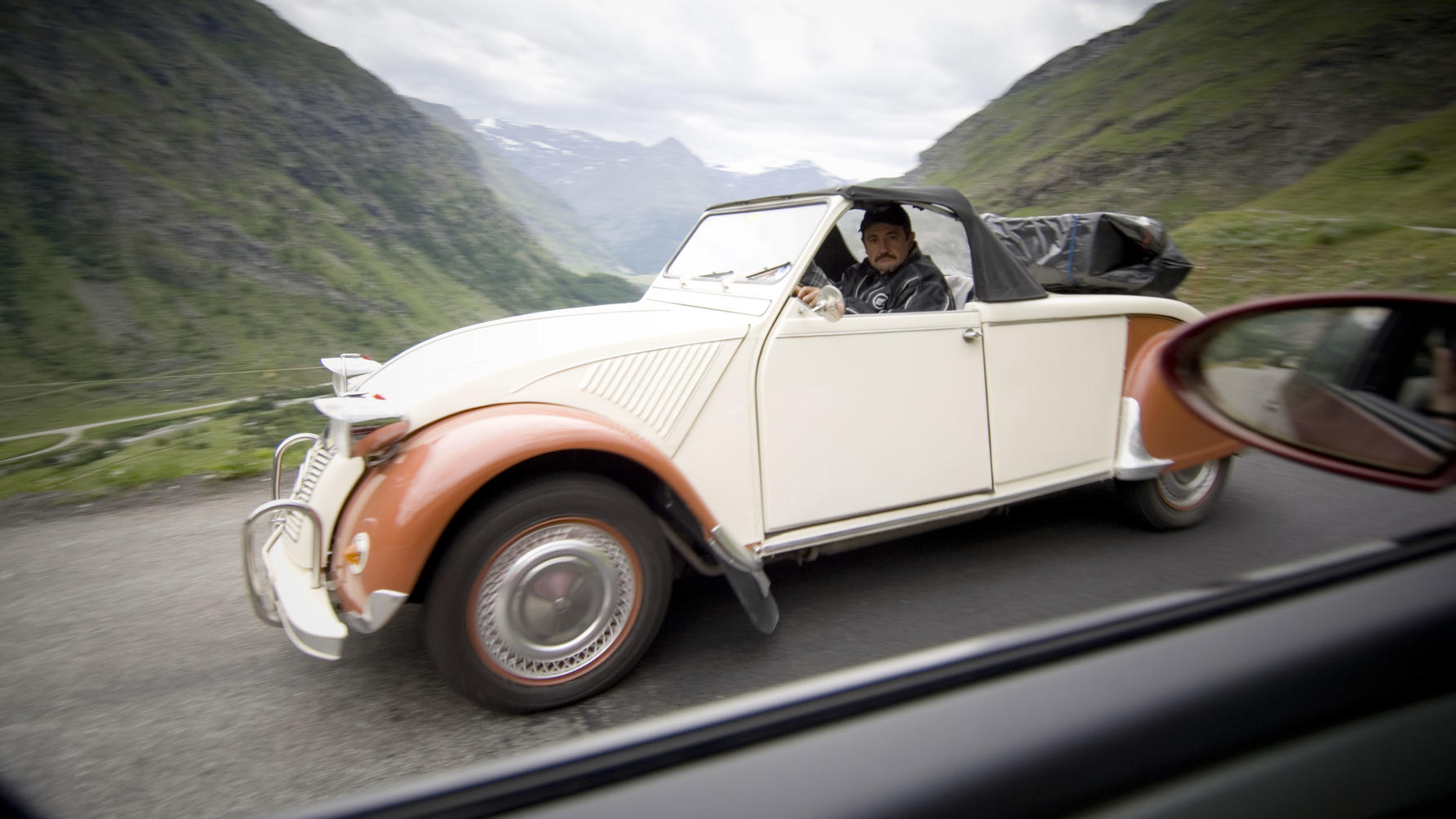 When you're aboard an M5, there's more camaraderie than with other BMWs. These guys are enthusiasts, and they can tell we are, given the wheels we're rolling in. I let a biker past, he thanks me then warns me of an upcoming obstacle. The 2CV drivers all pass with a thumbs up. how wonderful to be genuinely acknowledged by people who know their cars – rare with this badge.
Put the M5 into 'M' mode and it feels natural. You can set what you want from this mode in the iDrive menu – ideally you set it up with maximum power, quickest gear-shift programme, sport support seats that give you a kidney punch at every corner, but with comfort on the suspension. No point in making the coffee machine rattle any more than it already is.
The M5 is just fantastically capable over these sorts of roads. It's dry at this point in our journey, so we can really push on. The extra weight of the coffee machine in the boot doesn't dent the performance or handling at all, but the most noticeable part to the M5 experience is the assault your ears get. The 'M' heads-up display gives you a colour-coded rev counter, but anywhere above 3,000rpm, the hard-edged muscle noise is just great and gives you more than enough idea of how the revs are set. There's a real motorsport feeling to this, because it doesn't sound like you're driving a road car. A V8 sounds great, but this V10 is more raw, more focussed. There's a fantastic mechanical feel to the gear changes as well, as they cut the revs momentarily before the paddle gives it an up-shift. The automatic blip you get on down-changes only reinforces all this press-on feeling you get from the M5. This is a car that needs to be driven hard. It's also impressive the way you can skip through as many gears as you want. Just pull the paddle three times and it jumps straight to that gear – there's no need to pull it once and wait for the engine to catch up, like in a Ferrari 360 Challenge Stradale.
The corners open up before us, and it's really incredible how much speed you can carry through them. Grip levels are seriously impressive in this car, translating into utter confidence behind the wheel. It doesn't throw any surprises at its driver – everything you do is followed by a predictable reaction from the car.
The only problem with this part of the world is how quickly the weather can change. Bright sunshine one minute, yet pop over the top of a hill, and you're greeted with mist and rain. As we climb higher and higher (this pass eventually reaches 2,764 metres), the road becomes narrower and our speed has to drop. The roads aren't as great up here, but the scenery is still spectacular. Towering mountains rise up either side of us, their tops laden with heavy clouds, fingers of snow still clinging to sections of grass. The odd marmot pops up for an inspection but quickly disappears back down his burrow as we come past.
And the drop from the road brings the speed back down to reality. On some parts of the route, the French have really gone to town on the health- and-safety front by placing a length of string, a formidable barrier against your car (and large coffee machine) falling off the edge. Elsewhere, they've been honest enough to leave nothing at all.
The thing that probably amazes me most about the M5 is how comfortable it is. OK, so we've got it set in 'comfort' most of the time, but, even so, there's less patter over these roads than I thought there would be. Certainly, on the German autobahns there's no problem.
You could argue that the autobahns are where the M5 really comes into its own, and it was certainly very impressive. Its speed is effortless. Doing a max-speed run in some cars is hard work because it takes so long to reach 155mph, but in the M5 it just pulls. You never feel like it's going to run out of puff or struggle to get you over the next increment. Small gap in the traffic? Gun it, watch the speedo rise smoothly and cleanly.
Maximum-speed runs are never easy things to pull off, especially not right now on a busy autobahn in the pouring rain. But the rate that the M5 approaches otherwise-daunting velocities takes the edge out of things. Still, when you accelerate, you concentrate on the road ahead, looking for any possible dangers, glancing occasionally at the heads-up display speedo. But above 240km/h (149mph), you stop checking your speed. Safety takes over and you have to concentrate so hard on what's going on around you. After all, you're doing a mile every 24 seconds. Your arms tighten on the steering wheel, your eyes barely blink for fear you'll miss something that could cause you to slam on the brakes. It's exhilarating but terrifying, and all the while a large coffee machine sits quietly behind us as potentially lethal ballast.
With or without it, this car feels enormously stable at these speeds – you feel totally in contact with the road. There's no sense of the car starting to float. Oncoming corners – because that's what even the slightest kink on the autobahn becomes at these speeds – don't cause you to break out in a cold sweat.
After four days of hard driving in varied conditions, I was amazed by the M5. When the saloon was first launched, I wasn't all that taken with it. Too much tech, most of which wasn't relevant to the UK, since it only justifies itself at silly speeds. And I still think that's the case. But on a cross-continent blast mixed in with some empty Alpine stuff, it was so capable. It's called a Touring, and it fits its moniker perfectly.
As for the Brasilia, when the new offices are finished, it will be plumbed in. For the moment, it mocks Top Gear's caffeine addicts by sitting idly on a desk, unusable. But then, if they want an eye- opener, they really should take a BMW M5 Touring for a spin. You don't need a reason to drive it – even the most pointless journey has a purpose. The car exists, and that's enough.