Motorsport
From the archives: TG's ride in the Le Mans-winning Peugeot 908
A throwback to 2010, when we rode shotgun with Nicolas Minassian in the diesel 908
Le Mans. 8am. Peugeot's 908, the fastest endurance racer ever, is set for a hot lap. Two men are wedging Top Gear into the passenger seat. Oh Lord... 
"Can you feel it through your arse? Can you feel it through your arse?" 
Advertisement - Page continues below
So this is how I will die. Trapped in a tiny carbon-fibre coffin with a maniacal Frenchman demanding to know the sensitivity of my bottom. A maniacal Frenchman with a cockney twang and 700bhp under his right foot. A maniacal Frenchman who seems determined to smash both of us, and a near-priceless, championship-winning race car, straight into a lump of unyielding Armco. 
This feature was first published in Issue 205 of Top Gear magazine (2010)
Images: John Wycherley
And, to answer the question, yes. I can feel it through my arse. On this bitterly cold morning in northern France, we are spearing through Raccordement, the fast right-hander before the main start-finish straight at Le Mans, at a speed that seems physically impossible. The maniacal Frenchman is pushing his tyres to their limits, flicking the wheel left and right, feathering the car on the absolute edge of grip. 
Advertisement - Page continues below
His words, spoken not 10 minutes ago, hover ominously. "You don't get much warning when it's going to go," he said. "The weight is way back and you're at the front. It slides a bit and then 'wham!', you're in the wall." 
Ah. 
The maniacal Frenchman with the cockney twang is Nicolas Minassian, Peugeot's works Le Mans driver. (he's lived in Goodwood for the last decade, which explains the unmistakeably British tinge to his accent.) That 700bhp – and, perhaps more significantly, nearly 1,000lb ft of torque – is currently hoofing out from the 5.5-litre V12 diesel in the Peugeot 908, the racer that won Le Mans last year. It's the fastest endurance racer in history, the car which broke a decade of Audi monopoly and sparked Gallic revelry on a scale last seen after the storming of the Bastille. 
Nic wasn't part of the winning #9 team last year – after a few mechanical problems, his #7 Peugeot finished sixth overall, but Minassian set the fastest lap of the race at an average speed of 149mph, two seconds quicker than the best lap of the winning car. He's quick, in other words. Our best flying lap, Peugeot's technical director Christophe Besse tells me later, is within a second of Nic's quickest solo time, despite the large lump of Top Gear in the passenger seat.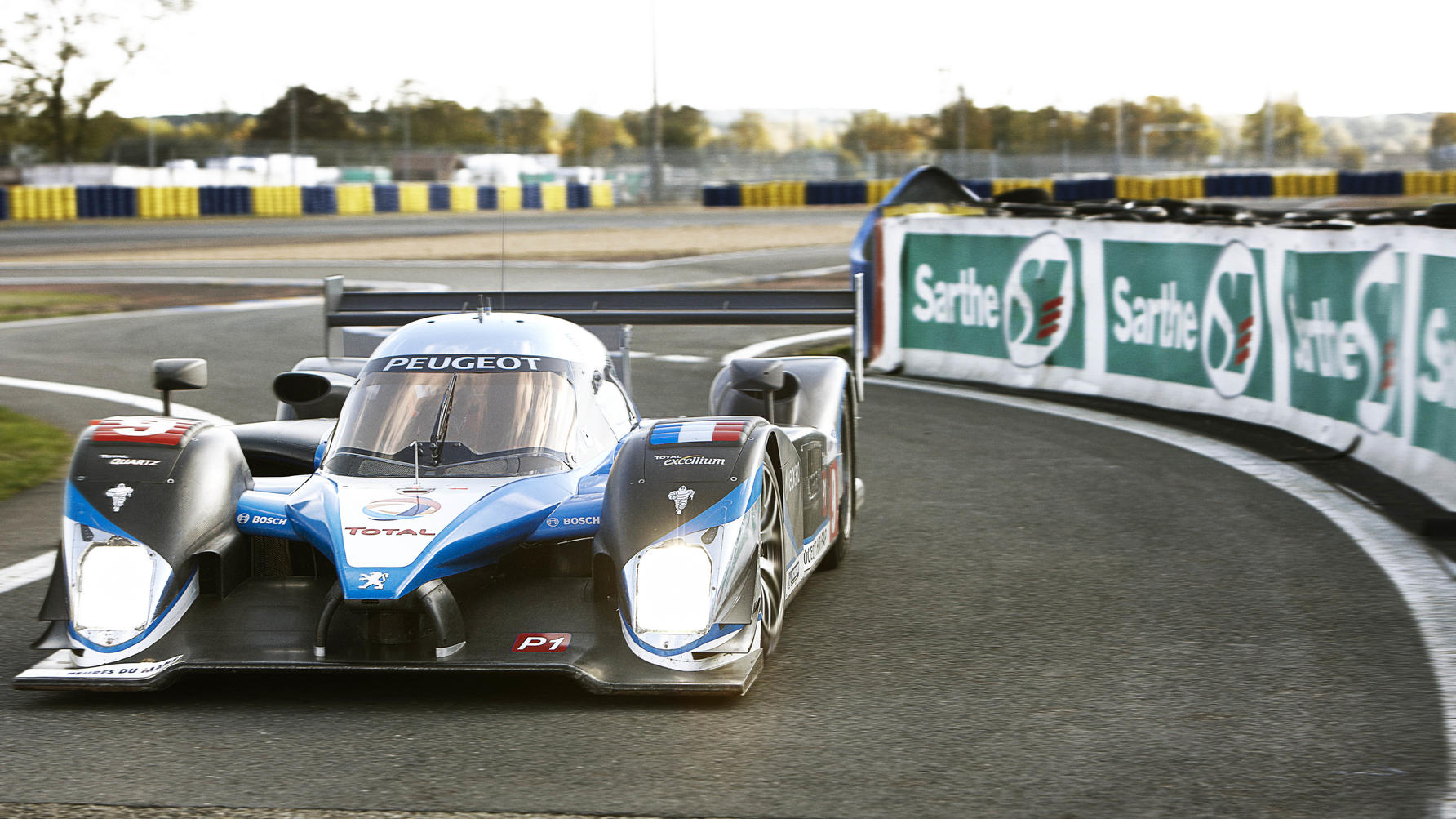 Back in the coffin. We carve onto the start-finish straight, and the way the 908 gathers pace is phenomenal. The shifts are short and brutal, barely a second in each gear of solid, shocking acceleration, then again, then again. There is noise now, but not from those churning pistons or the exhaust: instead, it's a sucking, thumping, air-bullying noise, all turbo whoosh and wind buffetting. We whip past empty grandstands as we climb towards 200mph, and I try to imagine all this at 4am, three hours into a gruelling night stint, rain falling, lights strobing through the cabin, cutting through swathes of slower cars. 
I cannot imagine it.
It's easy to view endurance racing – especially diesel-powered endurance racing, with its absence of cranium-splitting exhaust noise – as a contest that rewards reliability over on-the-ragged-edge racing. Wrong. The 908 is a monster. 
"It feels a lot like an F1 car," says Nic, who's previously tested with Honda and Williams. "A little bit lazier to change direction, but that's all. In some ways, it's tougher, because all the power is from 2,500-4,200rpm. All the torque arrives at once, so it's more difficult to modulate the throttle. In the wet, we tend to long-shift because there's less power at the top of the rev band. You drive with your arse." 
Top Gear
Newsletter
Thank you for subscribing to our newsletter. Look out for your regular round-up of news, reviews and offers in your inbox.
Get all the latest news, reviews and exclusives, direct to your inbox.
There's that arse again. You need a damn resilient arse to drive this thing. Last year's winning 908 covered 3,126 miles in the 24-hour race. That's several hundred miles further than driving coast-to-coast across the USA, at an average speed of 135mph. Half a dozen laps in the passenger seat is an intense experience. Eight hours of flat-out, sleep-deprived driving must turn you a bit mental.
End of the straight, and we dive into the first right-hander of the Dunlop Curves at least 120mph quicker than I'm comfortable with. I have never been more sure that death is near. Brutal g-force wedges my helmet against the window, yet still the 908 hangs on. Under the Dunlop bridge, and I can hear Nic laughing. Endurance racing definitely turns you weird. 
But the grip and lateral g-force aren't the most mind-altering bits of the 908. For that, we need to rewind 20 minutes, when the 908 is idling in the pit lane with Top Gear in the passenger seat. In fact, we need to rewind about 28 minutes, to the process of actually getting into the thing. 
This is not a simple job. What Peugeot calls a 'two-part passenger door', even the most optimistic estate agent would describe as a 'very small window'. Getting in is essentially a static, even less entertaining version of that awful telly show Hole in the Wall. 
Once you're in, it's... snug. LMP1 cars must, according to the regulations, be two-seaters, but there's no requirement that the second seat be big enough to fit a human adult. The cockpit tightens around the driver's feet. To keep me from accidentally prodding the pedals and condemning us to a dieselly crash, the Peugeot engineers have nailed a plank to the left of the brake pedal to separate our legs. 
The cockpit is dominated by the button-laden steering wheel – "it's more complicated than an F1 wheel," says Nic with just a hint of pride. He twiddles a few dials, flicks the right-hand paddle on the wheel and...
Whump. If you want to understand what pure, distilled torque feels like, it's simple. Strap into the Peugeot 908 Le Mans racer, and ask Nic Minassian to accelerate from standstill to, say, a modest 50mph along the pit lane. 
It is simply the most extraordinary sensation, something between teleportation and being hit in the small of your back by a runaway lorry. There's no spooling up, just a couple of seconds – if that – of sheer, mass-defying forwardness. You know that sensation, when you crest a hump-backed bridge at decent pace in a car, of leaving your stomach behind? Imagine leaving not only your stomach, but the rest of your vital organs, your brain, limbs... actually, your entire physical being, and being hurled 50 yards down the road. If this all sounds a bit drug-trippy, that's because it is. Peugeot has created a psychedelic monster of torque. 
It may be the last of its kind. The 908 will contest this year's Le Mans 24 Hours reasonably unchanged from its 2009 form, but in 2011 the LMP1 regulations will be entirely overhauled, with the aim of levelling the petrol/diesel playing field. Diesel engines will shrink from 5.5 litres to 3.7, fuel tanks from 85 litres to 61. The 908 will die. Peugeot will build a brand new car. It's expected to be towards the front, of course, but the team's suspicion is that the new car can't be as quick outright as the 908. 
So this year's 24 Hours of Le Mans could be the swansong of the glorious diesel era at Le Mans. Will it see the 908 go down in history as the fastest car ever to win the endurance race? Will the might of Audi once again crush it ruthlessly? It'll be fun finding out. June 12. Go. Watch it. Feel it. Through your arse.