Big Reads
From the archives: Top Gear's first Lexus LFA drive
A throwback to 2009 and our first drive of the glorious V10-engined LFA
The founding fathers of the car industry were mostly crazy. André Citroen drove himself round the bend pursuing ideas 20 years ahead of their time. There's a famous picture of Soichiro Honda with a jet pack strapped to his back. These days, though, the geniuses have to play second fiddle to the marketing wonks. Genuine, head-spinning curveballs are sadly rather rare.
Halfway through my second hot lap of the Nürburgring, though, and it's apparent that Lexus – of all people – still has a few bats loose in the belfry. After 10 years of development and five of Olympic gold medal-winning procrastination, the LFA is finally among us, and it is precisely everything you wouldn't expect a Lexus to be. It is epically loud, in-yer-face fast, and when it asks you certain questions, you better have the right answers.
Advertisement - Page continues below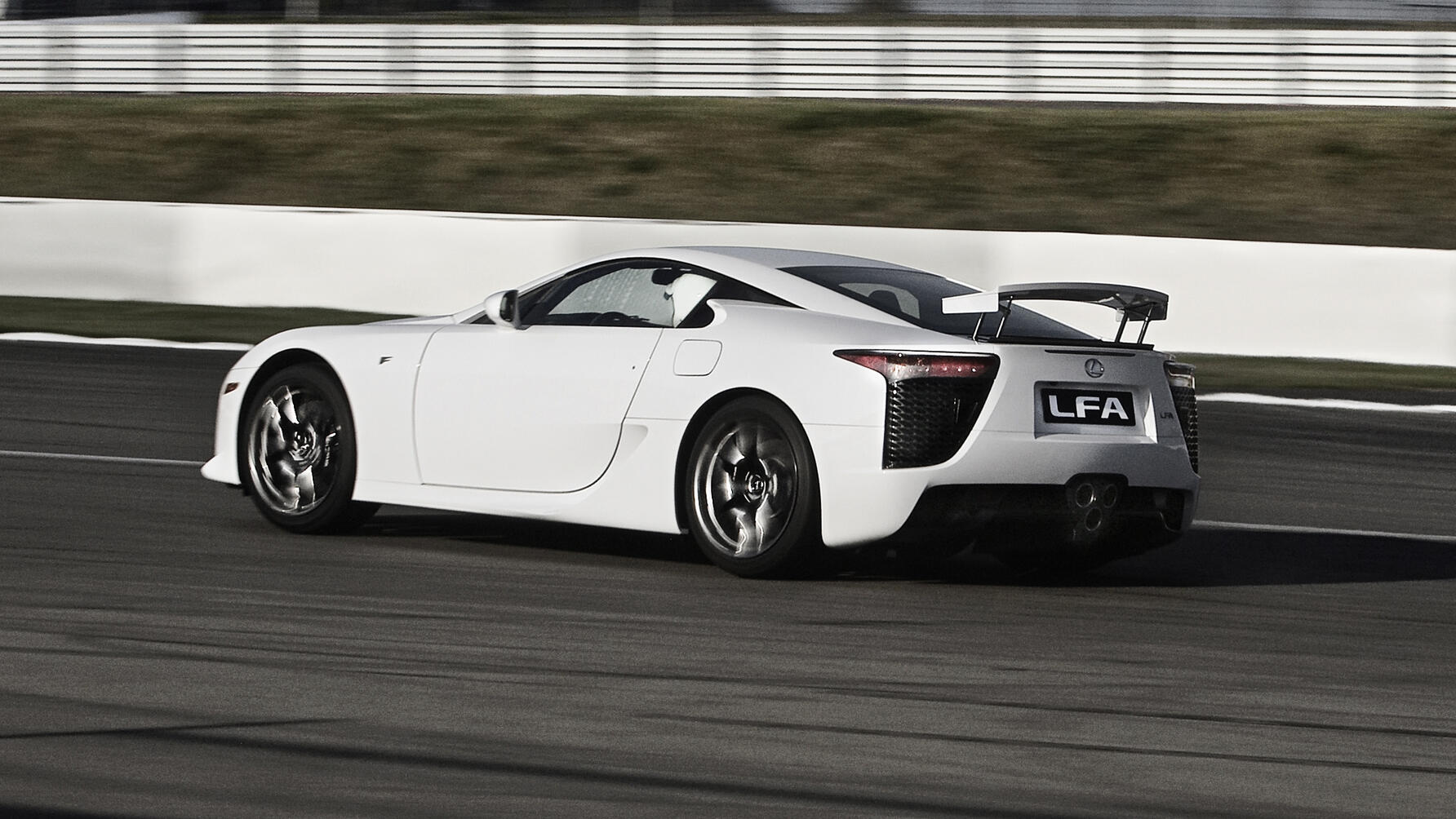 This feature was first published in Issue 198 of Top Gear magazine (2009)
God, it's noisy. For a company whose best-known model is a mobile sensory deprivation tank, the LFA is like the mosh pit at a Foo Fighters gig. But as we get airborne again over one of the Ring's notorious heart-in-mouth crests, I've got to admit there is serious entertainment on offer here. The LFA approaches greatness, which is good news after all this time, but it's also touched by madness.
Off the Ring and back in the pit lane of the GP circuit, we're looking at three stationary LFAs. There are two white cars and a matt black one, a quasi-military get-up that flattens some of its edges but looks suitably stealthy. A deputation of LFA personnel has flown in from Japan, too, and they want to know our thoughts. Now this is always unnerving, but doubly so given the language barrier. I set sail for 'most honourable', aware of the conversational icebergs that lie ahead. The chief engineer, Haruhiko Tanahashi, has already admitted that he's been working on the programme since 2000, confirming the LFA's leisurely progress to market (glaciers do officially move faster, but that's global warming for you). I incur his displeasure by suggesting that for a car that's mostly carbon fibre, 1480kg is a bit on the porky side. (Ten years on the gig, and I tell him his new baby is porky...) it's also a surprisingly aggressive car, I offer, and something of a handful, in an old-fashioned 'oh-my-god-I-think-I'm-going-to-crash' kind of way. His aides exchange nervous glances, then look at their feet. Tanahashi-san purses his lips before speaking.
"Yes, the engine sound is one of the things I'm most proud of," he replies. "I describe it as being like the 'roar of an angel'. I subsequently discovered that Alfred Tennyson had already coined that phrase, which was disappointing."
Advertisement - Page continues below
And more.
"It has to do with my philosophy as an engineer. I wanted to preserve an aggressive, emotional element. I wanted the LFA to deliver a euphoric experience. The driver would go to heaven in this car!"
This is an unusual ambition, to say the least.
The Nordschleife is more hellish than heavenly, depending on whom you talk to, but along with some time on the less daunting but still tricky GP track, probably the ultimate venue. The Japanese in particular seem to hold this place in particularly high regard, and while Nissan has made far more of the ring's role in the GT-R's development, Lexus actually raced a pair of LFAs in the Nürburgring 24 Hours earlier this year (and last).
More tellingly, one of the drivers was Akio Toyoda, grandson of Toyota's founder Kiichiro Toyoda and the recently anointed President, the man also widely credited with rescuing the LFA from development hell. Toyota's grand plan – to win the F1 world championship in a V10-powered car, setting the stage for a Lexus supercar – has obviously gone a bit awry, but launching the damn thing late was better than throwing away a fortune on development costs and not launching it at all. That would just have been silly.
Talking of which, Lexus wants £340,000 for an LFA, a figure that's getting on for £200,000 more than most of us had predicted. It's such a stupendous sum – even for a car whose production is limited to 500 units – that it automatically turns the LFA into something of a folly. Better still, it's a folly from the company that gave us the Prius. And the Auris. What's not to love?
You will, of course, make up your own mind about how it looks. Translating the essence of Japan into metal is a notoriously difficult thing. Erstwhile Mazda design boss Laurens van den Acker – now busy trying to save Renault from terminal tedium – did a great job of carving out a distinctly Japanese aesthetic with his Nagare show cars (including the Furai racing car). But it's the LFA that somehow captures the spirit of Tokyo at night on wheels, all shiny surfaces and barely suppressed menace.
Top Gear
Newsletter
Thank you for subscribing to our newsletter. Look out for your regular round-up of news, reviews and offers in your inbox.
Get all the latest news, reviews and exclusives, direct to your inbox.
The concept car survives mostly intact, and its shape plays with tricksy convex-to-concave surfacing. This basically means that different bits of the bodywork look as though they're trying to eat themselves, which is a strange state of affairs. The rear end is better: a fusion of Audi R8 and a Cylon from Battlestar Galactica, the highlight is its stack of three exhaust outlets surrounded by a heat-resistant black coating and underpinned by a pretty serious looking diffuser.
You can't argue with the dictates of aerodynamics either, unless you have a deathwish, so the production LFA's nose and chin are now Buzz Lightyear bluff, and punctuated by a series of ugly but effective air intakes. It doesn't look particularly slippery but a drag co-efficient of 0.31 is impressive for a car like this. There are clever little aero flourishes all over it; rubber seals on the bonnet inlet to stop air getting into the engine bay, and tiny fins on the leading and rear edges of the bonnet vents that allow hot air to escape without disturbing the airflow further up. It's not pretty, but it has presence.
If anything, the interior is even more demented. Lexus says it is divided into three zones: mechanical, human and driving. The reality is a disorienting amalgam of the old, the new and the barking mad, like a mix of an LS600 and something made by Cyberdyne Systems with rogue bits of old Celica parachuted in. The seats are terrific, and wrap right around the occupants' shoulders. Leather, Alcantara and metal accents do battle for tactile supremacy, and while the main binnacle is conventional, the centre console requires considerable acclimatisation. You move between options on the telematics screen using – and I quote – 'an advanced two-axis haptic joystick mechanism with reaction force feedback to guide the cursor'. It's a mouse, in other words, and frankly about as welcome in a car as the real thing would be inside my underwear drawer.
Then there's the main instrument display, which is so complicated Lexus had to hastily print a separate sheet to go with the main press kit in case we got trapped forever in a vortex between the brightness setting and the lap timer. The display combines an LCD panel with a TFT screen, but the real jewel is the dial that's mounted on a motor-driven moveable ring. There's an acrylic lens within it that changes colour according to which mode the car's in (auto, normal, sport or wet). There are all manner of permutations, but it's all hopelessly OTT and completely brilliant. Finally, the sound system is mind-blowing, and the newly designed amp is 37 per cent lighter, 35 per cent smaller, uses 90 per cent less power, yet is 317 per cent more powerful.
Not that you'll want to listen to Ken Bruce on the stereo. Not with Bruce Dickinson and the boys revving up for take-off. Central to this unexpected cacophony, of course, is the engine. Lexus could have tweaked the IS-F's awesome 4.3-litre V8 but instead opted to develop an all-new 4.8-litre V10. This produces just shy of 560bhp at 8,700rpm and 374lb ft of torque, 90 per cent of which is available from 3,700rpm. This equates to a specific power output of 116.5bhp per litre. It also pitches it squarely into territory staked out by the new Ferrari 458 Italia (567bhp), McLaren MP4-12C (600bhp) and AMG Merc SLS (563bhp).
As you'd expect, much is made of the motorsport connection. This is a low inertia, low friction powerplant. There's a 72 ̊ angle between cylinder heads to promote balance, and dry sump lubrication to reduce the car's centre of gravity and enable prolonged high speed cornering loads of up to 2g. Each cylinder has an independently controlled throttle body to optimise the amount of air ingested, and by measuring the throttle pedal angle a separate control system speeds up the fuel injection by estimating the intake air volume. The valves and connecting rods are made of titanium, the pistons – which move at 25m per second – of forged aluminium, and all sorts of other bits of unobtainium are sprinkled about the place. Lexus also claims that the engine can go from idle to its 9,000rpm redline in six-tenths of a second which, apart from anything else, means that an analogue rev counter can't keep pace, hence the digital one.
And it sounds extraordinary. They can't bloody win on the track, but by meticulously tuning the exhaust system the LFA makes a noise that's impressively close to an F1 car, both outside – and even better – in. Fashioning the primary air intake port from a porous duct material apparently helps swell the bass part of the harmonic mix, but I have no idea how or why or even what that means. What I do know is that this is a Lexus road car that sounds better than any Ferrari.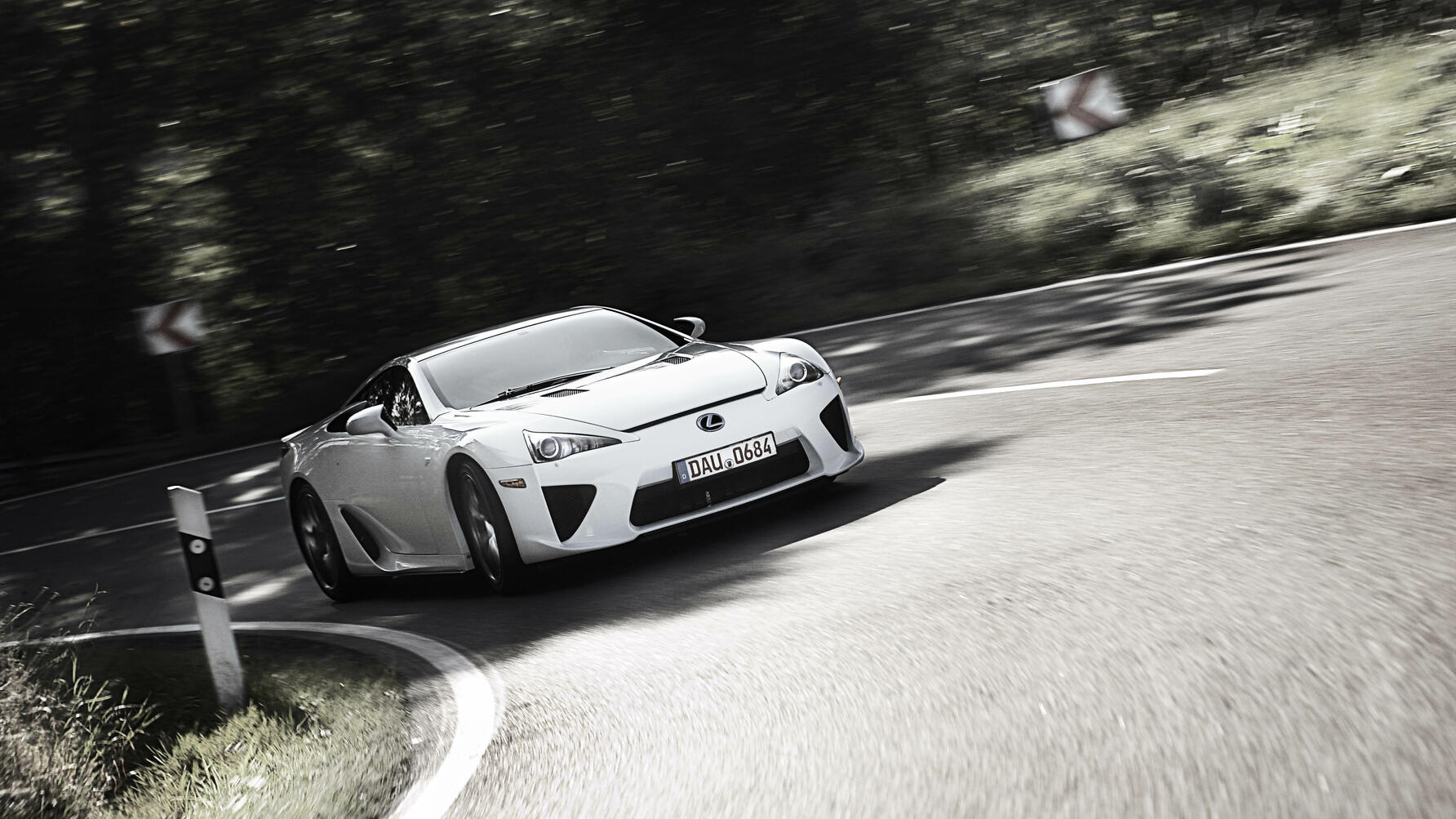 As to how it drives, well, that's more complicated, at least to begin with. After three exploratory laps round a Grand Prix circuit I don't know terribly well, I'm more confused than enlightened. It's all very well launching your new über-car on a circuit, but the trouble is that almost no road car – especially not one that's pushing 1.6 tonnes with a less-than-svelte passenger onboard – works properly on a track.
The LFA's chassis might be made of carbon-fibre reinforced plastic created by Toyota itself in a facility built specifically for the job – "aluminium is yesterday's technology," says Tanahashi, explaining why they switched from ally to carbon fibre halfway through the project – and it might have 48/52 weight distribution front/rear, and a rear transaxle gearbox, and a steering column that's mounted directly onto the firewall of the carbon-fibre chassis to improve rigidity... but it's still a road car. So initially it feels a bit soft, there's noticeable weight transfer, the steering itself feels overlight which in turn masks the LFA's turn-in, and I get nowhere near the limit of the carbon ceramic brakes, but reckon they lack feel at the top of the pedal travel. These aren't great first impressions.
Then we leave the GP circuit behind and take to the Nordschleife, with a Ringmeister in a race-prepped IS-F up ahead. Now we're talking. Maybe I'm getting used to it, or perhaps the Ring's longer stretches are what the LFA needs, but out here, with almost 15 miles of track and 73 corners to play with, it comes thrillingly to life. It feels like a car developed by some hard-nosed, hardcore racers who aren't inclined to wrap the driver in cotton wool, hardcore racers with a well-developed sense of automotive hedonism. In fact, it's right up there with the Ferrari 430 Scuderia in terms of raw, sensory overload. The V10's appetite for revs is astounding, and though its sequential, paddle-shift auto is miles away from the latest dual-clutch systems when it comes to shift speeds or smoothness, the LFA's 'box has a muscular, mechanical quality that suits the car's basic character.
Which is surprisingly primal. Even with the traction control switched on, you're never in any doubt that you're piloting a 560bhp supercar. In fact, now it's starting to feel like a racing car. The LFA's steering – a constant ratio, all-electric set-up – is linear and accurate. It's also race-car nervous and edgy at lower speeds, but that disappears the faster you go, at which point all the aero effort starts to come into play and the air starts doing things few mere mortals can understand. In other words, you have to work it, trust it to behave itself as things hot up. On the Ring's many corners and compressions, it's challenging but balanced, stable and changes direction beautifully. It helps if you're smooth and measured with your inputs, but you can almost sense it sneering if you're anything less than 100 per cent committed. 'Is that all you've got? Come on!' it says. In Japanese. Obviously. That includes the brakes: they're awesome. And needless to say, with the traction control off the LFA is an absolute hooligan, despite its fat 305/30 rear rubber.
What we have here, then, is one of 2009's strangest cars. It's possible that, having spent so long on the damn thing, Tanahashi-san and his team actually did go slightly mad. It's wildly expensive, over-specified and looks like an evil Transformer.
It might just be the greatest Japanese car ever.