Formula One
Can triple Formula One world champion Max Verstappen drift?
Sure, he's one of the fastest drivers in the world, but can he smoke a set of rear tyres?
Max Verstappen is on fire. A huge lick of flame has erupted from the exhaust of his car, and he's just dumped the clutch with a ferocity that would detonate a Formula One gearbox during a Grand Prix start. "Rev it to the moon!" says the man beside him, as the air is rent asunder by a sound like a haunted beehive. Then they explode forwards, and more pertinently sideways. Very, very sideways.
F1 drivers don't generally drift. If they do, it's usually the precursor to a crash or a big spin. Supernatural car control is a given, yet oversteer is anathema. But today triple F1 world champion Verstappen is on a mission to add another skill to his formidable armoury. He's learning to drift. Now, Max's racing comfort zone is so well established he's practically moved a sofa and giant flatscreen TV into his all-conquering Red Bull RB19. But he insists there's work to be done.
Advertisement - Page continues below
"I've never drifted in my life. I haven't prepared at all so I guess that's even better," he says with a sheepish grin. "Here and there I've drifted a bit in my F1 car, but not like we're going to do today. Let's see if any skills I've learnt over the years can help me."
Photography: Mark Riccioni
Here and there, he says. Skills. He's being a touch disingenuous. Cast your mind back to the rain-soaked 2016 Brazilian GP when Max exited the last corner on whatever counts as full opposite lock in an F1 car and somehow managed not to bin it. (It looked impossible.) Even more impressive was the powerslide when he drove Jean-Éric Vergne's Toro Rosso in a practice session at the same circuit two years previously. (That went viral, JEV moved to Formula E.) We know Verstappen has a propensity for getting his elbows out during a race, and for finding grip where none apparently exists, but he's also able to make an F1 car dance.
Today will serve up different gravy. TG has been invited to Millbrook proving ground to watch as Max swaps his single-seater for a 1992 Mazda RX-7, known as the Madbul, a gargling, snorting, steroidal monster created by a man called 'Mad' Mike Whiddett. Mike, 41, is a pro drifter, born in Auckland, New Zealand, whose extreme activities have brought him into the Red Bull fold. He must have a good dentist because it's impossible to find a picture of him where he's not flashing his gnashers in a gleaming grin, accompanied by the sign of the horns finger gesture. He is a dreadlocked, high octane nonconformist who can do highly unusual things in absurdly powerful cars.
Advertisement - Page continues below
Mike was never likely to end up in accountancy. The guy's path to global recognition in the arcane world of pro drifting would make a compelling Netflix drama. An only child who never met his father, Whiddett was raised by his single mother. As a kid he slept on the top bunk in a one room apartment, his mum underneath. Scrimping and saving got him a motocross bike when he was seven, and it was the crazy two-wheeled stuff that really lit the fire.
"I idolised Ricky Johnson in Supercross," Mike says. "I wanted to be a Crusty Demon [famous freestyle daredevil motocross riders]. Tommy Klaus came to New Zealand and he wore a Red Bull crash helmet. That seeded an idea in my head. I did some racing, but clutches and tyres were just too expensive.
"It's been a rough ride, mate. I've broken every bone in my body. I broke my back in 2002, was told I'd never walk again. My mum said, 'I'm not even coming to watch. Because you're either on the podium or I'm following the ambulance to A&E and you've got bones hanging out of you.' This is where the 'Mad' Mike thing came from. The problem was that I was learning all the tricks on the day at the events because I had nowhere to practice."
Then he discovered drifting, eventually going professional in 2006. "In New Zealand, the scene is for kids who can't afford to race in karts or fast cars. But they can get their hands on something cheap and rear-drive and start drifting."
Australia and New Zealand has always had a thing for JDM metal, and apart from a recent eye-popping experiment with a Lamborghini Huracán, Mazdas are Mike's thing. "Rotaries were cheap, loud, obnoxious and fast," he explains. "With no full toolkits me and my mates would pull them apart, port them, put them back together and go and do skids."
Mike has what he calls the Madlab at a circuit back home in Waikato, New Zealand. The Badbul RX-8 and the Radbul MX-5 are both mega ("It was insanely fast but it was also dangerous, something I learned early on when I crashed it at nearly 200kph," Mike recalls), and there's even a three-seat Luce saloon called the Madcab. But he'll be using his Madbul RX-7 to teach Max the rudiments today.
"It's the first of the FDs. I paid $5,000 for this car, it would be $100k now. We chopped it to pieces with grinders, welded in a roll cage. We call it the Gen 8, because eight times it's been fully stripped down and rebuilt, with different wheels, body and livery. But it's always worn the Madbul name."
Top Gear
Newsletter
Thank you for subscribing to our newsletter. Look out for your regular round-up of news, reviews and offers in your inbox.
Get all the latest news, reviews and exclusives, direct to your inbox.
It sounds like the Trigger's broom of drifting, but we're not going to argue. (It's also known as the Ship of Theseus paradox: Plutarch wondered if a wooden ship on which every piece of wood had been replaced was technically the same ship.) At one point, the Madbul had an RX-3 nose grafted on, and various other modifications have occurred over the years. But its engine has remained more or less intact: it's a naturally aspirated four-rotor 26B, making a mere 600bhp here today, but capable of 1,200. (Mike says the 1991 Le Mans-winning Mazda 787B was an inspiration.) It uses EFI hardware throttle bodies, a 90mm stainless steel exhaust, and is fitted with a Haltech Elite ECU. The transmission is an HKS six-speed sequential, with an OS Giken 1.5-way limited-slip diff, and the suspension uses KW Competition three-way coilovers, with Megan Racing arms and an ASD hydraulic handbrake. Yep, these guys talk a different language.
Max Verstappen didn't get where he is today by being rubbish at anything
Max Verstappen clearly doesn't do nervous, but he didn't get where he is today by being rubbish at anything. Red Bull is filming this adventure into the unknown, so a lot of people are milling around. A retinue of assistants trail Max like blossom on a breeze. What's he really like? As with Lewis Hamilton, it's a question I get asked a lot. Schooled by his uncompromising father Jos, Max 1.0 was unbelievably fast but also curiously... chippy. He's mellowed, no question about that, and he's friendly and approachable even when I sidle over to him for an off the record conversation minus the PR minders. But then, Red Bull and Adrian Newey have gifted him one of the all-time great F1 cars, a machine he's sublimely at one with, and if I was having the 2023 season he's having I'd be pretty chipper, too. Does he really not like a little cheeky slide now and then?
"Normally when that happens it's because you had a little moment. I don't mind drifting a little bit but I would prefer to keep it straight," he says. "I don't really drive that much when I'm at home and when I do I'm not really out there to go sideways, unless I'm on a track. I did a bit of rallying in my dad's car [Jos has won in a Skoda Fabia RS Rally2]."
So how on earth do you find the grip on a wet track, when no one else seems able to? "It's about the feeling, just looking around. Try different things, don't always use the same line. Something works better in one corner but in another you might need something else. From a very young age my dad was hammering on that, keep on trying to improve and look around. Just keep your eyes open."
Then he's summoned. Cue the cameras, drones, and bring the noise. "This car is loud!" Max says. Mike flashes his giant smile, "It made me who I am," he says. "It's your baby. Lots of pressure on me today," Max replies. "Nah... go hard. Don't be shy of the rpm!"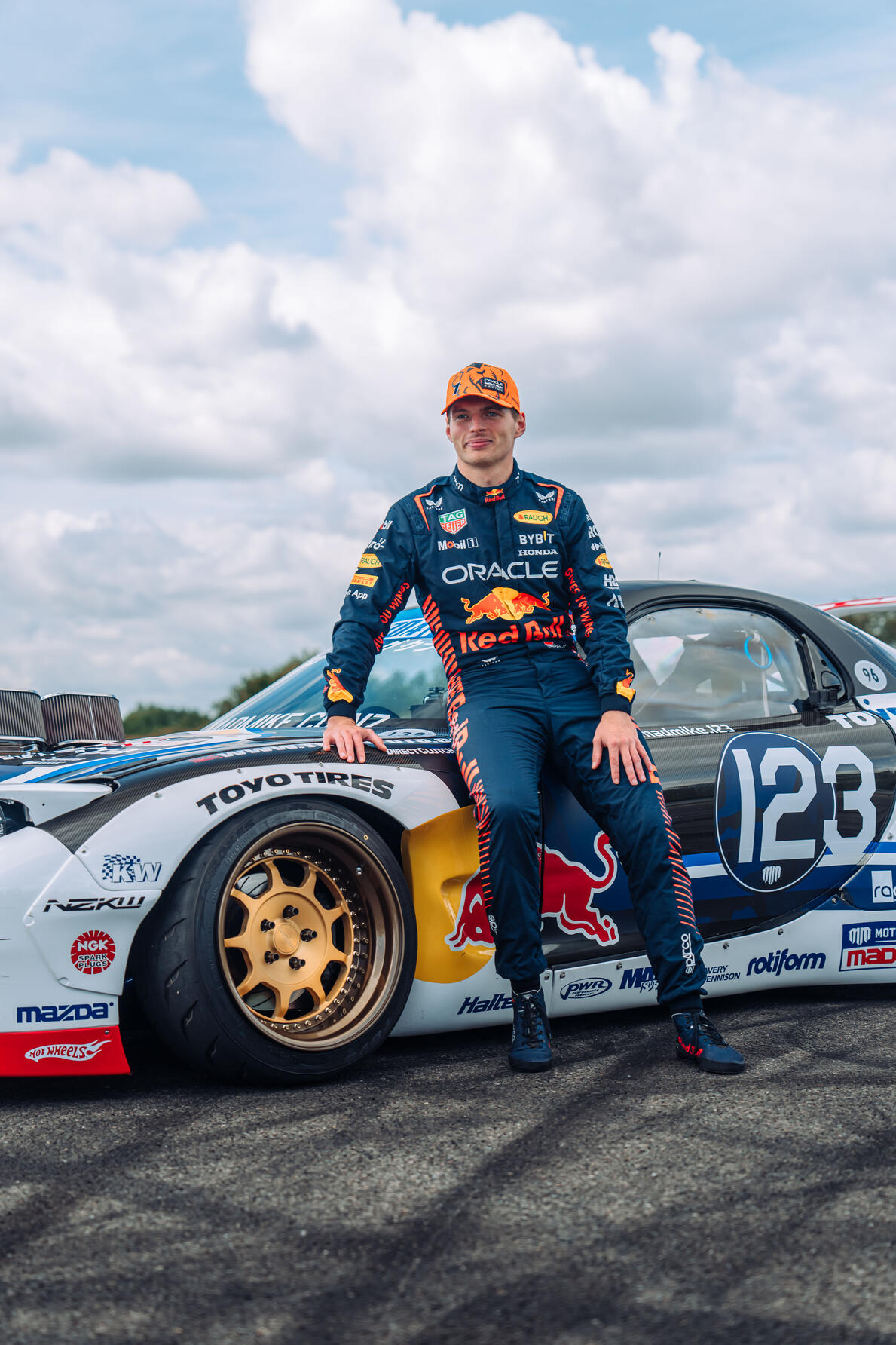 Whiddett will be teaching Max basic donuts, a figure of eight transition, a Scandi flick, and what he calls a 'wall ride'. So what are his top three tips for drifting?
"Firstly, have commitment and don't be scared. Secondly, Max is used to always holding the wheel. We run massive amounts of rotation from lock to lock, which is way more than he'll be used to and such a fast rate that you have to let go of the wheel. This is something that just doesn't feel natural to begin with. Then there's the coordination you need for the hydraulic handbrake. This will really take him out of his comfort zone."
Unsurprisingly, Verstappen is a fast learner and has the reflexes of a ninja. But there are a few surprises. F1 cars are violent and physical in many ways, but the Madbul needs way more brute force than he's expecting. Mad Mike demands more revs, more aggression on the gearshifter, more blood and thunder.
Max nails the figure of eight no bother, but needs time to get the hang of the hydraulic handbrake. You need to dip the clutch at the same time, and use a bit of left foot braking. There's more to this than just lobbing a car sideways and balancing the drift, even for an F1 champion. The Madbul is also fitted with Toyo rubber that's grippier and more robust for filming purposes, as ludicrously slidey as it looks. "We don't want to smash through a thousand bucks worth of rubber in a few laps," Mike says, sounding momentarily sensible.
For the big payoff, he sets up what he calls Horner Corner, cutouts of Red Bull Racing boss Christian complete with outsized hands. "Give him a high five with the rear of the car," he instructs Max. "You've got one chance. I mean, you are F1 world champion."
Soon there are Horner hands everywhere. Verstappen is happy, but knows there's more to be had. Much more. "Give me a whole day in a drift car and I'd probably improve a lot, because it starts to become more natural. It's just so different for your mind, the way you throw the car around compared with a racing car. I'm not used to going sideways, and also the steering lock... It's very different, the way it's set up," he says. Three days later, he'll refer to the experience in the post-race interview, having cantered to his sixth consecutive GP win, this one at Silverstone.
"What I was more interested in was to see how he expressed his personality through his driving, because that's what I love to do," Whiddett says. "That car is my personality. The way it looks, sounds and drives. But look, he engaged with it immediately. He was initially a little timid on the throttle, trying to use lower rpm, trying to slow the wheel speed down which creates more drive and more precision.
"It's about finding the confidence and the speed to go in a lot harder, throw the car sideways and let go of the wheel. But it was his first time and racecraft is his thing, and there's so much more involved in F1, the strategy part is so huge. It's not just you and the car. Whereas this is as raw as it gets. Be rough on the gearbox, be tough on the clutch, and don't be scared to rev it to the moon."