Big Reads
Celebrating the ordinary: a big road trip in the new Vauxhall Astra
The past few years have made us appreciate the small things in life more than ever – and sometimes it's not the car we crave, but the sense of freedom it offers
After nearly three years of Covid-19 restrictions, you will imagine I've been busting to return to driving top-end hypercars in exotic locales. Frankly not, actually. I've missed most sorely the ordinary stuff: being among people I like, in places we know, doing the comfortingly familiar but being sure to do it well. As the world emerges from under the terrifying pressure of one crisis, others are lining up like a hail of meteors to take its place. These are unnerving times. Which surely urges your priorities away from the fantastical. Yet there were a dozen squillion-pound limited edition hypercars launched on the lawns of Monterey Car Week last summer and they left me queasy, as if gazing on the final twitches of a decadent empire. 'Exclusive' eh? Exactly why is something better simply because others can't have it?
In these times we need 'inclusive'. So here's Top Gear's ordinary car of 2022. The sort of car we've all owned or driven at some point. Hatch. Small engine. No hybrid or plug. Unsporty. But the new Astra is a fine example.
Advertisement - Page continues below
We've all learned since early 2020 that our time is too precious to waste on anything that's mundane or shoddy. So I'm off to do some ordinary things, but good ones. They'll be in beautiful places linked by great roads in a sweep of central and northern England. A roadtrip designed to be inclusive. Happily it also neatly swerves the spiralling argy bargy of Channel crossings or airports. 
Photography: Jonny Fleetwood
This feature was originally published in the 2022 Awards issue of Top Gear magazine
Advertisement - Page continues below
So you find me and photographer Jonny Fleetwood on a wet motorway in a 1.2-litre Vauxhall feeling very chipper. It's the M6, normally given a bad name by its treacly plugged up flow past Birmingham. But we're up near the Shap summit in Cumbria. Different altogether. Traffic is as sparse as a Sixties planner's sketch; the scenery is awesome. The view and atmosphere changes wildly with the weather up here, and the weather is seldom the same for long. Today we have drama: clouds of lead and mercury cloaking the hills, spray beating down on the car. It's our comforting little weatherproof cocoon.
If motorways have a bad name, so do motorway services, and with good reason. But not Tebay. It's tucked right up here in the Westmoreland hills so it gets off to a good start, but the food is what detains you. Instead of overpackaged corporate processed chow plonked under grease-yellowed striplights, you get proper hand-cooked local produce, and a farm shop. The same people also operate the Gloucester services and those are just as good, so why aren't other motorway travellers dignified with the same standards?
Right. We're nourished for some exercise. The Astra, like any hatch, can swallow a bike or two. Try that in your V12 hypercar. Rather than using an external rack, I like to drop the rear seat, take off the front bike wheels and put them upright in the back. It saves wind noise and drag and worry, provided of course you tie them down well to avoid getting a handlebar to the back of the head when you brake. The Astra has good lashing eyes for the ropes. 
Cycling might be a wholly ordinary activity, but up in the Pennines is a network of beautiful and lonely tracks, road and gravel, that properly clear the head and lungs. I do a little segment of the route across the spine of England, stopping at Britain's highest pub, the Tan Hill inn.
Two wheels good. Four too. The road always matters more than the car. I'd rather drive a slow car fast than a fast car slowly, even when it's a matter of perception and those two speeds in miles an hour are exactly the same. Coming down off the Pennines the roads are fascinating and challenging. It's narrow and bumpy enough that a supercar would be nearly as constrained here as it would, for different reasons, in Surrey. The Astra stretches its legs.
The road always matters more than the car. I'd rather drive a slow car fast than a fast car slowly
Its trick is in its lightness of touch. It isn't actually all that light in kilograms (though the little three-cylinder engine helps), but it's fluent and agile on these roads that buck and twist, crest and dip. A really well judged suspension for rural Britain, even if paradoxically that's an inheritance of Vauxhall's mating with Peugeot. You don't have to work the steering to hold it against that roadway disturbance, so you can just use it to pour into a bend, when you find nicely proportional reactions. Hit a damp patch and the wheel momentarily goes light in your hands – and I thought steering feel had been declared a banned substance. Of course there's a bit of stodge and slack here because it's an ordinary hatch not a sports car, but it's a well struck balance; that slight rubberiness is what kept things refined on the M1 and M6 yesterday. 
We head down Swaledale and across the A1(M) to the North York Moors via respectable towns – Richmond, Helmsley, Kirbymoorside – once made prosperous by the wool trades. Can't imagine that now, as livestock farmers barely scratch a living. If you drove into towns like this on holiday in Italy or France you'd grab a guidebook and fill your camera's memory card, yet there's a tendency to take them for granted when they're in our own country. The low afternoon sun emerges, casting its glancing light across this countryside's plump contours like celestial illumination on the stomachs of Botticelli cherubs.
Top Gear
Newsletter
Thank you for subscribing to our newsletter. Look out for your regular round-up of news, reviews and offers in your inbox.
Get all the latest news, reviews and exclusives, direct to your inbox.
At Kirkbymoorside we turn north again along Blakey Ridge. It's a quick, empty road, and the Astra needs all its puff. Fine. The chattery three-cylinder is a bit noisy and not that brisk, but happy enough to sit in its well upholstered boost curve, and the automatic transmission does what I tell it to via the shift paddles. But the ratio gap between second and third is a chasm, and in town it snatches horribly as you come to rest – both characteristics this box has always shown in Peugeot Group cars. If it were me speccing an Astra, I'd switch to a manual and drop one trim stratum, making it £4,500 more inclusive.
We're moving in a hurry now towards our national dish. Whitby takes it extremely seriously. In fact several of the fish and chip shops here claim to be the best in Britain. We choose the Magpie, having been directed there by my favourite Yorkshirewoman. Sure enough it's about the very best fry that has ever passed my lips. A carapace of light salty batter brings on the alchemic steaming of fresh flaky cod. The chips are golden-crispy outside, fluffy and earthy within. Friends, even the pickled onion is magical. Lately a bar has opened on the rooftop of a London hotel. To see its panoramic views you have to book a two-hour slot and undertake to spend £75 a head, literally boxed in and constrained to enjoy yourself on schedule. Instead here we are, a tenner each on our takeaway feast, sat at the harbour, then climbing Dracula's 199 steps to the ruined abbey and churchyard for a view of the town and its twin piers jutting into North Sea like a lobster's pincer, talking our cheery nonsense as the evening slowly sets.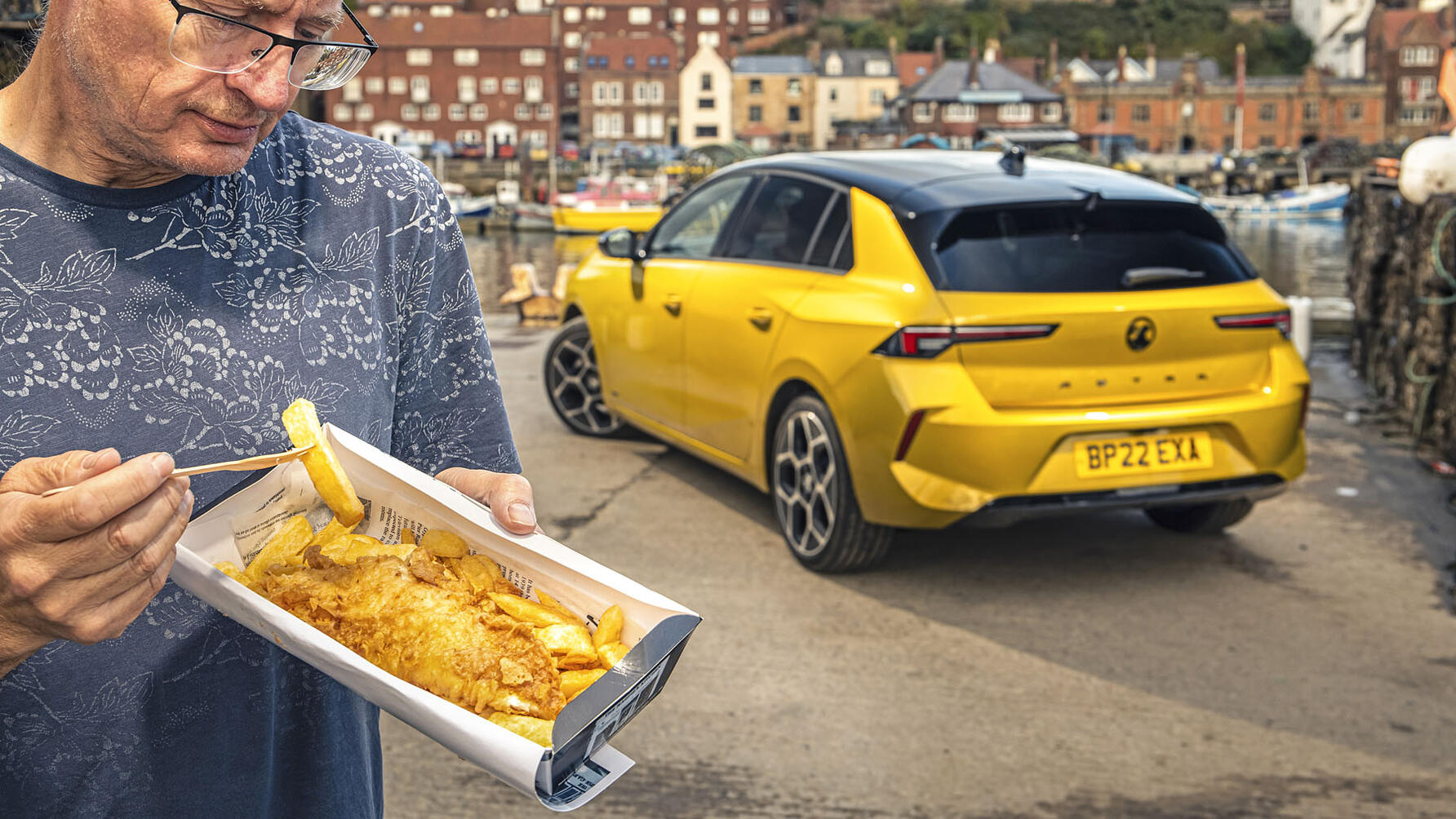 Next morning we head south along the coast and arrive early in Robin Hood's Bay. Early enough that we don't make a total nuisance of ourselves in wriggling the car through the steep, narrow village. Down at the slipway and beach it's zinging in sharp autumn sunlight. A breezy stroll on the sand at low water looks tempting. 
A superb sweeping road passes the sinister radar installations at Fylingdales to Pickering at breakfast time. Another fine town, and it proves that practically anywhere these days you can find an independent hipster coffee shop with distressed industrial furniture. The espresso at Klarneins is fabulous. None of your over-extracted coffee chain bitterness, just perfect body and a lovely orange peel tang. The eggs florentine are pretty darned fine too.
The York bypass and M1 get us southward. After a couple of days the Astra's interior is making sense. It's obvious the screens and controls are Peugeot underneath, but Vauxhall interface designers threw out some of the flourishes, kept it deliberately ordinary, and ended up with something useful and easy to fathom. This Ultimate spec has a head-up display but there's no need because you can easily subdivide and arrange demarcation among the other screens for navigation, entertainment and trip computer – which by the way can report 45mpg on the motorway and 30-plus in the hills. The Astra feels mercifully less bulky than a crossover but its back seat is more cramped than some rival hatches, so if you were sitting there for long you might feel aggrieved. I haven't heard my bike moaning.
A walk now. Mam Tor and beyond is one of the best yet most accessible routes in the Derbyshire Peaks. You can park right near the base and in five minutes be at the trig-point apex, where a sharp ridge opens before you. That's an easy stroll – the National Trust has put stone slabs down over most of its length – but the view's exceptional. It's like being hoisted by a drone. To your left, a ring of hills cradles the green patch of Edale. Plunging down to the right are the lusher fields of the Hope Valley, where the Marsden family's cows are ruminating on their last autumn bite of grass. 
Their milk goes into homemade ice cream that's sold right there in the farmyard and tastes wholly superb. We proceed to overdo it by getting each of our cones three scoops high. Then, in a manoeuvre like the docking of the ISS, we mate them end-to-end and gingerly remove the upper inverted cone for a vertical straight-six. Huzzah. In all honesty though, this overabundance goes against the spirit of our trip. Extravagant Instagrammable locations and activities are all very well. But the dignity of what is modest, well crafted and ordinary, more now than for years, has a lot more to be said for it.
Ordinary cars fascinate me. They're the hardest of all to design and engineer, because every penny is counted, every last gram of CO2 matters, every millimetre of space is measured, and faults are unforgivingly exposed by the brutalities of daily use. The best of them meet those boring goals while being more desirable than the next company's product that was built to exactly the same parameters. Among last year's, that has been best achieved by the Astra.
Most of all, ordinary cars are the ones that are woven into our memories. They make accessible our best journeys, people, places and roads. They're the cars of our lives and for that we cherish them.