Big Reads
Up close with the blackest Rolls-Royce ever: the Ghost Black Badge
There's more to black than being the opposite of white. We take the blackest Rolls-Royce ever for a trip through the history of darkness
Close your eyes, what do you see? Black. Planets are born out of black, and life succumbs to it. No other colour has an emotional response quite like black. The first colour we used to paint (using animal fat and charcoal) was black. It's worn by priests and penitents, but equally favoured by both fashion designers and fascists. Black is the primordial colour. The OG. It came before light and has had negative connotations ever since. Black is a void, deathly and not suitable for life. But it's also a constantly conflicted colour, being a mark of both holiness and sin, wealth and poverty, good and bad. Black is also associated with secrecy and stealth (Black Ops, for all you Call of Duty fans) and Yves Saint Laurent said, "Black is the liaison which connects art and fashion". So it's no wonder the car industry has failed to resist the temptation of black. Black sells cars.
It was the most popular paint in Britain from 2009 to 2012 and is currently slathered over a fifth of cars on the road. And you don't need to be an obsessive to recognise we're seeing more and more black trappings on cars; from 'piano black' interiors to black rims and smoked-out grilles. Then there are the fully fledged black special editions – because there's no way to make a Toyota RAV4 sexier and more sellable than the Black Edition. But there's one company that's doubled down on black, making a whole range dedicated to it: Rolls-Royce.
Advertisement - Page continues below
Back in 2016 Rolls launched Black Badge. Wanting a new, slightly rebellious strand to youth things up a bit and shake the stuffy pale, male and stale image, Black Badge offers Rollers (it's been available on everything apart from Phantom so far) more performance and luxury but in a contemporary darkened aesthetic. In Rolls-Royce's typically hyperbolic style, these moodier cars are meant to appeal to 'disrupters' – "outliers, visionaries and subversives who shape the world by doing things in ways no one else ever dreams – or dares – to try". Right.
Photography: Mark Riccioni 
What that really means is they're actively skewed towards people who spec their cars while wearing Supreme streetwear rather than suits, then pay for them in crypto rather than cheques. Fundamentally, it's a strategy that worked and has no doubt caused a few boardroom chest bumps; Black Badge now accounts for more than 27 per cent of all Rolls-Royce sales. But influential, monied types have been decking out Rollers in black for longer than you'd think, way before we started paying for things in 8-bit JPEG NFTs.
Advertisement - Page continues below
"Back in the Thirties, people were speccing black cars as a fashion statement," Rolls-Royce's historian Malcolm Tucker says, "but the Duke of Gloucester [the third son of King George V and Queen Mary, and uncle to Her Late Majesty Queen Elizabeth II, if you haven't got your royal family tree handy] had the Black Badge spirit."
The Duke veered away from the accepted norm by painting his Phantom V with a combination of matte black for all the horizontal surfaces and gloss black on the vertical ones – something you'd associate with Jay-Z rather than a member of the gentry. He wasn't the only one getting in on the act, either.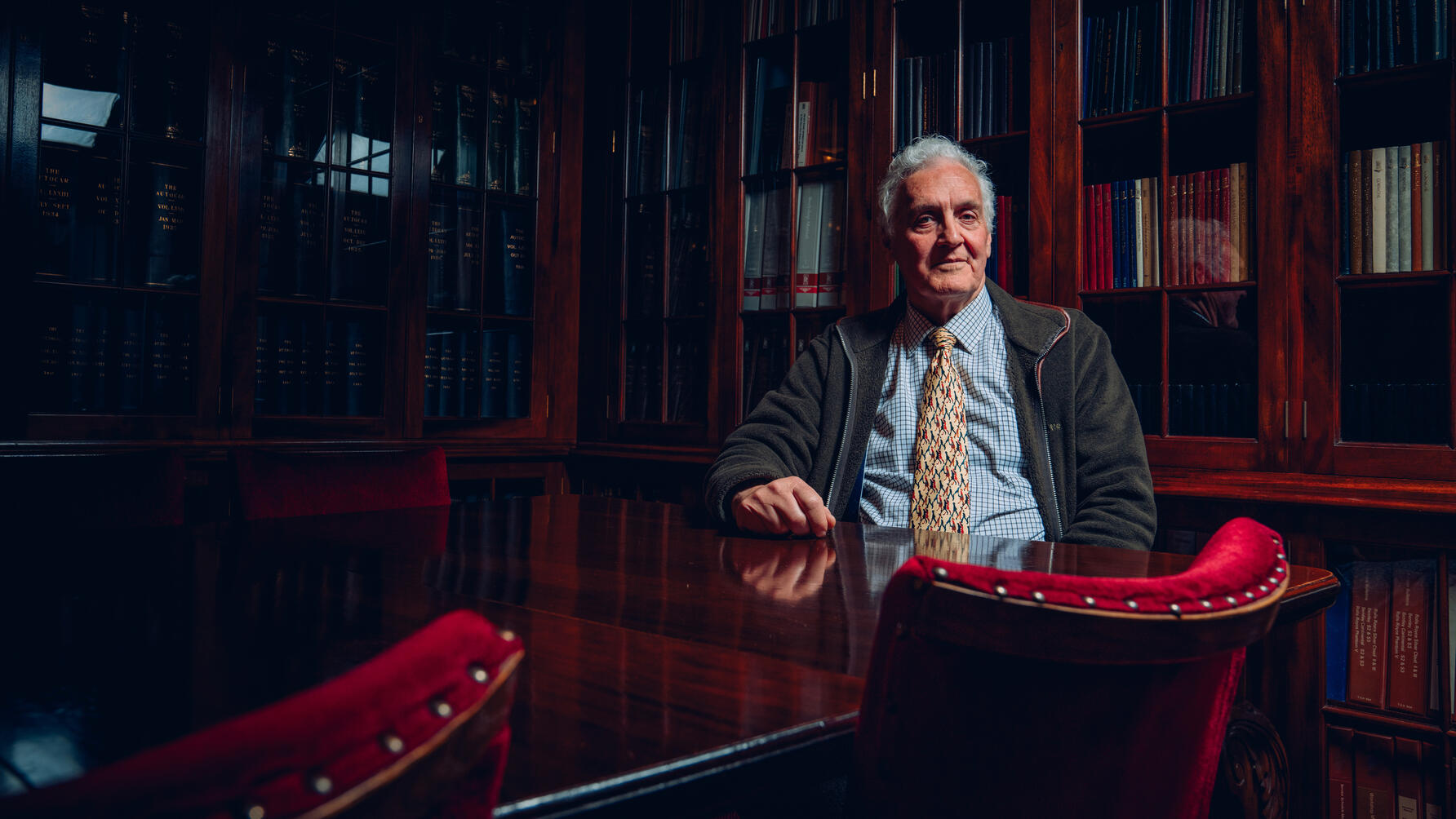 The Rolling Stones famously sang 'Paint it Black', but it was one of their fiercest contemporaries who actioned those iconic lyrics. John Lennon is known for his vivid yellow canal boat painted Phantom complete with much flower power, Romany scrolls and zodiac signs. But – this may surprise you – he is actually the godfather of the black-on-black-on-black movement.
"John wanted his Phantom V completely black," Malcolm says. "He was the first person in the western hemisphere to fit tinted glass, having seen similar on cars that transported women in India. But he wanted the car not just to be black, but black everywhere, inside and out, including all the brightwork that would normally be finished in chromium plate or stainless steel."
Sixty-two years later, the allure of such a look hasn't diminished. And not that we're trying to get one over a Beatle (he's had enough headlines) but as we're investigating the pull of black, it'd be wrong if we didn't have a black car for ourselves. So, ladies and gentlemen, lovers and haters, the car you see throughout this feature is the blackest Rolls-Royce ever produced. Shove that in your archive, Malcolm.
Using the latest Black Badge model – the all-new Ghost – our Rolls-Royce is a quite literal shining example of chromatic austerity. Potent look, isn't it? The abuse of one colour has taken the Ghost's relaxed and restrained tapered lines and angry, authoritative face and toughened it up a bit. But what black magic have we got going on?
Well, first up, paint. Surprise, surprise, it's black. The deepest, darkest, heaviest black Rolls has ever sloshed over something – 45kg of the stuff, finished with two layers of clear coat and a five-hour hand polish. The hand-painted coachline is a lighter black. See, there is not one black, but many blacks. It plays into our antediluvian brains, where the struggle against darkness and quest for light gradually led our eyes to distinguish degrees and qualities of dark and a range of blacks; there are matte blacks, glossy blacks, light blacks and dark blacks, intense blacks and delicate blacks – this particular Ghost has them all. Just with added texture, density, brilliance, and technicality.
Check out the wheels, for example. Twenty-one inches made up of 22 layers of carbon fibre laid on three axes, with a 3D-forged aluminium hub bonded to the rim using aerospace-grade titanium fasteners. The marque's hallmark R-R floating hubcap? Finished in black. As are the brake calipers, natch. The Spirit of Ecstasy and Pantheon grille are present and correct, but get a darker chrome plating thanks to a specific chrome electrolyte being zapped in the plating process to give it the smokey chrome look.
Top Gear
Newsletter
Thank you for subscribing to our newsletter. Look out for your regular round-up of news, reviews and offers in your inbox.
Get all the latest news, reviews and exclusives, direct to your inbox.
Inside, there's black leather, stitching and piping, and a black starlight headliner. Thick, fluffy black lambswool from the boujiest of baa baa black sheep lines the floor and behind the Ghost's Black Badge motif (to symbolise an "unrelenting pursuit of power") is one-off black glassware and a decanter. Unfortunately, the fridge is white. But worse still, empty. Which is the perfect excuse to go for a little drive.
16 minutes 35 seconds
We leave Goodwood and make it down to the Channel tunnel via a stop at a rare black Cape 31 Class 40ft racing yacht. Black is now twinned with executive speed on land, sea and air and nothing looks quite as graceful and cool as a sliver of wind-powered black carbon fibre. It's easy to assume because Black Badge cars are newer and in more rap videos than older Rolls-Royces, that they may have lost the trademark ability to take time and distance and shrink them into a comforting bosom of waft. This Ghost hasn't; it's silent, serene and motoring ease at its finest. Proof being that what feels like minutes later, we arrive in Champagne, France.
Not only is Champagne the home of posh bubbly to fill that unacceptably scant fridge, but also has some great roads to see what this Black Badge Ghost is all about it. Remember, this one is the driver's Roller. One bred for dynamism. So has Eleanor – the winged lady up front – kicked off her slippers, put her running spikes on and shoved some smelling salts under her nose? Well, the mechanical changes to the car compared with a normal Ghost are non-existent – everything is software tweakage rather than new, faster parts.
The Ghost's standard twin-turbocharged 6.75-litre V12 engine's capacity remains unchanged. To quote Rolls, it was deemed "sufficient". But the power output wasn't. So there's been a bump of 29bhp to 592bhp and an extra 37lb ft of torque for good measure. The air suspension has become "more voluminous". Basically, they've put more air in the bags to help reduce body roll. And it's impressive. Where back in the day you needed a keel to keep old R-Rs stable, the suspension system knows when you're driving more spiritedly so reacts to it.
There's also a mode. Rolls typically doesn't believe in modes – it believes that less is more (as long as what remains is world class). But protruding from the thin wandlike gear selector is a button: Low mode. Think of it as aristocratic sport mode. Engage that and the eight-speed box halves its shift time, you get all the torque sooner, the throttle tightens up and the exhaust becomes a bit noisier... for a Rolls-Royce. There are no RS3/Golf R popcorn maps here. The brakes have also been adjusted to give bite sooner and have less travel. That's what F1 drivers ask for. Not chauffeurs. Driving a Rolls-Royce a bit quicker is an oddly oxymoronic but satisfying experience. And these Black Badges are fast. With nearly 600bhp and four-wheel drive, even though it's a hefty thing, you'll see 0–62 off in 4.5 seconds. Yes, the steering is light and numb but gracefully linear. But moving a big black beast like this around is thirsty work. Luckily, in Champagne, there are plenty of places to quench it. And fill that fridge.
We head to a subterranean lair and pick out a bottle of 2016 Leclerc Briant, Abyss. Each one of these barnacle-encrusted bottles spent three years on its lees before being disgorged. It was then submerged off the coast of Brittany at a depth of 60 metres. See, black – or darkness – has more uses than giving the Boogie Man a place to live. It's good for booze too. Being at the bottom of the ocean helps makes bubbly bubblier. And rewards you with a cool story when you whip it out at a dinner party. Just watch out for those barnacles.
Now, you may have noticed black has become a magnet for the luxury industry. But there's one place that is the epicentre: Courchevel 1850 ski resort. So we head there and pass a tick list of black cultural nods on the way; black religious iconography (the sign or promise of rebirth), the narrow, cobbled streets and half-timbered houses of medieval Troyes (a time when black was rather austere and virtuous) before ascending to the dizzying heights of the Alps. Up here, the higher you go, the richer people get and the more noir luxuries you see; multi, multi-million pound black chalets, black skis, and cute fluffy black dogs. Plus, black helicopters, because ski lifts are for those in brightly coloured ski gear.
Black has been inherently intertwined with luxury since the 14th century when black clothing was ruinously expensive and reserved for wardrobes of individuals of high birth, fortune or standing. Nowadays some lanky guy like me can buy a cheap black rollneck off the internet – how times have changed. But there's one black that's blacker than black. And the most sought after black of them all: Vantablack.
Now, before we continue, I recommend strapping on your brainiest brain as we're now leaving the world of normal blacks and entering the realm of 'superblacks' (that is to say blacks with hemispherical reflectance below one per cent). Vantablack is one of those such things, in fact, it holds the world record as the darkest man-made substance. And it's made by a man called Ben... in a light industrial unit next to a Screwfix on the south coast of England.
"What's unique about Vantablack is that it changes your perception," says Ben Jensen, chief technical officer and founder of Surrey NanoSystems. "Through the use of carbon nanotubes [a miniature, hairlike cylindrical carbon structure that's 10 times smaller than a virus] light is absorbed so the reflection is uniform in all angles, so comes across as flat."
Put simply, any three-dimensional object coated in Vantablack lacks any dimensionality whatsoever. It's a freaky effect, with your eyes tricked into seeing three-dimensional forms as two dimensional. More than that, when you put Vantablack against something that's more akin to a traditional black they just disappear. It's become a highly controversial material within the art world, especially as Anish Kapoor was granted the exclusive artistic rights to use the colour, angering many – again, showing the fascination of black. But to show us what's possible, Ben's super brainy team have produced the world's only Vantablack Spirit of Ecstasy. It's the perfect cherry on top for the blackest Rolls-Royce ever – a distinctive reserved and shy monotone emblem of 'LOOK AT ME' that you can't actually see. It's black at its finest, most rebellious and most transgressive self.