Big Reads
Commuting through Tokyo in a Subaru Impreza rally car
How does an ex-Colin McRae Impreza feel in Tokyo traffic? Utterly, utterly wonderful...
There's no Sega Rally machine. I'm in Akihabara, Tokyo's famously geeky district that has street upon street of gaming merchandise shops and arcades. Some of them are seven storeys high and wear big, neon Sega lights, but they seem to have omitted the Sega game as far as we're concerned.
Luckily, I've got a friend I can call. Junya Matsushita has found mild Instagram fame for publishing pictures of his car. Objectively, it's a 20-year-old Japanese saloon which was once the company car of a man called Colin. Subjectively, it's one of the most special rally cars of the modern era. It's a 1998-vintage Subaru Impreza WRC car, and tonight it's all mine. I don't even have to push a constant stream of Yen into a coin slot.
Advertisement - Page continues below
Words: Stephen Dobie/Images: Mark Riccioni
Now, I'll admit it's not a car Colin McRae took to any legendary victories. In fact, he never rallied it: he tested this car (Prodrive chassis 31) but it entered just one WRC event: New Zealand '98, at the hands of Juha Kangas, where it retired.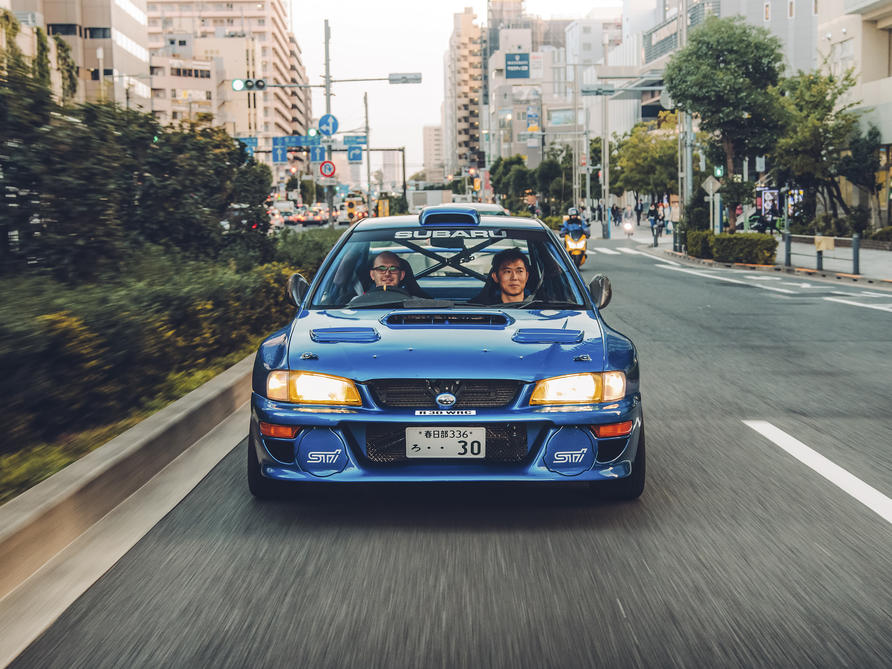 The upside of its lack of success is that it didn't have to be cleansed of podium champagne before being shuffled off into a mollycoddled collection or a museum. Instead, it's lived a life. The decade that followed its low-key WRC career has seen it compete in lots of European rallies, wearing numerous liveries, before being bought by Junya in 2010 and shipped across to Japan from the Netherlands.
Advertisement - Page continues below
It arrived with a blown transmission from its final rally, and on top of sourcing a new engine and gearbox, Junya has also had to go through a fair old rigmarole getting it registered and legal to use in his homeland. "The cost so far will be about the same as the used Ferrari F355," he estimates.
Why all the effort? "I owned an Impreza 22B, and I loved it, but I disliked its small wheelarches compared with a WRC car. But it was impossible to modify its precious body. It was a dilemma common to many 22B owners in Japan. I gave up on the 22B and started looking for a real WRC car."
So when the special edition paying homage to a rally car isn't dedicated enough, buy the rally car. Apparently. But I don't doubt his OTT mentality for long. As we approach the Impreza I audibly gasp at how staggering it looks, all squat on its heavily cambered wheels in the middle of Tokyo's pedestrian gridlock. I'd pay the cost of a Ferrari to have stance this good in my life, too.
Junya's biggest modifications comprise painting it back in its rightful blue (though without livery) and fitting the 320bhp 2.0-litre at-four turbo and six- speed manual gearbox from a Japanese market Impreza S204. Which actually makes it more powerful than the original WRC car's claimed figure...
The gearbox is a traditional three-pedal H-pattern transmission, so traffic ought to be easy enough. There's an inescapable motorsport vibe about everything else, though. The doors open and shut with the hollow thinness of a racecar. The rollcage dissects the aperture they leave, forcing me to recall the Fosbury Flop from school PE in order to clamber in without injury.
And while it's a Nineties car – tiny pillars and loads of glass – there's naff-all visibility once you're ratcheted into the bucket seat and realise how useless the wing mirrors are beyond their nerdy coolness and probable aero benefits.
After a brief discussion via Junya's translation app to confirm if there are any tricks to driving it (ignore the stage handbrake, basically, to my sadness), I engage first gear via the slightly fragile clutch, pull around the corner and make it all of 30ft before some very smartly dressed policemen wave us to the side of the road with their white-gloved hands.
Top Gear
Newsletter
Thank you for subscribing to our newsletter. Look out for your regular round-up of news, reviews and offers in your inbox.
Get all the latest news, reviews and exclusives, direct to your inbox.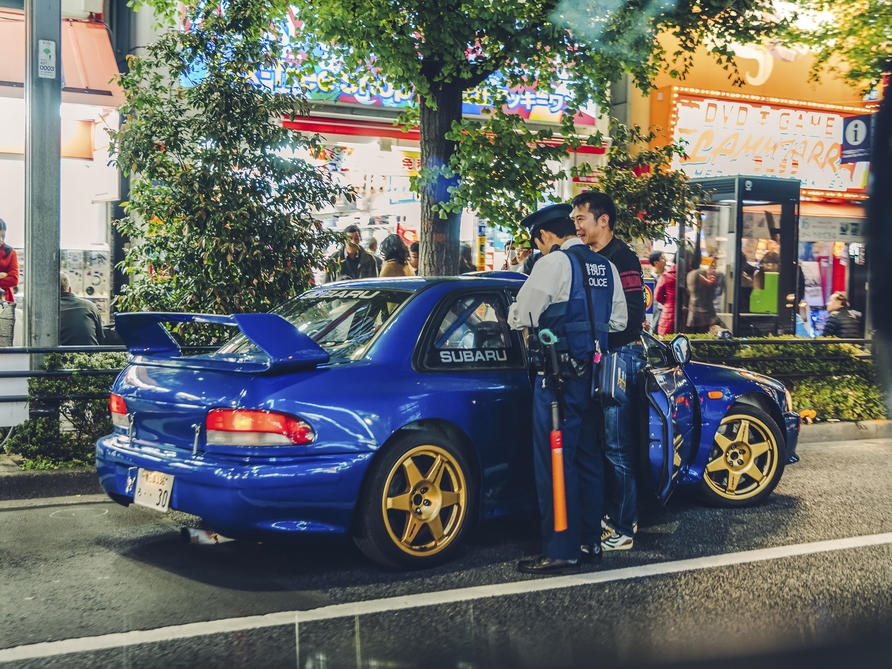 Junya has a long and seemingly stern discussion with them, and he's even filling out forms. The thick end of Tokyo rush hour was never going to be the most natural place to sample a WRC car, but this is turning into a nightmare. Yet what actually follows is a total dream. I can only wish it's a recurring one.
Presuming Junya's just paid an inordinately large fine, I search on Google – then promptly practise – the Japanese pronunciation of 'sorry'. On my third repetition of 'Gomen'nasai', he's back in the car, thumbs aloft. "Policeman says Subaru Impreza is very cool!" is his most fluent English yet. Turns out we'd simply left its original British plate decoratively stuck over its current Japan-issue reg. We both erupt with laughter as I pull away, only partially aware I'm about to have one of the greatest drives of my life.
Beyond the uncomfortable blind spots, I adore the Impreza's motorsport feel. The steering wheel is proper suede, not fancy marketing-department Alcantara, and it's wonderfully worn. My hands melt into it so comfortably I don't want to take them off the rim in traffic.
The engine idles with an intensity no UK-spec Impreza or WRX has ever demonstrated, too, aided by a lack of soundproofing that also allows drain covers to echo through the wheelarches like the pinging of gravel on a special stage (I imagine). I'm grinning from ear to ear and we've not been out of second gear yet.
The brakes squeal when they're cold, the suede gets clammy and there's a faint whiff of fuel. Specialness and provenance resonate through every bit of the car, right down to the vents in the ceiling that let in air from the roof scoop. It feels like it's fresh from a WRC service area.
Its engine and gearbox may come from a Subaru road car, but the suspension and brakes are WRC tarmac specification. The former is supremely firm – the car doesn't yield over bridge expansion joints as we escape the city – while the brake pedal has barely an inch or two of travel, yet operates the most urgent and effective brakes I think I've ever used on the road. They're exceptional.
But not as exceptional as the noise. We're on the Expressway heading to Yokohama, and tunnels are uncommonly frequent. This is a good thing. Unable to utilise Junya's translation app while I'm driving, I just shoot him an apologetic but impish grin each time we approach a tunnel, then blip down a couple of gears and nail it.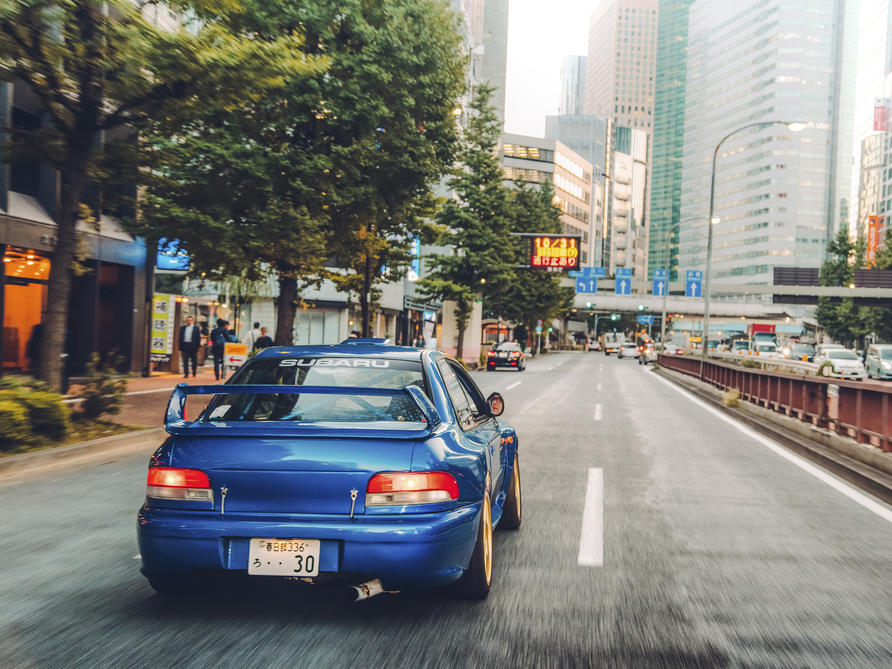 This is the freest, meanest flat-four engine I've ever come across, its ferocious, angry saw towards its red line reverberating through the tunnel, through the car and through me, given how glued onto the wheel my hands are. I've always heard good things about the Japanese 2.0-litre Imprezas (Europe's have typically been 2.5s), and now it suddenly makes sense. It's a really muscular engine, with torque absolutely everywhere. When a gearchange is this taut and satisfying, though, you'll gratuitously flick up and down the 'box just for fun.
The car has a hugely adjustable diff set-up, too, but I've not touched it. It'd be pointless; we've barely encountered a corner. When you're trying to get a grasp of how a World Rally car operates, you'd expect that to be a huge disappointment. Its limits live in a different stratosphere to the driving I've done tonight.
Yet as I park up at our final destination (the marvellous Daikoku PA car meet), enjoying the buh-buhing of the engine's idle one last time before climbing out, I realise I've rarely been happier in a car. It's so complete, so committed 
to performance, that it feels extraordinary anywhere you take it. This 'job' has placed me in an Alfa Romeo 8C on the Stelvio and a Mercedes 300SL at Goodwood, but the last few hours of my life have been more fulfilling. By far. Thank God there wasn't a Sega Rally machine after all.