Big Reads
Delta Bravo: Juha Kankkunen on the reborn Lancias for road and rally
The Lancia Delta is without question rallying royalty... but there's always room for improvement. Just ask Juha
"So Juha, that 1987 title winning season. What stands out to you from that year?" 
TopGear.com is chatting to four-time World Rally champion and genuine hero Juha Kankkunen, who at 63 years of age shows no sign of slowing down. He won his first WRC title at the wheel of the Peugeot 205 T16 Evo 2 as the fearsome Group B era was brought to an abrupt end in 1986, then followed that up a year later with a second title in the Group A-spec Lancia Delta HF Integrale.
Advertisement - Page continues below
"I can't remember it," he replies in typically Finnish fashion. "I won in the UK and I think the Olympus Rally in America, but it was a long time ago."
Photography: LAT
When you see what he was doing with the Delta in the images on this page, it's a wonder he's not reliving the memories every time he shuts his eyes. Still, Kankkunen has driven everything in the world of gravel and snow, starting out in his father's Ford Escort ice racer in the Seventies before competing for the final time at the 2010 running of Rally Finland. But it's Lancia we're here to talk about, hence the rather short-lived recap of that season. 
Advertisement - Page continues below
Immediately after his second title win, Juha made the switch to Toyota for '88 and '89, but he would return to drive the ever-developing Delta for three more seasons from 1990–1992. 
"Group B cars were physically very hard to drive," says Kankkunen in what may just be the understatement of the year. "The 205 T16 was somewhere between 500bhp and 700bhp, and the weight was around 960kg. When I first drove the Delta after that, it was like going from a 500cc motorbike to a moped. There was no power – maybe 280bhp–300bhp – and the handling was whatever."
Hardly the most glowing review for the car that would deliver the laid back Finn yet another world championship in 1991, but then he does admit that the Group A cars were quick to develop into proper rally machinery.
"By the beginning of the Nineties the Group A cars were fast. They very quickly became good rally cars to drive. Everything improved – the engines became more powerful, gearboxes got better, suspension developed and the brakes were stronger. Comparing a 1987 car and a 1992 car is like comparing a Volkswagen Beetle from 1959 and a Porsche 911 Turbo from today."
And despite the underwhelming first impressions, he also has a whole lot of love for the Delta: "It was very reliable. It was strong. That was probably the best thing about the Delta, and as I understood from the mechanics and engineers it was quite easy to service too.
"The suspension maybe wasn't the best, but in those days there wasn't a better set-up available. If you could fit modern suspension to that car it would've been incredible."
And luckily enough for us, that's exactly where Juha's new job comes in, although we can't remember seeing the advert for this one in the local paper...
These days Kankkunen still tests and advises on modern rally cars (after forays into the diverse worlds of politics and luxury real estate), but in his latest role he will have final sign-off on a project that should be rather close to his heart – a road-going restomod Delta known as the Maturo Stradale. 
Top Gear
Newsletter
Thank you for subscribing to our newsletter. Look out for your regular round-up of news, reviews and offers in your inbox.
Get all the latest news, reviews and exclusives, direct to your inbox.
We might need some background because it's unlikely you'll have heard of the folks behind this exciting project. Maturo Competition Cars is a Dutch firm created by amateur rally driver Marco Geeratz and his former mechanic (and the man who used to sell him rally cars) Frank van Ganzewinkel. They've been in the game for a while, building and servicing all manner of classic rally cars, but focus has now switched to Delta Integrales.
Yep. Want a boxy, four-wheel-drive Italian hatchback that goes like stink and makes all manner of turbo noises in the process? You now need to head to the Netherlands. 
Maturo offers three different routes into Delta ownership. There's the Classic (essentially a restored and slightly improved Delta HF Integrale Evo or Evo II), the Rally (a Delta built up to full Group A rally standards but with sympathetically upgraded parts for improved safety, reliability and performance) and finally the aforementioned Stradale. 
Just 10 Stradales will be built, with the basic premise being to take the underpinnings of Maturo's modernised Group A rally car and cloak it in a full carbon-fibre body that looks like a cleaner, meaner Evo. 
"We changed as little as we could from the rally car to make the Stradale usable as a daily driver," Geeratz tells TG. "It's a very manual car. There's no support – no ABS or traction control.
"The background of our company is a mechanical one, and we know the rally car inside out. We've rallied it, we've broken it and we've then improved it. 
"We started by acquiring an original Group A car – the car that Kankkunen won the Olympus Rally in – and we re-engineered all of the original Abarth parts. Because those parts are either massively expensive or worn out and unreliable. For example, the gearbox housing always breaks at a certain point – we can see it from the original parts because they're always welded. So without changing the external design we know to strengthen it at certain points. 
"Over the past few years we have developed or redeveloped around 2,000 parts." 
This isn't just a case of slotting in a crate engine and fitting a nice interior then, it's a proper rally spec Delta HF Integrale with numberplates. The engine is the original twin-cam 2.0-litre four-cylinder unit, but it's fully rebuilt with a revised intake, new camshafts, lighter valves, a new cylinder head and forged pistons. Then there's the turbo, which typifies the approach to the whole car by sitting in its original Garrett T3 housing but with all-new internals that help it to spin up faster and reduce lag. 
The result is nearly 400bhp being sent through a rebuilt five-speed manual gearbox and upgraded diffs to all four wheels. The brakes are FIA homologated, the suspension incorporates four-way adjustable dampers and there's a hydraulic handbrake for Kankkunen-spec hairpin skids. 
Maturo hopes to have the prototype that you see here up and running soon, and one of its first destinations will be Juha's doorstep, because who better to sign off on the way a dream Delta drives?
It may also help that, although he has a vast wealth of experience and a storied competition history with the brand, it's not like Juha is emotionally attached to Lancia as some of us are. When we ask if he was disappointed at its decision to leave the sport of rallying in 1992, Kankkunen responds plainly. "No. Not really. That was their decision." 
He simply went back to Toyota the following season and won yet another title at the first time of asking. Just another day at the office. 
Classic £130,000+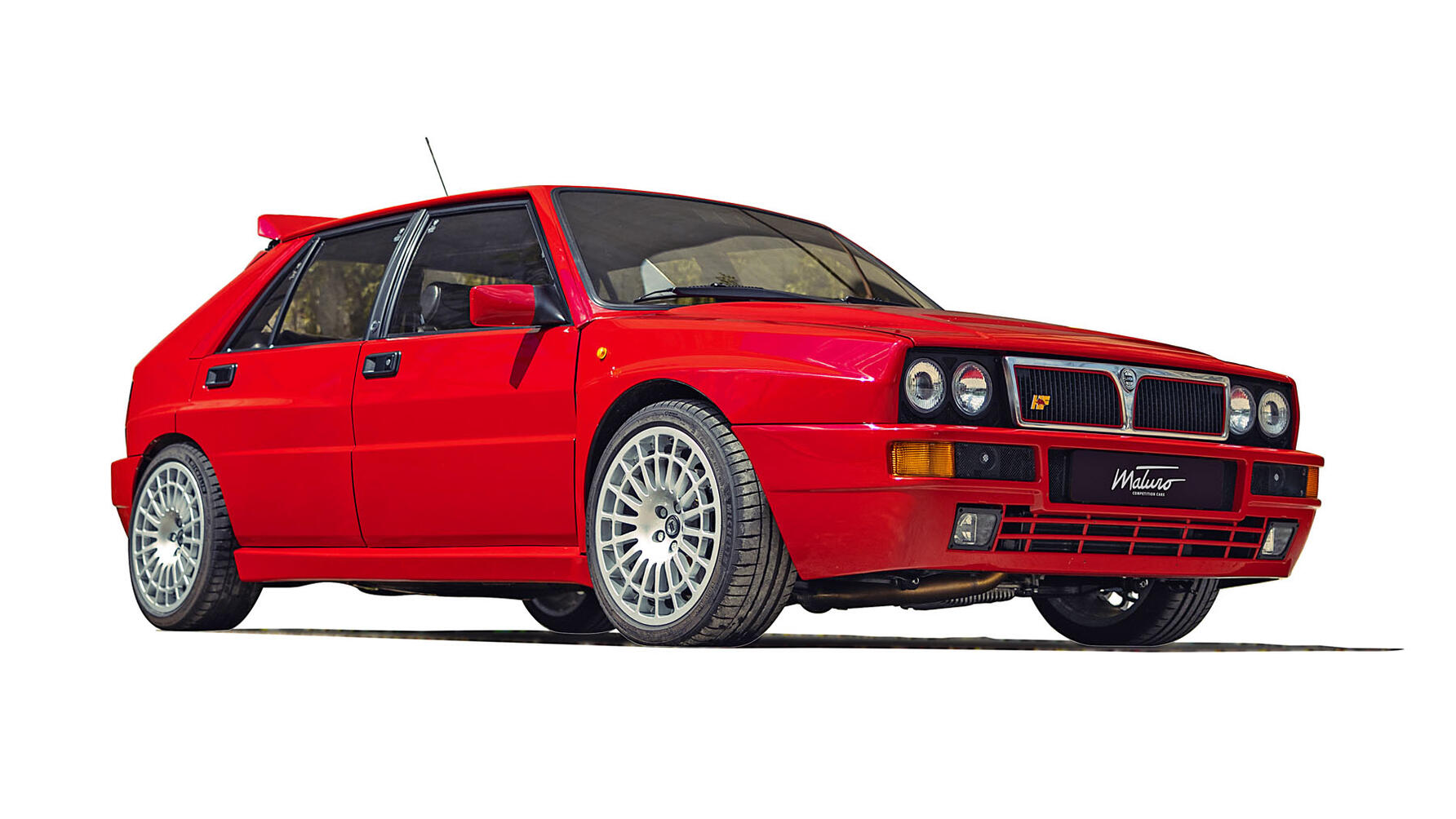 Maturo's entry level offering takes an original Evo or Evo II, replaces all of the known problem parts and gives it a slight power bump to 230bhp so that it drives as you always imagined it would. Although you can spend more for greater restoration and even more grunt.
Rally £215,000–£260,000
The bread and butter of Maturo is building Group A-spec Delta rally cars for those that want the old-school look with modernised performance and reliability. Pick standard Brembos and a non-bespoke gearbox and it might only cost you £215k, but prices can rise to a cool quarter of a million.
Stradale £326,000
Just four carbon-bodied Stradales will be built each year by Maturo's team of 10 engineers. Each one will be road legal with a stunning interior and the underpinnings of a Group A rally car. Oh, and every completed customer car will be signed off by Kankkunen himself.