Electric
Flat out in Renault's wild electric 5 Turbo 3E hot hatch concept
An electric drift machine invoking the spirit of the Renault 5 Turbo? Go on then...
Has anyone ever created a wheelarch more outlandish and extravagant than the Renault 5 Turbo? Sorry, rhetorical question. Of course they haven't. You can keep the swollen humps of a Porsche 911 Turbo, the pumped flanks and wheelarch blisters of various hot Audis and BMWs, this little Renault owns the ultimate box arch. No wonder Renault has looked through its back catalogue and gone "you know, we should do something with that again". Clearly the announcement of the new all-electric 5 back in 2021 gave the designers all the excuse they needed.
And they've let their imaginations run wild. What a stonking set of arches the Turbo 3E wears. More shoulder on it than Hafthor Björnsson. Look at the proportions, the sheer width, the musculature of it. It's not only a proper celebration of what went before, but has more confidence and swagger about it than a supercar.
Advertisement - Page continues below
Ironically we have an early supercar to thank for the existence of the original Renault 5 Turbo. The Lancia Stratos dominated rallying in the mid-Seventies, taking over from the Alpine A110. It was a mid-engined, rear-drive, purpose-built coupe that had been designed by Bertone, so Renault, wanting revenge, engaged the Italian design house, which – funnily enough – suggested taking the 5 supermini and putting the engine in the middle driving the rear wheels. Le reste est de l'histoire.
Photography: Rowan Horncastle
Unfortunately the Turbo 3E isn't going to be tackling rally stages just yet. As I'm sure you've worked out this is a concept car. The kind that can usually barely summon up the strength to crawl off a show stand. This one is different.
The rear view is terrific, but once you've taken in the canopy of a rear wing and arches fuller than a chipmunk's cheeks, you'll notice the orange cables and the telltale signs of a pair of rear electric motors – 375bhp right there. But let's not get ahead of ourselves. The Turbo 3E project came together unbelievably quickly. Under the leadership of Renault's head of concepts Sandeep Bhambra, a team of around 20 took the car from first sketch to rolling concept in just eight months last year.
Advertisement - Page continues below
And it's not a new set of clothes over a Zoe. Even the battery pack is unique, says Bhambra: "We couldn't use an existing production battery because they're not capable of putting out the power we wanted, so this is bespoke." So too is the chassis, a steel spaceframe constructed to FIA standards just in case Renault foresees a motorsport future for it. You could see it following the Volkswagen ID.R's lead and doing sprints and hillclimbs.
But that's not what it does best. Each of those motors drives a back wheel. There are no motors at the front. There's a Donut mode and the steering has an impressive 50° of lock. And if you throw all this together you'll reach a similar conclusion to me: Renault has built a drift car.
And boy can it drift. The only trouble is, I'm not allowed to play. And to ensure I don't get carried away with the massively tempting hydraulic handbrake lever that is as dominant in the cabin as the steering wheel itself, Renault has fitted a preventative device. Yvan Muller is a four-time WTCC champion and 10-time Andros Ice Trophy racing champion. He's also proficient in the use of the word "non". Still, it's a fun drive. Concept cars usually rattle, bang and clang but this one feels composed and developed. Apart from the noise, the usual high pitched, white noise squeal of whining motors that makes it hard to hear Yvan over the built-in intercom. He's not averse to physical intervention, batting my hand away from the handbrake.
The 3E isn't desperately fast in a straight line – it weighs 1,500kg, which would give it a similar power-to-weight ratio to an Audi RS3, but it never feels quite that potent and the acceleration is inevitably one-dimensional. Yet the car is more engaging than almost any other EV I've driven. The steering is connected, weighty and accurate, you get a good sense of what the front end is up to from the suspension which has just enough movement and composure to tell you about force buildup. When you turn in, you immediately sense how short the wheelbase is, and how eager the rear axle is to get involved and show what it can do...
From what I can tell from driving it within Muller's less-than-fruity corner boundaries it's agile and responsive, darts happily around Magny-Cours club circuit, is more interesting in corners than down straights and drives with something approaching the exuberance of the styling. Turns out it also has a serious side. Yvan and I swap positions. Most racers aren't drifters, but as the most successful Andros Trophy driver ever, Yvan is well used to viewing life through the side window. It's quite the demo.
The Turbo 3E has got a lot of grip on its road-going Michelin Pilot Sport 4S tyres, so takes some provoking, but that's exactly what the hydraulic handbrake is for – a good tug on that has the back end joyfully arcing wide. Yvan's busy at the wheel though. The short wheelbase makes it tricky to control mid-skid so there's a good amount of steering and throttle jabs, but yeah, the Turbo 3E does what it sets out to do. Smoke pours from the tyres and the new little Renault proves it can go some way to picking up the mantle from its ancestor.
Ah, the original. Little tiny 1.4-litre turbo engine, nothing there until 3,500rpm, and then it puffs as heartily as it can through to about 5,500rpm at which its lungs are practically empty. It thrums along well, feels game, but just doesn't have the kind of thrust we're used to from modern cars. Nor does it feel as well balanced as the Turbo 3E – that has a better balance of front to rear grip.
Top Gear
Newsletter
Thank you for subscribing to our newsletter. Look out for your regular round-up of news, reviews and offers in your inbox.
Get all the latest news, reviews and exclusives, direct to your inbox.
This feels light at the front on turn-in and holds the threat of what could happen if you were to suddenly lift off mid-corner and allow the heavy rear end to get loose. Actually, it's much more benign at the limit than initial impressions suggest. It's just not particularly grippy. It is extremely interactive though and takes far more managing than an electric car with no gears and only two pedals in the footwell.
So this Coupe d'Europe car I'm driving makes you work with the narrow powerband, manage a slow but precise gearchange, wrestle with the heavy steering, juggle a clutch and doesn't come fitted with Yvan ESP, all while driving with your knees round your ears. Driving positions (and seats) have come a long way in 50 years.
Allowing us to drive the one-off Turbo 3E and a less precious Turbo 2 is as much risk as Renault is prepared to take. The rest of the old cars are off limits. Pity. They look sensational lined up and they have huge historic significance. Renault maintains a remarkable heritage collection, and seeing Jean Ragnotti's name on the side of a 5 triggers something in me. He was inextricably linked to Renault, winning three WRC rounds at the wheel of a 5, including the Tour de Corse in 1985. That race, in the thick of the Group B era, saw Ragnotti in his rear-drive 350bhp, 905kg Maxi Turbo hold off Bruno Saby in a Peugeot 205 T16 and a whole field of stars including Ari Vatanen's 205 T16, Markku Alén's Lancia 037 and the Audi Sport Quattro of Walter Röhrl.
The short, wide Renault was perfectly suited to Corsica's snaking tarmac – and although Ragnotti isn't a household name, don't doubt his talent. I once had a passenger ride with 'Jeannot' on snow and ice and it goes down as one of those seminal moments – especially when he yanked the handbrake at 60mph, span the car through 180 and proceeded to slide backwards into his service bay. The mechanics had clearly seen this party trick a hundred times before, but it remains a remarkable display of car control.
The old cars have a patina and smell that's unsurprisingly missing from the 3E. That sits there, buzzing and whirring, but has a draw of its own. The designers and engineers have not only got the car working well over the last eight months, but had fun in the process. GoPros lurk in the empty headlight sockets and double for wing mirrors, the LED lightbar dances and flickers. "The plan is for the lights to stay static when you're drifting, but we haven't had a chance to work on it yet," Bhambra tells me. "And the rear wing is from a GT3 racer – we haven't put it through a wind tunnel, but I doubt it does much."
The interior is very cramped, the racing seat mounted so upright you're curved around the steering wheel. In a nod to the original Turbo 1 road car, the concept features 10 digital squares of information instead of the mad original's dials in blocky housings. A button on the top of the handbrake squirts water on the rear wheels. Two reasons: it keeps the tyres cool, and wet tyres break traction more easily. It's another fun feature. If only I could have a play.
And then there's the teddy bear. He's strapped to the transmission tunnel. "We needed some padding against the frame so you don't bruise your legs – you can see we've done special pillows at the sides – but when we were thinking about what was the right size, shape and padding, a teddy bear came to mind. He's actually a rescue bear from a flea market. Honestly, we had more arguments about how he should sit in the car than anything else on it."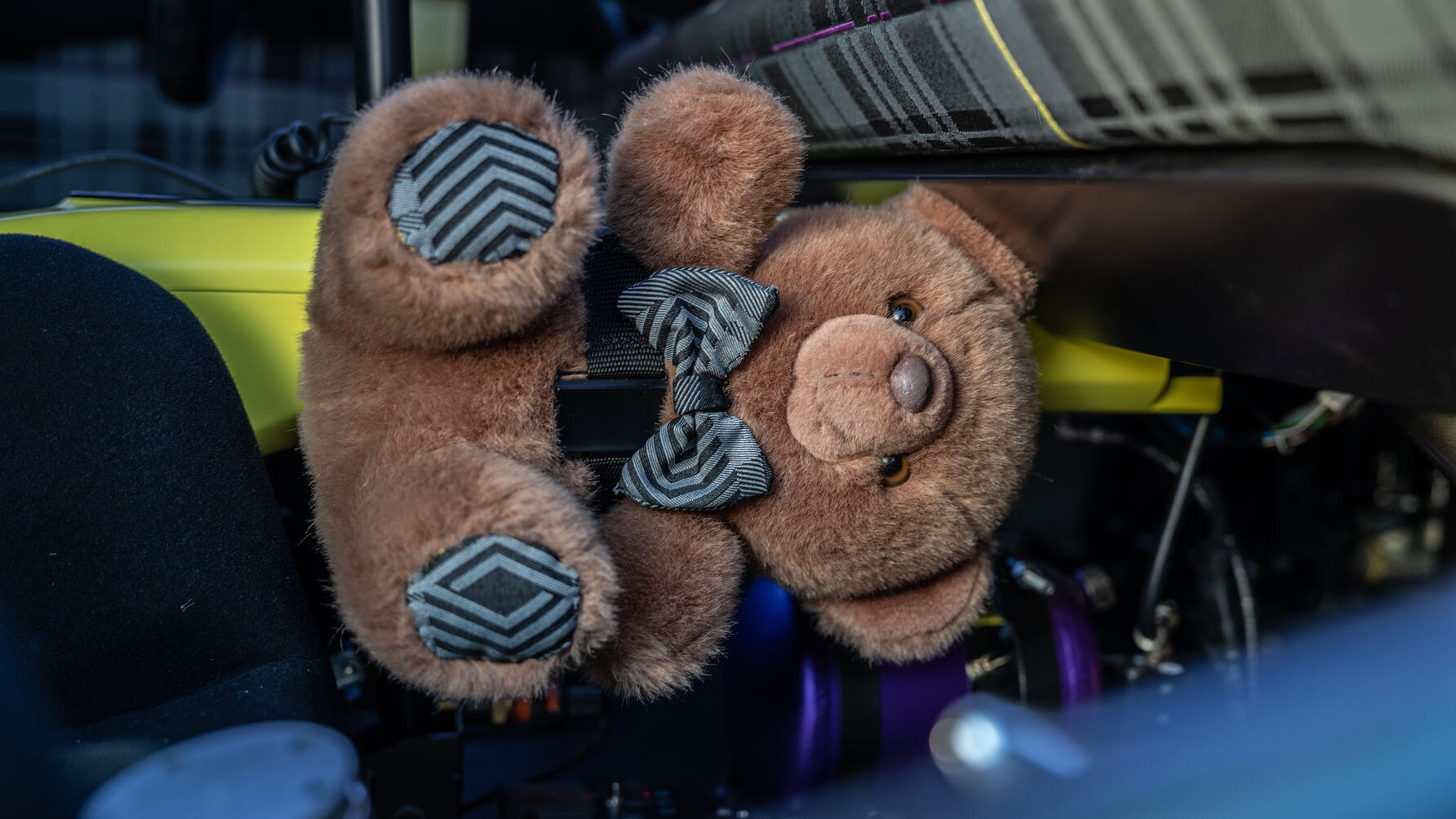 Besides giving a home to a mid-drift emotional support animal, what's the plan for the Turbo 3E? Luca de Meo, Renault's CEO, challenged the FIA to make a change to rallying regulations to allow the Turbo 3E to compete. Predictable line, nice angle back to the historics, but it'll never happen. Like other electric cars, I suspect it'll find a brief firework life doing one lap challenges, sprints and hill climbs. Or perhaps, as a nod to climate change sensitivities, Yvan will take it ice racing.
But here's the bigger question – one that circles us back to where we started: is this the electric future of RenaultSport? Now, I can't see them selling a road-going 400bhp rear-drive drift machine, but just look at the stance and attitude of this thing, imagine it on the road. What it tells me is Renault sees a future for the hot hatch. And more than that: the return of that wheelarch.