Big Reads
Ford Mustang GT vs Kia Stinger GT S
Top Gear's very own Korea-US summit, and this one's much more hostile
We'll never know exactly what Kia benchmarked when making the Stinger GT S, but conventional wisdom suggests the usual bunch of German sports saloons. It's got four doors, a forty grand price-tag and a six-cylinder engine with 300-and-odd horsepower, after all.
The first time I drove one, though, I suspected different. It felt big-hearted and hairy-chested, and in damp conditions, its rear wheels smeared around at the tiniest hint of throttle. It felt for all the world like a muscle car.
Advertisement - Page continues below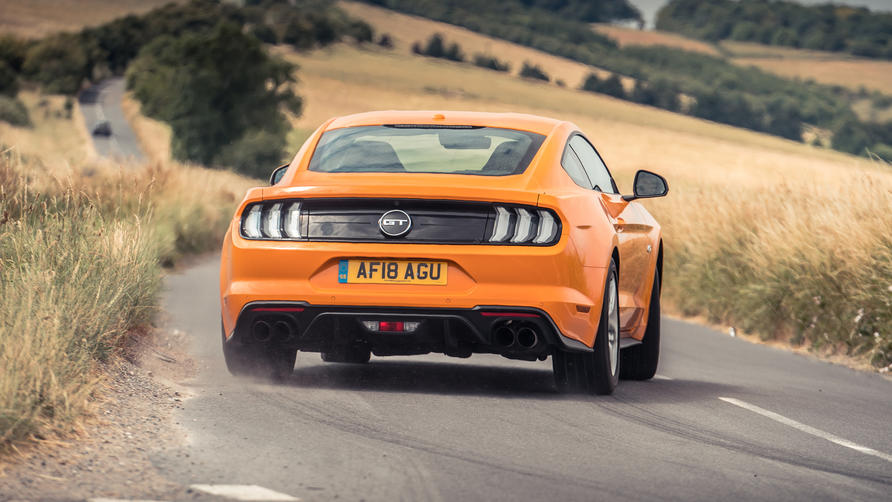 Words: Stephen Dobie/Images: Rowan Horncastle
Forty grand can already buy you a bona fide example of one of those, of course. It's called the Ford Mustang GT, and chances are it's familiar. We've been able to buy a Euro-focused, right-hand-drive 'Stang for several years, but until now it's been hard to find a direct rival for its rather unique recipe. In the Stinger, I reckon we've finally got one.
Yes, a Kia that could dethrone a muscle car icon. A young Korean upstart that threatens an antiquated American. Actually, best stop there and just get on with driving, really…
Advertisement - Page continues below
Especially when this American's not so antiquated. The Mustang's just had a new round of updates, with a more aerodynamic body, another 34bhp from its 5.0-litre V8 (now producing 444bhp) and some clever, adaptive suspension to try and smooth out the ride. Oh, and new digital dials with seemingly infinite customisation options and an illuminated starter button that pulses at 30bpm, the resting heartrate of a pony. Riiiight.
While its spec sheet makes it appear bang up to date, this remains a car with its roots in the past. You can have a fancy ten-speed automatic transmission, but it's as spoilt for choice and unable to find the right gear as you'd expect, so the six-speed manual remains the only sensible choice.
And all told it's a ponderous thing to drive, at least on first impressions. The steering's slow, the engine's a bit lethargic and while yes, you want the manual, it's not a transmission that likes to be rushed. Here's a big, orange American that's rather stubborn (why does that sound familiar?), not keen to make compromises with its driver or the road surface.
The engine really doesn't get going until around 4,000rpm, which is a bugger when the gearing is so long. First gear goes all the way to 50mph, while second stretches past any British speed limit. So finding its power means keeping your foot pinned for an extraordinary amount of time and making immature levels of noise, and you'll need some bottle if the road's bumpy. There may be smart new suspension – able to make its own adjustments 1,000 times a second – but it still doesn't much like an undulating country road. The 'Stang really does feel set up for arrow-straight desert roads stretching far beyond the horizon. Or a drag strip.
Then you work it harder. Navigate its complex driving modes to sharpen everything up (they're split between dashboard toggle switches and electronic menus), get properly stuck in, and the Mustang makes a lot more sense. You still need to be sensitive with your inputs, but abandon some inhibition, trust in its surprisingly strong traction, and it starts to feel as exciting as its bright hue and rakish looks suggest.
I know muscle cars aren't meant to be precision instruments, but the Mustang would feel like a one-trick, um, pony if it couldn't roll up its sleeves and give that 'handling' malarkey a good go. Frustrations with its lolloping suspension and reluctant engine remain, but also prove why there's such a thriving scene for modified Mustangs, many of them officially sanctioned. It's a tantalising base car that's a few select tweaks away from being scintillating.
Top Gear
Newsletter
Thank you for subscribing to our newsletter. Look out for your regular round-up of news, reviews and offers in your inbox.
Get all the latest news, reviews and exclusives, direct to your inbox.
Where the big Ford needs working up to before it's able to lift your heartbeat north of its starter button's, the Kia is a wild ride right from the off. Its 365bhp may be nearly 80bhp down on the 'Stang, but it feels punchier, such is the thumping delivery from its twin-turbo V6. That's despite the Stinger being over 150kg heftier, at a chunky 1,907kg. Yikes. We may beat the drum for how rewarding naturally aspirated engines are, but this comparison proves just what an instant hit turbocharging can deliver.
It also means the Kia plays the role of cartoonish muscle car far better than the Ford. Its rear axle gets excitable in a straight line on a dry road, never mind when you oafishly get on the throttle mid-corner. If you want to paint black lines on the tarmac in the most mischievous tradition then the South Korean saloon car really is the one you want. Especially if you want to do so at laughably small speeds.
That doesn't mean it's a complete handful, though. Far from it. Driven sensibly this is a polite sports saloon, with a smooth automatic gearbox, comfy seats and unruffled refinement. It does a very good impression of those generic German saloons, right down to some incredibly fussy low-speed ride quality, no doubt exaggerated by elastic band tyres on its huge wheels. Yet its overall body control is leagues ahead of the 'Stang, and that slightly fiddly suspension is merely one of the many ways it communicates more eloquently than its fake-tanned rival.
You leap in the Stinger and confidently drive it hard right away, helped by a more enthusiastic engine and crisper responses from all of its controls. You can only have an eight-speed auto, but the paddles work well, the only complaint being that you can't lock them into manual mode. The 'box also changes up at the redline for you, but crucially if you flick the 'up' paddle just as it fires home its own shift, it's smart enough to stop you suddenly jumping two gears. Good.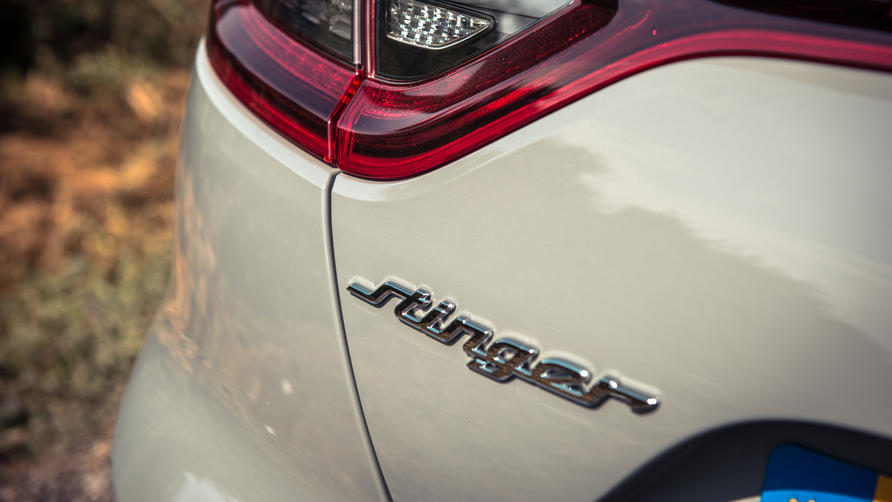 It's easier to get on with than the Ford, even before you consider its space for four adults and huge, hatchback boot. That also makes it less special; it could easily blend into everyday life as your only car, whereas the Mustang's compromises conversely make it more enticing for sunny days and special occasions, and it boasts the kind of movie car chase and motorsport heritage that'll warm anyone's cockles.
Is the Stinger really designed to compete with that, rather than the bunch of rep-friendly saloons you'd assume Kia's dealers have in the centre of their dartboard? Well, it doesn't have one of those dull, letter-number combo names that sound more like the seat reservation on a train ticket than a fun, funky performance car. It's called the Stinger, a name of aggressive ambiguity but with far more linguistic appeal than S4, 340i or C43.
It's worth noting that both cars here have stability control that turns off with one sharp button press, too. No holding the switch down for an agonising amount of time, nor any middle 'sport' setting to stroke your ego then save your blushes. The more parallels I find between them, the more I'm convinced Kia's development team had a huge sense of humour and a burning desire to approach those predictable Germans from an unpredictable angle. The Stinger really does rival the Mustang. And in their stock versions tested here, the Stinger beats the Mustang.