Electric
Ghost-lusters: a silent drive in the electric Rolls-Royce Spectre
While Aston and Bentley make the most of their remaining tanks of petrol, Britain's poshest marque is whispering its way into the plug-in future. Over to our man in California...
This isn't a car that requires a review. Rolls-Royce customers do not concern themselves with the views of the unwashed proletariat. If they did, they'd have waited to hear what it's like, instead of already ordering so many it's sold out until the middle of 2025.
The car is the Rolls-Royce Spectre, and it's not just the first fully electric product of the modern Rolls-Royce Motor Cars Ltd which BMW seeded in 1998. Since Charles met Henry 119 years ago, no production spec car in their marque's potted history has been battery powered.
Advertisement - Page continues below
Occasionally, Rolls-Royce itself likes to pay attention to journalists. In 1907, a writer in Britain's The Autocar declared the underwhelmingly named 40/50hp model was "the best car in the world". Granted, he only had about three to choose from back then, but Rolls was only too happy to adopt that verdict as the company's semi-official slogan, emblazoning it prominently on its marketing materials for most of the ensuing century.
Photography: Mark Fagelson
Claude Johnson, the cofounder who styled himself as the hyphen in Rolls-Royce, also saw the value in pinching a hack's nickname for his marketing car, which was decorated with aluminium-coloured paint and polished brightwork. That's how the 40/50hp became the Silver Ghost. So, the latest Rolls named after a supernatural apparition might not need validation, but you never know. Could come in useful...
The Spectre is a truly immense coupe. That glinting grille is lower and wider than a Phantom's Parthenon-esque facade and the corners of its bonnet taper gently downwards instead of standing as upright as a bearskin-topped guardsman, but these nods to slippery aerodynamics don't diminish the gravitational presence this mighty two-door generates even when painted one colour rather than the oddly indecisive combo of Salamanca Blue with Arctic White in Aero Two-Tone.
Advertisement - Page continues below
Behind a newly streamlined flying lady, the vast bonnet doesn't conceal a clever front boot or some sort of foldaway dinner set. Just a dressed cover for one of the motors and control electronics, which could double as a medium-sized aircraft carrier. During the lunchtime stroll it takes to travel down the front wing you pass waist high 23-inch wheels with the usual non-rotating centre caps.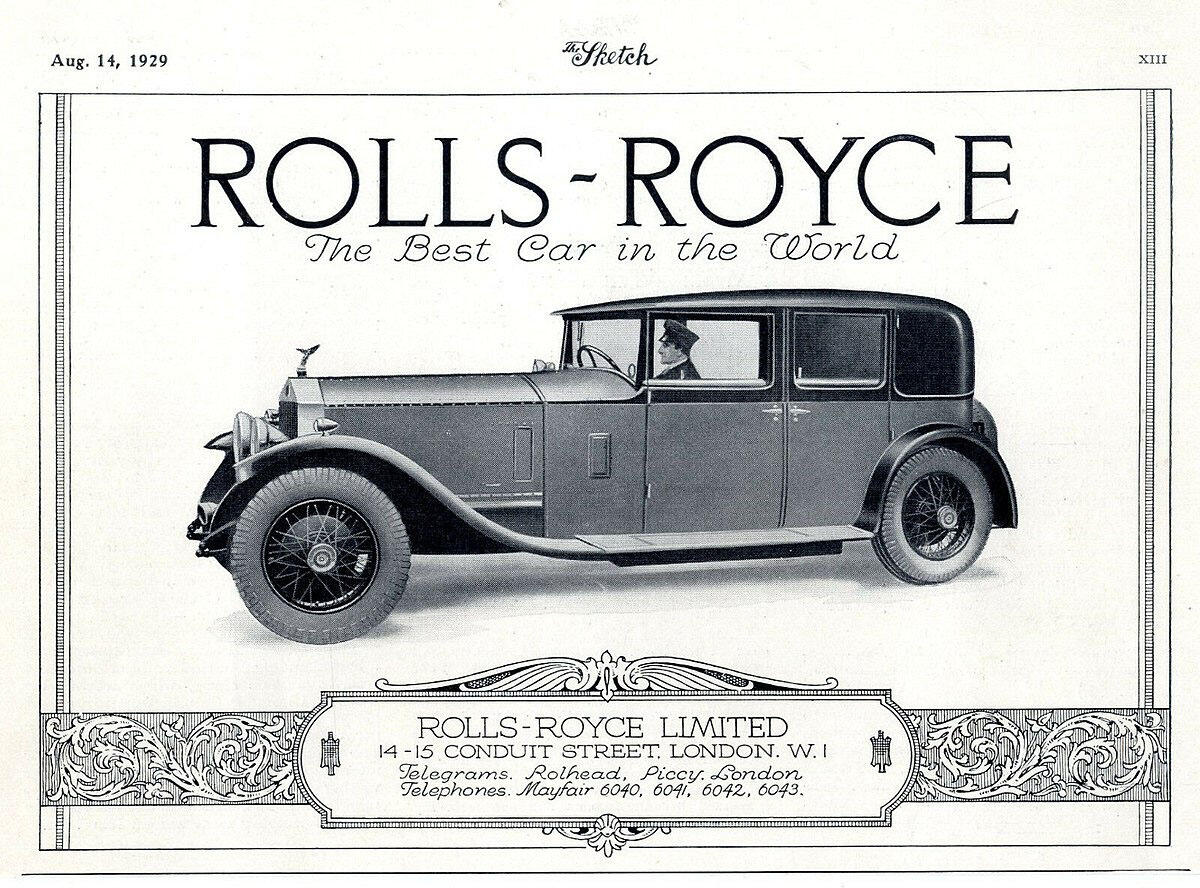 Sometime before tea you'll arrive at the sort of handle banks use on maximum security vault doors. You've earned a sit down. Rest now and journey to the boot later.
Tug the hefty handle and the rear-hinged door glides outward with electric assistance, fanning out to right angles with the thickset sill. The Spectre beckons you aboard. You're literally going up in the world. Rolls likes to think this is a low slung, driver oriented coupe but once seated upon the fabulously supple captain's throne you're eyeballing local Dodge Ram drivers and lording it over puny Teslas.
From here the cascading bonnet is a problem – only the fabric billowing behind Eleanor Thornton balanced on the nose hints where your bodywork ends. Very much a car that depends on its surround view cameras and sensors, this.
A Spectre driver doesn't do anything so vulgar as strain a sinew to close their own door. Simply squeeze the brake pedal and it swings silently to an exacting soft close as if pushed by an invisible butler. A switch on the centre console allows you to shut the passenger door simultaneously. It's worth noting the doors are so long and heavy that if you park on a slope, their whispering mechanisms aren't strong enough to overcome their weight plus gravity, so keep a real life butler handy in just in case.
If you've boarded the Spectre in, say, a busy northwest Californian street, something odd will have just become apparent. You've gone suddenly and catastrophically deaf. As the double glazing seals, the Spectre banishes noise. There's nothing digital about it – none of the Ghost's active noise cancellation here.
In fact, Rolls-Royce has sought to 'filter' some ambient noise into the cabin because the soundproofed Spectre is so inherently quiet, the prototypes made test drivers feel disoriented. Unnerved. The peace is immediately spellbinding.
Rolls-Royce has made a very deliberate decision in here not to lavish its first EV with a futuristic interior. Yes, the doors are automated, there's an attentive voice assistant and for the first time in a Roller the instrument dials are entrusted to a screen instead of physical clock faces. But – thank gawd – there's no wall to wall ultrascreen. The infotainment display – a tastefully reskinned and simplified version of the latest BMW iDrive – is indeed a touchscreen, but this is minimalism done properly. A volume knob. Swivelling discs for interior temperature. Organ-stop vents. Buttons to heat, cool and massage your backside. A button to start proceedings, indeed.
Top Gear
Newsletter
Thank you for subscribing to our newsletter. Look out for your regular round-up of news, reviews and offers in your inbox.
Get all the latest news, reviews and exclusives, direct to your inbox.
The starter button itself, subtly located next to delightfully tactile switches for the lights and display brightness, curiously still reads ENGINE. Pushing it conjures a harp string flourish. Ahead there's the delightfully understated power reserve dial, which now reads beyond 100 per cent to account for the Spectre's regenerative braking. There's a speedometer with no numbers on the face (just a big numerical readout below the needle) and a range meter.
I never got the chance to sample a Spectre with a full battery, but with an 80 per cent charge it offered 265 miles. Claimed endurance is 329 miles, and I can promise you no EV in the world's range matters less. Owners don't do range anxiety. Or any anxiety. When Rolls-Royce consulted its clientele over its upcoming offering's circa 300-mile range, the faithful replied, "Ooh, that should be plenty. If I needed to go more than 300 miles in a day, I'd take my jet. Or my boat. Or one of my helicopters."
To set off, you tug a quaint stalk behind the wheel. You don't go anywhere, but the windscreen gets doused in a localised downpour. Whoops. Turns out if you don't frequent Rollers it's easy to confuse the transmission lever with the windscreen wiper stalk. They're centimetres apart. Find the correct one and there are only two settings: drive or reverse. No Sport mode. No regen adjustment paddles adorn the back of the extra large steering wheel. If you want one-pedal driving with strong regen, try the B button on the stalk. The one for the drive, not the wipers.
The first few miles in a Spectre are an exercise in calibrating your brain to accept something completely alien. The inherent noises, vibrations and imperfections you associate with driving are absent. Your eyes recognise the scenery being drawn past the pillarless windows. Your muscle memory knows that a steering wheel ahead and pedals underfoot mean you're in a car. But nothing about life inside reconciles with what you're used to as 'driving'. It's more like boating on a millpond, or turbulence free low level flight. The Spectre glides along in reverent, curated silence. It's uncanny.
EVs are usually quiet, but this is sensory deprivation. You know it's merely basic physics – the 700kg battery acts as a sound blanket and there's noise retarding foam inside the tyres – but the refinement is so enchanting that pointing out the method is like spoiling a sleight of hand trick. Just enjoy the magic. Only above 70mph does wind rustle attacking the blocky mirrors expose the fact that the Spectre doesn't travel in its own private vacuum.
Hush is nothing without plush. For a car wearing such gargantuan, Brunelian wheels, the Spectre rides gorgeously: stunningly compliant yet remarkably controlled. The engineers took the system they'd perfected for the Ghost and threw away the upper wishbones, deemed unnecessary because the Spectre's battery backboned chassis is record breakingly stiff.
Only at very low speeds do the realities of such a heavy wheel meeting a poor, innocent pothole make themselves felt. When you're barrelling along in a straight line propelled by a splendid 664lb ft of all-wheel-drive torque, the anti-roll bars decouple themselves so one side of the car isn't upset by something the opposite flank is dealing with. Handy, when you're taking up a lane and a half's worth of space. Feed in the oily slick steering and the anti-roll bars re-engage to stop the car keeling over.
This is undoubtedly a Rolls to drive yourself, even though passengers are well catered for – it's a generously spacious four-seater with surprisingly glassy rear quarters. Up front you've got the responsibility of arresting just shy of three tonnes, but the brakes are beautifully judged to mete out power harvesting without a hint of judder.
It's terribly clever, but all the more gratifying because anyone aboard is completely unaware of the mathematical clash of titans occurring below decks. Again, no modes. No option to lower this or adjust that. Rolls-Royce fundamentally understands something that so few other carmakers realise – the greatest luxury is not 'more choice'. It's having tasks taken off your plate. Delegated out of sight to free your time and your mind.
Also unseen is the price. Rolls-Royce is always prudish about quoting numbers – preferring to deem power 'sufficient' instead of quoting 576bhp and 0–62 in 4.5 seconds, and simply suggesting the Spectre is priced between the Cullinan SUV and Phantom flagship. Budget at least £300,000 after tax – the boss reckons most heavily individualised cars will trade for around half a million euro, or £435,000.
To come over all 'workers of the world unite' in my grasping, aspirational sort of way, the Spectre bloody well ought to be nigh-on perfect for such titanic money. And yet I suspected that I'd miss being dimly aware of 12 perfectly balanced cylinders whirring away in the middle distance. Perhaps an e-Roller would be sterilised, or an anachronism. But if anything, they've done the impossible here. Electric has enriched the Rolls-Royce.
Don't mistake this car as an eco character transplant. This is not Rolls-Royce trying to woo Greta. It's surprisingly efficient at around 2.4 miles per kWh and the cells are produced using green electricity, but don't expect to see many Spectres sporting a hemp vegan interior or veneers fashioned from recycled festival wristbands. It's still a galloping, oceangoing, 24-carat indulgence, but with a tasteful specification it's just about possible to swerve absolute vulgarity.
When a potentially controversial new car arrives it's tempting to wonder what the company's deified founders would've made of it. What would Enzo reckon to a Purosangue? Would Ferruccio rate the money printing Urus? Of course he would, since he also owed his fortune to tractors. Colin would probably enjoy an Emira. Meanwhile the legacy of Charles, Henry (and Claude) rests easy with the Spectre.
It's rich in the decadence of the so-called glory days but gratifyingly simple to operate for a product of 2023. While other manufacturers wrestle with the conundrum of transposing their family heirloom values into an electric future, the age of electric propulsion will suit Rolls-Royce very well indeed.
Suppose this is the time for a verdict. Here you go then – the Spectre is the new luxury benchmark. The finest motor car in the world, if you like that kind of thing. But you probably didn't need me to tell you that.