Big Reads
Has MSO reinvigorated the Mercedes-Benz SLR McLaren?
McLaren's Special Operations unit has some official upgrades for the misunderstood SLR. Time to reassess McMerc's black sheep
The SLR was the offspring of a turbulent marriage, and appeared just as the two parties responsible were preparing to divorce. Mercedes wanted to maintain fealty with its late Nineties Vision SLR concept and deliver some kind of Marvel Comics-style Super GT. McLaren was following the F1, an impossible feat, although no one ever described the SLR as its successor. That would have been daft. Nonetheless, Gordon Murray insisted on a fully flat underfloor which is why the SLR has that eye-catching side-exit exhaust. And he demanded 50/50 weight distribution, forcing the 5.4-litre, supercharged V8 into a front mid-engined configuration that elongated the car's shape.
Now remember that the SLR was launched into a supercar world that had recently been rearranged by the Ferrari Enzo and Porsche Carrera GT, both of which coursed with high-tech racing DNA, and the bonkers but beautiful newbie, the Pagani Zonda. The SLR couldn't compete with their superior handling smarts, despite its carbon-fibre chassis and structural rigidity, and road testers at the time grumbled about the tricky brakes, hyperactive steering, and its generally confrontational character. The McMerc SLR felt defiantly analogue just as the digital era was dawning.
Advertisement - Page continues below
Photography: Rowan Horncastle
What might have been a problem back then is an opportunity now, and it's one that's being fully embraced by McLaren's Special Operations (MSO) division. A 100-strong outfit based in a usefully nondescript industrial estate in Woking, MSO has oversight on the world's billion-pound F1 population, and has developed various outrageous one-offs (the X-1 and the X, amongst others). But it's also responding to a renewed interest among SLR owners for an infusion of modern McLaren know-how into the old charger – approaching 20, incredibly – as well as an appreciation that a spell in rehab might help address some of its wilder personality traits.
"SLR owners are hugely passionate about their cars," says McLaren's heritage manager Tom Reinhold, who's also the creative and business force behind this MSO diversification. "They won't just have one, they'll typically have three or four. So at least one of those cars has been sent to us to have work done. Some might have owned an SLR in the past, sold it, and now want it back, because it's a very loveable car. And then are the people who might have an original 300 SL Gullwing and an SLS, and want to complete the trilogy."
Advertisement - Page continues below
They can now also choose from a McMenu of alterations and upgrades that run the gamut of the car. We're talking a comprehensive aerodynamics package, a suspension overhaul, a new exhaust, a new and more efficient intercooler, new wheels, new colours (the SLR's carbon body was notoriously difficult to paint) and a completely retrimmed interior. The Mercedes SLR McLaren is coming in from the cold, just as it qualifies for 'retro' status. It helps that a number of the MSO team were core to the SLR's development and manufacture back in the day, so they know the thing inside out; in fact, the idea for a rebooted or resurgent SLR has its roots in the MSO special edition with which the original bid sayonara back in 2009.
That analogue thing hits you hard in the face – and elsewhere about your person – the moment you clap eyes on the SLR. I mean, when did you last see one? Its proportions are crazy, but time and fashion might finally have aligned: an enterprising movie production designer could use one as visual shorthand for the hero or more likely villain of a dystopian future noir.
The doors arc up in an almost but-not-quite gullwing fashion and you climb in over chunky sills. There's gorgeous box-weave carpet, woven piping on the seats and a warmer, less technical atmosphere than before. I don't recall thinking so at the time, but the cabin is pretty sparse for a car that cost £313k new in 2004. That cliff face of a centre console houses rotary controls for the powertrain and a big horizontal switch for the air brake. Never mind the similarity to a contemporary Merc SL, the climate controls and switchgear are the same as you'd find in a 1999 Mercedes C200. The SLR arrived before USB outlets were a thing and went out of production just as the iPhone was establishing ground zero for connectivity. MSO is working on incorporating Apple CarPlay but the old school radio in this test car doesn't actually work.
This, however, is not a problem. Sonic satisfaction is on tap. The SLR's supercharged V8 and MSO's new ceramic coated exhaust system render any other form of propulsion or noise irrelevant. It's 30kg lighter than the standard set-up, and a new intake helps liberate approximately 15 extra bhp (for about 640bhp overall). Always welcome but not the heart of the story here, not when there's so much torque and thunder. Go for the switchable bypass valve – there's a little 'ff' for 'fortissimo' button nestled in the sill by the door release – and the result is unquestionably one of the greatest sounding motor cars ever made. Just easing out of Woking and onto the M25 on a sliver of throttle is a treat, the SLR gurgling and burbling like some prime slab of Sixties American muscle car. Through the tunnels of the northbound clockwise stretch – one of the few redeeming features of London's otherwise wretched orbital motorway – the sound is monumental, as if a squadron of Spitfires or P51 Mustangs has joined us in strafing the concrete. You can alter the bass frequency with your right foot, to truly spectacular effect.
The SLR was always a good GT long hauler. It was on the narrow, twisty stuff where it mislaid its mojo. The MSO upgrade has a new power steering pump and a third universal joint to eliminate the nervousness that afflicted the original. Sure, no one is going to mistake it for a Caterham or BAC Mono, but the alterations mean you can place it on the road with far greater accuracy, even from the left side of the cockpit. The ride quality has improved too, with new spring rates and dampers, but it's still a way off the magic conjured by the latest Ferraris, for example. Reinhold says the extensive aero work – new front spoiler, rear diffuser, and guide vanes – mean that the SLR is three seconds a lap faster around Dunsfold, which is a chunk of time and proof of how effective the mods are. Makes you wonder why they weren't adopted at the time, though. An aero-plus package adds louvred wheelarches to vent high pressure air and a large boot flick spoiler. "It has opened up a world of possibilities for SLR owners, in terms of making their cars truly unique and a more enjoyable proposition," Reinhold says.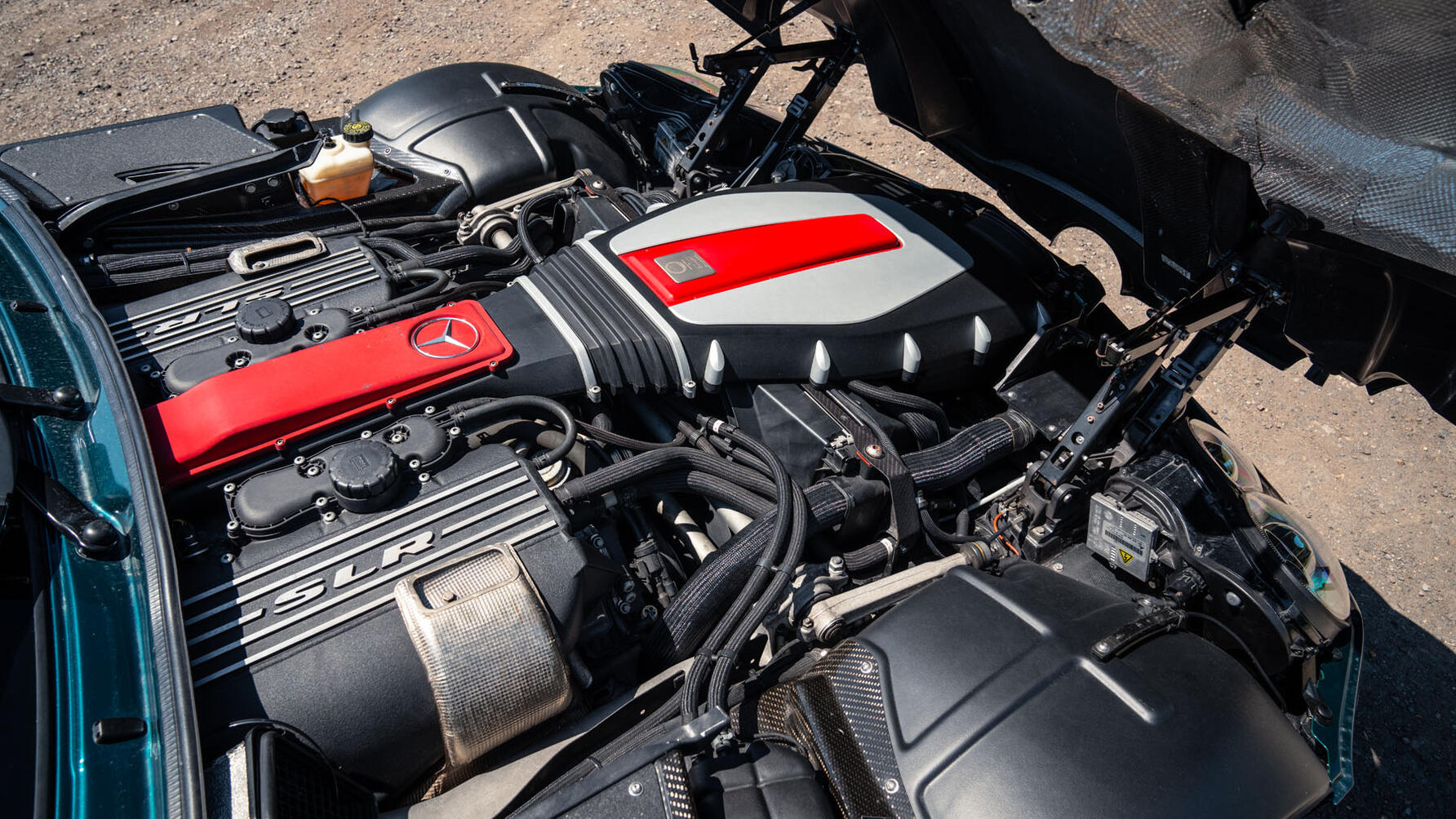 The brakes work but only after breaking the driver out in a cold sweat; Mercedes' troublesome and much-recalled early Noughties SBC (Sensotronic Brake Control) brake-by-wire was actually abandoned in 2006, but lived on in the SLR and Maybach. Nor does the five-speed torque converter auto - the only thing that could cope with the torque – provoke especially positive nostalgia; it's a workmanlike reminder of how far we've come with DSGs, although it's fun to be reacquainted with the grooved flip-top on the lever and the starter button underneath.
Still flawed, then. I guess so. But this carbon-fibre hot rod also feels more alive than ever, a raw meat antidote to 2022's increasingly vegan hypercars. SLRs are hovering around the £250k mark, a comparative steal compared with the admittedly much rarer Ferrari or Porsche (Enzo values are pushing £2m now, a good Carrera GT is north of £1m). The SLR by MSO menu items aren't cheap – £42k for a repaint, £36,500 for the interior retrim, £18,695 for the handling package, excluding VAT – and owners can and are happily spending more. What price one of the most exuberant supercar experiences of all time?
Top Gear
Newsletter
Thank you for subscribing to our newsletter. Look out for your regular round-up of news, reviews and offers in your inbox.
Get all the latest news, reviews and exclusives, direct to your inbox.