Big Reads
High voltage: driving Hyundai's electric touring car
Thought electric cars were cute and cuddly? Time to meet the brooding Veloster eTCR
Racing cars usually have an aura about them. They sit all angry in their pit garage, intimidatingly slick tyres stacked up nearby, looking ready to bite the uninitiated. But this is different. The aura surrounding the Hyundai Veloster eTCR is palpable, not least because of the warning hangers and the actual cordon keeping people from touching it.
It's charging, y'see. This is an electric racing car – Hyundai's first – and all of the training for its mechanics has come from the company's motorsport HQ in Germany. It's strict, then.
Advertisement - Page continues below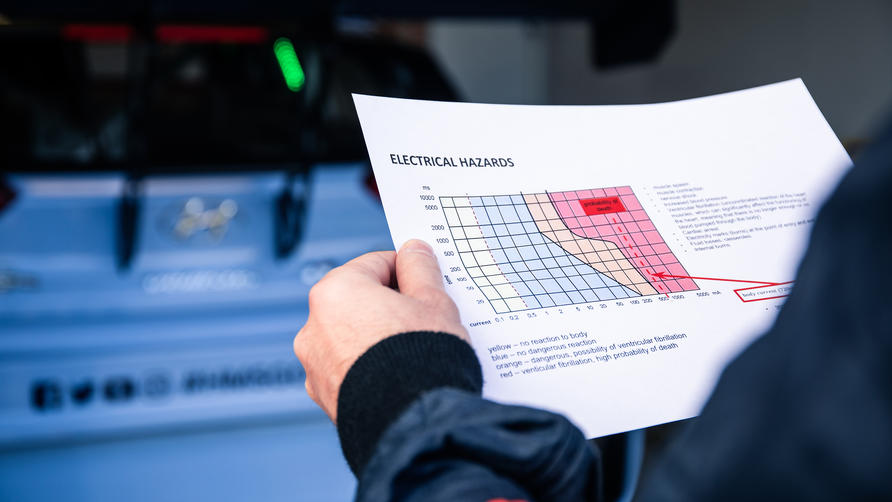 As is my briefing about the dangers lurking beneath its baby blue surface. There's a chart with the phrase 'probability of death' written on it, and an arrow indicating the Hyundai's 800-volt power contained lives in its most scarlet-red section. I'm told electrocution "won't actually hurt, you'll just be gone". And there we were all thinking EVs were cute, cuddly and ready to save the world.
Words: Stephen Dobie // Images: Jonny Fleetwood
There might be a warning rumble of thunder before lightning strikes, though: a strip of LEDs along the car's roll cage indicate what state it's in. Green means it's safe to touch, allowing the driver to clamber inside and mechanics to work upon it. Blue signifies it's charging and should be left alone. Red? Well, it's never happened, say the engineers. But we suspect red is a reasonable distance from ideal.
Advertisement - Page continues below
The car itself is a development prototype for Hyundai's entry into eTCR, a new global touring car series that sits parallel alongside TCR, just with a row of chargers in its pit lane and cleaner trackside air. In 2020, there's a trial season, with half a dozen individual events while organisers and entrants (Hyundai, Cupra and an unofficial Alfa Romeo entry are so far confirmed) get their heads around how to make it a success. Unlike Formula E, which sits several rungs below Formula 1 in both speed and prestige, the idea is that eTCR and TCR live as equals. Bold, you might say.
"I really don't know how this automotive world is going to develop," says Hyundai's motorsport chief, Andrea Adamo. "We are facing a situation we have not seen before. For years it was clear the next car would be petrol or diesel, but it's no longer clear to carmakers what to do. It's like playing poker."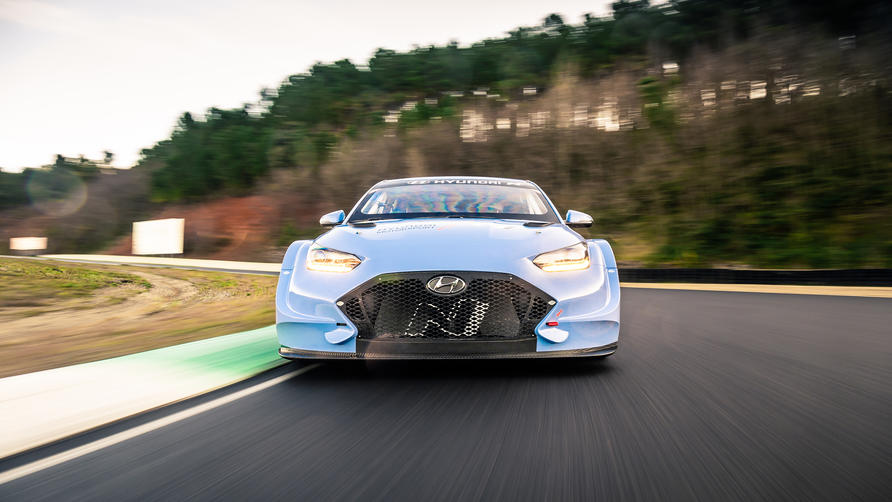 The Veloster eTCR is one of numerous hands Hyundai's playing, but it's taking some getting used to. This sole Veloster (used rather than an i30 eTCR because it's more recognisable globally) has been putting in development miles in Hungary and France as its team effectively morphs a front-driven, front-engined petrol racer into a rear-driver with its weight focused in the middle, while it's the first time the company's made a racecar with electric steering, too.
I find myself gatecrashing the tuning session of that very component, shivering in the wintry but oddly scenic pit lane of Pôle Mécanique circuit a couple of hours from Marseille. Never heard of it? Nor had I. It sits in a red stone quarry with numerous hills punctuating the skyline, not least a mock Mount Fuji that looms into view as you negotiate its tricky hairpin halfway through a lap. It's actually a bit of an EV racecar proving ground, with numerous Formula E teams testing here as well as Volkswagen's all-conquering ID.R, its team's motivational images and slogans still emblazoning one of the garage walls. I wonder how risk averse their charging procedure was…
Speaking of which, the Veloster's 63kWh battery takes around an hour to power up from 30 to 95 per cent – the typical procedure during testing – which is enough for around 15 laps or 25 minutes at full pace with 300kW (402bhp). The car has a number of power maps, ranging from 100kW (which we'll use for low-speed photography laps) and 500kW (left well alone today, as it's only likely to be used in competition for super pole qualification or a 'push to pass' system).
To match petrol TCR cars, 300kW is where it's at. The powertrain itself comes courtesy of Williams Engineering and Magelec, and will be sent in a crate from the organisers in eTCR's inaugural seasons, with no room for tampering. Individuality will come from how drivers interact with their car and how the chassis behaves beneath them, in eTCR's early years at least.
Top Gear
Newsletter
Thank you for subscribing to our newsletter. Look out for your regular round-up of news, reviews and offers in your inbox.
Get all the latest news, reviews and exclusives, direct to your inbox.
Roll cage LEDs on green, the plug's pulled out and the car snaps down from its pneumatic axle stands with a sound that shakes me into life. I'm bundled into the car, and thanks to the slight build of all the best racers – including Hyundai's tame test driver – I don't even need extra padding so I can reach the pedals. Always a relief.
Trundling around for photography is just as welcome on days like this. The race team have earmarked five fast laps for me, but a session beforehand at deliberately low speed both doubles my time in the car and gives me some low-risk driving to get my head around the controls.
It's easy to see a grid of these creating hilarious carnage in the best touring car tradition
My quietly intense nervousness is shattered as soon as I shift out of neutral to manoeuvre out of the garage. See, the internet is already awash with videos of mechanics knocked asunder like skittles as they linger in the direction of pitting racecars. Fearing a quieter world of motorsport could call for a whole new bank of servers at YouTube, rulemakers have called for cars to chirrup on their pit limiters, and this Veloster's is as comically piercing as the tropical bird enclosure at a zoo. It's an absurd noise that, in a moment, takes the entire edge off driving a one-off car on an ice-cold circuit.
The controls are reassuringly simple, too. The pedals feel heavily biased towards left-foot braking – a skill I'm yet to hone – but it doesn't take too much ankle twisting to use my right foot for everything. Further relief.
The steering wheel is awash with buttons, but all I'll need today are Pit (to unshackle the speed limiter and silence the pandemonium of parrots once I'm clear of the garages) and Upshift and Downshift (to toggle between Drive, Neutral and Reverse), while the team can remotely follow all the readouts on the data screen to save me wasting my thinly spread brain cells trying to process it all.
So moments later, when the LEDs all illuminate red, they see it from afar. Erk. This hasn't happened in the entirety of the Veloster's development thus far, yet I've achieved full danger within one minute behind the wheel. I freeze, suspecting I'm not meant to touch anything, as a blue'n'orange liveried engineer comes sprinting towards the car to peek through the window at the error code. The solution? Turn it off and on again…
With IT helpline 101 complete, everything's green again and we resume shooting. It appears the eTCR was foxed by mooching around at low speed for Jonny's camera, so once he's got a handful of shots, it's suggested I go out proper.
I'm on wet tyres and the traction control is fixed in level four of five (nicknamed J Mode, J being journalist) and after a lap at 100kW to warm everything up a bit, the radio buzzes me to flick the steering wheel dial up to 300kW as I pass the team of mechanics now draping themselves across the pit wall on my first flying lap. Which means the huuuuuge leap in acceleration and my overly urgent jump on the brakes for Turn 1 happens right in front of them.
Everything that follows is significantly smoother, though. With its single-speed transmission there are no fluffed downchanges to stress about into corners, while its friendly balance and stringent but polite traction control make the whole thing as carefree to drive as a race sim when you power out of those corners. They've nailed the electric steering, too.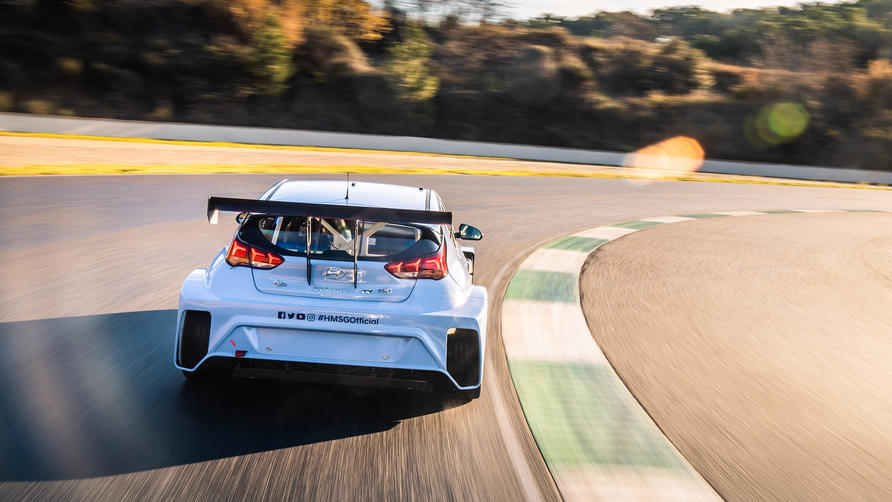 With no engine braking and another 400kg to slow down on top of a regular TCR (the Veloster now totalling 1.7 tonnes) it takes a small amount of adjustment over a petrol-propelled equivalent, but with no regen it's otherwise every bit as driveable as a front-engined, paddleshifted front-drive TCR, perhaps even more so given how effortless and uninterrupted acceleration has become. The fact I'm left begging for another go with the electronic shackles loosened further says everything about the affableness of this Veloster.
It's easy to see a grid of these creating hilarious carnage in the best touring car tradition, as a rabble of eTCRs all put their power down upon first sniff of corner exit and fire forward at great haste together. And perhaps into each other. An element of complication has been taken from the driver's to-do list and a whole extra sliver of brain capacity has been freed up for commitment and bravery. Add the potential of torque vectoring between the two rear motors (not active here, and not currently in the rulebook) and the drama can only ramp up in time.
And what of sound, the default criticism of fast electric road cars? Well, the scrappy silhouette stock car that went out on track immediately after us proved an internal combustion engine will always punch through cold, still air better than an EV. But this Veloster is not short of aural appeal, the whine of its race transmission reminiscent of a supercharger on steroids, and its crescendo not dissimilar to that of a highly strung naturally aspirated engine, at least in terms of pitch. And when the motors aren't being worked hard, spectators might just hear the fizz of tyres losing and relinquishing grip, providing an extra little insight into how hard the driver's working the car beneath them.
Hyundai's got more development work to go as it figures out how to hone a car like this. Challenges arise in even the most mundane of details: fitting a fire extinguisher which uses a material that won't pass on an electronic charge, for instance, while tyre management is different now the rear axle is so important. "On a regular TCR the rear wheels are effectively there to stop the exhaust pipe hitting the floor," jokes one engineer. But they've found time for fun, too. The pit lights flash to the beat of Blue Monday by New Order because, on the day that element was being worked on, it popped up on the garage Spotify.
Those briefings and red warning lights may be scary, but nothing else about the dawning of electric motorsport needs to be. It'll be worthier, but it can still have a sense of humour.
"Managing an electric vehicle has very different needs," says Adamo. "These cars are new and it's good people are advised about how to behave and manage them, but actually, fuel refills in racing is a much trickier situation. Read the books of the last centuries and they stated the first internal combustion engined car should be led by people waving flags. People were scared by the speed of those cars but they got used to it."
Given the frisson of excitement elicited by his team's unfinished, unliveried eTCR when it's merely charging, I can't wait to see a grid of these things do battle.