Movies
How they made it: the 2023 Gran Turismo movie
The world's biggest racing simulator is now a film. TG talks to the brains behind it
Despite the sheer, unadulterated brilliance of 1994's Street Fighter movie - Raul Giulia in a masterclass! Jean-Claude Van-Damme in his pomp! Whatever series stalwart Ryu was supposed to be! – the history of movies based on videogames has sucked up hope like a bullet-sponge. Bob Hoskins as Super Mario is history's grave warning to future generations.
More recently HBO's The Last of Us series set a new televisual benchmark, but the videogame it lifted from was consciously designed to mimic a movie's structure; it had drama and a satisfying, challenging narrative arc at its very heart. Another Sony title aims to do the same, albeit using a real world story as the motive force.
Advertisement - Page continues below
"The studio asked me 'do you want to look at a script we have about Gran Turismo', and I was like 'that literally makes no sense'," director Neill Blomkamp tells TopGear.com. Of course not, how could it make sense? Where's the narrative in a player mindlessly adjusting the spring rates on an old Skyline and grinding out credits for four days straight?
This Gran Turismo movie though, isn't about the game, per se. It's a real story about how a competition involving the game changed a young man's life. "I researched Jann Mardenborough, the GT Academy, everything that Nissan and Polyphony did together, and thought 'holy crap this is awesome'. Mostly because it's an organic way to merge a videogame film and concept with organic, real-world characters. I hadn't seen that before."
Indeed, nobody had seen anything like this before. "I came up with the concept of GT Academy in 2005 and we launched in 2008," Darren Cox told TG.com. Cox – played in the movie by Orlando Bloom – was the Nissan man responsible for coming up with the idea.
"Back then we didn't have Max and Lando in F1 as high profile gamers and the understanding of the importance of simulators in training and development.
Advertisement - Page continues below
"In fact, everyone thought the concept was mad. Especially those in the industry who were fully invested in the standard junior Formula route to the top. I had a lot of resistance internally and from the industry."
A narrative mirrored in the movie's inception, too. From the moment Mardenborough found out a film based on his life was a possibility, it went through its own narrative ups and downs. "2016 was when I was told [about the GT film], but in the same sentence it was also – 'this is Hollywood, it could or could not happen'," he told TG.
He wasn't too fussed back then, keeping himself busy in F3, GT300 and Super GT over in Japan – "the best place on Earth" – but then things started picking up steam in 2019… only to be derailed by the Covid pandemic throughout 2020.
"But multiple scripts continued to come through, I was having a load of Zoom calls and then in 2021 we were talking about actors. Then at the start of 2022 it was like, 'now it's happening'."
What was his first thought when it became a real, tangible thing? "That it should be as realistic as possible. They [the producers] were in the same mindset. They were asking the right questions which gave me a lot of confidence."
The fact that director Blomkamp is "obsessed" with cars probably helped, as did his admiration for proper car films, too. "I loved Ford versus Ferrari, I like Steve McQueen's Le Mans, I'm totally into them, I just never thought it'd be me making one."
(Blomkamp very subtly pays tribute to Le Mans and McQueen's 'pushing in' on each face just before the race. "Then the sound dies off, it goes silent, and then the flag goes. It's kind of jarring, but it's awesome at the same time. And I did specific push ins on our actors, as a sort of homage to that. I'm not sure if audiences will spot it.")
Top Gear
Newsletter
Thank you for subscribing to our newsletter. Look out for your regular round-up of news, reviews and offers in your inbox.
Get all the latest news, reviews and exclusives, direct to your inbox.
They'll definitely spot the drone footage, a technique Blomkamp has wanted to deploy for some time. "One of the craziest things is mounting a small remote head onto an FPV [first person view] drone – they can lead and follow cars in a way that looks almost like helicopter photography, because you can tell that the head is remote. But they're flying like an FPV, so that's pretty cool."
What's also pretty cool is the stunt car. "It's wild, mate!" Mardenborough tells TG. "There's a GT3 car – a Nissan GT-R from 2017 – and strapped to the roof is this pod where the stunt driver sits, and it's all drive-by-wire. So there are pedals up there. Inside the car there's no pedal box, just a seat and loads of cameras.
"But the thing drives full throttle… from the roof."
Indeed, according to Mardenborough, the cars are 'proper', as is the set decoration and authenticity. "It looks like Le Mans," he said of the Hungaroring circuit that hosts the racing scenes, "and you've got nearly 30 cars – five have been tarted up, but they've still got rollcages. All the others are proper race cars. There's a couple of LMP3 cars that are meant to be LMP2s, but you can't tell."
The sim racing – perhaps the foundation for this entire movie – is 'proper', too, by which we mean there's no playback or fakery, everything you see on the big screen is the handiwork of each actor. Including the actor who plays Jann – Archie Medweke.
"All the scenes you see of me driving the simulator, none of it is VFX," he said. "I'm racing the entire time. I'm racing against difficult AI – we couldn't make it easy because all the Gran Turismo fans would know, so I had to be good at the game."
So all the 'one-shot' takes, for example – running into the house, jumping on the sim, starting a race from last position and having to finish on the podium – "that was difficult, it was just practice".
Amazingly, Medweke didn't even have his driving licence before he started shooting GT. "I was filming another job, and every time I wrapped I'd quickly run to a driving lesson at night." He passed the first time around, "thank god".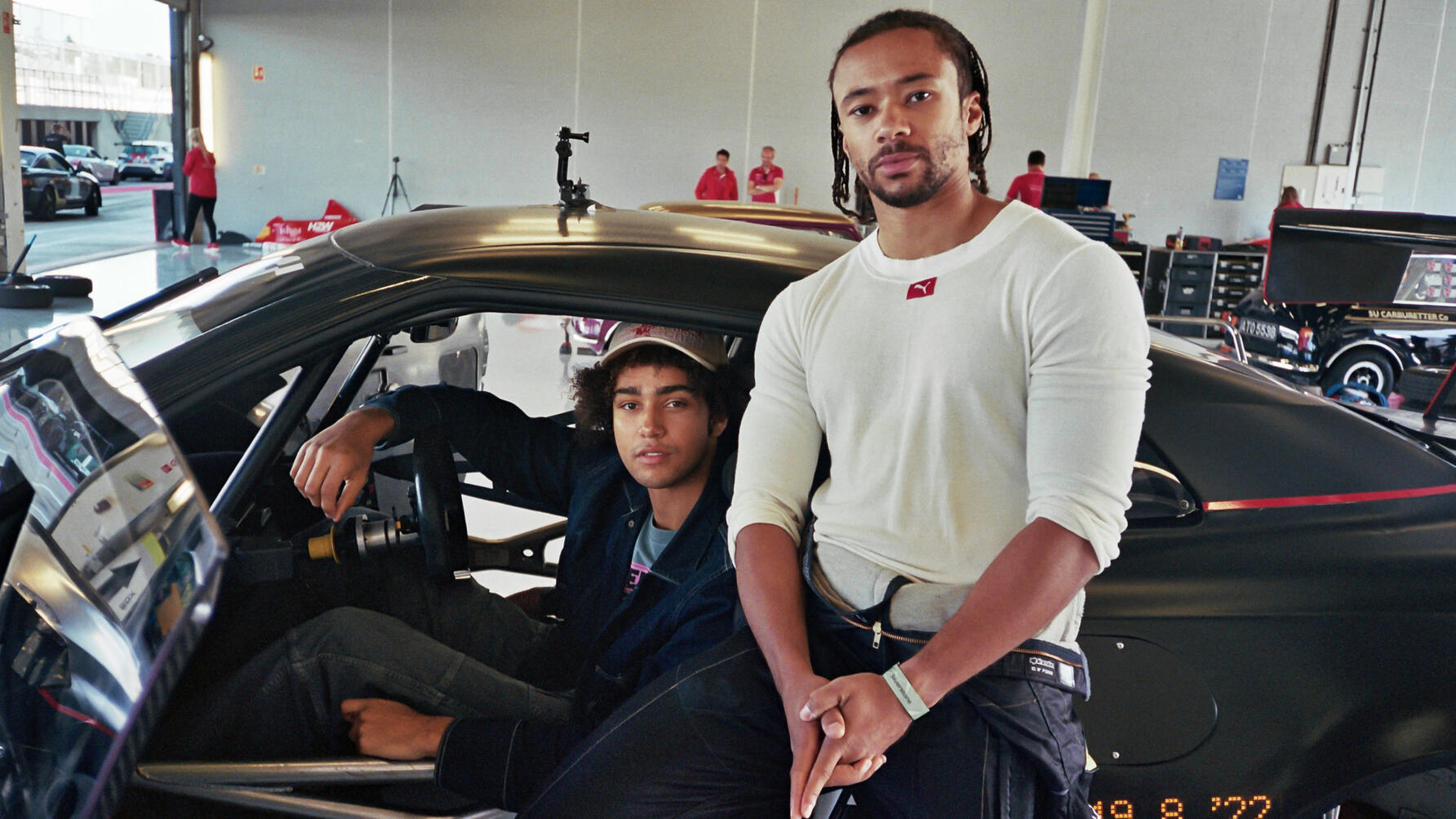 Speaking of the GT fans, did he feel any pressure to do the series justice? "Definitely!" He speaks of having not only GT 'experts' on hand, but having Jann so intricately involved helped take some of that weight off his shoulders so he could focus… on telling Jann's narrative. "What's different about this gaming movie is it's a true story."
It's also true that he found the sim racing much, much harder than learning to drive. "The reactions are split second," he said. "When I was learning to drive it was pretty chilled! On the sim if you take a breath at the wrong time, you're off."
Of course, he didn't face such issues in the pod car. While Blomkamp admitted that it was important to get the sim stuff absolutely spot on and real, "it's only 15 per cent of the racing stuff". And this is where Gran Turismo goes full meta.
"You have the pod builds where Archie can be in the driving seat and the camera's on him," Blomkamp said, "but you can film a pod car from the exterior, so you have a hero exterior car… which is driven by Jann. Which is nuts." That's right: Jann is a stunt driver shadowing the actor who is playing… Jann. There's authenticity, and then there's this. "All the shots of the LMP cars going around are done by me," Mardenborough said, somewhat still in disbelief.
But over and above an ode to Gran Turismo and the 'Easter eggs' that we're promised are littered throughout the movie, it stands for something more. "There isn't much coverage of WEC or Blancpain, comparative to Formula One," Mardenborough said. "Everyone knows F1 because of what Drive to Survive has done. Hopefully this film can raise awareness of other levels of motorsport that are out there."
"This film is really for people who play the game," Medweke noted. "What's incredible is that it relates to so many other people because it's a film about hope, about fulfilling your dreams, as well as all the exciting, high intensity racing. It's an emotional movie."
For Blomkamp, it's just got to be real. "This [film] is different because it's actual racing, so I can't blow the cars up or roll them… which is like, a huge temptation! For me, the primary thing is adrenaline – the sensation of being dropped into that. It has to be incredibly, methodically thought out and well executed."
For PlayStation Studios producer Carter Swan – who helped steer GT through its tumultuous journey onto the big screen, it proves something more. "That video games can lead to something great. That video games aren't a waste of time."
Want to see if they succeeded? Read TopGear.com's review of the Gran Turismo movie here