Big Reads
Jaguar F-Type vs Porsche 718 Cayman
Exotic, fifty grand sports cars... with four-cylinder engines. But which makes downsizing more desirable?
In 2018, it's easy to forget, but in the mid-1990s, the now-mighty Porsche was in deep trouble. The 968 was in its death throes, a car that was itself a pretty desperate attempt to drag some extra few years' life out of the old 944 line. The 968 was the last four-cylinder Porsche I drove before today. In 1995 it cost £35,000 plus options. Sure, it handled fantastically well, but its engine was a 240bhp 3.0-litre straight four, a pretty gruff effort.
Today's base-model 718 Cayman packs 296bhp and vastly better equipment. The company has flourished into a financial and technical powerhouse. By comparison with the 968, and given 23 years of inflation, you could call the Cayman a notable bargain at £43k.
Advertisement - Page continues below
Words: Paul Horrell/Images: Mark Riccioni
But once again it carries the mild but unmistakeable odour of defeat. You know what I'm talking about don't you. It's the four-cylinder engine where once we rejoiced in six. Porsche is surely not saving any money here, given that by cutting out the pistons it had to add a turbo, its intercooler and the radiator to cool the intercooler, and endless piping and ductwork. And neither is it saving fuel consumption or reducing CO2 – at least not in worthwhile amounts in the real world. It's a capitulation to bureaucratic box-ticking.
Sometime between the running aground of Noah's ark and the formation of the Rolling Stones, William Lyons built a handful of four-cylinder sports cars too. But this was before his company was even named Jaguar. So the F-Type's cylinder count really is a bit of a novelty for the company's sports-car line-up, even if almost every new Jag saloon or SUV on any British road is a four-cylinder diesel.
Advertisement - Page continues below
Mind you, while we're on a history lesson, it's worth noting that around about the time the Porsche 968 died so did Jaguar's six-litre V12, and it made only five per cent more horsepower than today's 2.0 four.
The F-Type 2.0 and 718 Cayman are both around £53k as optioned, and both at 300 metric horsepower (or 296bhp). But they approach the two-seat sports car target from very different directions. The Porsche is mid-engined, flat-four, with a six-speed manual. The Jaguar mounts its in-line four under the long bonnet, and hooks it to a standard eight-speed automatic.
Never mind the recent heart transplants, you're looking at two middle-aged bodies. But my word they carry their years well. You'd have to look a long way elsewhere to find this much stylistic gorgeousness for your fifty big ones. It's the hips that do it: they both use petite tapering fastbacks to emphasise the plinths of broad, curvy rear wings.
Inside, the Porsche is a snug cocoon, but easy to see out of and the driving position's spot-on, though the standard seats are a bit narrow across my shoulders. Some of the switchgear's small and fiddly, but the connected navigation unit is superb and if you don't want to learn it there's always CarPlay. The Porsche can hold more luggage than the Jag, with the proviso that your load mustn't include bulky stuff that's indivisible between the front and back boots. The F-Type's single rear hold is bigger than either of the Porsche's individually.
The Jaguar's cabin is just as special, with lovely metallised harpsichord-key switches and big graspable climate knobs with backlit secondary function indicators. Its seats are better than the Porsche's for our bodies, but its infotainment system not as slick, and it doesn't have phone mirroring.
The F-Type is also quick, nailing the 0-62mph sprint in 5.7 seconds. Down the road it always feels lively too. The eight-speed auto is attentive in auto and prompt in over-ride, and the ratios are close enough that you can always choose between using the engine's ample mid-range torque, or…using the engine's ample mid-range torque. It simply doesn't really have the sort of incandescent top-end you might hope for, as max power is at 5,500rpm and the red-line is soon after the big six.
The way it moves down a road feels like the result of endless honing by people who adore every element of the physical act of driving
Top Gear
Newsletter
Thank you for subscribing to our newsletter. Look out for your regular round-up of news, reviews and offers in your inbox.
Get all the latest news, reviews and exclusives, direct to your inbox.
Still, even when you keep the revs low by locking into a high gear, it doesn't lag much. Active sound enhancement through the speakers gives it an agreeable fluttering timbre. There's also some exhaust cackling on the overrun, and even more of it in the sports mode. Frankly it's a borderline embarrassing. I'm not Guy Fawkes, thanks all the same. All-in it's an effective engine, and actually quite characterful. Its performance may be hardly quicker than a hot-hatchback's, but the generous delivery of engine and transmission mean quick progress comes easily.
It does in the Porsche, too. It's almost 200kg lighter, so its power goes further. The engine revs to a dizzy 7,500, which is really good for a turbo. As with so many German cars, a big hole waits to trap you between second and third gear ratios. Yes, the car has the torque to cope, but you don't get to play as much as you'd hope with the gorgeous mechanical confection of a gearshift.
And the noise? It's actually rather good. Really good for a four-cylinder, throbby of exhaust and snickety of cam. This car has an optional sports exhaust button but we were soon over that. All it does is add boomy bass notes, but no extra character. Anyway, 'good for a four-cylinder' is still a pale shadow against its predecessor, which was one of the best six-cylinders affordable motordom ever enjoyed.
Yet the sonics aren't the issue. It's the loss of progression and immediacy. The new engine's reactions are indeed more forceful, but at the same time lazier, thanks to significant mid-range lag. I mean, it's not like the Cayman ever needed to go faster. That was the 911's job. The Cayman existed for precision and delicacy, and for the sense that you really could give the thing a proper workout even on a British road. Adding acceleration while subtracting immediacy and exactness turns out to be a less-than-zero-sum game.
See, in the old six-cylinder days you used that throttle to play delightfully exact choreography with the equally precise steering and brakes and clutch. In the 718, you get the same precision from the stopping and the steering, but balancing those against the power delivery has now become a little rubbery and vague.
Let's not get this out of hand. The 718 is still an absolute blast along a back-road. The steering has useful feel and the mid-engined balance gives it a wonderful biddable quality into corners, but with a benign set of reactions when you have to make amendments part-way round. It can pitch a bit when the road really undulates, but mostly it controls its movements with immense dexterity. At road speed the grip, unless you're in the depths of winter slime, is functionally inexhaustible. You drive it for the reactions and the tidiness, not for going all lairy.
The two-litre Jaguar is the most agile of the range, because its engine weighs a bag of cement less than the V6, and that's all on the front wheels. Net result, it can actually seem almost too quick to turn in, hard to guide smoothly if the road's bumpy. Over-keen power assistance doesn't help. Nor does an annoying weave under brakes when the surface isn't flat.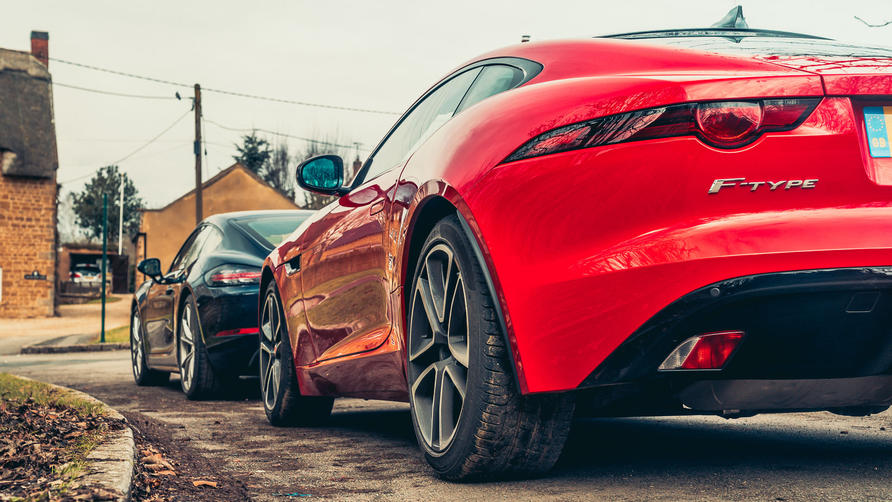 Still, unlike the early rear-wheel drive V8 F-type (now sensibly replaced by all-wheel drive), the rear-driven 2.0-litre has all the traction its engine needs, so you can lean on it and have some proper fun on a B-road. But it's a wide car, made wider by the way bumps push it around. So it needs more breadth of tarmac than the Porsche before you feel confident.
Away from that sort of thing, at urban speeds, they both ride stiffly but not harshly. The Jaguar is the better motorway car in account of its much lower tyre noise. The Porsche, at least on these optional 20-inch wheels, really does bellow at you if the surface is coarse. Amazingly, this road noise is about the sole sacrifice the Porsche makes between everyday refinement and sports-car harshness.
Overall? The two-litre F-Type is a very good car, but the dynamic sense of occasion lives in the shadow of the visuals. If you want something that's as special to drive as it is to look at, get an F-Type V6 manual for just £3k more than this four-cylinder.
The Porsche is still a fabulously special thing even in – perhaps especially in – its base-model form. Its chassis and transmission, and the way it moves down a road, feel like the result of endless honing by people who adore every element of the physical act of driving, and engineer them regardless of cost. These things draw you in and reward your involvement at every speed regime.
The Cayman's engine used to do that too. It no longer does. It's not unstimulating and it's certainly not ineffective. But this turbo four is an external mechanism, linked to you by compressible gas. The six-cylinder was integral to your central nervous system. What was the world's best sports car, still is. But its margin has slipped.