Big Reads
One night in the world's only Mazda MX-5 themed motel
Forget the free micro-shampoos: this hotel room throws in the keys to 40 rare sports cars
The guilty stench of clutch hangs about the entrance of the world's only Mazda MX-5-themed hotel. I'm confident the pungent aroma of poor co-ordination isn't emanating from 'my' brand new MX-5 30th Anniversary Edition. The only one in Italy. I dunno, maybe it's the natural odour of the vineyards baking on the hillside, or some by-product of a local truffle harvest.
Words: Ollie Kew / Photography: Lee Brimble
Advertisement - Page continues below
The central Italian province of Perugia has until now been renowned for exports of wine and posh fungus. Now it has this place: Miataland. A hotel where you don't just blag mini-shampoos and the branded slippers. You get the keys to the greatest compilation of Mazda roadsters anywhere on the planet with your breakfast.
And it's just become apparent the collection includes… a Solero-orange MX-5 30th Anniversary, basking in the courtyard amid a palette of other Miatas. Damn it. I'd hoped to impress our host by arriving in number 0136 of 3000; a forbidden fruit (a satsuma, obviously). But no. Hotelier Andrea Mancini already has his birthday special: number 0268.
Far from being nonplussed, he strides past it and out across the gravel, cameraphone in hand, to immortalise the moment. "One is rare, but two? Is impossible!" Andrea greets photographer Lee and me with a beaming smile that doesn't leave his face for the next two days. He's wearing a Miataland-branded T-shirt, the logo embroidered in the authentic Mazda font. It's also etched into the windows of the stone mansion he beckons us toward. Attention to detail isn't in short supply here.
Advertisement - Page continues below
"Why MX-5s?" Andrea's well-rehearsed story begins with a lust when the car was revealed in 1989, but he had to wait until the mid Nineties to even drive one. He was a sub-junior salesman in a Ford dealership. One tedious day, a young lady popped in to buy a Ka, and offered her MkI MX-5 in part-exchange. "I drove it home, and it was a beautiful moment," he reminisces, eyes swimming. It's still a sore point that said original MX-5 is the only one he's ever sold, funding the purchase of a MkII, and the start of an addiction.
Miataland itself is over four years in the making. Its home is a 200-year-old hillside villa with majestic valley views overlooked by nothing more than relentless sunshine. When Andrea first happened across the derelict site, the estate agent idly noted the 50-foot barn to the left of the property would be ideal for horses. "Then she had to leave, so she left me the keys and asked I locked up when I left," Andrea explains. The following day he went back, let himself in, and had a good poke around without the hard sell, sussing out just how many diminutive Japanese two-seaters he could fit in the stables instead.
Guests are comprehensively outnumbered by cars. The hotel offers only six rooms, but each is airy and dotted with touches that'll make Miataphiles coo with delight. Beds are upholstered in colours from the original MX-5's paintwork swatch. Their frames echo the Miata's chassis spars, featuring triangular cutouts for lightness. The desk chair is, of course, an ex-MX-5 seat, complete with recline lever.
Nipping out for a dip? Leave your keycard in a ceramic MX-5 silhouette fixed to the wall. It should be kitsch and fanboyish, yet it's tasteful and charmingly homely. Stroll the hallway, past the spiral staircase of 28 steps featuring 28 woods from 28 countries. As you do.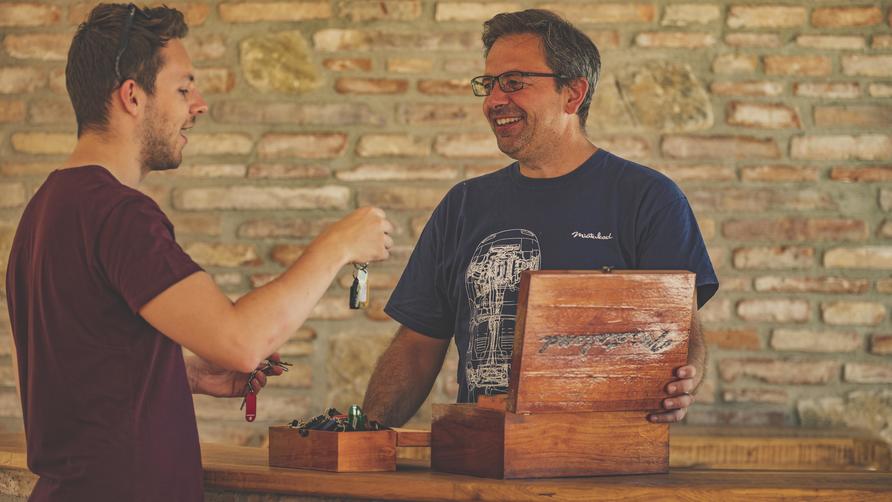 Downstairs we have the memorabilia section. Most of us have to hide our guilty interests in the spare room or that haven of male nerddom: the shed. Mr Mancini grandstands his in the entrance hall. Mint-in-box die-cast toys fill several shelves. Mazdas, naturally, but he's found space for a Ferrari F40 and a Ford GT40. Other sections bow under the sheer weight of literature. Every history of the Miata committed to print is here, in English, Italian, and Japanese. "I can't understand any of it, but I enjoy the pictures."
Andrea also enjoys steering wheels. Browsing the hall of fame, he recollects a visit to the humble Nardi factory in a Milan suburb backstreet. "I ask to buy this classic wooden-rimmed one, just for display. 'Come back in half an hour', they say. So they could fetch one from the store room? No, so they could manufacture a fresh one there and then. It was still warm from machining when I paid."
Top Gear
Newsletter
Thank you for subscribing to our newsletter. Look out for your regular round-up of news, reviews and offers in your inbox.
Get all the latest news, reviews and exclusives, direct to your inbox.
And so to the shed. It is just that. Its aged panels sit not-quite sealed against the sun's glare, so frayed rays bleed through crevices as we enter a room unlike any other I've ever encountered. Lines upon lines of neatly arranged silhouettes, all tucked under plastic covers with a magnet fixing each blanket onto the front wing. Without prompting, Andrea pockets the first magnet, sweeps back the cover and begins an unscripted MX-5-athon explaining the origin, progeny and scarcity of his ranks.
I'd wrongly assumed that he'd amassed a gaggle of rough 'n' ready bargains. But he's gone the other way, seeking out rare-groove specials. There's the outrageous widebody NOPRO from Japan, and the American 'MegaMonster', packing a supercharged 5.0-litre Ford V8. Currently it's only running low boost, but I'm reliably informed via much hand-waving that 430bhp is enough to marmalise the tyres through third gear. Inevitably, they're both a bit cantankerous and out of commission at the moment. So, onto the 'Pitcrew', a retro Japanese take on a classic English roadster, which makes a pleasant curio pairing with a yellow MkI aping the Frogeye Sprite.
There's even a British bodykit unconvincingly riffing on a Ferrari 250 GTO. It starts on the key, idles grumpily for a moment, then happily trundles out to bask in the afternoon sunshine.
It's followed by the 'M2 Incorporated' triplets. No, me neither. Andrea explains like a television detective building up to his big culprit reveal. "Mazda sees Acura and Lexus doing well in the Nineties and wants to try the same, but instead of going after the luxury market, it also builds sportier cars, in tiny numbers. Just 300 cars." Another cover is folded lovingly into a boot.  
"The first M2 MX-5 was a lightweight car. Magnesium wheels – not road legal here because they shatter, but who would ever find out?" God I love Italy. "Seats that weigh 4.2kg each, instead of 12kg. No power steering. New cams and exhausts, and a new diff." He reels off the list without an um or a breath. "Each cost twice what an ordinary MX-5 cost – the same as a new Honda NSX!
"And still, Mazda took 584 orders, each with a $5k deposit. Now, I think if this were Ferrari, they would build this many cars, but Mazda kept its word, and built 300."
In the end, Mazda did a lottery, and the disappointed 284 received their deposit back, a personal letter of apology from Mazda, and a scale model of the car. Later, M2 built 184 examples of a hyper-luxury version of the MX-5, complete with Yamaha piano-grade wood, and a racier one still. M2 was canned by 1999, but Andrea has one of each. Among Miataphiles, that's like having the holy grail with matching saucers and cutlery – and then using them for dinner.
Who's really more pretentious? The honest roadster without a single driving mode, fake vent or technogimmick, or the individuals who mock it for being a bit camp?
He's not precious about having his guests drive his cars. Ahead of an invasion from the MX-5 owners club of America, Top Gear has come to stay on a quiet day, when we've only a couple from the Swedish MX-5 owners club to disturb. Bjorn is zooming up the hill in one of just four Yamamoto Signature edition ND MX-5s, built to mark the retirement of the MX-5's recent chief engineer. It wears semi-slick Toyo rubber and oily black paintwork coated in dust.
I ponder if it was the clutch odour culprit. "No, that was a guest from Oman I had over earlier. He loves Miatas, and spent so much money importing them to his homeland – but he comes here and can't drive stick", Andrea explains, momentarily swapping his broad grin for a sarcastic eye-roll.
In the fresh light of morning, I can confess something – I've never driven an original MX-5, or the sequel.
So, when Andrea asks what I'd like to sample, I plump for the 1991 'J Limited' Sunburst yellow NA, and the America-and-Australia-only Mazdaspeed NB – the only factory turbo MX-5. Driven this one lots, in GranTurismo 3. Andrea counts it among his favourites, but for me it's a lesson in how addictive turbo lag is. The engine does nothing whatsoever until 5,000rpm, then all the boost arrives in an untidy lump, before it clatters into a early rev-limiter at 6,500rpm. Plus, I'm sitting too high and the bling (remember bling? How 2003) rims are clearly more at home cruising Little Italy than the real thing. So, I swap into the NA and experience something of a revelation.
The MX-5 cops its fair share of flak, but ask yourself, who's really more pretentious? The honest roadster without a single driving mode, fake vent or technogimmick, or the individuals who mock it for being a bit camp?
The MX-5 is one of motoring's great access points: to soft-tops, to rear-wheel drive, to natural aspiration and a quality gearchange. The yellow car has done 60,000 km and it's a spritely, gameful wee giggle of a thing, flitting along untroubled by the tarmac gouges and patchwork surface. If this place was Lamboland, it wouldn't work. Roads this tight, unsighted and bumpy are pure MX-5 country.
On the way back to base, I chase Andrea aboard the '91 car in the brand-new 30th Anniversary MX-5. Some Italian driving ensues. This latest special has forged Rays wheels, Bilstein dampers, Brembo brakes and drives… exactly like a 2.0-litre MX-5. The 7,500rpm engine and genius gearbox are the star, and they've not been touched. The new car feels barely bigger, and though it steers with less detail, the body control catches itself over the yumps twice as rapidly. No chassis creak, either.
So, it's another good MX-5. And when Mazda can no longer justify a petrol-engined, manual-shifting two-seater in a hellscape of electrified same-again-SUVs, rest assured that deep in the heart of Italy, a living museum will give the very rarest Miatas – and you – a sanctuary. If you can drive stick.