Big Reads
Power Shift: battery-swapping our way across China
A roadtrip in EV-loving China, to test out one novel solution to range anxiety. And service station food
"She says you need a Chinese name."
Our fixer is sat at a desk in Beijing Airport, painstakingly translating my particulars into Mandarin and writing them on a complicated-looking form. And just like that, I'm presented with an opportunity for which millions would gladly give their two front teeth – the chance to choose my own name.
Advertisement - Page continues below
Words: Tom Harrison // Photography: Rowan Horncastle
This feature originally appeared in the October 2019 issue of Top Gear magazine. 
We're in China to drive an electric car you probably haven't heard of, a very long way. Nio is one of almost 500 EV manufacturers registered here. It's been going for five years, and the ES6 is only its second proper car. You might have heard of the EP9, which held the EV record at the Nürburgring for over two years – before Volkswagen smashed it with the ID.R – or of the company's somewhat successful Formula E team. But you probably haven't, because though it has an office in London, Nio doesn't sell cars in Britain. Or indeed anywhere that isn't China.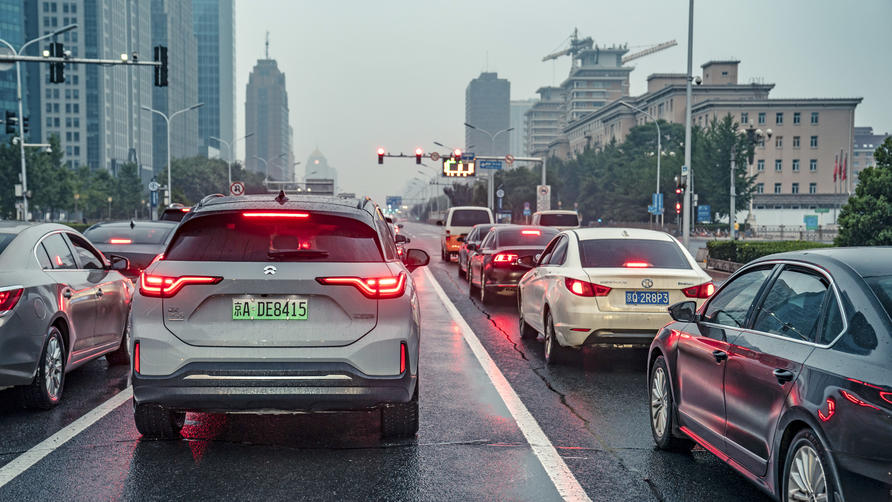 So you wouldn't know that Nio is very much a thing. It's listed on the New York Stock Exchange, its CEO William Li is a serial entrepreneur who's made a success of many companies, and it employs more than 9,000 people. That's three times more than Ferrari. And it's doing some very clever, very interesting things in its native country. Not so much with the cars themselves (yet) – the ES6 is an electric SUV, much in the mould of the Audi e-Tron, Mercedes EQC and Jaguar I-Pace – but with the ecosystem that surrounds them. Namely, how you charge. Which is why Rowan and I are standing in this dimly lit office, having proved that we can, in fact, see and are capable of distinguishing between the colours red and green, applying for temporary Chinese driving licences. Something that, should you ever visit China, you really ought to avoid.
Advertisement - Page continues below
China is the world's biggest market for 'NEVs' – or 'new energy vehicles'. That's full EVs as well as PHEVs. Last year it bought around 1.2 million – more than half the global total – compared with roughly 360,000 sold in the States and a measly 60,000 or so sold in the UK. This year it expects to buy 1.6 million, even though the government has slashed subsidies (which meant carmakers could sell their wares more cheaply), in a move that's supposed to rationalise the industry by weeding out 'inferior' companies. Nio isn't one of those – even though it's had its fair share of issues. Issues such as a $390 million loss in the first quarter of 2019, cancelled plans for its own factory (at the moment, its cars are built by another Chinese company called JAC) and the postponement of a new model.
Dependant on (and possibly shoring up) the company's survival is its network of 123 'Power Swap' stations that line three of China's busiest highways and can be found in its biggest cities. Together with the ES6's claimed 260-mile range (200 real world), these stations will allow us to drive from Beijing to Shanghai – around 800 miles – without recharging once.
Which is a bit of a pain. Because driving in China is such a bugger, I could do with more of a break than the five or six minutes it takes to swap the ES6's battery for a fresh one. At least traffic in Beijing is basically at a standstill as we set off, after a night in a hotel that could as easily be in Birmingham. I've never been so happy to see gridlock.
The standstill at least gives us a chance to examine the hoards of scooters streaming past us on either side. Anywhere else in the world, such vast numbers of two-wheelers would be accompanied by an almighty two-stroke racket. But not here, as many of them are electric and thus totally silent. Running any kind of internal combustion engined motorcycle in China can be prohibitively expensive. With electric ones, though, until very recently you didn't even need a driver's licence.
[node:field_inline_galleries-themed-delta:0]
The buses, too. Diesel clatter isn't a thing, because the vast majority of them are electric or at least hybrid. Shenzen – a city of some 18 million people – supposedly has more electric buses than New York, Los Angeles, Toronto and Chicago have normal buses. Combined.
Nonetheless, a thick smog hangs over the city as traffic eases, and we begin to negotiate the tangle of lanes, and locals' total disregard for them. Odd – given the amount of surveillance. Cameras every few yards watch for wrongdoing – speeding, not wearing your seatbelt, stopping where you shouldn't – and automatically issue tickets. They flash as cars pass beneath, illuminating their numberplates and striking the fear of God into nearby Europeans.
Top Gear
Newsletter
Thank you for subscribing to our newsletter. Look out for your regular round-up of news, reviews and offers in your inbox.
Get all the latest news, reviews and exclusives, direct to your inbox.
Chinese service stations aren't much different from British ones. Lots of parking, questionable food (and associated smells), lots of tat. Perhaps an EV charger or two – though the lion's share of these are in big cities. In Britain we have a little over 9,000 EV chargers. China has over 400,000. Between June 2018 and May 2019, 11,000 were added per month on average.
At an increasing number of stations you'll find Nio's little silver pods. Imagine Apple opening a shop in the middle of a traditional Middle Eastern souk, and you'll get a good sense of how incongruous these buildings look beside all the other infrastructure. We drive up to it, and step out of the car into oppressive heat. Beijing was hot and wet – my glasses would steam up everytime I stepped out of the car – but this is something else entirely.
A man emerges from the pod, in which he's been sheltering from the heat. He takes the keys to our car, fits Nio-branded steering-wheel and seat covers and reverses it precisely up the ramp and into the bay. Then something odd happens. The man hops out and disappears into a little room off to the side, then our ES6 is raised into the air, and its almost completely depleted battery unscrewed and replaced with a fully-charged one. As the car is set back on its wheels, the man emerges from the room, climbs in, drives it out of the pod and hands me the key. And just like that, after comfortably less than ten minutes, you have a fully charged EV and two wide-eyed Englishmen.
We're going to do this another five times before Shanghai. The swap costs 180 RMB – around £21, paid through the excellent and all-encompassing Nio app – and though the process is entirely automated, each station is manned 24 hours a day. At most, each pod contains five batteries, enough to serve up to 70 customers every day. This attendant tells us he's done more than 20 in two days, so this technology is no novelty. People actually use it... some 50 per cent of all Nio owners have given it a go.
Indeed, at the next swap stop a couple of hours down the road, we meet a man called Wang Hao, who rolls up to swap the battery in his ES8 as our ES6 is being hoisted into the air. He tells us he drives from Beijing to Shanghai and back regularly, and that he used to have an Audi Q7 but swapped to the Nio because it's much greener. Literally, in one sense – in China EVs and hybrids get green numberplates, whereas regular ICE cars get blue ones.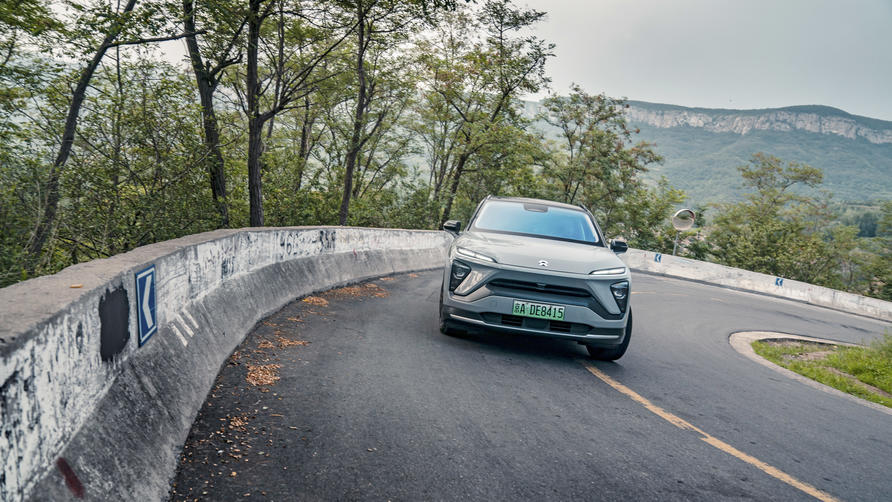 Numberplates are central to the success of NEVs out here. In an effort to ease congestion and improve air quality in big cities (both of which are awful), China limits the quantity of plates said cities can issue to their residents. In order to buy a car, you have to prove you have a plate, and it's much easier and cheaper to get one for a hybrid or EV than it is a conventional internal combustion-engined car. There are restrictions, too, banning ICE cars from certain locations at certain times, making EV ownership even more appealing. This is why Wang bought his Nio – so he could drive into Shanghai whenever he wanted.
Sales of NEVs in China may be increasing annually, but generally speaking, new car sales are falling. And they have been for the last year or so. In an effort to turn things around, some cities are increasing the number of available numberplates by as much as 60 per cent. Traffic, shmaffic.
Wang's enthusiasm signals it's time for us to start thinking about the ES6 itself. The car we've now spent several hours in. It's like his ES8, only with five-seats instead of seven. An SUV to rival the Audi e-Tron, that in China is less than half the price of a Tesla Model X. Our top-spec Premier Edition costs the equivalent of around £58,000, though prices start at around £42,000. And sure enough – there are similarities between it and the Californian car.
The doorhandles pop out to meet you, there's no power button (just put your foot on the brake and go) and of course there's the big portrait touchscreen. Nio has gone further than Tesla, though, with the 'Nomi' voice assistant, and its little swivelling head on top of the dashboard that looks at you when you speak and can display tens of different faces. Of course it's all in Mandarin and cannot be switched to English.
The whole interior looks and feels surprisingly slick. And so does the powertrain. The ES6 is all-wheel-drive and available with either a 70 or 84kWh battery. This one is the former – 536bhp and all-wheel-drive means 0–62mph in 4.6 seconds. Said performance is delivered with the characteristic punch of an EV and no noise whatsoever, save for a little whine and some fake UFO noises under 20mph so smartphone-obsessed pedestrians don't wander into your path.
Bored with the monotonous highway (China has the biggest network of highways in the world), we peel off in search of more interesting roads. Said roads are populated almost entirely by lunatics. But brief stretches of nothingness reveal the ES6 to be less than ideally suited to loutish behaviour. There's a softness to it that makes it comfy enough around town, but on the motorway and country roads introduces loose body control that sees it bounce its way along somewhat inelegantly. Different markets want different things – if the ES6 were to be sold in Europe, this would need to change.
We halt overnight in one of those 'small' Chinese cities that nobody outside China has ever heard of but actually has a bigger population than all of Greater London, before heading further south towards the Yangtze River. A few more battery swaps at progressively nicer service stations later, and we roll into Shanghai, having driven an electric car some 800 miles in as much time as it would take you to do the same in a petrol.
More modern, more westernised – Shanghai is more obviously dripping with money than the capital. Which is why the 'Nio House' fits in better here. These are the company's dealerships and, well, clubhouses. Where existing owners can come and chill – there's a coffee shop, library, children's play area and even rentable office space – and prospective owners can go buy cars.
It's here we take some time to reflect on our trip. Battery swapping is certainly a solution. You can imagine a system like this working in Europe – to ease the load on traditional charging infrastructure, which will only increase as more people decide (or are forced) to replace their conventional cars with EVs or plug-ins. The haulage industry would love them, as would EV sceptics reluctant to contend with the complexities of charging. That's one of the reasons Nio has implemented this network – the battery-swap experience is more like refuelling than it is charging. Somehow less intimidating.
Nio Power's boss Shen Fei says batteries could be effectively standardised, and leased independently of the cars to which they're fitted. This would make EV ownership more economical for just about everybody – make the cars themselves much cheaper to buy, and go some way to making battery-swapping a practical reality for the many, not the few.
All it needs is a bit of cross-border, cross-company cooperation. The kind of deal that'd have allowed me to keep Tom Harrison on arrival at Beijing Airport and use my existing International Driver Permit. 'Wheel Fire', signing out.