Big Reads
Remastered 911: Gunther Werks' mad 400R driven
We have a go in the old-school, GT3-inspired 400R, for when Singers are too classic
A Gunther Werks 400R. There's a good chance you haven't heard of it. We hadn't, until we stumbled across it on social media. Yet another company's take on the 911, but instead of adding civility and performance while taking a reverential nod backwards stylistically, the 400R takes a subtly different approach.
Words: Kyle Fortune/Images: Ted7
Advertisement - Page continues below
Forget re-imagination here, then, and think of the 400R as a continuation, of sorts. Gunther Werks boss Peter Nam says the 400R is his company's take on how a modern air-cooled Porsche 911 might be today.
Not just as regular Carrera either, but as a driver-focused GT3. To create it, Gunther Werks has tapped up a who's who of knowledge in air-cooled Porsche circles in the USA, added its own extensive carbonfibre build and parts expertise, and applied it to a 993-generation 911.
That 993 series 911 is the last of the air-cooled cars, built mid to late 1990s. Its body traces its roots back to the original 911 from the 1960s. It has been chosen as the 400R's basis as it is regarded as the zenith of the air-cooled 911s, technologically at least, particularly relating to the suspension.
Advertisement - Page continues below
The Gunther Werks 400R fast-forwards the 993 twenty years, shedding weight with a carbon body, with all but the doors being replaced by the black weave.
The detailing is neat, with milled aluminium headlights with LED lighting and aerospace grade glass covers. The body gaps are as tight as a modern car, the hunkered stance significantly wider thanks to a square 1,600mm track width, under which 18-inch forged three-piece wheels reside.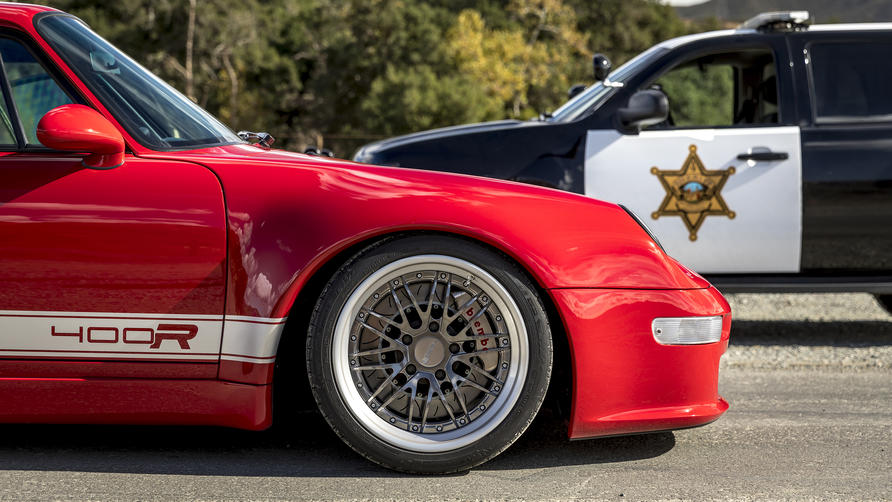 Visually its lineage is unmistakably air-cooled 911, yet with a contemporary twist, an analogue re-master for a digital world. Yes, there's some modernity in the guise of sat nav and a sport button, but it's applied with respect to Gunther Werks' goals. That being to create an engaging, driver's car, but re-engineered for today.
Given its weight reduction, it's surprisingly luxurious inside, soft Alcantara, leather and contrasting stitching mixing with a carbon rear seat delete for a cabin that's convincingly GT3 in its theme. We'd go further, and option Gunther Werks' lighter pull-strap carbon door cards and lighter again seats for even more RS-like racer-chic.
Head to the back and lift the light, winged engine cover out, and that detail work only increases. This is engine-building as art, the flat-six nestling under a cool black carbon air intake system and equal length stainless steel headers feeding the now 4.0-litre capacity engine.
It's exquisite, the fan – an air-cooled 911 signature element –underlining the attention to detail in the 400R. It was designed and built by a 911-owning GE Aviation engineer, who on a quiet day applied his knowledge to Porsche's ancient-tech fan. The textured blades on it are deliberately designed to create beneficial turbulence to significantly improve airflow.
Top Gear
Newsletter
Thank you for subscribing to our newsletter. Look out for your regular round-up of news, reviews and offers in your inbox.
Get all the latest news, reviews and exclusives, direct to your inbox.
The engine build is undertaken by specialists Rothsport Racing, who fit custom pistons, forged conrods, twin-plug coil ignition and modern Motec ECU electronics. It runs a switchable map controlled by that Sport button in the cabin, releasing a flap in the 997 GT3-sourced rear silencer, and changing the engine map subtly to suit.
The result is a sound that's utterly bewitching, and a heady output of 431bhp and 315lb ft. It revs to 7,800rpm, the immediacy of its response aided by a single-mass flywheel, driving the rear wheels via an uprated single-plate GT2 clutch attached to a six-speed manual transmission with bespoke ratios.
The looks were enough to wow the crowds at SEMA in Las Vegas – a show not famous for its subtlety – while the technical specification and execution appealed to a more discerning, moneyed audience at the Quail event down the road, during Monterey Car Week.
It appealed enough to see Gunter Werks almost fill its order book for the 25 it's going to build, the 400R starting at $525,000, without the donor car. Which translates as comfortably north of £400,000 all in. Serious money, but in the crazy world of air-cooled 911s, it really doesn't seem unreasonable, even if it sounds so saying that.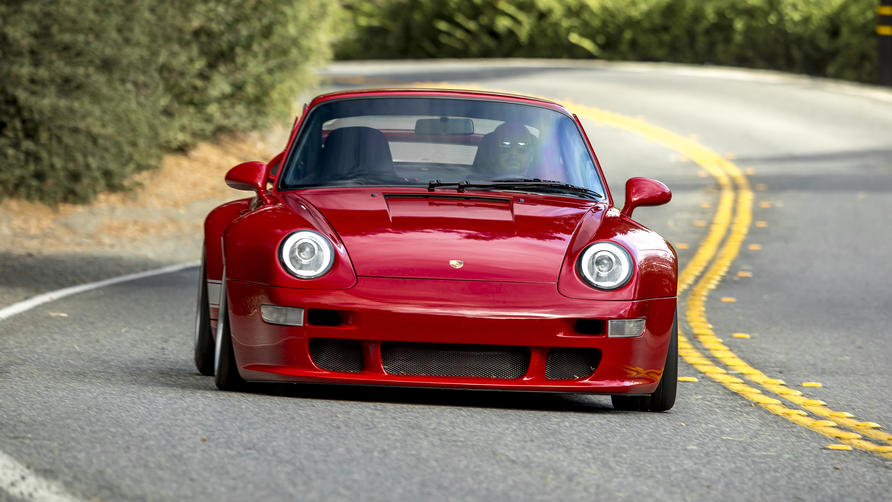 "Go and drive it," demands Nam, determined that the 400R be experienced as intended, not simply admired stationary. If you've experienced an old 911, it's familiar inside, with its upright screen, slim dashboard, and neatly fitting bucket seats.
But the view out of the mirrors underlines the 400R's enhanced track width. The characteristic air-cooled flat-six sound is amplified in here, too, filling the compact cabin with its distinctive, rousing notes, crisper than usual, and bristling with more intent.
The clutch bite is high, but the weight and feel from the pedal is fine and the gearstick – borrowed from a 996 GT3 – moving through the short shift six-speeder with precision. The 4.0-litre engine proves surprisingly tractable at low revs, too. Given the output and focus, some recalcitrance from the drivetrain might have been forgivable. It doesn't materialise. Thank the combination of modern engine control and those nicely weighted controls.
Captivating as the drivetrain is when pulling away, it's the steering and suspension that dominate. Forget everything you've read about modern electric steering systems having feel. They don't. At least not compared to what's on offer here.
The system remains hydraulic, but to reduce engine losses there's an electric pump up front feeding it. The sensations coming through the wheel are delightfully old-school in their detail, though not encumbered with overbearing forces. Given the sizeable contact patch from the 245-section front tyre, that's impressive.
The suspension is key here, the 400R riding on KW Clubsport coilover suspension, with RS-spec lightweight uprights on that wider, square stance. It is ball-jointed, the 400R's set-up work undertaken by E-Motion Engineering. Its expertise allows the 400R a sublime balance of tautness with an uncorrupted ride, the chassis proving supple and controlled despite its clear focus.
Wind that 4.0-litre above 3,800rpm and it changes in character, racing with more intensity to its redline. It's utterly intoxicating when doing so, demanding your attention, delivering contemporary levels of performance, but with the delicacy and engagement that's too often amiss in modern performance cars.
It beguiles, involves and demands from you, not in a manner that's difficult, but one that's hugely rewarding. The chassis balance is sublime, the grip mighty, the brakes shrugging off the 400R's easily gained speed as easily as the engine creates it.
Thank the lack of mass for that. Unladen, the 400R weighs just 1,211kg, giving it a power-to-weight ratio comparable with the current GT3. If there's a flaw, then the slightly lethargic pick up from low revs sometimes catches you out, but it's easy to drive around.
We'd perhaps want shorter ratios to allow more use of third gear on the lovely canyon roads we got to enjoy the car on, too. And enjoy it we did – hugely – the 400R coming from nowhere, and absolutely blowing us away. If Gunther's remastering approach turns out to be the future of performance cars, then bring on the past.