Big Reads
Renault Symbioz driven: is this the car of the future?
Renault's developed a full-on, level four autonomous car. And we've driven it
Symbeeoz. Symbayorz? Maybe Symbayez. Or even Sambeyoz. I mentally canter through the possibilities as the car nears. It's sheeting it down outside. Normandy in December sheeting. But I'm unworried because I'm indoors and the car's coming to pick me up. One of the structure's glass walls slides open to accept it. There's a man sat in the passenger's seat, but he isn't doing anything. The Symbioz steers hard right, then hard left, looking for path. It settles on one and straightens out, bumps up a ramp into what, in Renault's entirely theoretical near-future, passes for a living room, and stops dead-centre on a turntable that immediately spins it through 180 degrees. It drips.
The structure in question is the house – yes, house – Renault displayed alongside the Symbioz Concept at this year's Frankfurt Motor Show. A glass-walled rectangle, essentially, with no internal walls, a kitchen conspicuously bereft of anything you might reasonably use to prepare food and the hardest soft furnishings known to man. The copper-coloured cylinder on top gives a bedroom and access to the roof-terrace. Swish.
Advertisement - Page continues below
Words: Tom Harrison
When the pair were revealed, the whole idea was to demonstrate how a 'connected' car and house might co-exist a couple of decades down the line. At the time, Renault Group's head of autonomous tech Laurent Taupin told us the brand was "exploring the future of mobility by focusing on a human-centred ecosystem," where the car would "fully integrate into it". "Autonomous cars," he said, would "bring a whole new set of rules into play. There will be recovered time, shared space, and energy will be recycled."
The Concept was built to demonstrate what might be possible in the year 2030, and was thusly outrageous. Cool, sure, but easily dismissed as another glorified game of Buzzword Bingo whose only purpose was to make its manufacturer look relevant. But the reality is somewhat different, because it was actually developed in tandem with the car you see here. A tamer, more realistic vision of a more immediate future. One with proper headlights, windscreen wipers, sensible wheels and, above all, a number plate.
Advertisement - Page continues below
Renault says its "innovation strategy" has three pillars – zero emissions, connectivity/mobility services and autonomy. The Symbioz Demo guns for all three. If the Concept looked ahead to 2030, the Demo looks ahead to 2023. Just five years from now, when the conditional level four autonomy it offers will not only be legal, but commercially viable and socially acceptable.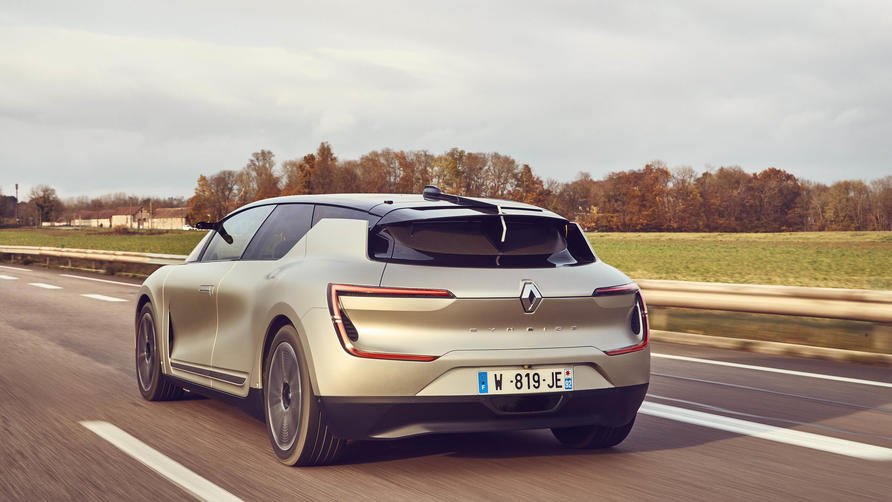 Usually these kinds of prototypes share a platform, drivetrain or *insert major component here* with an existing production car. We'd have been entirely unsurprised to find the Symbioz was in fact an Espace in drag. But no – designing, developing and building this thing was a two-year-long endeavour that involved as many people within Renault as it did its partners (among them TomTom, who did the maps, LG the HMI and high-end hi-fi peddler Devialet the stereo). This is a bespoke object. Handmade in parts, dressed entirely in aluminium and riding on its own EV platform developed from the ground-up for level four autonomy. There's only one, and I'm reliably informed it's basically priceless.
This plays on my mind as I'm installed in the driver's seat, beside a man on whose lap rests what looks like a giant gamepad from the late Eighties. He has to be there, mainly because the French Government says he does, but also because the Symbioz is still, fundamentally, a prototype. So should it spontaneously decide – mid-selfie, mid-snooze or mid-movie – to cede control back to the lanky fleshy thing sat behind its steering wheel for whatever reason, there's someone there who's a) paying attention and b) able to take back control of the car.
Inside it's all very modern, with lashings of pale woods, bright twills and acres of space for your knees and elbows. It's been designed with autonomy in mind, so the front seats are wide, loungey items with armrests that automatically raise themselves into position one you've closed the door and fastened your seatbelt. And naturally there are many screens. Three OLEDs form a kind of sideways L-shape – one acts as your instruments, then the other two are stacked on top of one another and give navigation, entertainment, connection to the house and so on. LG did the Linux-based HMI and for a one-off (at least for now), it's pretty complete. Because there's no rear window, rear- and side-view cameras replace conventional mirrors, giving another couple of screens. There's no centre-console to speak of, so gear selection is taken care of by PRND buttons to the left of the steering wheel, which is shaped a bit like a LaFerrari's. This is where the similarities between these cars end.
Prod D and you're away, driving what feels for the most part like a regular EV. The 72kWh battery gives a continuous output of 483bhp and 405lb ft, though Renault claim a peak of 670bhp and 487lb ft, enough for 0-62mph in six seconds or so. Even though the body's mostly made from aluminium, the Symbioz still weighs a hefty 2.2 tonnes, blunting performance somewhat. But then it's basically as long as a Mercedes E-Class Estate. Still, with four-wheel steering and a 'Dynamic' mode that sharpens throttle response, quickens the steering and hardens the three-stage active (not adaptive) dampers, it does a decent enough impression of a smaller car. Driving the Symbioz in manual mode is easy enough. It's polished for a prototype, but rolling refinement – wind-noise, tyre-roar, ride quality and so-on – isn't quite there. Not that you can blame it for that.
Things get more interesting once we reach the motorway, where I'm instructed to stick it in Dynamic (by pushing the Renault logo in the middle of the steering wheel) and clog it down the sliproad. Inner eight-year-old satisfied, when the car gives me the go-ahead, I hit the two AI buttons with my thumbs, release the controls, then pull out my phone and start texting. Legally.
Top Gear
Newsletter
Thank you for subscribing to our newsletter. Look out for your regular round-up of news, reviews and offers in your inbox.
Get all the latest news, reviews and exclusives, direct to your inbox.
See, there's a universally recognised classification system for autonomous cars, dreamt up by the Society of Automotive Engineers (SAE). Renault says the Symbioz is 'level four' on the SAE's scale. This means it's not necessary for the driver to focus on the road ahead, and that if the car cannot deal with an unexpected obstacle or situation, it's able to pull over swifty and safely with no intervention from its driver. The Audi A7 I drove a few months ago was 'level three', which meant while I could release the steering wheel, I had to be ready to take back control with ten seconds notice. Until the Audi A8 gets its 'level three' Traffic Jam Pilot system sometime next year, all systems on the market today are 'level two' – which is where you have to pay attention and keep your hands on the wheel at all times. Yes, even Tesla. And from level four down these systems are all conditional – meaning they only work in certain situations, i.e. on the motorway, where cars are travelling parallel to one another and at roughly the same speed. 'Level five' autonomy is total, complete and unconditional. And, commercially anyway, still a long way off.
In AD mode the Symbioz navigates its way up the motorway with minimal fuss, changing lanes as and when necessary and even navigating a couple of toll booths (the toll booth thing was especially tricky to implement, we're told). An AR-enabled HUD tells you what the car's doing – or thinking of doing, and video playback is enabled on the centre screens. We're being trailed by an Espace full of clever men and cleverer computers, and matey boy sat next to me has to take over a couple of times, but the overall effect is still quite impressive. If unfinished. Especially when you tip your seat back into the zero-gravity 'Relax' position, which lifts your feet completely off the floor, and try the Ubisoft-developed VR experience that takes info from the car, and uses it to generate a Tron-like VR world. This is odd enough at a standstill. Let alone 80mph.
A number of things make this possible. The 35 sensors (you name it, the Symbioz has got it), the antenna placed at certain points along the carriageway to enable vehicle-to infrastructure communication (telling of traffic flow, roadworks, which toll gates are open etc…), and the high-def TomTom maps which are far, far more accurate and detailed than the ones that inform your sat-nav. Just changing lanes requires the Symbioz to assess 27 separate things. It goes without saying that much processing power is at work here.
Mathieu Lips is the director of the project. He's been sitting in the back this whole time, making sure I don't disrespect his precious "rolling laboratory" by piloting it straight into a hedge, and to talk me through how it works. He tells us the Symbioz does not preview an actual, production Renault, although lessons learnt and technologies implemented here will obviously work their way onto production cars in the coming years. He says development of the Symbioz will continue for a time, and that various legislative bodies (as well as Reanult's own bigwigs) will be invited to have a go. Good idea.
Interestingly the design, he says, compromised the efficiency of the sensors, and that the Espace test-mule they used to develop the Symbioz is actually a bit better. "In the Espace all the sensors are free of any obstacles, so their performance is better," he says. "But we are sure we can reach the same performance but we need to work more on this car first. The idea was not to show high performance in autonomous driving, we do not say we are perfect or that it is finished. But we say this is the first time we propose a complete experience."
It is quite literally the future. Pity I can't pronounce it.