Big Reads
Riding shotgun with Tom Kristensen in Ken Block's Audi S1 Hoonitron
Mr Le Mans takes TG for a spin or two at the Goodwood Festival of Speed
You may have heard the Goodwood Festival of Speed was a little damp this year. In fact, the weather was so biblical the show was cancelled on the Saturday for the first time in its 30-year history.
The day before was a little less blustery, but a whole lot more rainy, and as the heavens dumped every last drop of liquid onto the Duke of Richmond's driveway, TG received an invitation from Audi.
Advertisement - Page continues below
It went something like this: "Would you like a passenger ride up the hill in the S1 Hoonitron?" Our answer was of course already a yes. "It'll be Tom Kristensen driving…"
At this point we probably should have asked whether Audi had packed any wet weather tyres for its retrofuturistic Sport Quattro S1 Pikes Peak tribute. We didn't, and that's how we end up sat next to a nine-time Le Mans winner as he warns us about the dangers of deploying 671bhp and much more torque through four, stone-cold cut slick tyres in a downpour with thousands of people watching on.
Images: Huckleberry Mountain
Advertisement - Page continues below
Rather you than us, Tom. And yet, we're mighty glad that this car is here. Nobody expected the all-electric Vegas skid show to be Ken Block's last ever Gymkhana, and like most in the automotive world we're still coming to terms with his loss.
As expected, most of the run up the hill consists of Kristensen trying to find some grip for the front axle, because if he does he could lose said grip at the rear in a more controlled manner. The Hoonitron may be built around a lightweight carbon shell (which means there really isn't much space for the passenger's feet), but it's still a weighty EV. You won't notice too much under acceleration, but stopping the thing in the wet seems a little tricky.
Kristensen flies into the obligatory donut outside the house with some serious gusto and, despite dropping a wheel onto the grass (which presumably has all the grip of one of Tefal's finest), he manages to get it facing the correct way in one smooth movement.
At Molecomb – yep, the corner where almost every Goodwood incident happens – Kristensen hovers over the Hoonigan handbrake. He elects against a pull, which goes down well with our sense of self preservation. 
Although it may be hamstrung by the weather, the Hoonitron is a mightily impressive creation. The noise of the electric motor on each axle provides plenty of drama from inside the cabin, and there's much for Kristensen to do at the wheel. Not only is he changing the brake bias on the move and able to switch straight into reverse by holding a button on the steering wheel (save that one for really complex manoeuvres), but there's also the gearing to contend with.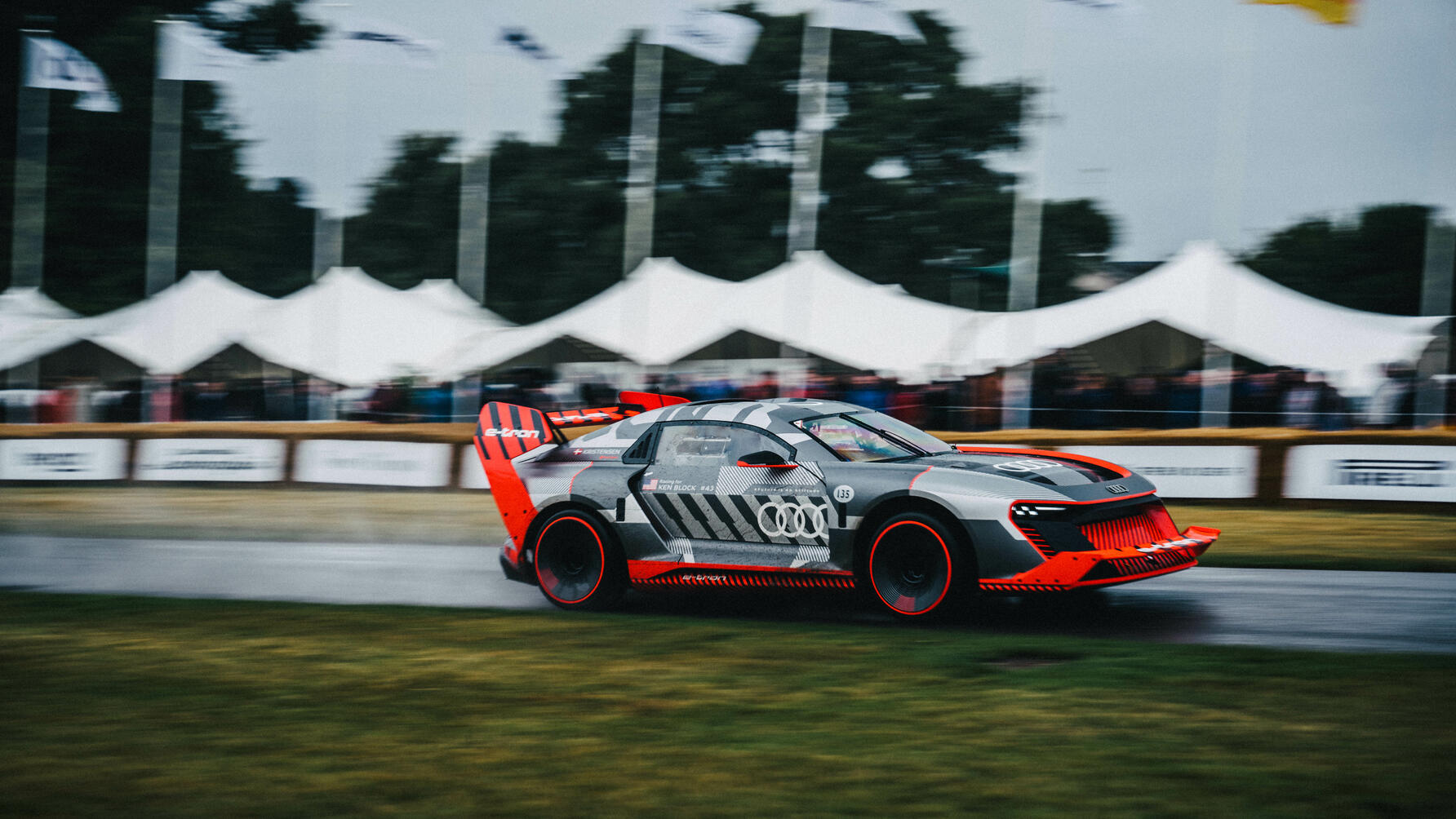 Yep, this may be an EV, but Audi's engineers worked in five simulated gears so that Ken could keep constant wheel speeds depending on what each particular stunt required. It also means the Hoonitron behaves just that little bit more like a combustion-engined Gymkhana car. 
"When we were testing with Ken, we set the gears up by starting with a simple donut around a cone," says the Hoonitron's chief engineer Bastian Rosenauer. "This was the first manoeuvre to set up the first gear wheel speed. He got all of the options in 10kph steps, so we started with 40kph, then tried 50, 60, 70 etc. He decided 60kph was best for the first gear, so then we went onto another manoeuvre to set up the second gear and did it again, again and again. We ended up optimising each gear for different manoeuvres.
Top Gear
Newsletter
Thank you for subscribing to our newsletter. Look out for your regular round-up of news, reviews and offers in your inbox.
Get all the latest news, reviews and exclusives, direct to your inbox.
"The biggest problem with setting it up was that when we wanted to control the speed of the motors to limit the wheel speed, the system would just instantly cut the torque when it got near the desired speed. In this moment with our early tech we destroyed driveshafts. The motors react so fast that we destroyed driveshaft after driveshaft."
Clearly the Hoonitron is running smoothly these days though. With its giant front splitter and wide arches, it's not the easiest thing to park back up in Goodwood's temporary garages, but once it's back safe and sound we can fully appreciate the opportunity provided to us. 
"When we got the message about Ken's death we didn't know how to go on," says Rosenauer. "At the time, Lars the mechanic and I were preparing the car for the next event. As Audi we didn't want to use the car for promotion, but Ken's family said 'no, Ken would never want you to put the car back in a museum'. They wanted us to show the car off and use it, so that's what we'll do. We will not make another Electrikhana with the car, but we'll bring it to different shows."