Big Reads
Speed Week 2017: Ford GT vs McLaren 720S vs Performante
Our final track test sees supercars from Lamborghini, McLaren and Ford face off at Knockhill
Imagine, if you can, the perfect playground for a supercar. It would be long and flowing, with a fascinating technical section, a sinusoidal loop surrounded by comforting acres of run-off.
There would be an endless supply of fuel and tyres, and the temperate weather would bathe the lot in glittering-yet-cool sunshine, air heavy with the tang of fractured octane. Basically Spa-Francorchamps transported magically to Southern Spain. There would be an expensive hotel, and a cheap bar. 
Advertisement - Page continues below
We do not have those things. What we have is Knockhill Racing Circuit in Scotland, in the kind of rain that depresses ducks, a Holiday Inn Express and a Nando's. And what no two-dimensional track map will tell you is that Knockhill is filled with the kind of withering topography that makes every corner entry essentially blind.
Words: Tom Ford
There are changes in elevation, distinct and unhelpful cambers, and the kind of limited margin for error that slaps egos, bends metal and shatters carbonfibre. It also has its own vicious little microclimate that seems to flicker back-and-forth between sunshine and biblical rain, meaning that the dry corner you've previously taken flat in third two laps ago is now technically a second-gear river crossing.
Advertisement - Page continues below
My group? A ruinously-expensive-slash-exclusive Ford GT, the only slightly less top-end Lamborghini Huracan Performante and a lightly feral McLaren 720S. Nothing like starting at the pointy end. 
I am, however, as likely to complain about driving three of the most superlative supercars of 2017 as I am to moan about winning the lottery, even if I am convinced that I just saw a salmon trying to swim up turn 3.
And so, lightly threatened by all three cars, I decide to go for the one least likely to immediately spit me into an advertising hoarding for Caber Coffee, and head towards the Lamborghini. I know, it seems like a woefully misguided idea that the least intimidating of any carpark could be a Lambo, but in this company, all-wheel drive and the unboosted nature of a naturally aspirated V10 are about as much comfort as I'm going to get. 
It looks pretty angry, mind. Matte orange, the new ALA (Aerodinamica Lamborghini Attiva) wings, canon-muzzle exhausts. The interior is lightly mad, themed by Lamborghini's hexagon obsession and feathered with its uniquely dappled 'forged composites', like someone wiped over the wet carbon with a dry sponge.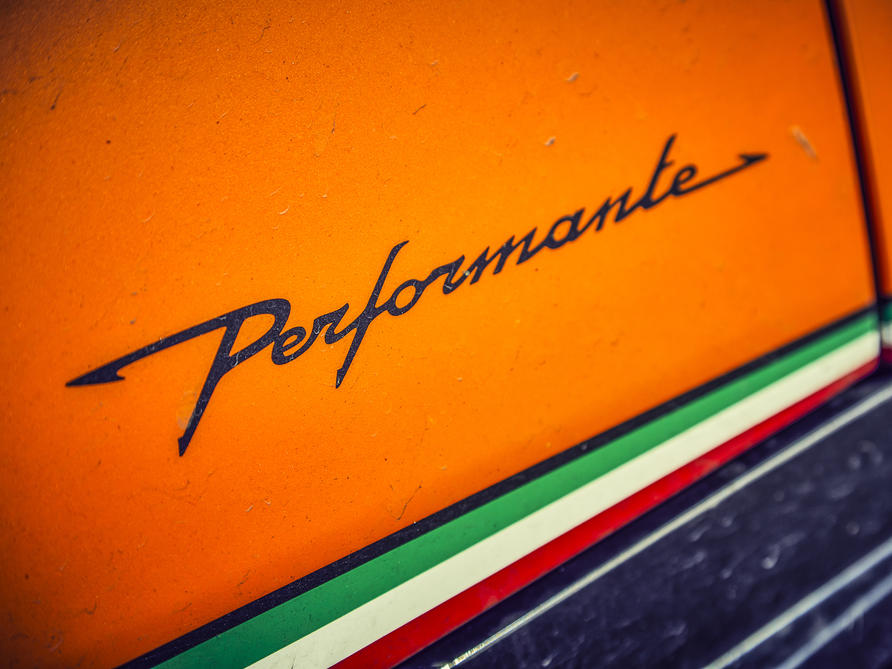 There's plenty of actual room, but the windscreen is low and menacing and the rear view is basically just a slot through which other cars disappear.
But it sounds orchestral on start-up, and positively cinematic on the move. It's notably harder and more immediate through the control surfaces than a standard Huracan, and changes gear with the kind of whip-crack immediacy that makes you grin. And it feels lighter than the 40 or so kilo diet from the standard car can explain. Good stuff. 
It is also joyous. It makes every tiny thing momentous, and fills in the gaps with anticipatory wonder. So it's highly unlikely that I'll be troubling the ALA active-stalling aero on such a tight circuit – though I'm almost positive I can feel the car stabilising on the long, fast left towards the bottom hairpin – but the all-wheel drive hauls the car straight even when the surface is slick and shiny with potential embarrassment.
Top Gear
Newsletter
Thank you for subscribing to our newsletter. Look out for your regular round-up of news, reviews and offers in your inbox.
Get all the latest news, reviews and exclusives, direct to your inbox.
Faster and faster we go, and every lap the Performante finds another rung of ability, another level of excitement. And it's got that emotional connection dialled: this is huge fun, goaded by the naturally aspirated engine belting out performance car show tunes, saved more than once by the sure-footed driveline. You want supercars that are exciting? The Lambo delivers in spades.
After all, greatness that you can't fall in love with is hollow, and brittle. Numbers are similarly vacant if there's no emotional fire to back up the stats. That's not to say the Performante isn't devastatingly fast – it is – but the experience and sound is worth 100bhp and 25mph, in my opinion. 
Which is what I was worried about with McLaren's newest car, the 720S. Another checkbox on the product planner, another variant boasting incremental improvement and generous stats… but a slight feeling that I'd be better off with a 570GT.
An ambitious spider-web of versions that grew too fast and left itself weak. The same über-effective engine as the rest of the range, wick turned up to four-litres and phosphoric levels of brightness.
Well, in the metal, the 720s is notably different, but couldn't be anything else than a Woking product. Much more … aquatic than the Lambo, but with many of those familiar design cues that make McLarens all feel largely the same. More aggressive than the lower orders, mind, not so much a car as a land-borne shark with a windscreen. 
And it feels hugely more accommodating than either of the other cars to sit in. The doors yawn up and wide, the glasshouse is truly spectacular – you really can see everywhere – and the driving position suits me to a tee, with a lovely interior design somewhere between comfort and clean.
It feels natural, unintimidating and familiar. There are many more electronics to deal with, mind, including variable drift control and various stages to traction management, but honestly, I just turned them off. And regretted it. 
In the wet? Fourth-gear wheelspin somewhere north of 130mph. The snatch of opposite lock bringing with it an ungentlemanly yarp of crushed-together swears. I shouldn't really have been surprised: with more than 700bhp and getting on for 600lb ft and only the rear wheels to contain it, in these conditions, the 720S will yank the tyres free on boost in pretty much the first four gears.
I'll just let that marinade for a second. Because it is not for the weak. Balanced on this particular code-unassisted throttle, you find yourself staring across a troublingly slender gap between traction and talent. Bluntly, you're idly playing with something very sharp. And the pleasantly dangerous Knockhill makes you acutely aware of how deep it may cut. 
Every one of these supercars offers something truly spectacular in terms of sheer, blood-pumping excitement
Drive it with the systems on - albeit relaxed a little - and it is revelatory. Because the car is just about subtle enough to let you think that you're doing it yourself, until you switch the systems off. In fact, when you dial this car in, it just goes about its business hitting physics over the head with the hammer of its engine and aero.
The result is a messy hole in the air that had been both ingested and shot through, and your mind staggers from one apex to another, drunkenly trying to keep up. Fast? It's comparable to the AWD Performante in the wet, but some 10 to 15mph quicker around pretty much any corner in the dry. 
The engine can't live with the Lamborghini's high-rev aural theatrics, but it's got its own remix of whistles and bellowing exhaust to amuse with, and when you slow down and stop white-knuckling the thing around, you'll find a poise that's hard to beat – a poise that has me thinking that this 'standard' McLaren offering might well be, in the hands of someone like me, as fast as the P1 on the road. Helluva thing, then. Hard to beat. But that hasn't stopped Ford trying. 
The new Ford GT, then. It's wide of sill and tight of cabin, pared back and focused tight on its forward view. Track mode engaged with a 50mm low-rider dip of the suspension and a peacock ruffle of the tail, I go out onto track.
Choppy on the kerbs at slower speeds and cued towards the racing car, this. But as you open the car up and out, it flowers into something beautiful. Aerodynamics is the architect of its physical form, building a shape from usefulness only lightly touched by irrelevant beauty.
It's a car defined as much by its voids as its actual bodywork, coupled with various active front flaps and rear gurneys that manage the point of reference for what one assumes is generous downforce. But when you drive it, you realise this purpose, this intense intention, is the point. Put bluntly, the faster you go, the better it gets. 
This engine isn't exactly anarchic. There's a brutal, basic grammar to it – comprised mostly of Saxon-esque things you wouldn't utter in polite company – but it doesn't give you much in the way of emotional breadth. Point, fire, ride the guttural choompff of boost to the next corner.
It's not sonically pretty. Or emotional. Or particularly satisfying except to a statistician. It doesn't get up to the 720S's levels of revs for peak power (7,250rpm), let alone the Performante's sonic assault of 8,000rpm. Oh yes, it's got all of the good bits in terms of torque and impact, but compared to the Performante it sounds like a hoover in a dustbin, and not quite as interesting as the Mac.
But that's almost forgettable once you find the rhythm of the GT, the knack. Because this car lives and dies not by its engine, but by its chassis and suspension. 
The GT has quite a lot of input from a company called Multimatic as a 'build partner' and it is basically the Hogwarts of suspension theory. It supplies things called 'dynamic suspension spool valves' instead of shims in dampers, as featured in lots of things, from the AMG GT to the Aston Vulcan and One-77. And which must be good, because they've been used in Red Bull Racing's F1 cars and equip pretty much half the field at Le Mans.
The GT features a weirdly brilliant suspension consisting of sets of double-stacked springs, torsion bars and control arms, all controlled by electronic actuators. In road modes, both springs work. Good. In Track mode, the top spring is effectively locked out, halving the spring rate and making the torsion bars work harder.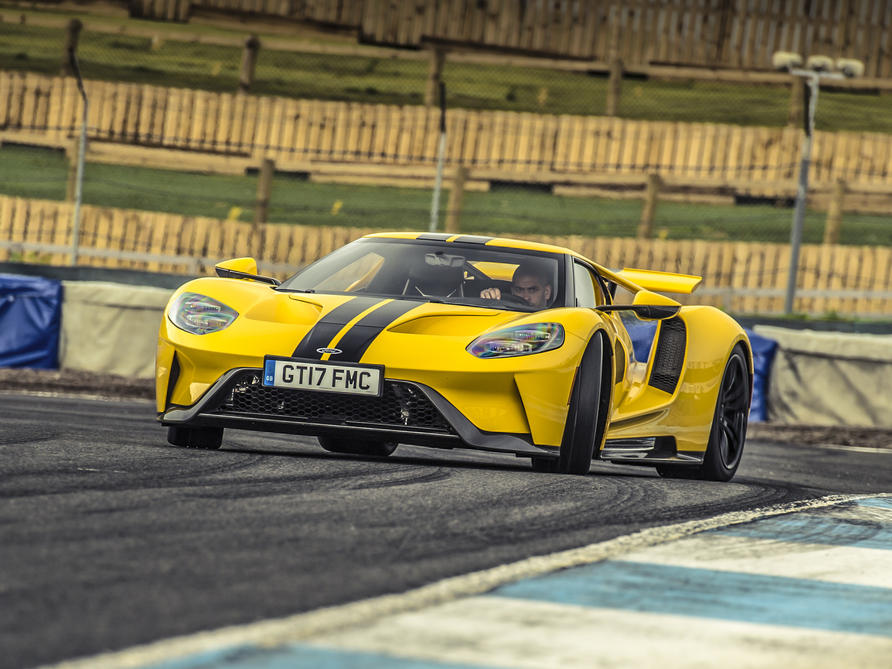 Obviously comfort and ride quality will suffer, but that's not very important at 175mph on a track, when stability and trusted response most certainly is. There's also a roll cage built direct into the car's structure. The suspension, therefore, is wildly connected and confusingly flat without being hard.
Part of that comes from the discreetly linear hydraulic steering – electric may be good, but it's nowhere near this good – and from the fact that the GT always feels like it's got all four tyres planted firmly on the deck; this is not a supercar where pitch and roll instability feature. At all.
That means you get used to it, and push. And then push some more. Chris Harris tells me that it can be coaxed into ridiculous slides if needs be – though I wasn't quite as comfy with doing too much in a car worth near-as-dammit the same as both the others here – but from a less extreme position, it just feels like the car always has more to give. It's addictive. 
Which leaves me with a bit of a problem. I can't for the life of me decide which of these cars is 'better' without driving them on the road. Because, for all their inherent difference on the track, they all offer something truly spectacular in terms of sheer, blood-pumping excitement. The Lamborghini is a softer road car (the standard Huracan) that's been armoured up for track war. It's engaging, exciting, noisy and a bit silly, and yet still useable and agreeable and strangely easy to drive very quickly.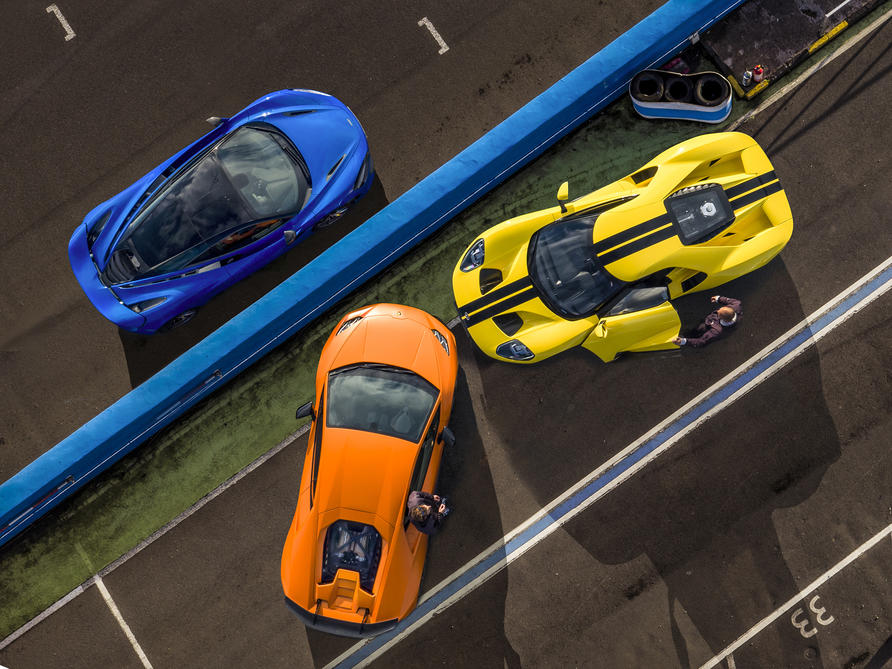 The Ford GT feels like a racing car that's had a radio stuffed into it – the engine is effective rather than memorable, it's bad-noisy, awkward to get into and out of, a bit fragile-feeling in that way that racecars are. Even the pop-up airbrake/spoiler looks a bit practical to me - cut like a board rather than fettled into a pleasing shape.
But hell, the way it goes around a corner, well, that's something else. It's flat and supple, with steering that links directly to your eyes – you point, you go. There are generous reserves built into the car that make it faintly hypnotic on a racetrack, the way that you know – you just know – that you can get faster, more precise, more on it with each passing lap.
It might not be the prettiest supercar I've ever seen but it's special in a way the other two aren't; Ford GTs are not series production in the same sense. And that makes it a privilege to get the opportunity to drive one hard.
The McLaren then, sits somewhere in the middle. It's a road car that already has the speed and nous to lay waste to the superlative on a racetrack. It leaves black lines for 100 metres from the hairpin with the traction on, for god's sake, and comes troublingly close to punching holes in hypercar egos. It's clever, and sharp and minutely-considered in a way that the others aren't, but also therefore not quite as loveable. Perfection is subjective, and character comes with difference.