Best of 2022
Sub-£30k car test: Toyota GR86 vs Caterham 170R vs Hyundai i20N vs Mazda MX-5
Cars under thirty grand, a £300 spending cap for for food, bed and fuel – roadtrips needn't cost the world... as we set out to prove
On the first night it costs me £32.25 to sleep in a tent. Curse the thirst of the Toyota GR86. Actually curse myself – if I had been able to resist the £2 lunchtime cake I reckon it would be Tom Ford here in the pop-up tent, and me in the cosy caravan.
I've only got myself to blame. The Toyota GR86 is that rarest of things – a good value sports car. There's so few of them around now. The easy thing would have been to cast a net out, pull in all cheap fun cars costing less than £30,000 and see which one is best. But oh no, that wasn't enough. I wanted to find out not only if these affordable cars are fun, but also if you could have fun affordably. So we're on a budget roadtrip: three days for less than £300 each including fuel for the car, ourselves, a place to lay our heads, some side trips and a share of the running costs.
Advertisement - Page continues below
Photography: Mark Riccioni
We're each championing a car. But that would ordinarily mean we couldn't swap around. Not ideal on a group test. So we're permitting that, and if you've thought this through like I have, you'll have realised it means we can attempt to scupper each other. Cane someone else's car and watch the economy plummet. We'll all be doing it so it'll even out.
The plan is a lap of Wales, but right now we're at Kidlington Sainsbury's on the outskirts of Oxford. It's been chosen because it has the cheapest petrol in the area: 156.9 pence per litre for the regular unleaded they all consume. I've got off to a bad start because I've forgotten the packed lunch which would've allowed me to cunningly dodge lunch cost. Greg Potts turns up in the Caterham 170R with a bag of scrumped apples, then makes the rookie error of sharing them round. He could have lived on those for the three days if he'd been serious about things. But given he's in the Caterham, his necessary calorie consumption should offset any fuel savings his car might earn him.
Advertisement - Page continues below
The 170R claims 58.4mpg, by far and away the most efficient of our four. Given that it weighs 440kg and is powered by a teeny 660cc turbo triple, the rest of us are hoping the short gearing and flapping doors conspire to ruin fuel economy. We'll soon find out. The aim from here is to drive 140-odd miles to Oswestry abiding by all speed limits, to see what economy they're capable of. From that point on, it's a swap shop free for all.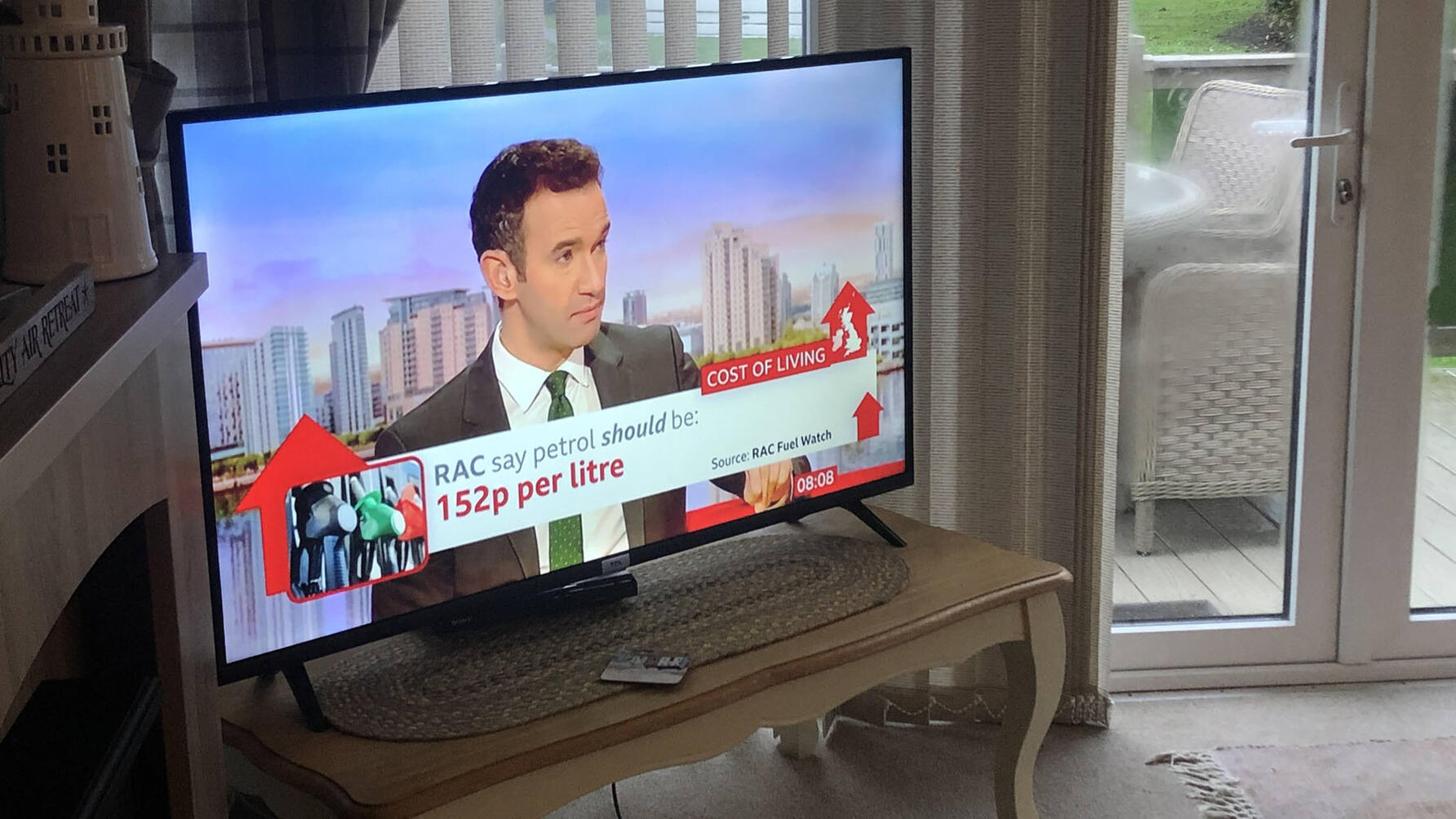 The cash countdown starts rolling once we're filled up, so we're frantically clicking pumps until fuel is spilling out. Tom offers to carry Greg's bag in his Hyundai i20N, then gets wise to the potential weight penalty when Nick Stafford and I step forward with ours. It's not only the practical choice, but also compelling value on paper – a hot hatch clearly doesn't attract the same price premium as a coupe or roadster. Speaking of which, it's worth pointing out a cheaper Mazda MX-5 is available, but the quest for sportiness demanded the 2.0 instead of the 1.5.
Natural aspiration. Something the Mazda has in common with the Toyota. More interesting engine for the GR86 – a 2.4-litre flat four that sits like a pancake in the engine bay, thrums contentedly but not especially invitingly and plays second fiddle to road roar for large parts of the M40. Aside from this surface sensitivity, it's a more refined and grown up machine than the GT86 it replaces. Suspension and wind noise is well suppressed, it chomps miles easily, and it is stable and undistracted in a way that none of the others can match.
We get split up by Birmingham's morning rush hour, some deciding coming off the motorways to try and minimise mileage is the best plan. At Oswestry, Tom and I display our cunning. While Caterham and MX-5 dive into a fuel station on the main A5, Tom and I ferret out a Texaco a couple of miles off track where the petrol is six pence per litre cheaper. And then it's not. In the 10 minute gap between my arrival and his, I watch the price flick from 155.9 to 159.9. For the 15.30 litres the GR86 takes, filling at Shell would only have cost 91 pence more. Later calculation reveals my four-mile detour likely cost 68 pence in fuel.
But the undisputed hero of the economy drive is the 170R – 56.2mpg, where the Toyota managed 41.4. Still, for the Japanese coupe that's a massive improvement on the paltry 32.1 claimed mpg. This is clearly not a motor that performs well in official tests – and that extracts a financial penalty. The first year's CO2-based tax cost is a huge £1,420, almost £1,000 more than any rival.
That's the last time we'll talk fuel economy, promise. From now on a sense of trepidation will accompany each wincing visit to a fuel pump as we ascertain what monetary harm we've done to each other's cars. Time for a change of scene. A roadtrip needs to involve more than just driving. Llangollen Motor Museum. The best £5 we spend on the whole trip. Wall to wall bric-a-brac, curiosities and ephemera. The extensive collection of foot pumps speaks of a collecting habit that got well out of hand, but be glad – the most interesting stuff isn't the cars, but the contents of the cabinets. We spend a mystifyingly content hour stumbling around before driving the few miles to the Horseshoe Pass.
Doubly gutted I forgot my packed lunch now. Chips with everything is our main takeaway from the Ponderosa Café at the crest of the pass. Not that we do – takeaway, that is – portion size would surely overburden the Caterham's DeDion rear axle. In terms of lbs per £ it's good value, but afterwards we need to blow the lethargy away. Easily done as we link Ruthin, Denbigh, Pentrefoelas and Ffestiniog on corking, quiet roads. In the minus column: rain, wind and thick mist. It'll be a continuing theme for the next 36 hours.
Top Gear
Newsletter
Thank you for subscribing to our newsletter. Look out for your regular round-up of news, reviews and offers in your inbox.
Get all the latest news, reviews and exclusives, direct to your inbox.
I'm in the MX-5, roof firmly up and feeling almost as cramped as the Caterham. The seats are nearly as flat as the engine, and considerably flatter than the cornering attitude. The problem with the MX-5 is that it's sporty by association. We assume it's a driver's car because it's rear-drive, manual, small and light (over 200kg less than the Toyota), but we're wrong. This is top-line, top-down, superficial driving satisfaction and the GR86 shows it up ruthlessly. The Mazda's body surfs on its chassis, it rolls and lurches, and nothing quite works with the diligence and precision you hope. Apart from the gearbox, which rivals the Caterham in the snickety shift stakes. If the engine wasn't so criminally characterless, the drivetrain could be the MX-5's salvation.
There's potential for greatness, but Mazda understands the customer reality, so chooses to keep costs down by not developing it further. In a similar vein, our cost-saving sees us failing to develop a plan beyond 'go to a beach'. It's free to drive on Black Rock Sands, and in summer I bet it's lovely. But the waves are menacing and close, so we settle for a cheeky donut or two and drive to our overnight accommodation. A static caravan. It's cost us £129 but there's a catch. It only has three bedrooms. So the deal is that whoever has spent the most today sleeps in bedroom four – the pop up tent I'd tucked away in the Toyota's boot.
I already know this doesn't bode well for me. And as we tally costs (fuel, food, museum, the quick stop to dry out at Llyn Brenig visitor centre that cost us £3 each for parking in the middle of nowhere), so it proves. I'm in for a cold, blustery October night. With the deal done, we retire to a curry house, where the others rub my nose in it by eating enough to have put them in the tent instead of me.
The next morning it's pouring down. Over breakfast (cereal and milk bought from the caravan site shop) I decide that while I'm in minimalist mode I might as well drive the Caterham. Dressed like I've just winched down from a helicopter to an oil rig, I am Wales-proof. A stop in Porthmadog buys us supermarket food and fuel, but it's also a reminder that when you're not moving in it, the Caterham is entirely against you – the harness wrestle, the flapping doors, the endless poppers. On the go, it's magic. I think there's a strong argument for this being the very best road-going Caterham there is. The jeopardy is lower. It still sounds great, all turbo chirrup, whistle and pop, it's tiny, effortless around corners, brimming with dexterity and enthusiasm. OK, the post-puddle steam hisses are concerning and I'm glad it's not going to be me driving it where we're headed...
The chief instruction from the Bala and District Motorsport Club is to clear the sheep off the the Ranges Motorsport Centre before we start clattering around. It's cost us £100 to rent for the day – £25 each. We set about shifting tyres around to mark out an autotest course. We'll use the bottom end of the rally stage, adding in a couple of pinch points, then into a slalom, handbrake turn around the end and reverse into a parking bay to finish. Loser buys the winner lunch.
Toyota up first, completes it professionally and smoothly in 54.4secs. Nick's competitive instinct hasn't kick-started this morning, so the Mazda sets a 73.2secs bogey time that the Caterham, despite rattling audibly over the broken concrete and running clean over a tyre (that we later discover is marking an open manhole), beats by 10 seconds. A wheelspin start signals Tom's departure in the i20N, and he's using the diff of our only front-driver to great effect. But then he fluffs up the handbrake turn to line up for the reverse park, stalls, and hurtles from possible first to almost last, encouraged all the way by our jeering.
We do some more laps for the cameras, where we learn that the Hyundai really does feel like it has rally roots, the Toyota's suspension control and damping is exceptional, and the Mazda feels so wayward I almost don't have the heart to ask Nick for the £8.50 lunch contribution. He tosses me a cupcake and we're back on our way.
Only Greg 'mistakenly' parked the Caterham arse to the weather and horizontal rain has blown in under the half roof. The footwells are swimming. For the first few miles it laps at my heels as we head south, destination Tenby. The plan had been for another couple of interludes. Many tumbledown Welsh castles (run by Cadw) are free to visit, and the countryside is beautiful, but time has ticked and these roads don't get you far, fast.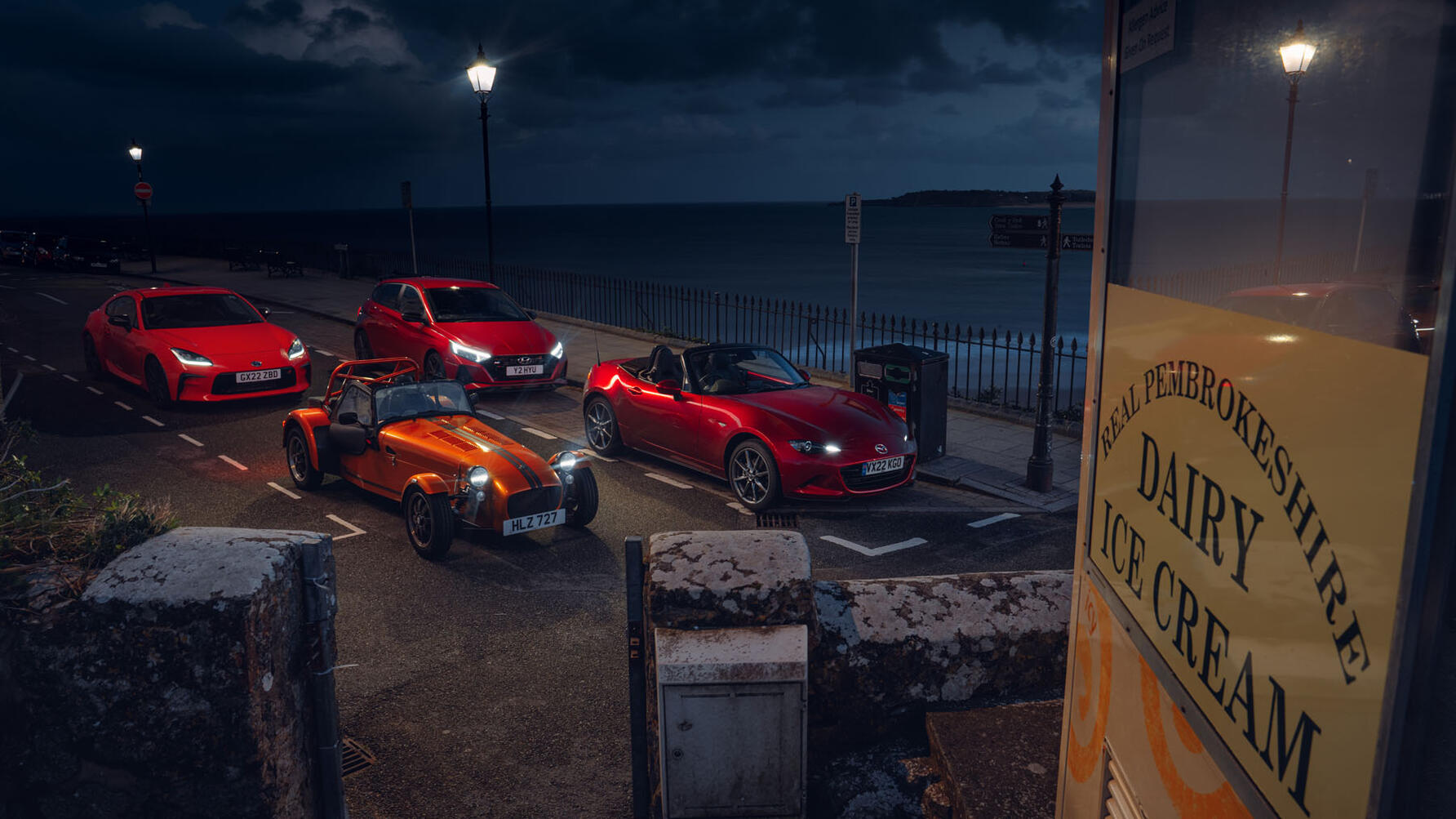 We've let the satnav lead this leg, and the results have been interesting. Roads we've never been on, quiet, and we tread lightly through them in our whirring, purring convoy. Progress is slow, but we all agree we a) wouldn't have been any faster in anything more exotic (and would've probably upset people far more) and b) would have had less fun. This second is crucial. Together the power of these four cars is roughly equivalent to one McLaren Artura (you could pretty much buy all of them twice over for the same price). An Artura would feel stifled on these roads – on any road, in fact. These don't. This is their natural environment, they understand and work with this geography of hedgerows, junctions, fields and hills in a way modern supercars just can't.
Supercars need space and tracks to perform, but these four are designed for tarmac terrain that is free to access. They fit, their pace and performance is commensurate, they have manual gears, are more intimate and accessible, you can drive with gusto without excessively troubling speed limits.
The weather is finally improving, so I reluctantly yield the Caterham's tiny steering wheel for the thick-wristed i20N. It's here at the expense of Ford's Fiesta ST. Swings and roundabouts. The Fiesta has the perkier chassis, but the i20N is a more complete all-rounder. It's a feisty little thing that tugs hard through corners and is eager for speed. Perhaps a little rough around the edges compared with the GR86. It's fractionally clumsier on the road, you sit too high, suffer some jiggle and bounce. Mostly willingly, it must be said. This is a car with the ability to pull you into its orbit. But I'm coming to realise just how well rounded the GR86 is. It has a languid sportiness that's very engaging. The balance is fabulous, the way it uses both axles so communicatively, is so wieldy, deft and fluid. It feels easily 100kg lighter than the i20N even though it's actually heavier.
We drive into Tenby. We've missed sunset, but the light is glorious, inky purples fading into twilight, moon bright in the sky, twinkling off the sea. Fish and chips it is. For most of us. Tom has been feeling ill all day and heads for bed. So he says. We have a sneaking suspicion he's eating elsewhere and claiming not to, to dodge the cost. We'd resolved to eat on the front, but warm accommodation beckons. The fastest we drive in three days is getting to the Manorbier Youth Hostel while the chips are still hot. Mushy pea side for me, curry sauce and gravy for others.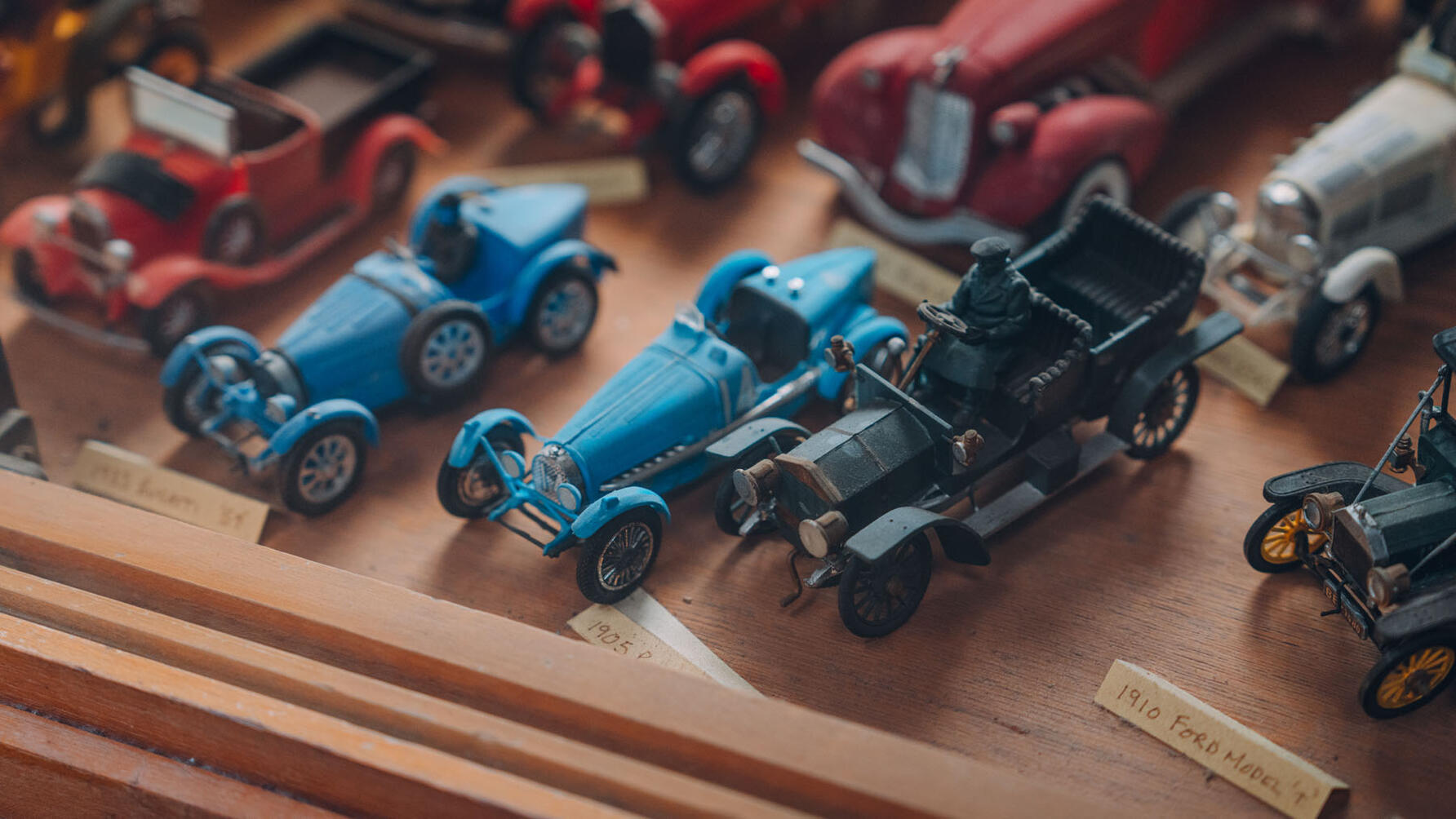 We've got the place to ourselves, so the attendant is kind enough to let us use separate rooms, even though we've paid to share. There's relief all round. Its location is, we can only assume, stunning. We hear waves pounding the shoreline, but we arrive in the dark, leave in the dark.
We do our final fill-up the next morning in Carmarthen. The 470-odd miles have cost £118.32 in the Toyota, just £71.63 for the Caterham. Budget-wise our final activity doesn't count. Llandow racetrack is the cheapest in the country to rent, but half a day is still a budget-busting £600. We need it as a place to shoot the cover, but with that done, we still have an hour or two spare.
The GR86 is a star here, drifts delicately and precisely, has just the right amount of power. Even as an R, this is the one Caterham that feels underdone for track use. Revel in it on road, it's magic there. The Hyundai's turbo torque and eager nature serve it well – it's a value-packed buzz to drive. The Mazda may fall short for satisfaction, but for simple roadster pleasures what else is there?
These cars – light, small, eager, fun, are on borrowed time. There's no next generation pressing at their heels to replace them. We should I suppose, be grateful that the GR86 has come along. But why so late, Toyota? And why so few? Just 450 cars this year when it should've been here six years ago as a thorough GT86 refresh. It's the car it always should have been, but seems a throwback, old before it's even arrived.
Lunchtime at Llandow, we head to the café for jacket spuds and start totalising. It was never really in doubt. If you want a cheap, fun car to really keeps costs down, you need a three-cylinder Caterham. The tyres each cost £45, you'll do 45mpg everywhere and have a ball. But it won't, can't be your one and only. The Hyundai has its moments, but if you want the best car here, then that's the Toyota GR86. Now go and have affordable fun by having fun affordably.