Big Reads
Subaru WRX STI vs Impreza Turbo
As the WRX STI bows out of the UK, we introduce the Final Edition to its iconic ancestor
The word 'legend' is used quite liberally. Be it in music, sport or, indeed, cars, its currency is lower in a world of constantly, electronically shared opinion. But I don't think anyone can argue that we have one here. Two, in fact.
The Subaru Impreza began nothing short of a phenomenon. It launched into mid-Nineties Britain just as the hot hatchback was going through a seriously iffy patch. It brought a similar blend of practicality, performance and (relative) attainability but did so with four-wheel drive, more power and some Colin McRae-led motorsport kudos.
Advertisement - Page continues below
Words: Stephen Dobie/Images: Alex Tapley
It quickly became a success and Mitsubishi was soon convinced to officially import its arch-rival Lancer Evolution, too. So began one of the most enthralling grudge matches in performance car history, each of Subaru and Mitsubishi's increasingly riotous special editions adding power, wings and attitude.
Then both carmakers pulled their teams out of world rallying, the sport which had bred the image of their halo cars. Subaru's withdrawal arguably hit hardest: us Brits had seen both McRae and Richard Burns lift world titles in WR Blue Imprezas, and the team departed the WRC just as the Impreza had turned into a slightly dumpy hatchback that had lost some of the raw attitude of the saloons that had gone before.
Advertisement - Page continues below
That was in 2008, and nearly ten years later we find ourselves waving goodbye to the road car, back in four-door form and now just called WRX STI. Its exit from European showrooms ought not to be a surprise – its power output hasn't changed in a decade (still 296bhp). The Impreza's success has no doubt inspired the 350bhp-plus, all-wheel-drive hot hatches we have now. Subaru just hasn't countered their threat.
The cars we have here are the bookends: an early Impreza Turbo and the last, WRX STI Final Edition. Emissions regulations appear to have finally ended the fast Impreza's time in Europe, and until Subaru can develop a powerplant clean enough, we'll have to look longingly at other markets as they enjoy future Subaru sports saloons.
But while the Final Edition has the same 296bhp 2.5-litre flat-four turbo that has resided in WRX STIs for too long, it feels especially potent here. It feels like a 'claimed' figure in the same way the 296bhp of Subaru's late Nineties rally cars was 'claimed'. It's a ferociously fast car that punches harder than its spec sheet (158mph top speed, 5.2sec 0-62mph) suggests.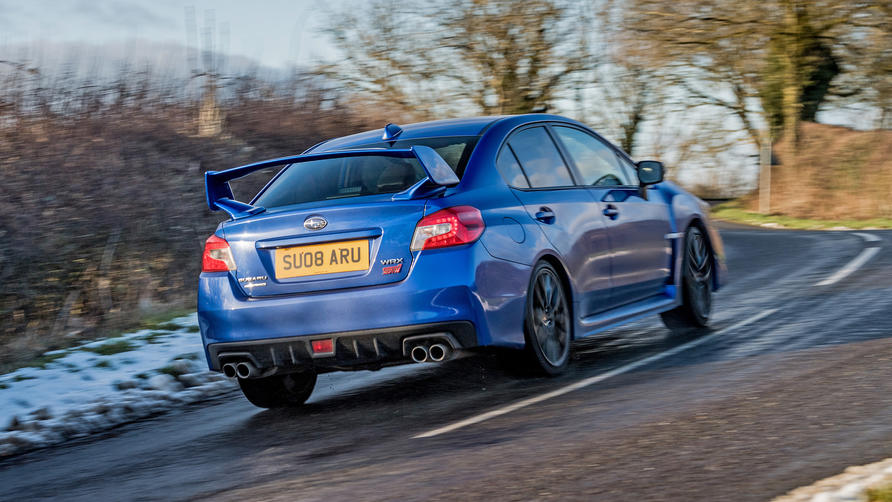 Just 150 will be made, costing £33,995, a couple of grand more than a standard STI. Justifying the premium is a dose of extra equipment – DAB radio, heated seats, reversing camera, inch-bigger 19in wheels, stronger brakes – a lot of which its rivals were doing yonks ago. It does feel a touch apologetic.
The 1999 Impreza Turbo we've brought along for context makes it seem like a luxurious limo, of course. But this was a car in its absolute pomp, with no need to try hard with red detailing, enormous wings and an elongated equipment list. It's a far, far subtler car in the metal. And smaller.
Its stats are subtler and smaller, too. A 215bhp peak, 144mph top speed and 6.1sec top speed are what you'd expect from a quick Clio now, but they were punchy back when the Impreza Turbo launched. Of course, we could have brought any one of the Impreza or WRX's myriad special editions along for a closer grudge match, but when you've got the UK's last STI, it only seems right to bring the car that started the legend.
Driving the Final Edition is a reminder of two things. One, that it feels old now. Its steering, pedals and knob operate with a rare heft, and it's easy to be clumsy with gear changes in your first few miles. Compared to those pesky hatches – a nicely plush VW Golf R or Audi RS3, particularly – it asks of an uncommon amount of effort from its driver just to move along smoothly.
Top Gear
Newsletter
Thank you for subscribing to our newsletter. Look out for your regular round-up of news, reviews and offers in your inbox.
Get all the latest news, reviews and exclusives, direct to your inbox.
That's what we're mourning here. Not just the loss of the fast Subaru saloon, but the loss of another unashamedly analogue performance car that demands something from its driver. If you like a comfy fast German hatch that's refined 95 per cent of the time, then turns on contrived anger with some button presses, you might not care. But I love a car that never lets you forget that it's special, even if that means being beaten up by the suspension in town. We need cars this focused.
When you're in the mood for it, it's still spectacular. Steering that feels snatchy and overeager at low speeds suddenly lends the car wonderful agility, while suspension that's punishing in town reveals brilliant composure on a great piece of road. And the brakes are exceptional.
The STI will slide under power without much provocation, particularly on its track-biased Yokohamas on a sub-zero day like this. It's when you get a smoother flow going that the car really impresses, though, delivering the point-to-point pace that the Impreza road car brand was built around. With some warmth in the rubber and on the ground, it feels outrageously quick. And because you've worked hard to get there, it's ultra-rewarding, too.
It all has the potential to set the original Impreza Turbo up as a disappointment, too slow and subtle to provide the same thrills. There are familiar signs to put you right at ease, though. You sit in a similarly tall driving position, giving you the same great vantage point over an ASBO bonnet scoop. It's far simpler inside, of course; there's simply nothing to fiddle with. In the new car you're slightly bewildered by its various sport modes and its wildly adjustable diff. You hop into its ancestor and simply drive the thing.
And drive it hard, too. It's an unfathomably welcoming car to drive with some vigour on a road this icy. I think the more road-friendly tread of the tyres on reader Mark Jarvis's car contributes, of course, but with a bit less power to overwhelm the drivetrain and calmer steering, it all feels a bit less frantic in here, even when you're really building speed. It rides like a Rolls-Royce in comparison, too. Cars in the Nineties rode properly and had actual visibility. This one's no different.
Naturally, it's not as quick as the Final Edition. Not just because it's down on power, but because of its gearing. Both cars suffer turbo lag below 2,500rpm, but it's more pronounced in the older car, and its longer gearing exaggerates the effect. Being in the right gear requires the kind of foresight that drivers bred on smooooth DSG transmissions might only dream of. The WRX STI's six-speed gearbox has much shorter ratios, ones which place you right in the thick of the torque. Perhaps that contributes to the high CO2 emissions that have likely condemned it to exiting Europe. They're also what make it such an addiction to drive.
Is there a common link between the two? More than you might think based on their appearance. Both have the wonderful thrum of a finely tuned boxer engine reverberating through their cabin, and both have a driving experience classier than onlookers imagine upon seeing an abnormally large rear wing.
If you want to tick a Subaru off your bucket list, the older Impreza appears to be the easy winner. You can get really quite nice examples for as little as £3,000, which is simply extraordinary when you consider the Final Edition costs ten times as much. And, for its rarity and depth of engineering, that actually feels like good value too.
What getting the two together really reveals, though, is that the WRX STI's departure was probably inevitable. It shows that Subaru's matured its halo car with more power, stiffer suspension and wilder aero, but without tweaking its philosophy. Great if you're a committed fan, but not so useful for keeping pace in a quickly changing performance car market. A Honda Civic Type R is front-wheel drive, but will be just as engaging in most circumstances, while being a hell of a lot easier to lease and maintain.
So let's hope that whatever spins from the Viziv Performance Concept – a teaser for the next WRX, that Europe currently looks unlikely to get – can become something cleaner and more relevant, meaning the fast Subaru isn't leaving this part of the world for good, but simply having a bit of a sabbatical while it works out where its future lies. It may have established itself as a performance car legend, but we're not ready for its retirement.