Big Reads
Tackling the Cliffhanger Trail in a standard Jeep Wrangler
If you're paying a visit to Moab in Utah, it's only right and proper to indulge in a great American tradition. Just don't look down
I'm on the edge, both mentally and literally, peering over the brow of the obstacle that earned this trail its infamy. A series of giant ledges flanked by some loose looking rocks and several thousand miles of fresh air. When you're climbing there are off-road techniques to be deployed – left foot braking with smooth dabs of throttle to ensure all momentum is of the forward variety, sawing the steering wheel side to side to find the tiniest sliver of traction and my personal favourite... gunning it and hoping for the best – but on the descent, your only real option is full send with as much mechanical sympathy as possible. Otherwise known as driving forwards and falling off. I drop the nose over the edge, then the rear – clattering the overhang and remodelling the tailpipes into new and interesting shapes. I repeat this three, maybe four times, clenching my buttocks and teeth ever tighter each time, until the world levels out and I breathe a sigh of relief. Then it dawns on me there's only one way off this death road... the way we came in.
Advertisement - Page continues below
Photography: Mark Riccioni
Cliffhanger. The clue's in the trail's name. And yet, at no point during multiple pregame meetings with guides and experts did anybody mention to muggins here that we were skiing a diamond black run with sticks of celery glued to our feet. To be fair to our guide, Jim, he did mention the drops were "long enough to read a book on the way down", but that isn't a surprise (I have a loose grasp on gravity and plummeting 1,000ft to a valley floor is self-explanatory), it's the fact we're squeezing this box fresh and bone stock Wrangler between boulders the size of lorries, pointing it up walls of rock that in any normal circumstances would mark a dead end, and tiptoeing like a sticky hoofed goat along skinny paths carved into sheer cliff face. I thought we were here to admire the scenery, not to become a scorched smear on it.
The irony is, this wasn't supposed to be some heroic story about jeopardy and survival, it was supposed to be a story about a little town in Utah, called Moab. We're talking big sky, Thelma and Louise, red rock and canyons country – America, at its most American. Moab is a mecca for off-road enthusiasts from all over the world, who flock here in their hundreds of thousands every year, to scare themselves witless and lose their no claims bonus. But there's more to the place than just scrabbling around playing rock, paper, scissors with the Grim Reaper, the town itself is full of good-time vibes. Founded by missionaries and miners, it was once the uranium capital of the world... which is how most of these trails were plotted out in the first place – in pursuit of precious minerals in vehicles far less capable than ours. But thanks to friendly sounding tracks like Hell's Revenge and Metal Masher it's four-wheeled tourism that's taken over, and the town has evolved to accommodate the influx of cash with bars, restaurants, hotels and several hundred novelty T-shirt shops to keep the thrill seekers clothed, watered and coming back. 
If you've ever been to the Nürburgring you'll know the experience begins long before you've splatted your chipped Golf R into the Armco at turn two... you start noticing the tuning shops dotted around on the drive into town, the density of interesting cars steadily increasing and once you arrive, the track is literally all around you and lined with iconic places to eat and stay. Moab is America's Nürburgring, albeit with less speed and more axle articulation... there are 4x4 workshops everywhere to get you fixed up and back out on the trail, places to rent wheels if you don't have anything suitable yourself and you'll find institutions like Milt's, Moab Diner and Lin Ottinger's rock shop rammed full of dinosaur bones and fossils Lin's been digging up since the Thirties, plus the actual anvil used to make shoes for Butch Cassidy's horse. I have no reason to doubt this claim. 
Advertisement - Page continues below
Our carriage then – it's a Jeep, less of a car manufacturer around these parts, more of a cult. We could have done this in a Land Rover, Toyota, a Rivian even, but there's a good chance we'd have been shunted off the edge by a friendly local. So Jeep it is – a Wrangler Rubicon 20th Anniversary 4XE to be precise, a plug-in hybrid with a four-cylinder petrol engine and twin electric motors producing a total of 375bhp and 470lb ft torque – plenty for our purposes. I've also got 25 miles or so of electric only range for stealthy ascents. This anniversary model has a half inch lift over the standard Rubicon model, which is more than enough, I tell myself, with no idea of the severity of the terrain that awaits just a mile or two down the road. 
We strip the doors and rear quarter windows off (to save weight, reduce the physical barriers between me and oblivion and, let's face it, to try and look vaguely cool for the cameras) peel back the sardine tin roof and air down the tyres for maximum purchase. Nothing says midlife crisis quite like a Wrangler in the UK, but out here with spirits high, novelty headwear purchased and sage green paint gleaming, it's perfect and screwed together twice as well as the Ford Bronco we drove in from LA. We follow Jim – a Moab resident and senior trail guide for Jeep Jamboree (the company hired to keep us alive) – a few miles out of town where a rusty metal sign marks the point where we're thrown in at the deep end. 
Our first obstacle – a set of steps that without Jim cheerily waving me down – I definitely wouldn't have the nerve to tackle. No need to lock the diffs on the down slopes, but we slot the gearbox into low ratio and suspend our disbelief as the Jeep picks its way down – bottoming out here and there but mostly unscathed. Confidence is high as we round the next corner, enter a water splash at speed and roll to a stop in front of a vertical rockface as high as my belly button. The geometry simply doesn't make sense. Geometry, as I'm about to discover, is everything – especially tyre size, which dictates how high your axles and diffs are off the ground. 
We have 35-inch tyres fitted – overkill for a camping trip, but relative tiddlers out here. Jim is convinced there's a line for us, throws a couple of big rocks on the ground to soften the angles and beckons me forward. To my amazement the front left starts pulling grip from nowhere and the nose rises triumphantly as I throw a fist pump to the cameras... moments before we slide sideways and wedge ourselves firmly between two rocks. The rear arch is resting on the boulder and lacerated, the rear left wheel has been spinning flush on the rock and is now minced, the side sill sliders are doing their job but already scuffed to hell, and I'm wondering how I'm going to explain this one when Jeep's delivery driver comes to collect. "Here's the car back, thanks! If you need the rest of it, it's halfway up that mountain over there!" Cue 10 minutes of head scratching – in which time a group of deranged motocross riders fling themselves, semi successfully, past us up the ledge, followed by a group of what I can only assume are very lost mountain bikers. The mind boggles. 
All options exhausted, Jim attaches us to his winch and yanks us loose. We carry on, clanking and scraping, collecting battle scars with alarming regularity. We sail over smooth sections washed flat by the rain, sandy tracks that relent for a moment before erupting into savage rock formations, and more ledges from the depths of hell. But we're still moving and fighting – never more than 5mph, never with anything other than extreme caution, just slow, steady, silent progress. And despite a growing body shop bill, no flat tyres or mechanical mishaps. In London, if I nick an alloy on a kerb I'm having flashbacks a week later – two hours in and already I'm desensitised to the sound of metal on rock, resigned to the fact that this is a Jeep doing what it was born for, an off-road workhorse in its unyielding element.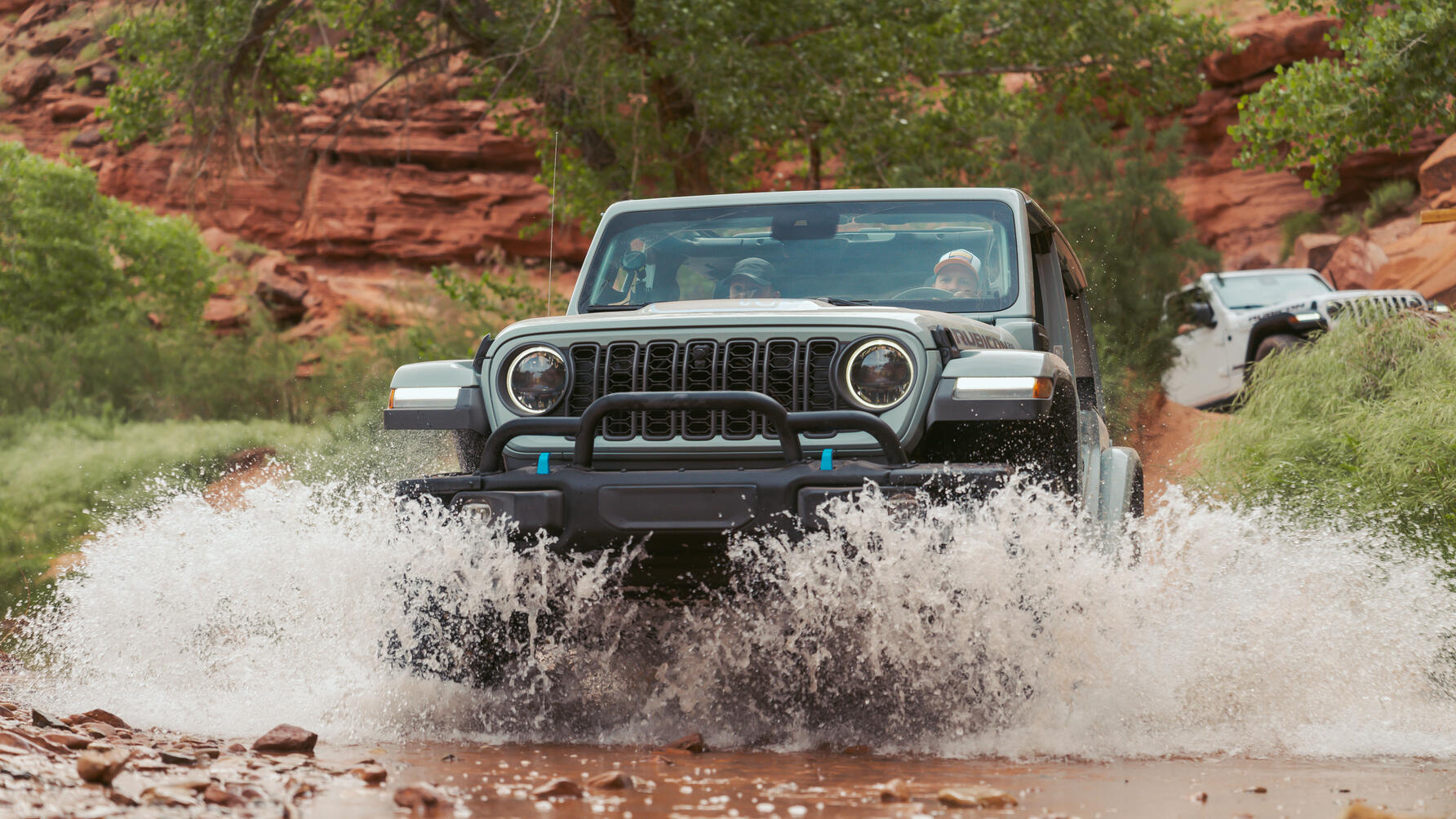 There are rewards for persistence. With each obstacle conquered, the view reveals itself a little more – fat red skyscrapers, earth's calendars striped with millions of years of geological history, snow-flecked peaks in the distance despite sweltering temperatures where we are and then we punch out the top for the big finale. The path of first paragraph fame perched above a valley gouged into the landscape by giants' hands. It's astonishing, but it'll have to wait, this is no margin for error territory. Genuinely, I don't have a problem with heights, I've done several bungee jumps and skydives without stress, but that's because there's a cord tied securely around your legs, or a parachute and an instructor strapped to your back. Here it feels like one twitch of the wrists, one wobble and ta-da! The world's fastest accelerating Jeep. Earlier, having no doors was handy for leaning out and placing your front tyre precisely... now it's just a constant reminder of an impending and untimely death. 
I won't leave you hanging, reader, we survive. We clock Cliffhanger, but before turning around and doing it all again in the opposite direction, we stop for a sandwich on top of the world. It's breathtaking – the view, not the sandwich, that's a little dry. The scale, the sense of achievement and the adventure we've been on to get here. Sure, we came a fraction underequipped, but Jim and his team saw us through and our Jeep – a Jeep you can waltz into any dealer and buy off the floor – survived. Isn't that astonishing? Almost as astonishing as a little town in Utah, called Moab. 
Top Gear
Newsletter
Thank you for subscribing to our newsletter. Look out for your regular round-up of news, reviews and offers in your inbox.
Get all the latest news, reviews and exclusives, direct to your inbox.