Big Reads
TG Awards '19: the Audi RS6's big test
If you want to ski and surf in the same day, you need Audi's 600bhp family wagon
The concept of a California Double is simple: make use of The Golden State's enviable geography to ski and surf in the same day. It's bucket list stuff. Especially for Brits, where the closest we can get to it is a morning at Milton Keynes snow dome and an afternoon at the local lido's wave machine. But Mother Nature isn't making TG's ski-to-surf quest easy.
Our plan was to be shredding the sunrise pow at Big Bear Mountain – just a few hours east of LA – to then leg it to the coast and throw up shakas on party waves in Malibu by sunset. Thing is, you need snow to ski. And, thanks to global warming/an unseasonably warm autumn [delete to match personal opinion], there's no snow. So we've had to venture north. Way north. Up near San Francisco to Mammoth Mountain, which is a long way from the kombucha enemas and goat yoga of LA. Oh, and the clocks have gone back, so we've already lost an hour of usable daylight before we've begun. Joy.
Advertisement - Page continues below
Words: Rowan Horncastle / Photography: James Lipman
Luckily, we have the epitome of outdoor pursuit vehicles to join the dots and bend time: the new Audi RS6. Parked on a crusty bed of snow, it looks angry. Properly angry. But don't mistake this new fourth-generation RS6 as an A6 Avant with a resting bitch face. Only the front doors, roof and tailgate are shared with a rep-spec A6. And it's got heaps of attitude: blistered bodywork a whopping 80mm wider than standard, a contemptuous frown (a throwback from the '84 Sport quattro) and bazooka tailpipes. These features compound for unparalleled presence. It needs it, too. As it's got to threaten the interest of the uninitiated: SUV-loving heathens. Also known as 'Americans'.
"Nice hatchback, bro!" a panda-faced skier says in the lift queue.
Advertisement - Page continues below
"It's an estate."
"A what, bro?"
Ah, yes. The estate – or wagon, as it's called over here – is a proposition that doesn't compute Stateside. Put simply, they just don't sell. But, for the first time in its 25-year history, Audi's go-faster arm is taking a punt and bringing its flipping fast five-door family estate to the US of A. Luckily, it's stocked with what arithmomaniac Yanks like: BIG numbers.
With a 4.0-litre bi-turbo V8 buried in the nose, the RS6 can dispatch its 592bhp and 590lb ft through the eight-speed auto box and all four wheels to see off standstill to 62mph in 3.6 seconds and on to 190mph (if you spec the 'Vorsprung' pack). The trunk – sorry, boot – is also capable of swallowing 1,680 litres of stuff. Notably, 1,680 litres worth of first-run-of-the season ski excuses as I snap off my planks and shove them in the back before cutting Mammoth's crisp air with bassy V8 tones. An experimental prod of throttle causes the revs to run around the new retro hockey-stick dial but, disappointingly, the exhaust doesn't have the thunderclap and rowdiness of old (damn you, WLTP!). But it's still enough to get attention. "Sick car, dude!" a snowboarder shouts from afar.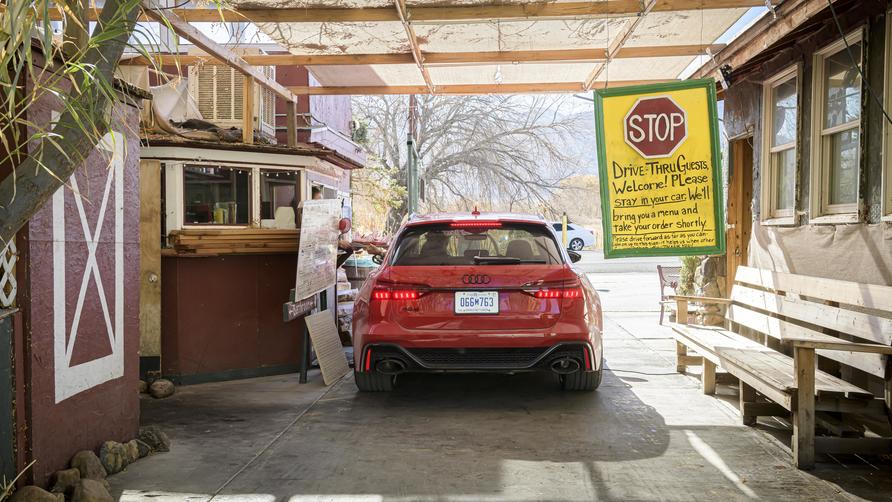 The blood rushes back to our heads as we wind down from the literally dizzying heights of Mammoth Mountain's 9,000ft ski station. But the roads around here aren't like European ski resorts. There's no mad school trip buses, struggling with snowchains and on the wrong side of a skinny road; the roads are wide, flowing and snake through gorgeous tall pine forests backlit by delicious golden light. Eventually, we bottom out at the valley floor to pick up the road that'll skewer our adventure: US Highway 395.
Running east of the Sierra Nevada mountain range, it's Cali's backbone and tethers some of the highest, lowest, hottest, deepest, oldest parts of America together in one roadtrip. It also gives photographer Jamie and me time to nuzzle our backs into the quilted chairs and drink in the hyperestate's interior. You may have noticed there's been a big shift in cabin tech over the last few years, and the RS6 can attest to this. It's a huge step on from the previous generation – primarily because the world has gone screen mad since 2013, but also as the materials in the cabin now reek of sporting luxury; there's double glazing, haptic glass, carbon fibre and a gear-selector finished in Alcantara that's weirdly satisfying to stroke... a bit like a bald cat.
We engage Road Trip Plod mode, and the RS6 settles down too. It's certainly not as blunt as the previous car – that was a V8 warhead with a boot attached. This is more multi-faceted and intelligent. There's cylinder deactivation, a keen coasting mode and 48V mild hybrid assistance. But take that hybridisation with a pinch of salt. The battery in the boot doesn't provide any propulsion, but is a useful bit of greenwash to tell the person with hessian underpants and body odour before they lob a tin of paint over you because you own a V8. It rides better than before too, maintaining a surprisingly comfortable stride given it's on sports suspension (steel springs and three-way adjustable dampers, not the standard adaptive air) and whopping 22-inch wheels.
Top Gear
Newsletter
Thank you for subscribing to our newsletter. Look out for your regular round-up of news, reviews and offers in your inbox.
Get all the latest news, reviews and exclusives, direct to your inbox.
Being able to channel up to 85 per cent of oomph to the rear means you can still cut some shapes
The 395 can become deeply frustrating, though. Framed by jagged mountains falling away into a flat basin of seemingly never-ending heat and nothingness, it's tarmac that 200mph cars are made for: smooth, arrow-straight and deserted. But the place is also riddled with sniper-like cops with radar guns. So, we cruise at 65mph, saving time by swinging into a fantastically low-rent but delicious burger joint in a trailer park in Bishop, before heading onto the dusty trails and geological wonderment of Alabama Hills. Y'know, just to test if the quattro system still works. Which it does. And just because you can't disown the front driveshafts like an E63, being able to channel up to 85 per cent of oomph to the rear means you can still cut some shapes.
Heading further south, we gorge on the all-you-can-eat buffet of scenery and intrigue. We pass Vantablack lava fields, Death Valley, the harrowing watchtower of Manzanar (the concentration camp where more than 10,000 people of Japanese ancestry were corralled during World War II), Ridgecrest (the earthquake capital of the world), before headbutting straight into Antelope Valley and the hazy, traffic-infested sprawl bursting out of Los Angeles. We swing a right, to go up and over the canyons to Malibu.
Last year, this whole area was ravaged by the Woolsey Fire. The inferno consumed 96,949 acres, forcing more than 295,000 people to be evacuated, and the scars are yet to heal. The incredible twisting canyon roads are bounded by charred trees, scorched earth, and the replacement blacktop was laid only a few days ago. In the 33°C heat, it's sweating grease like a teenager's face, which is the perfect workout for the RS6.
I click the new BMW-like wheel-mounted 'RS' button twice to 'RS2' (for heritage's sake) so the RS6 is in maximum attack, with languid suspension and liberal ESC, then race for the salvation of the ocean. And make no mistake about it, this thing shifts. Speed is accrued at an astonishing rate, partly by using its mega-torque and eight-speed box to great effect. But, unlike an AMG, the engine doesn't run proceedings. It's not angry or shouty; rather, it works insanely effectively with the all-wheel steering, optional sport differential and mightily clever 4WD system to give you instantaneous agility and grip. Which you need here, as there's inconsistent traction, no guard rails and lots of off-camber, so massive potential for a Hollywood blockbuster crash. But what the RS6 does is take speed and soften off the scary edges to make it comfortable. Saying that, if you don't like speed, spec the monster optional carbon brakes. Admittedly, they aren't the easiest to use around town, but if you're stomping on them at speed, they're powerful enough to concertina California's fresh tarmac into a bitumen Viennetta.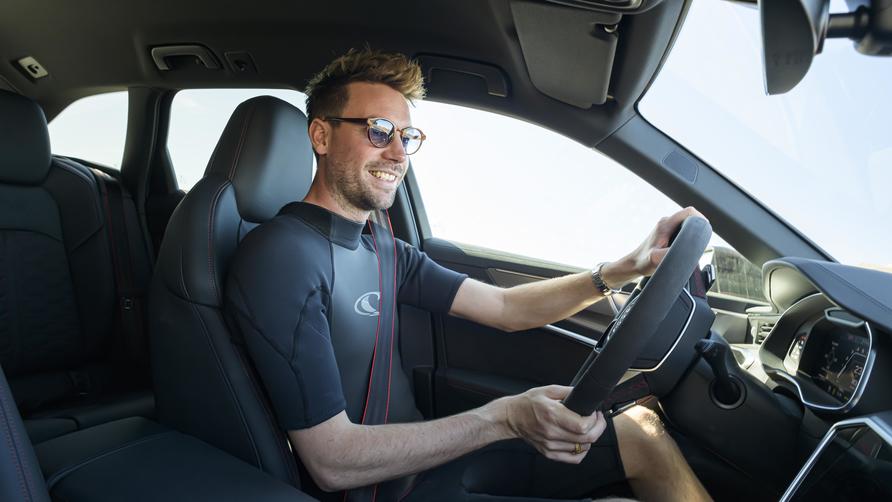 We pop out onto the Pacific Coast Highway as the last weak fingers of a bright November sun start to fade, and head to Point Dume. We're met by a great slobbering woofer and its befuddled owner.
"What's your dog's name," I ask.
"At Hashtag Malibu Marzie."
Welcome to Malibu. Where everyone is on a constant PR campaign trail – even an old dog. But she's also the perfect prop for the classic dog-in-fast-estate-cliché. However, instead of booting the throttle and buttering her up against the rear window, we just check her for size (it's a pass, by the way) before grabbing a surfboard to do some oceanside reflection. Apparently, that's what Californians do.
See, what the RS6 has shown today is that it truly ticks all the boxes; it's fast, practical, comfortable, the right side of attentionseeking and properly desirable. But what's most interesting is that there's not one component of the RS6 that stands out. This can be mistaken for it not having character. But, in reality, it's just that Audi has engineered some excellent hardware to work together. It's truly greater than the sum of its parts.
And as any LA boardroom member will tell you: teamwork makes the dream work. Or… makes for Top Gear's Family Car of the Year. Surf's up, dudes.