SUVs
TG's mid-size SUV test: Range Rover Velar vs Porsche Macan GTS vs Maserati Grecale Modena
The Grecale is here to spoil the mid-sized luxury SUV party. Time to see if it can usurp the current ringleaders
Much as we love the emotional zap of Italian cars, we aren't blind to a troubling fact. Fiat, Alfa and Maserati are all sadly prone to launching an all-new car that's the equal of, but not significantly superior to, a German rival that's been around for years. And because the Italians, unlike the Germans, are neglectful of updating their stuff, before long they fall well out of contention. Who'd have bought an Alfa Giulietta over a Golf by the time it died in 2020? Today's Alfa Giulia is sagging behind the 3 Series. The Fiat 500 – petrol not electric – has been around for 15 years, or two near complete generations of VW Polo. And only last year, Maserati ended production of a Granturismo that had spanned the 997, 991 and 992 generations of Porsche 911.
If we hadn't been thinking about that history, we'd assume the brand new Maserati Grecale would eat the nine-year-old Porsche Macan for lunch. Burp. This is the final year when the Macan is a frontline car for Porsche, as an electric one is coming soon. Mind you, as a hedge, the petrol Macan will quietly continue for people who are disinclined and places that are unsuited to adopt battery drive. Talking of which, there will be a full electric, aka Folgore, version of the Grecale coming very soon.
Advertisement - Page continues below
Photography: Mark Riccioni
Range Rover meanwhile is leaning into plug-in hybrids, and we brought along a Velar P400e. In unsurprising news, the Velar's dash now has the big single touchscreen system from the more recent vehicles in LR's oeuvre. Because of its dual powertrain, this Velar is up on weight versus its rivals here and feels it, but they all coincide neatly on price, and for a company car driver the PHEV system in the Velar lets it temptingly limbo down into a 12 per cent BIK rate. The others are 37 per cent. Having said that we won't be banging on too much about matters of accountancy here, because if you're ready to go electric for its own sake, or just to cut your tax, you've now got plenty of full EV choices of SUV.
What you haven't got is estate choices. The BMW 5 Series and Mercedes E-Class are also absent, as they're between generations. Audi no longer does an S6 Avant. Volvo has just pulled the rug from under all its wagons in Britain. So our usual advice when testing SUVs for road – 'just get an estate instead' – falls on its backside.
The Maserati has the slightly billowy external style the firm specialises in. It's tall and looks big too. Inside it's busy with stitched leather and lots of metallic touch points: that's metal in some cases, metal-look plastic in others. Mostly the quality and sense of occasion is on par. You get a second touchscreen down on the console, rather like the Velar used to have but no longer does. We like it, because it makes more of the controls visible more of the time. The Grecale isn't wholly devoid of switches; arrays of them sprout from the front and rear faces of the steering wheel spokes, backed up by busy stalks. The platform is derived from the Alfa Stelvio, but the wheelbase is longer and so this is a roomy car in the back.
Advertisement - Page continues below
The Macan isn't. It's snug inside: sporty in front and cramped behind. Despite the retina hogging green paint, it still looks small beside the other two, because it's lower and the body is pulled in over the wheels. It's actually just 100mm shorter than the Grecale. The elderly Macan hasn't dated. But then, most Porsches don't. It's Wildean: somewhere in Weissach there's a locked attic with paintings of them all – except the early Panams and Cayennes.
Actually, the Macan's interior has had a go-over. In place of 2014's array of drive mode buttons around the transmission lever, you get an array of touchpads with all the same functions. Touch buttons are less satisfying to use than real switches, sadly. Of course you can clean this black panel more easily, but then you need to because it's always covered in conspicuous fingerprints. But a touch panel is more modern innit, so it must be better. Porsche didn't do away with the solid transmission lever, yet strangely its manual position has gone. Huh? You now opt for manual via a tiny button on the steering wheel. Still, you do get a very fine and configurable main touchscreen.
THE ELDERLY MACAN HASN'T DATED. BUT THEN, MOST PORSCHES DON'T
The Velar is another obsessively tidy piece of design, like a giant solid desk ornament with the windows, lights and panel lines airbrushed on. It's as roomy inside as the Maserati. As usual for a Range Rover the driving position is high and regal not low and sporty. Same goes for its seats, soft and relaxing where the Porsche's and Maserati's latch around your torso.
The Velar's central screen is a quick-witted affair with pleasing graphics and intuitive logic, but we do miss the second lower control screen that it's just lost. OK you get a small storage box in its place but it's got a horrid flimsy plastic lid. And the whole centre console on the Velar looks and feels third rate, creaking and wobbling when you touch it. There's a point where 'reductive' (© G McGovern) topples over into 'cheapskate'. Even so it can be a very smart cabin if specced up in the right colours and finishes – just not these.
You can have the Maserati with a brand new and properly lairy V6, but that takes you into six-figure prices, so here we're making do with a 4cyl with mild hybrid. Given it's up against a V6 Porsche and a Range Rover with a supplementary full caffeine e-motor, it's got a job on its hands. Still, some news is good. It sounds properly fruity. But the 48V mild hybrid assistance completely fails to mask the really old fashioned turbo lag on the engine, which pulls briskly from 3,500 but doesn't get properly responsive until well past 4,000rpm. And the red line restricts you to 5,500rpm, although in the fruitier modes the auto box changes up at 6,000. Yellow is a plain silly 5,000. So in tightish bends or roundabouts you'll often find second gear is forbidden by the rev limit and third hidebound by lag.
The Porsche also suffers a ratio gulf between second and third. Still, the magnificent engine's got you covered. It hardly lags, and its power erupts progressively towards the 6,900rpm red line. But it hardly sounds better than the Maserati one. That's the baleful effect of a 90° angle on a V6. When you're not taking advantage of the sheer stomp – 4.3 seconds to 62mph – the seven-speed PDK is effectively as smooth as the others' torque converters.
Top Gear
Newsletter
Thank you for subscribing to our newsletter. Look out for your regular round-up of news, reviews and offers in your inbox.
Get all the latest news, reviews and exclusives, direct to your inbox.
When it's about all-out lunges for the horizon, the Velar, like the Maserati, trails waaay behind the Porsche. Even so, because of the big e-motor helping you out, there's a brisk, obliging answer to the accelerator and less lag than the Maserati. The Velar's engine, when going, sounds pleasant and is much quieter than the other two. Running engine off – the e-range is now real world 25+ miles and it'll charge rapidly – it's smooth and peaceful but about as quick as if it were towing two more of itself. In our test, which used some plug energy, we got 40mpg. The other two fell below 20 when cracking on. Anyway, if you've nowhere to plug in, Range Rover will still sell a straight six Velar P400 for the same money.
You'd expect Porsche and Maserati to put the sport into sport utility vehicle. So it goes. The Macan is what YouTube reviewers commonly refer to as a 'weapon'. It's extremely fast, grippy like mad, and nothing's gonna stand in its way. The steering is perfectly progressive and very precise, acting instantly because there's little body roll, and it stays directionally undisturbed even as bumps and dips and cambers pass beneath. Our dry weather testing never remotely troubled the limits of the tyres. Its brakes are mighty too. The whole assembly impresses you like crazy, but fails to entrance. It's frustratingly short of the engagement and feedback Porsche can do so well, not just in the sports cars but the Taycan too.
THE MASERATI CONFOUNDS THE OLD ITALIAN CAR TROPES
The Maserati isn't so tidy. The wheels shudder a bit as it rides sharp bumps, and the brakes, as the throttle, don't have the exactness that give you such reassurance in the Porsche. The steering takes bigger hand movements, and the Grecale bobs left and right on bumps a bit more than the Porsche. But its cornering is more engaging – and not just because of its imperfections – so you don't feel compelled to drive at harum-scarum speeds just to provoke a reaction from it.
A quick reading of the tyre walls gives a peek into the mindset of these cars' engineers. The Macan came on Pirelli P Zero Corsa tyres, the Maserati on P Zeros, but the Velar on all-season Michelin Latitudes. On a hot summer's day they grip less. The Velar is softer in roll than the others – that's good for off-road traction. So, arriving briskly at a tight bend or especially a sequence of them, you need to plan in advance to manage its weight and height, or it'll fall into a messy diagonal pitch. At least the accurate brake and throttle make that easy.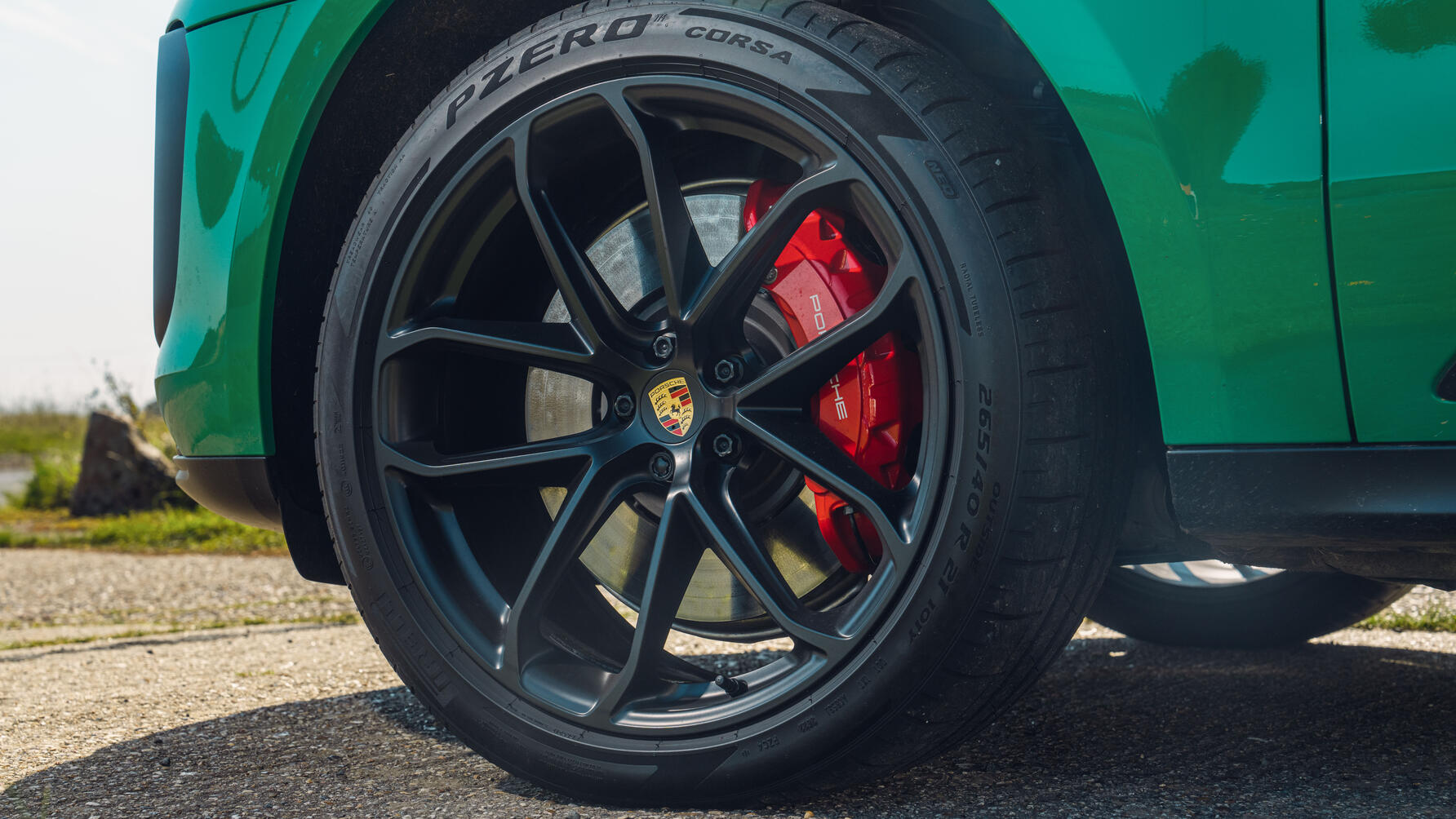 Without the air suspension option, this particular Velar's ride isn't as supple as we expect. Even so it's more comfortable than the stern Porsche and bobbly Maserati. If you're buying an SUV to inoculate yourself against potholes, spec smaller wheels and plumper sidewalls than these. On motorways, all three track nice and straight, but in the Porsche some surfaces throw up an assault of road noise.
All in, this particular Velar is the third most appealing car here today, even though it'll be a no-brainer for company car buyers. With a different cabin spec, air suspension and the straight six option, we know it can be a nicer car that knows what it is: a relaxing not-particularly-sports utility vehicle. The Maserati confounds the old Italian car tropes: its ergonomics and screens are fine, but the engine can be infuriating rather than enchanting. By any objective measures the chassis isn't as good as the Macan's either, so it's got a job on its hands to play against the immensely competent German mechanism. Yet the Porsche is strangely standoffish, and if you've had five Macans in a row, we'd nudge you into Maserati's arms.
1st: Porsche Macan GTS
Super competent, with a walloping engine and accurate chassis. It's just not all that engaging
2nd: Maserati Grecale Modena
Patchy, but not in the ways you'd expect. Engine is the main issue. Roomy, useful and plush
3rd: Range Rover Velar P400e Dynamic SE
PHEV powertrain nice to use and saves fuel. Spacious and refined, but we'd option ours a bit differently