Big Reads
V8 club: Lexus LC500 vs GranTurismo vs Corvette
Naturally aspirated V8s make the world a better place, as proved by Lexus, Maserati and Corvette
It's hard not to grin when you hear it. About a mile away, up here in the dense pine forests of the Californian high desert, the three cars have turned around and are now charging back towards us at full chat, the mechanical barks and howls ricocheting offthe steep rock faces that line the road. It doesn't matter how many times you hear it, this is automotive music.
There's the distinctively gruff four-trumpet blare of the Corvette curling into a snarl as it heads towards the rev-limiter. The swirling, operatic tenor of the Maserati V8 filling in the middle and high notes. And then there's a different, but equally mesmerising, V8 voice. It's slightly buzzier, more controlled, smoother, zapping up through the gears. That must be the Lexus. 
Advertisement - Page continues below
Words: Pat Devereux/Images: Jamie Lipman
As the cars heave into view and crunch into the gravel-strewn car park, you'd be forgiven for wondering exactly what kind of test we are doing here. They are all two-door V8 coupes with around 455bhp, but that's where the outward similarities end.
We have a Chevy Corvette Grand Sport, a 2017 Maserati GranTurismo Sport, costing more than twice as much as the Vette. And we have a spacey, new Lexus LC500 with the V8 engine and Sport Pack. 
Advertisement - Page continues below
The answer is simple. When Lexus launched the LC with a naturally aspirated V8 instead of the more obvious on-trend twin-turbo V6, as is being fitted in the new LS, it made us wonder why. Then we drove it and, within a couple of passes, we knew. Because the engine is brilliant, that's why. That fact alone poses questions about what's going on at Lexus, which we'll delve into a little more here. 
It also reminded us that we are at a watershed moment in automotive history. As politicians visibly warm the environment with their outpourings of hot air about the menace of engine emissions, we are fast approaching a legislative place where the big, naturally aspirated V8 engine could be a thing of the past. 
Turbos are fun and efficient, and superchargers hilarious when strapped to a big V8, but both also mangle the noise output and can meddle with the linearity of response. The thunderous shrieking purity and grumbling tickover of a naturally aspirated V8 is a thing of beauty. So, before we lose them, we thought we'd gather together the best from each of the three automotive superpower regions: Japan, US and Europe.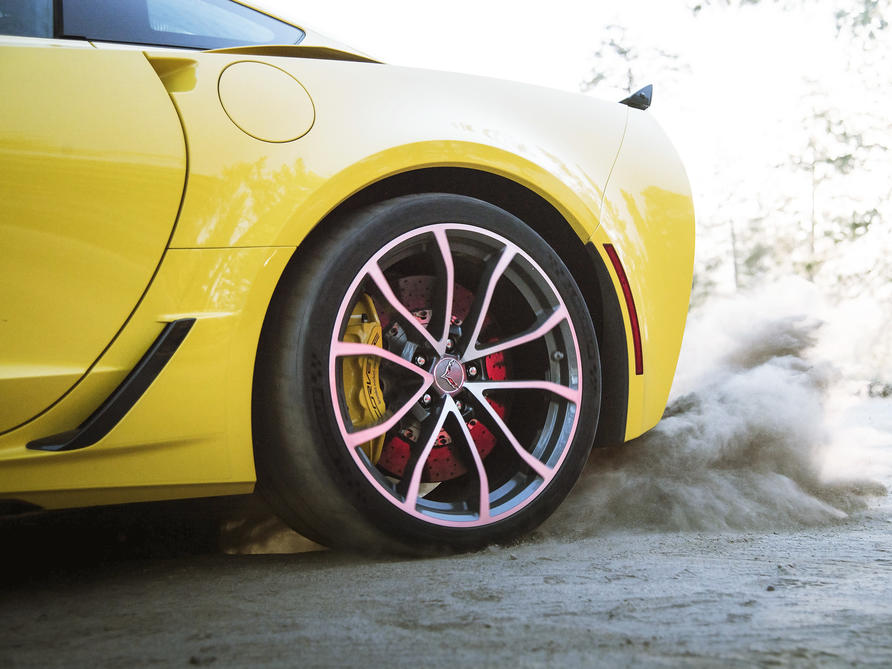 Not so much to test the cars, then, as enjoy and compare their engines. We aren't necessarily looking for a winner here, but we will all agree at the end which one we'd want to take home. And we don't want it to be against the clock as, even though they are all two-door coupes, each has been designed and built with different intents and purposes. But that doesn't mean we won't thrash them…
Which is why we start this journey in the rarefied – if superheated – atmosphere of the appropriately named Thermal Raceway, tucked away at the end of the Coachella Valley, two and a half hours east of Los Angeles. We've been here before, but it's grown so much since last time, it's almost not recognisable. 
This private club track – think the automotive equivalent of a five-star golf club – has three different tracks, ribbons of garages, a clubhouse and numerous privately owned trackside villas. But as enticing as all of that is, the only bit of Thermal we're interested in right now is the tarmac between the blue and white kerbs.  
Starting in the Corvette is like putting on a comfortable pair of shoes. Its mixture of grip and go make it a simple and easy proposition for any road or track foray. The 460bhp LT1 two-valve pushrod V8 might be able to track its ancestry back to the beginning of time – stop sniggering at the back, the first DOHC car motor was built in 1929 by Lycoming for Duesenberg – but you just can't argue about its dimensions and output.
Top Gear
Newsletter
Thank you for subscribing to our newsletter. Look out for your regular round-up of news, reviews and offers in your inbox.
Get all the latest news, reviews and exclusives, direct to your inbox.
Being about the same size as five or six cereal boxes stuck together, this dense little unit can be positioned exactly where the designers and engineers want it. Which makes the car handle better.
Especially when it's in this form. In the Grand Sport, the 6.2-litre motor gets the Z51's dry-sump treatment and the dual-mode exhaust so you – and your neighbours – can hear exactly what's going on in the engine room. Perhaps ironically, this engine will outlast all the others here in natasp form. With its main market being the US, and US emissions laws in Trump's America being only loosely enforced, it could rumble on for a few years before getting the forced-induction treatment. 
You can change gear as much for fun as need for speed
But that's future-gazing… right now, out on the track, the Vette feels light and tight, even with the chassis controls set to minimum. With immediate natasp power at your toe tips, you can tidily widen and tighten your line as much with the throttle as with the wheel. It's way easier and more predictable, and ultimately less dramatic, than in the supercharged Z06/Z07. 
Plus there's that noise. You've heard them at Le Mans thundering around. At night, you don't have to even look. Just like people knew bombers and fighter aircrafts' sound signatures during WWII, there's no mistaking when it's a Vette going by. It's one of the greatest sound signatures in racing and on the road.
Yet it's still not quite as sweet as that of the Maserati. As we leave the circuit and head for some higher, cooler ground, one overriding thought fills my mind. If ever a car was saved almost purely by its motor, this – and pretty much all the other current Maseratis – is it. Say what you like about the look of the car and its comfortable but, to be honest, dated interior. Scoff all you like about its price and engaging but ageing chassis. When you turn over and start this engine, all criticisms simply evaporate. 
Some of this allure is learned behaviour. For all of us brought up in British Leyland's worst, the sound of an Italian V8 was – and still is, to some extent – like hearing a V8 Formula One car at a go-kart track. You just stood and listened until, ears straining, you couldn't hear it anymore. So this Maserati has all of that going for it. But that's not the only reason it sounds so exotic and full of promise. This is also a genuinely brilliant engine. 
Offering a smidge less power (454bhp) than the Vette's 6.2-litre engine, the 4.7-litre, 90° V8 in the GranTurismo Sport has a long and illustrious history. Every Maserati owner will tell you their car has a Ferrari engine, which is both true and false. The F136 engine family was originally created in 2002 by Ferrari to provide engines for both itself and its GT stablemate. But, while they share some DNA they, like brothers and sisters, are not exactly the same. 
They both feature double-overhead cams, variable-valve timing and four valves per cylinder. But that's where the similarities end. The natasp Ferrari V8s, the last of which was fitted in the rightly hallowed 458 Speciale Aperta, were of a slightly smaller displacement and more highly strung. But the most significant difference is that the Maseratis have cross-plane crankshafts and the Ferraris had flat plane. Without going into sleep-inducing detail, they have different firing orders so they generate significantly different but similarly addictive sound signatures. 
So the GranTurismo has its faults and shortcomings, most of which can be blamed on it being almost 10 years old. But it is ultimately saved by its utterly gorgeous motor which lulls, thrills and genuinely entertains at all speeds from walking to vmax.
It's still not been confirmed if the updated model will be powered by a turbocharged engine when it arrives next year, but it looks likely, if not inevitable. Even though Ferrari has done a good job with the noise and thrills in the turbocharged 488 GTB, it's still the 458's sound that will be remembered forever. 
Which, as we head down into Palm Springs and the air-conditioned calm of a coffee shop, makes Lexus's decision to fit its new LC500 with a naturally aspirated 468bhp V8, and not the twin-turbo V6 we all expected, so much more interesting.
Something is going on at Lexus HQ... and we like it. Just when we all started to think the LFA was a one-off, the company gives us a shouty V8, launches an IMSA racing team using broadly the same engine, builds a boat and starts having a twang of our emotional right brain after years of playing almost solely to our rational left. 
And, before you think this is some all-new V8 created especially for this job in the LC, think again. If you look closely, you'll see the basic DOHC architecture of the motor goes all the way back to the first 1UZ-FE V8 fitted in the LS400, when the brand launched in the USA in 1990. That's not to say a lot hasn't been done to it since then to make it what is today – it's grown in capacity by a litre in those years – but it's got proper heritage just like the other two engines here. 
It's also got a proper soul, which no one was expecting. It rustles into life quietly but then you stab the throttle and, hello, it wakes up and wants to play with you. Even being mated to a 10-speed transmission doesn't mute or emasculate it. You change gear as much for fun as need for speed and can genuinely revel in its distinctive roar in the upper reaches. I mean, it even pops and burbles on the overrun like a proper V8 should. 
Perhaps the biggest compliment you can give the engine is that it makes you want to outdrive the rest of the car. A couple of times, I was having so much fun screaming through the gears I had to have a word with myself that this is a 1935kg car riding on 245/21 fronts and 275/21 rears. I had to tell myself not to expect it to handle and stop like the racecar I'm imagining I'm in thanks to the engine. Think of it as a Japanese muscle car and drive it accordingly, and you won't go far wrong. 
It seems odd to be saying that about a Lexus – well, anything other than the V10 LFA – but it's true. Say what you like about any other part of the car as that stuff is largely subjective. From a driving point of view, after over 500 miles of road and track work, we all loved it.
For the money, the Corvette's V8 is still almost unbeatable. And, for all its other shortcomings, I'd throttle anyone who criticised the Maserati's engine. But our preference here, in this company on these roads, the one that made us grin the widest and longest, was the Lexus LC500's V8. Enjoy it – and the other two here – while you still can.
2017 Gran Turismo Sport provided by Indigo Auto Group's Maserati of Rancho Mirage
The Lexus LC500's racing relations
Toyota Racing Development (TRD) in Costa Mesa, California is the home of Toyota – and now Lexus' – racing engines in the USA. It's responsible for producing and running the 725bhp 5.8-litre V8 pushrod engines for six cars in two NASCAR cup teams.
It's now also responsible for prepping the DOHC engines, very similar to that used in the LC, in the two IMSA Lexus RC-F cars. To find out a bit about Toyota's V8 race engines we spoke with Steve Hallam, Senior Manager at TRD and overseer of Lexus's IMSA program among others. And to get some insight on sitting behind the race version of the LC500's motor, we've got IMSA driver Robert Alon here, too.
Steve got to TRD via Aston Martin, Team Lotus, McLaren F1, so it's no surprise that a) he's British and b) he talks a lot of sense about engines. But even so, our jaws hit the floor when he tells us just how many engines they make at this facility. For the six Toyota's running in the 38-round NASCAR Sprint Cup, the 200 staff make a total of 450 race engines – yes, four hundred and fifty ­– a year. Each takes 140 hours to build and is used precisely once. Some of the components are reused, but a lot is replaced. Do the sums on that, and your mind melts.
In stark contrast to the NASCAR engine output, the facility prepares just six engines a year for the two Lexus RC-Fs entered in the 13-race IMSA series. The engines are made in Japan this year but will be built here at TRD in 2018. Despite a couple of the IMSA races being multi-hour endurance events, and Daytona being a full 24-hour slog, Steve says "we probably won't use all six". It's slightly bigger capacity than the LC500 at 5.3-litres and produces 540bhp-plus – the specific number depends on the balance of performance which varies from track to track. But it's otherwise the same 32-valve DOHC chain driven motor with dual VVTi as in the red Lexus LC500.
Which is cool. But not as cool as Robert's job, which is to wring the GT3 RC-F's neck. What does he think of his naturally aspirated V8 compared with the twin-turbo V6s, mid-engined V10s, etc in his class? "It has very linear power," he says. "It allows me to keep the car really well balanced and put the power down efficiently." He says he feels the advantage most from apex to max power. We nod as if we're listening, but our minds are already at the track in the LC…