Bikes
Valentino Rossi, by Suzi Perry
Woods, Ali, Senna... Rossi? As MotoGP's greatest showman hangs up his leathers, the pundit who knows him best asks what makes him so special
Valentino Rossi. A phenomenon who almost single-handedly created a global addiction to MotoGP, winning nine world titles and a demigod status to boot. We became as addicted to him as he was to racing bikes, and boy we couldn't get enough. But he has now called time on his unprecedented career on two wheels, so why have we been so obsessed? What makes him so special? Does he get a wristband to the exclusive club of god-like talent alongside Hunt, Sheene, Pele, Woods, Jordan and Ali? These choices are subjective, but I'm calling yes.
Of course, everyone knows Valentino for his on-track success and his flamboyant off-track antics, but what do we really know about the 42-year-old Italian megastar who has never courted the media, preferring to let his racing do the talking? For context, I'm not here to pretend that I'm his bezzie mate, but I have been interviewing him for 25 years; a relationship built on respect and the odd post-race party.
Advertisement - Page continues below
It's a working bond that others have described as a special relationship, but really I've just been bugging him with questions for over two decades. I know him well enough to have wiped his face clean with my hand straight after he won a world title (I didn't want him to have a snotty cheek during the interview) and to have ridden pillion with him around London, but probably not well enough to be considered a friend.
Photography: Getty and Gold & Goose
And still, after all this time, I always find Vale enigmatic. He remains a complex blend of breathtaking showman and slightly gangly boy next door, always engaging, always focused. He is fiercely loyal to his inner circle of mates whom he has known since he was a child, most still working alongside him, all of whom protect him equally ferociously. He is a thoughtful and compassionate person as well as being ruthless in race colours. It's a heady mix.
But saying that, he has an uncanny ability to leave an indelible impression on a much wider circle. When a bike-turned-flying-missile was centimetres from taking him out in Austria last year, everyone was horrified. The race was restarted and we carried on as normal but afterwards the deeply shocked paddock reflected on how the outcome could have been so very different that day.
Advertisement - Page continues below
The likeability is probably in his genes, mind. Young Vale grew up around racing. His father Graziano was a colourful GP star from the late Seventies and a friend of our Bazza (Sheene). Signor Rossi Senior used to take his hen Christina for walks in the town, so you can see where his lad possibly took inspiration for his future (now infamous) celebrations. I know his dad, and in my early days at Sky he helped me get hold of his lad when I needed him for interviews. He is affectionately bonkers.
As much as he could play the clown, make no mistake, he is no fool
And while his father is as effusive as he is, Valentino's beautiful mum Stefania prefers a more private, measured approach to life. She wanted her son to be an engineer. Of course life had other plans for her firstborn, but family is at her heart and they never miss a celebration of Vale's birthday, her 'Peter Pan' son who has kept a top flight career burning brightly for 26 years, far longer than anyone else in the world of motorsport.
That career has brought joy to millions, but the heart has always been at home. Il Dottore, The Doctor as he is now known, was raised in Tavullia; a 16-mile square village in the province of Pesaro and Urbino and they worship their revered son whose race number is 46. The speed limit is 46kph. Visitors flock to the VR46 fan club shop. They split a pizza at Vale's restaurant and stop to give the clock tower a glimpse where they ring the bell every time he wins. It may have been quiet for a while now but there was a time when the place celebrated so hard, they forgot to switch it off and it chimed proudly for an entire night.
It wasn't bikes in the beginning though. The 'Rider', as he has always called himself (a lighthearted nod to how the Japanese refer to their pilots), actually began racing karts. The pathway to F1 looked too expensive for the family and just as the mini moto craze hit Italy, he hopped onto two wheels and the passion emerged.
Truthfully, it's more like a love affair that he has developed with his bikes, like Clapton and his guitars. At the start of each season Valentino places personally designed stickers of his pets and sponsors exactly where he wants them on the bike. At night he talks to his beloved machines and once, he even wrote his Yamaha M1 a love letter for all the winning championships they had shared. He is a rare gem.
And it's probably his antics that have forged the legend as much as his brilliance. At the British GP back in 1997, because of its proximity to Sherwood Forest, 'RossiFume' appeared on the podium dressed as Robin Hood complete with bow and arrow. Already he was emerging as a natural born entertainer, not just a super talent on the track but a self-assured frontman, with a penchant to create theatre, which in turn saw Osvaldo the chicken, toilet cabins, angel wings, a tenpin bowling strike and a speeding ticket all becoming memorable celebrations.
Top Gear
Newsletter
Thank you for subscribing to our newsletter. Look out for your regular round-up of news, reviews and offers in your inbox.
Get all the latest news, reviews and exclusives, direct to your inbox.
But as much as he could play the clown, make no mistake, he is no fool. He has never openly admitted that he made races more exciting by leading, dropping back and then winning, but... he possibly did. He is an astute businessman, founding the VR46 Academy, and he runs a highly successful merchandise empire. The numbers make the point emphatically; nine Grand Prix world titles, seven Premier Class, 115 wins, 235 podiums (so far), 65 pole positions and – as of the Brit GP this year – 366 races. Within this, it's worth mentioning that in his Premier Class career he took the title on a 500cc privateer bike before the series went into the four-stroke era.
Much was rightfully made of his switch from the championship-winning factory Honda team to the ailing factory Yamaha team for the 2004 campaign. Most thought that he had lost his mind and that ego had got the better of him. He wanted to show that it was the rider who could make the difference and indeed he did.
Victory came following a tussle with Biaggi at the first race in Welkom, South Africa. Those images of Rossi with his head slumped, sitting by his bike are unforgettable. Many thought he was crying in disbelief, he was actually laughing. It was a master stroke from a master talent and one of his most cherished moments. For me it remains his biggest achievement. One thing is for certain: throughout the decades the Sunday Man has been a maestro of both machinery and mind games.
Just looking at the stats, though, completely misses the more subtle Rossi effect. His records can and possibly will be broken, but his legacy is unlikely to be surpassed. Very few transcend sport like he has. Every race has become a home race, such is his popularity and global fanbase. The obsession runs way beyond the Tricolore borders – a point well made in 2015 when Lord March called me with great excitement, exclaiming: "I've finally got hold of Valentino, he's coming to Goodwood! He will be celebrating Yamaha's 60th anniversary and I want him to do a balcony interview overlooking the grounds, can you host it?"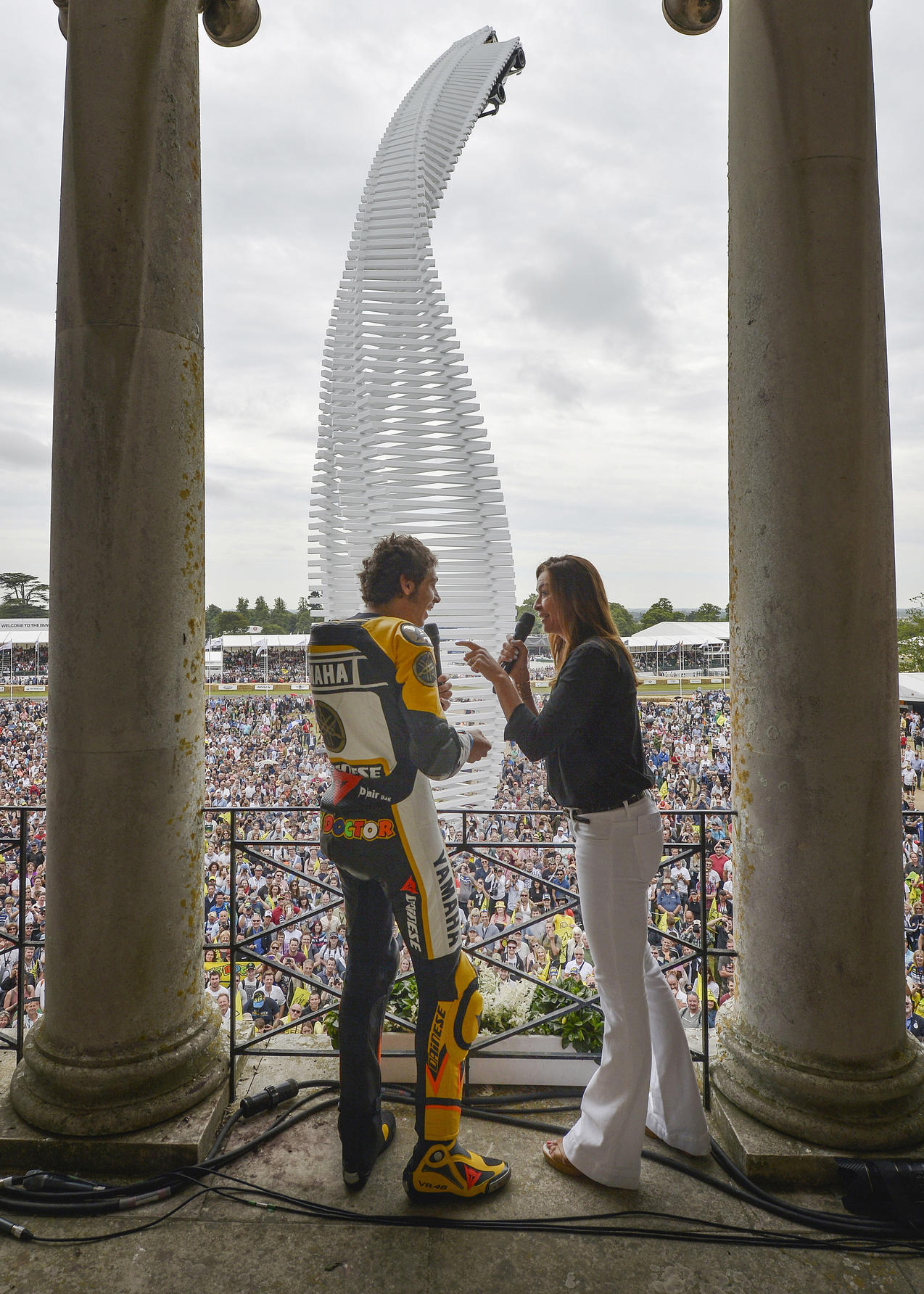 It was a stonking day. Rossi rode through the grounds and into the house. The sight was glorious, with a resplendent Vale on a Yamaha with a retro livery. My job was to whip up the crowd and do the big build up on the balcony while he was coming up the stairs. The place was packed, you couldn't see a blade of grass. The preamble went on a bit, everyone was getting revved up, and finally Vale appeared. I was practically in a backbend shouting his name, he was laughing and everyone lost it when he finally graced the terrace. He was on top of the world and the chat reflected his mood. Afterwards he embraced me to say how much he'd loved it, Lord March did the same. I've never forgotten it.
I may have painted a rainbow picture. Valentino has made his mistakes. The Ducati years were a low point, there have been the injuries and lack of results in recent years and even though he is riding faster now, perhaps Father Time has caught him in the slipstream. But this has been one hell of a ride. He has inspired a whole generation of racers as he switches his race focus to four wheels. Le Mans 24hrs anyone?
Never say never... There's plenty more to come from Papa Rossi.