Le Mans 2023
Welcome to Top Gear's 24 Heures du M25!
Ladies and gentlemen, press your start buttons: it's time for the world's toughest (and most idiotic) endurance event
Welcome to white knuckle endurance racing, 2023-style. This is the inaugural (and, let's be honest, probably last) 24 Heures du M25: a daylong, non-stop battle round London's notorious, traffic-jammed orbital. The 117-mile loop most drivers avoid at all costs, but that we're selflessly embracing for the ultimate real world EV challenge.
The rules? Simple. Most miles racked up in 24 hours, wins. Only miles accrued on the M25 itself count. Direction changes are permitted, but only after completing a full lap. Tapping out is not an option.
Advertisement - Page continues below
The cars? Precision honed efficiency machines: the five longest-range electric cars on sale in Britain today for under £50,000. Each will be staffed by a team of two drivers, one driving while the other takes the opportunity to sleep/eat/weep at Hertfordshire's glamorous South Mimms motorway service facility.
So, at 12.16pm precisely on a cold, grey, early spring Wednesday, the flag drops and five EVs roll silently onto junction 23 of the M25.
Meet the teams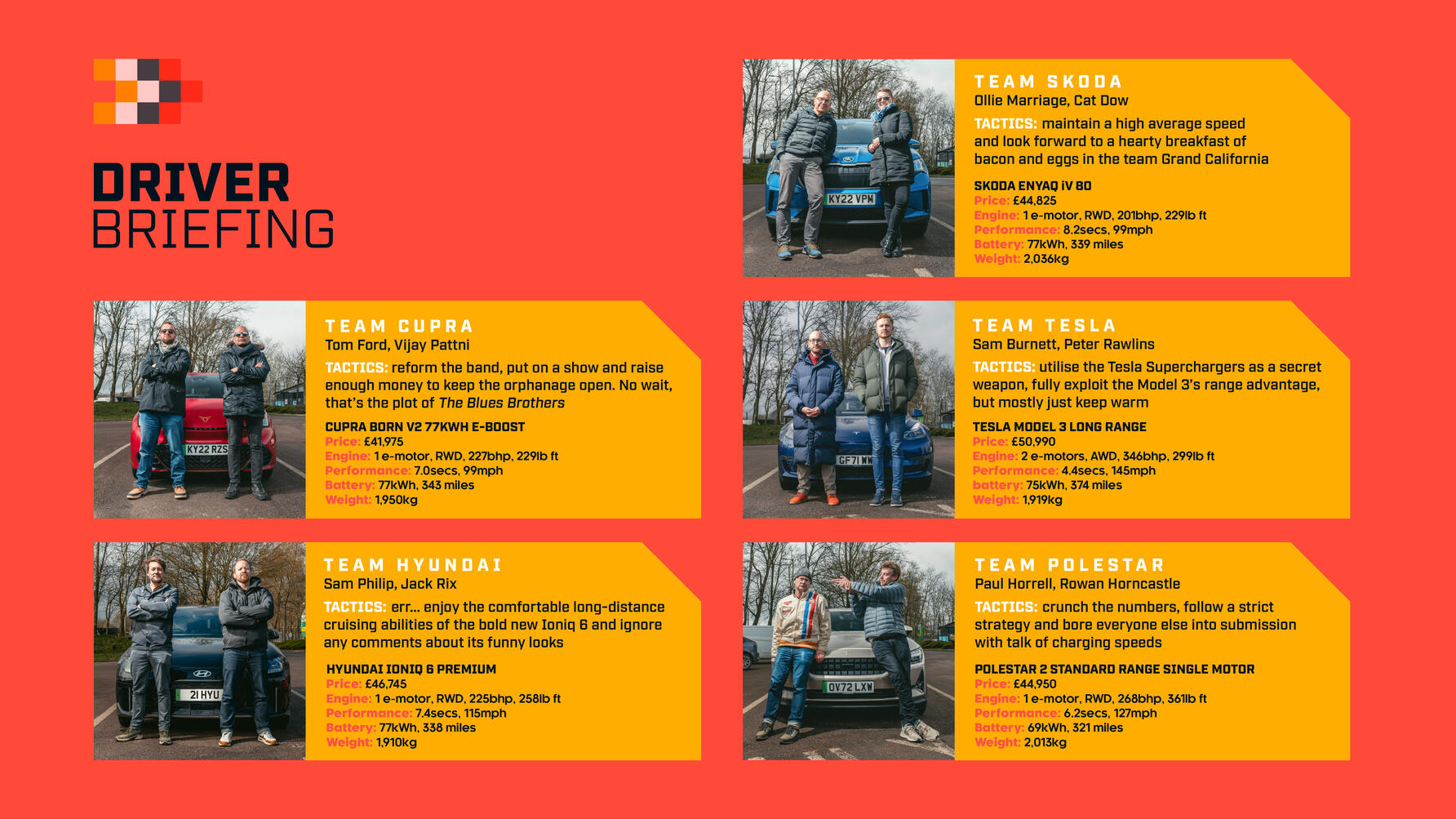 TEAM HYUNDAI (Sam Philip): Editor Rix and I are helming the banana-tastic Hyundai Ioniq 6, and frankly I'm not sure I fancy our chances. Firstly because, despite its streamlined profile and slippy drag coefficient, it has one of the shorter ranges of our five contenders, its 77kWh battery rated at 338 miles. Secondly because I have the bladder capacity of a harvest mouse. Thirdly because our tactical approach runs, basically, 'drive at speed limit until low on charge. When low on charge, recharge'. Others, it seems, have gone rather more detailed on the strategy front.
TEAM SKODA (Ollie Marriage): There are only three main EV charge spots on the M25: South Mimms, Thurrock and Cobham. My strategising has been done not with the chargers in mind, but the traffic. I've set up a Google Maps planner linking the chargers, which also allows me to tell which direction is quickest for lapping. I've arranged for an Enyaq on the smallest wheels possible (still 19s), which, in front of everyone, I inflate to the max recommended pressures. Psychological advantage. As we pull away, it tells me clockwise is eight minutes faster. Bar the Polestar, the others have come to the same conclusion. Photographer Jonny Fleetwood attempts to corral us together for a shot as we pull onto the M25. I'm having none of it and scoot round everyone into an early lead.
Advertisement - Page continues below
TEAM POLESTAR (Paul Horrell): Not yet sure if the strategy I've designed for me and Rowan Horncastle is the right strategy. But I'm quietly confident, because I've just learned none of the others really have a strategy at all. One small component of my strategy is to seed complacency into our rivals. So I make a big fuss about the fact Polestar has accidentally lent us the wrong car – it's the 69kWh Standard Range version, not the bigger battery long-ranger. And I ostentatiously tape up the panel gaps for aero effect when I know it'll make little difference, and I know they all know. It'll work if they don't know I know they know.
This race, like Le Mans, will be won in the pits. EVs recharge fastest when the battery is in the lower half of its state of charge. So it's best even for the longest-range cars to charge flat-to-half and then do one lap, rather than flat-to-full and two laps. Also, it's quicker to drive as quickly as possible and spend a little bit of extra time charging, than to drive slowly for better efficiency.
TEAM CUPRA (Tom Ford): There's something therapeutic about watching Paul Horrell furiously shuffle stacks of printouts and precisely tape up panel gaps. A kind of Zen that appears when you realise that everyone is planning on camping in the South Mimms car park and you've – perfectly legitimately – simply booked the hotel next door. Yes, Team Cupra's strategy for the Trawl du M25 was to do exactly what no one was expecting: act absolutely normally.
I just looked up chargers on the M25 and went with it. Anything too involved wouldn't give any kind of meaningful result and, according to calculations, the Born should manage a couple of laps per run with 85 per cent state of charge and a smidge to spare. So that was the entirety of the plan; no aircon, two laps, charge to 85 per cent, repeat. Sledge the competition at every opportunity. Interminably repeat. Oh, and accidentally miss the start, so we leave at 12.18. Sorry.
TEAM TESLA (Sam Burnett): Don't tell anyone, but our Model 3 Long Range actually costs more than £50,000. But what's £990 between friends? Our forward planning amounts to deciding to go clockwise to skip the tunnel at Dartford. There's always loads of traffic everywhere on the M25, and the views are nicer up top. Strict BBC health and safety rules (boo) mean a maximum of two laps at a time for each driver, so there goes the Tesla's range advantage. We do have the youngest average age though – fewer toilet stops. Tesla's Supercharger network will be our secret weapon – nice and fast, and none of the other teams can use them. See you later, suckers...
/// 2 HOURS COMPLETE ///
TEAM SKODA: I appear to have left the M25. How the hell did that happen? Curse the A21. I turn around in a Chipstead cul de sac and rejoin, still, I think, in the lead. But then Waze pops up and tells me there's an accident ahead, and the traffic is backed up nearly, but not quite, to Cobham services. No plan stands first contact with the M25, so I dash in for an early top-up at the only charger left – I'd rather be standing still and charging than just standing still. It pulls 56kW when it should be getting 125kW. Even so, the tactic pays off. I rejoin to a clear M25. I'm convinced I've snuck in a devious winning move.
TEAM HYUNDAI: Live telemetry was beyond the TG budget, and everyone's being coy about their mileage. No one's really got a clue who's leading. In the Ioniq 6, I'm trying not to let it bother me. Cruise control at 70, kick back, enjoy the drive. Or at least try to. If you're ever condemned to drive the M25 for eternity, you could do worse than this car. Despite its squished profile, the interior's airy, and it rides with a lovely gentle lope. The lane keep stuff is subtle and helpful, reducing stress rather than stoking it.
Top Gear
Newsletter
Thank you for subscribing to our newsletter. Look out for your regular round-up of news, reviews and offers in your inbox.
Get all the latest news, reviews and exclusives, direct to your inbox.
It's not all bad, this EV revolution. Here's a Hyundai family car – not a cheap Hyundai family car, but still – that glides with the whisper quiet effortlessness that, just a few years back, was the preserve of big Rolls-Royces and Bentleys. Electric's democratising the waft. Another 20-something hours of this? Easy meat.
TEAM POLESTAR: For the first stint I'm Rowan's onboard telemetry coach. We set the ACC around 70mph, where it doesn't quite trigger the M25's hundreds of speed cameras. The rules say that after one lap you can change direction, so we're able to get back to South Mimms at about five per cent having started at 100, and bang it back up to around 65 per cent for the next full lap in 23 minutes. And so the day proceeds: lap, 23 minutes of recharging and driver swap, lap.
TEAM TESLA: Peter does an inspired first lap of eco driving, then has to charge straight away. Oops. The Model 3 has a default charging lock at 80 per cent battery, which we didn't notice before the start, so we're immediately on the back foot. Still, easy enough to change once you've noticed, and we're not worried about anything so piffling as long-term battery life. The virtue of the Supercharger is that it speaks to the car and there's no fussing about with credit cards. That'll save us about three hours.
TEAM CUPRA: Right now, the Born is basically killing it. A very respectable 4.2 miles per kWh gives a real world range of roughly 323.4 miles on a full charge, so two M25 laps, even in low temperatures, sees us arrive back into South Mimms and its 175kW chargers with 16 per cent still in the battery, and a head full of motivational podcasts. The Cupra's charging ability might be slowish, with a hard to find peak of 135kW, but it's solid: 30mins and we're off again, this time in the hands of Vijay, attempting to become fluent in Italian during his laps. Forza, Pattni.
TEAM SKODA: Google tells me it's now quicker to go anticlockwise, so I come off and reverse direction – get back past the congested western side before evening rush hour bites. See? Strategy! This is a distance challenge not an efficiency drive after all. In a similar vein, I'm choosing to 'make progress' rather than 'make each kilowatt count'.
/// 5 HOURS COMPLETE ///
TEAM TESLA: How foolish we were but a few short hours ago. There's a permanent queue for the South Mimms Superchargers, but fortunately by this point we've discovered the cosy charms of the Tesla dealership in Dartford just after the bridge and, at 61p per kW, we're paying less than anyone else.
TEAM SKODA: Handover to Cat. Warn her about cold hands from driving with the heating off and offer her the gloves I threw into the footwell and haven't been able to retrieve since. She points out the Enyaq has a heated steering wheel. Ah. Those of us at South Mimms aimlessly peruse the services, becoming ever greyer and more listless. In the spirit of glasnost I share with others our 3.5mpkWh average so far. Sniggers. We don't have the aero of our rivals. The Cupra and Tesla are both doing over 4, the Hyundai 3.8.
TEAM CUPRA: I go for a shower in my comfortable hotel room. I don't need one, just felt like I should make use. In the South Mimms pits, Paul Horrell is fretting himself transparent, and Sam and Jack's Hyundai has bombed from a 175kW pull to 7kW. They ask if I know why, and I smile enigmatically as if I do. I don't. I just want them to worry.
TEAM HYUNDAI: The Ioniq's being scuppered by capricious charging. No matter where we plug in – Ionity, Gridserve, AppleGreen – we're getting wildly varying charge speeds, sometimes flying along at 150+kW for a minute or two before plunging to single-digit speeds, sometimes chugging at 30kW while the Polestar in the neighbouring bay is pulling triple figures. I know recharge rates are a fickle mistress, but this is bonkers.
Perhaps it's an issue with the software on our preproduction Ioniq 6. But how to tell? There's a whole bunch of complicated back and forth between charging point and car, but as the punter, all you see is the (generally disappointing) headline speed. As editor Rix flails from socket to socket in desperate search of a heavy, steady flow, I settle down for a few hours of VW van envy in the petite Caddy California, tucked in the shadow of Team Skoda's glitzy Grand California.
/// 10 HOURS IN ///
TEAM POLESTAR: A quick Ionity charge at Cobham, before a tactical direction change to avoid rush hour Dartford tunnel. Our single lap strategy suits the human. A four-hour double stint is too long to drive in the night, and not enough for a full sleep. Better to drive more briefly and catnap. For centuries sailors have done two-hour night watches. But our Glampervan is a better place to sleep than any yacht I've sailed. It's heated, has a thick mattress, and a comms suite for tactical updates. I feel truly sorry for the Tesla crew next door in the freezing uninsulated Transit. Just not sorry enough to invite them in.
TEAM TESLA: We might have gone a smidge over budget on the car, but Ford's e-Transit is true no-frills accommodation, offering overnighters the pure buzz of zero emissions and zero comfort in sub-zero temperatures. Sure, it costs £3k more than our actual car, but it's £30k less than the Grand California and multitudes less than whatever Rowan and Paul are over there Breaking Bad inside. How much extra value do windows and soft furnishings add? Peter and I have got our hot water bottles, a can-do spirit and plenty of biscuits. Sure, I jolt awake at 2am thinking I've been kidnapped, but the true virtue of the e-Transit is that driving endlessly round the M25 in a Tesla is sweet relief in comparison. I've started chomping toothpaste tablets like sweets to try and freshen up before Peter comes in hot for a pitstop.
/// 12 HOURS COMPLETE ///
TEAM SKODA: Now night has set in, M25 driving standards have markedly improved. Until now lane discipline has been utterly woeful, encouraging full 'LMP1 among GT3 cars' weaving tactics. I catch and pass the Cupra. Pure tortoise and hare stuff. I'm correctly convinced Wook and Vijay are on a two-lap strategy, while I'm doing 'charge to 80 per cent and send it'. Then the M25's closed around Heathrow. I do my Google Maps check. Much quicker clockwise – there are two closures going the other way. I check the locator and notice the Polestar appears to be in a suburb of Leatherhead. I chuckle.
TEAM POLESTAR: Roadworks are slamming us. We'd looked at live traffic and decided Rowan's 10pm shift would be best clockwise, but he hits a closure near Heathrow and the others begin to catch him. So I try anticlockwise next, but the diversion is even bigger. It's an extra 20 miles, and since we've been arriving at the charger at three per cent it could be disastrous, except it's so slow I'm hardly using any juice. Worse, when I get back to South Mimms I meet the Cupra and Tesla. The penny has finally dropped with them that our quick-stop one lap strategy is the one to follow. Our lead begins to look assailable.
We've entered the 'panic and scream at plug sockets' phase of our strategy
TEAM HYUNDAI: We've entered the 'panic and scream at plug sockets' phase of our strategy. A woeful stop at Cobham, where both the Gridserve and Ionity chargers refuse to play ball in any useful way, costs Team Hyundai half an hour of driving and, I reckon, any chance at victory. In self pity, I treat myself to five minutes of heating, then immediately rue my profligacy. All this worry does, at least, do a fine job of stopping tiredness or boredom from setting in.
/// 16 HOURS COMPLETE ///
TEAM SKODA: Thurrock is our secret weapon. Twice the number of chargers, they're always available and they're fast. Also, at 66p per kWh, the cheapest. I get there at two per cent charge. Cobham's nice inside, but this place is a dump. So I set an alarm for 30mins, put a scarf over my eyes and power nap. It works a treat. Thank you, excellent Skoda seats. Self and car recharged, I'm out for another lap. By 5am I reckon we've taken the lead. We've done 850 miles as I wave Cat off and get my head down for a few hours.
TEAM CUPRA: The Born has stuttered slightly. A drop in temperature, slightly raised speed average (Pattni, I'm looking at you) and night time diversions mean we can't manage two laps per charge. So it's a tap back into the Mimms for a 10-minute top-up and continue. We're racking up the miles, and all with a sane strategy – little stress and the Born ticking along happily. It is at this point I realise that if we'd been a little more anal, we could have been in contention. But instead, I turn up the stereo and try to learn how to be the best version of myself I can possibly be.
/// 21 HOURS COMPLETE ///
TEAM SKODA: I wake up to find the Enyaq is on charge outside, sitting at 95 per cent. By my reckoning it should have been halfway round a lap. Uh-oh. Tiredness caught up with us and there's been a miscommunication. End result: a pit catastrophe to rival a cross-threaded wheel bolt. The mileage is at 973 and we've got less than three hours left. I set off, intent on burning as much charge as possible. I even use the heating.
TEAM CUPRA: With 35 minutes to go, I'm back at the wheel and passing South Mimms again, so decide to continue, just to eke out those final few miles. We were aiming for 1,000 miles, and we passed that over an hour ago, so now 1,100 is in reach if I can average 72mph. Not easy on the M25.
TEAM POLESTAR: The late morning lap is a breeze: sunny and quick, and the Polestar's seats remain brilliant. But – aaargh – I've been too cautious with the final charge, left too much headroom instead of unplugging and heading out three minutes earlier. My initial stretch target for this exercise had been 1,000 miles. As the clock ticks down to zero, I tick past 1,200...
/// 24 HOURS COMPLETE ///
TEAM HYUNDAI: As the 24 hours elapses, we're all scattered to different corners of the M25. No one knows who's won. Pure tension. We call in our mileage to race HQ, and, a few minutes later, the results come back. It couldn't be closer. The Tesla has pipped the Polestar to victory by three miles, a winning margin of just a quarter of one per cent. The Model 3 is our EV range champion. Sam and Peter, congratulations.
TEAM TESLA: I'll be honest, by the final 90 minutes I'd given up any interest in winning, assuming the Polestar had yomped ahead on its strict strategic approach. I think I saw Rowan hiding from Paul inside the services earlier. Our win I can put down to the fact that I've got photographer Jonny in the passenger seat for the last stint, and from previous experience I know he feels intense range anxiety by proxy. I set a course to finish at South Mimms on 0 per cent battery, just to wind him up. That more than accounts for the three miles in hand at the chequered flag. Sorry Paul.
TEAM POLESTAR: Sore loser though I am, it's compensation to have laid to rest the terrible old cliche that a Tesla is the only EV that's tenable for roadtripping. And if internet commenters say we did well in this EV race only by strategising and planning, I'll point out the same is true of Le Mans. Where they drive on petrol.
TEAM SKODA: Well, we were first car back to the South Mimms pits. That's got to count for something, right?
TEAM CUPRA: You were also the least efficient Marriage. Whereas ours is the only car to better 4.0mpkWh. OK, the Cupra may not have troubled the podium, but we're not actually that far off. It shows militant driving-slash-planning does work, but the gains are marginal. It also shows the Cupra Born is a useful little companion even on big trips. We've learned that you can easily do over 1,100 miles in 24hrs in an EV without being too silly about it. We've also learned coffee, wasabi peas and dried prunes are not roadtrip food.
TEAM HYUNDAI: Digestive repercussions aside, I reckon we're all winners. Or equal losers, at least. Our five cars have racked up a combined 5,800 miles, the distance from London to Japan. Which, with hindsight, might have been a better use of time and electricity. But we've proven that if you want to do big miles, electric cars are now fit for long-distance purpose. All five EVs have run faultlessly, managing longer between stops than the average bladder.
Not yet fit for long-distance purpose, however, is the public charging network. Even the teams that didn't experience the Ioniq's capricious charge rates encountered issues: too much competition for plugs at busy times, too many non-functioning points, too many fully charged Hyundai Konas blocking bays as their drivers took a scenic tour of the services. And when you could get plugged in: expensive. We could have covered the same distance on petrol for less cash.
It's all fixable. The infrastructure just needs big investment, and quickly. Maybe it'll be a different picture next year. Same time 2024 for the 48 Heures du M25, anyone? Anyone?