Adventures
What are tuner cars actually like to drive?
Are SEMA cars all show and no go? We take a widebody Porsche 964 on a road trip to find out
As the bleary-eyed emerge in clouds of the vape smoke from Sin City's - ahem - related service industries, my morning has just got considerably more Reservoir Dogs.
I'm waiting in the plush surroundings of the Aria Hotel's casino for a man called Mr Fish. I have no idea who Mr Fish is, what Mr Fish looks like or what Mr Fish does. But I want something that belongs to him. His car: a unique turbocharged, matte black super widebody and slammed Porsche 964. 
Advertisement - Page continues below
Like thousands of other cars, it's been sat on the carpet of Vegas' hefty Convention Center for the last week at the annual tuning show, SEMA. See, each year when the Las Vegas Convention Center isn't playing host to middle-aged men dressed as superheroes, or the very best in adult entertainment, its fluorescent strip-lit halls are filled with the most outlandish creations the tuning community has to offer.
Words: Rowan Horncastle / Photos: Mark Riccioni
With more than 40 miles of stands in two massive, double-decked halls – plus vast outside expanses of show and event space – it's one of the densest and most mind-boggling car meets on the planet. These are cars that have to be seen to be believed. Creations that make you wonder if you've accidentally walked into the wrong wardrobe and into some demented car-based coo-coo land. Mr Fish's is one of them.
Advertisement - Page continues below
Once upon a time it used to be a relatively clean red Porsche 964. When released in 1989, the 964 marked the biggest change to the 911 in its then-25-year history. Since then, this one has had, erm, quite a few more changes. Initially, it was used as a donor car for a marketing project by video game manufacturer EA Games to promote the latest version of the amazingly successful franchise, Need for Speed. The trendy marketing bods pitched to the big wigs on the board that the best way to promote the game was to build a user-generated car that profiled the personalities and tuning aesthetics of the characters in the game.
See, where tuning in the UK was largely dismissed as ASBO Chav culture in the late Nineties and early Noughties, it's now big business. A sector that generates revenues in excess of $31 billion annually and has seen manufacturers hopping on its bandwagon in order to line their wallets. 
Some tuners have now become online celebrities and household names that the automotive fat cats want to cash in on. People like Magnus Walker (the Brummie rasta and underground hero for anti-establishment Porsche tuning), Ken Block (he of hooning fame), Akira Nakai (the architect of Japan's super widebody Porsche movement), Shinichi Morohoshi (king of the flashy Lambos) and Bisi Ezerioha (a Nigerian street racer who uses science to make 1,000bhp oddballs). EA wanted to get these great artists of one industry to come together for a special project (a bit like Band Aid) to create the ultimate tuned Porsche.
Sounds like a great idea, doesn't it? But there was one incredibly volatile ingredient thrown in the mix: The Internet. It would be up to the online community to come up with the part list and final design for the 964. Now, as you may be aware, internet forums aren't known for conclusive, rational decisions. So the outcome was – how do we say this? – a mess. The phrase 'a camel is a horse designed by a committee' comes to mind. Just think of this camel being a perfectly good 911 but with many, many wings, every tuning detail possible applied, no sense of direction and a paint job that Ray Charles would frown upon. It needed to be stripped back, to be simplified and refined. 
That's what was at SEMA this year: Gen 2. A swollen, mean and charred contrarian of a 964 that excites enthusiasts and offends purists in equal measure. Branded the 'Spirit of 147', it's a nod to the first proper competition Porsche 911 that entered the Monte Carlo rally in 1965.
Now, you may have noticed that the wheels aren't where they normally are. They're a full wheel width outside the silhouette of the 964. To fit the bodywork around it, over arches and bumpers were handcrafted by Nakai-San of RAUH-Welt Begriff, or RWB to the people in the know. 
Hailing from Chiba, Japan. Akira Nakai has become a globe-trotting cut and rivet machine. He's commissioned by owners to fly to their country and build one-off 911s with big hips and bloated front lips. Arriving with an air saw in one hand and packet of cigarettes in the other, he silently glides his fingertips over the car, caressing the arches before stepping back, kneeling down and lighting another cigarette. Then, he closes one eye, calibrates his sight and vision for the perfect stance. He then gets to work with nothing but good judgment and masking tape to back him up. Plunging his air saw into the standard Neunelfer arches with the grace and deftness of a slasher film, it gives Porschephile purists apoplexy. Then he grabs his supersized wide arches and rivets them on before filling in the gaps with rubber. It's catnip for tuning enthusiasts and has provided quite the following as his creations, apparently, embody the word 'stance'.
Top Gear
Newsletter
Thank you for subscribing to our newsletter. Look out for your regular round-up of news, reviews and offers in your inbox.
Get all the latest news, reviews and exclusives, direct to your inbox.
This is the all-important relationship between ride height, camber and arch fill. Something helped on the 964 thanks to an air suspension kit from AirLift Performance. With a few clicks of the remote and 'psssts' from the arches, you can raise or lower the car for the perfect ride height. Which, to most people in this community is slamming its belly to the floor. Meanwhile, hidden in the back is the standard 3.2-litre flat-six engine. But it's had some magic sprinkled on it by scientist-cum-racer-cum-über–tuner Bisi Ezerioha. He's obsessed with useable horsepower and famed for giving your mum the ability to do front-wheel-drive rolling burnouts on the way to the shops thanks to a Honda Odyssey with over 1,000bhp. So tucked under that booty of a bumper is 61mm Turbonetics turbo running 5psi.
Finished with race buckets, a ginormous exposed intercooler and fat, sticky Toyo R888R track day tyres and the fact it looks like it's been fished out of a tar fondue, it looks like it should be driven. Which brings a valid question: what are these tuner cars actually like to drive? Surely the guys at Zuffenhausen know what they're doing? And does adding these performance parts actually make a difference? Well, that's why I'm trying to find Mr Fish.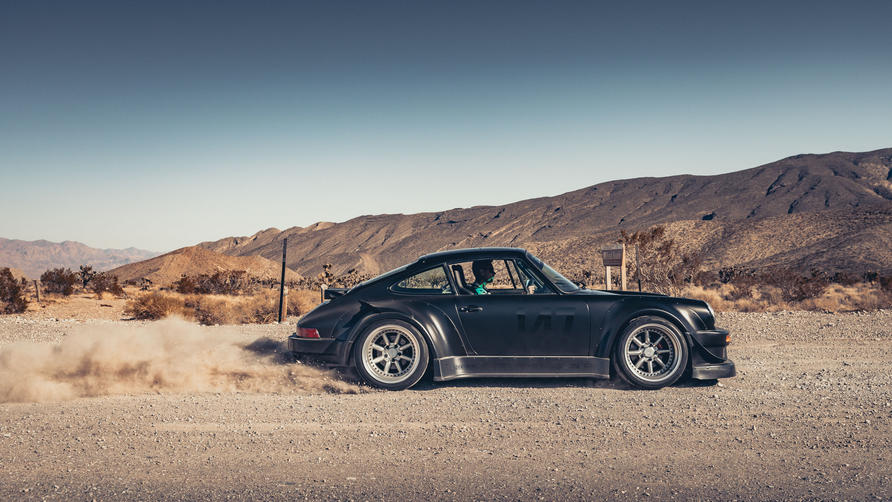 He arrives. Looking nothing like something from Reservoir Dogs, rather in the SEMA exhibitor's uniform: branded hoody, branded snapback and baggy low-slung jeans. He quickly lays down the ground rules. "There's only one stipulation," he says. "I don't want to drive the thing. You can drive it as hard as you like. Drift it. blow it up. I don't care. Just don't make me drive it." I raise a questioning eyebrow. "I've got a weird body – little legs and a really long torso," he says while cocking his shoulders back and sitting up straight to show me. "Driving it last night was agony. So you'll have to do all the driving. That cool?"
One word: yep. And within a millisecond I have the keys and slink myself into the wonderful Cobra houndstooth bucket seats. Dead ahead is racing wheel of perfect proportions to the cabin. Behind that a big exclamation mark illuminated in the rheumy plastics. I'm told not to worry about that. At the end of my feet squidgy old school pedals. With a turn of the key, the air-cooled engine chunters into life. A stab of the throttle and the turbo system wakes up with a whistle and a hiss. No lie: turning onto the strip, I'm a little bit anxious.
The Strip – the broad artery that allows Hummer limos, taxis and supercars to tear up and down casinos like a rip current – is eight lanes wide yet always clogged with traffic. Piloting the 964 down is like driving a snowshoe as its footprint on the road is way more than your peripheral vision and visual hard points dictate. Up front, you have bubble bonnet fog lights to guide you, then to the side what looks like the flanks of a normal 964. But it's those big hips you have to worry about. They have the ability to collect pretty anything and I have no idea where they are sitting so low. And no mirror on the passenger side to help me out. Negotiating it out of tight spaces is like Kim Kardashian on an episode of UK game show Hole in the Wall.
Yet even in a place as coarse and morally senseless as Sin City – a destination you can go out wearing nothing more than three well-placed sequins and some duct tape – nothing quite gets attention like this overly-bloated Porsche. Especially given it's in desperate need of a remap. Idling at 1,200 rpm (rising to over two grand at points) the only way to cure it is by revving it out. This, plus the fact the exhaust can be classed as 'minimal at best' draws some attention. Even so, the noise it does spout out is evocative – burbling around unrestricted with off-throttle burps and pops firing onto the sidewalk. With pedestrian's camera phones clicking away at every opportunity, it passes the show-offy street cred test. But that's not why I've come. It's time to get out of town – especially as there's no air conditioning. So if the car doesn't boil over in the sweltering heat, I soon will. 
Hopping onto the highway the crassness of Vegas falls away quickly into the rear view mirror. This is when I first can get to grips with those fat, steamroller tyres. They're 325 section track semi-slicks. They also hunt out camber and feedback any gossamer thin beads of road imperfection like nothing else. At one point, the tramlining becomes so forceful I fear my route will be dictated by wherever the heavy trucks have ploughed a route into the tarmac before me. Probably some depot in Arkansas or something. Luckily, I huck it out of the ruts and off into the scrubby, desiccated Nevada desert.
"Even in a place as coarse and morally senseless as Sin City, nothing quite gets attention like this overly-bloated Porsche." 
The roads become long and straight, which gives me a chance to wind out the Porsche for the first time. Bisi (the engine builder's) words roll around my head as I bury the throttle. "I build cars your Mum could drive… but if she decides to go over half throttle, that's her problem." Luckily, I've only got 400bhp to deal with – so 'Lemon and Herb' on Bisimoto's spice scale.
What does happen if you go past half throttle? Nothing. There's more anger to the flat-six but no real change in pace. You have to wait until near 4,000rpm for that. That's when the turbo goes from a faint whistle to full-on head-in-an-Dyson-Airblade and bam. Houston, we have boost and take off.
The whole car starts consuming the landscape ahead of it at twice the rate it did three thousand revs ago. The soundscape through a gear is additive: rough, bassy and – oddly – V8-like low down. Classic, glorious flat-six in the mid-range and pure anger at the top end. But it's the overrun that's the cherry on top – a belch of noise, fire and excitement that's reminiscent of a Group A race car. It's utterly addictive.
I notice a side road. An unpaved, wide dusty track that leads… somewhere. A perfect place to test the AirLift system, then. With a few adjustments on the remote, I jack the height up to as close to Dakar spec as it can go to avoid unnecessary graunching. Now, you don't tend to see cars like this being used off-road, or at all actually, but here at Top Gear, we like to test things thoroughly. The rears immediately lose traction as the brazen boost comes in on gravel. The delicious Rotiforms spin creating a dust trail as the 911 slithers around. People believe cars like this are aired out show ponies. Bunkum I tell you.
Back on the hard stuff, I set my sights on the destination: the summit of Mount Charleston. It's a snow-capped hideaway just outside Vegas with perfect tarmac seemingly ironed onto the side of the mountain. It's a road that tangles through long, sweeping corners with barely any traffic up to 8,000ft. Perfect for the Porsche, then.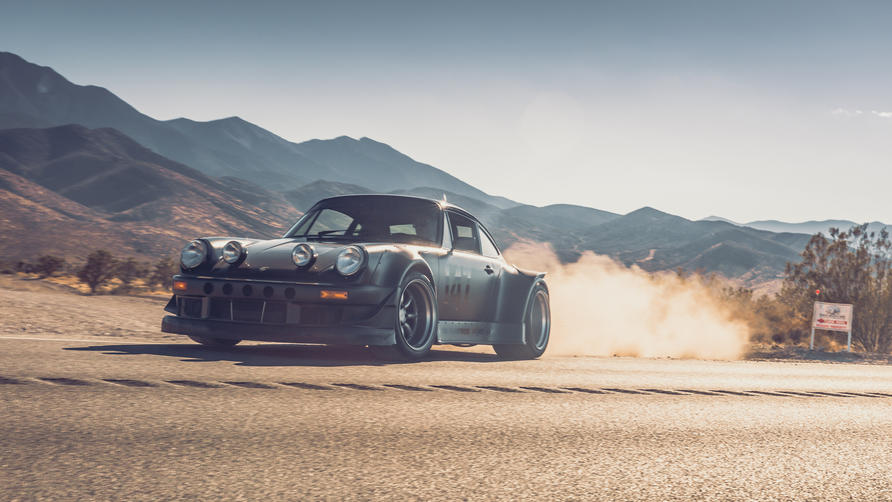 Considering the vast modifications, the car still upholds the idiosyncratic DNA of an old 911: the front end getting light at high speed, but the rear always being trustworthy for traction. But it's the ride that's most surprising. It's neither harsh or comfortable. Yet you can lean on those bags at speed, especially when those tyres warm up.
Snaking through the canyons the oddly long gearing, squidgy lengthy pedals and not-so-scary power allow for the taps to be fully opened for the first three gears without doing mental miles an hour. And God it's fun. The classic action of this wonderful analogue gearbox, deep pedal depths to bury in and a sonorous soundtrack that stands your hairs to attention. 
Rising up to 8,000ft the air becomes crisp, thin and cool. I pull over and soak up the scenery and pull out my phone to take a picture of the car like those people on The Strip to satisfy my inner 14-year-old. Overlooking the skyline, I wonder where would I rather be. In dingy, stale Las Vegas? Or up here in the cool fresh air in a car that excites the senses and boggles passers-by? The answer is easy: the one with four wheels.
So are tuner cars more than fuel for Instagram likes and forum wars? Well, this one certainly is. Tuning offers the opportunity to express your tastes, personality and interests and turn the bits you like about driving up to 10. Sadly, I have to give this one back. Problem is… I don't know who Mr Fish is, what his actual name is or his phone number.