Big Reads
What's a classic Renault 5 with a new electric powertrain like to drive?
In 2022 the glorious little 5 turned 50 years old, and this one had a very modern heart. Cue the body roll...
Body roll. Like Spangles or Bowie's sequinned Ziggy Stardust jump suit, it's a very Seventies phenomenon. Back then, it was part of the road tester's lexicon, something a regular car did when you pitched it into a corner with enthusiasm.
The Renault 5 likes to roll. Right now I'm driving one through a tiny place called Wy-dit-Joli-Village, in Vexin national park, 30 miles north-west of Paris. Picturesque in the extreme, with its glades, forests and meadows, a veritable French idyll. Now here comes a minty green Renault 5, as ubiquitous a sight in rural France as you could imagine back in the day, and currently celebrating its 50th birthday. Between 1972 and 1996, and across two major iterations, more than 5.5m were sold, crucially to people from all walks of life. The R5 was classless and pan-generational, wide awake long before 'woke'.
Advertisement - Page continues below
Here comes a corner. Like the Citroen 2CV, the original Renault 5 demands a certain commitment from the keener driver. Not skill so much, but definitely commitment. We turn in and the Cinq just sighs over on its pillowy suspension, settling into what feels like an irretrievably comical angle. I hold on and then we're through and away.
This feature was originally published in the September 2022 issue of Top Gear magazine
This particular car has a secret. C'est une électrique. We're about 18 months away from seeing the all-new R5 EV, which, says Renault's design vice president Laurens van den Acker, will definitely look as good as the concept version. Interestingly, Renault has been here before. Among many other treasures, its heritage division has an example of an original R5 Electric, a mid-Seventies outlier which used 34 lead-acid batteries that had to be hoisted into the car on a crane and fed a DC motor good for, erm, 10bhp. It took 10 hours to charge, and only 90 were made: the first series cars were used by French energy company EDF, which co-developed the project, as site vehicles on its power stations, the second run was made by Renault for in-house purposes. It weighed 1,075kg (300 more than the regular 5 TL) had a range of about 65 miles, and cost a then spicy 18,000 francs. "It was not such a success," says Hugues Portron, who oversees Renault Classic, and is keeper of a collection that runs to 750 cars. "But it was a brave experiment."
Advertisement - Page continues below
The car TG is driving today isn't that. It's a fashionable retrofit, commissioned by Renault to help celebrate the 5's big birthday. Retrofitting an electric powertrain is currently de rigueur and the company responsible here is the Provence-based MCC. It'll also electrify your Citroen Mehari or 2CV.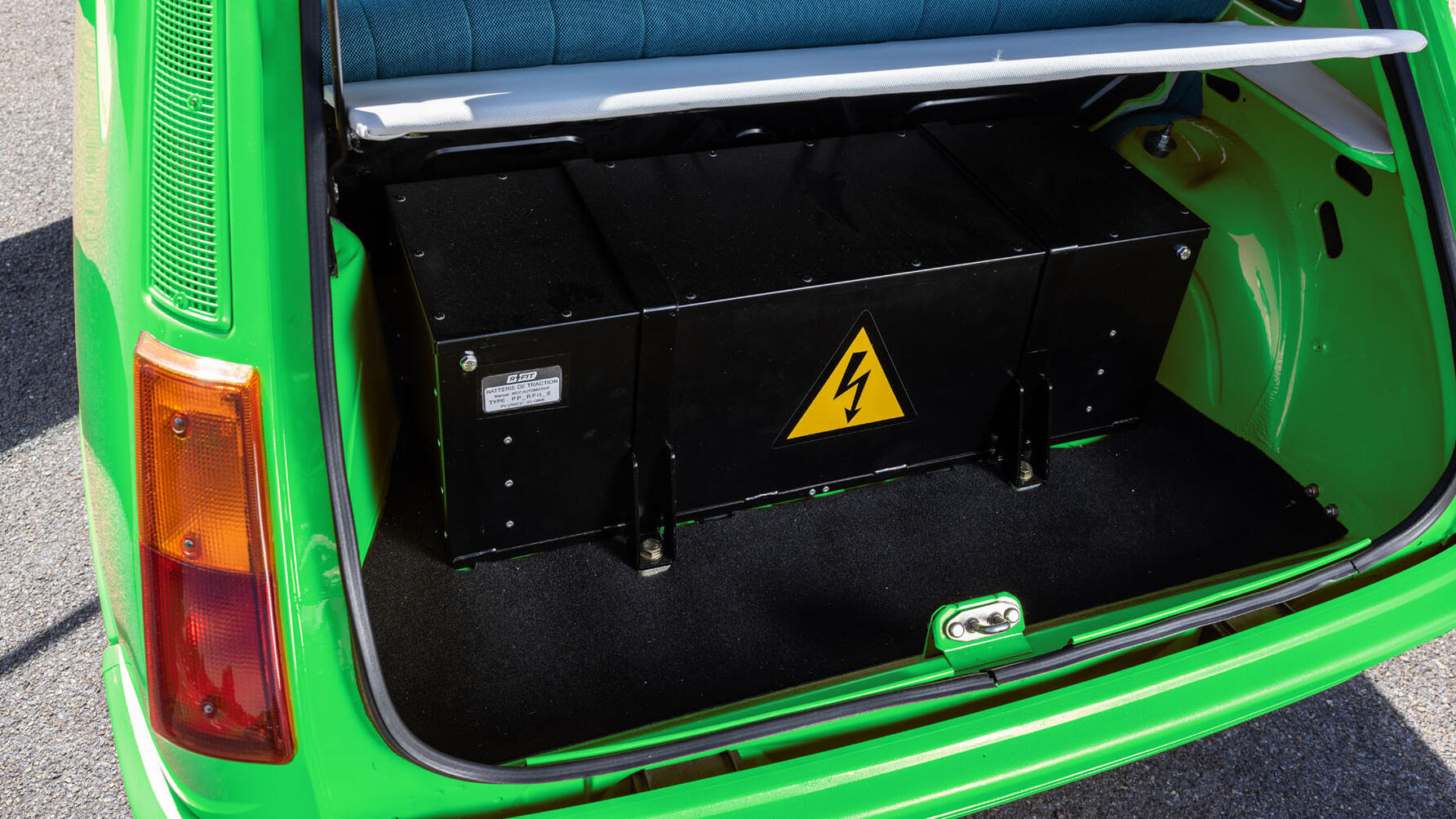 "We were the first company in France to homologate the kit," general director Stéphane Wimez tells me. "What's great is when a manufacturer like Renault gets involved, it will help spread the message quicker than if it was just a small company. We can change the powertrain to a battery pack or a fuel cell, and there are many benefits. It extends the vehicle's lifetime, and contributes to the circular economy, which is going to become more important. It helps with decarbonisation, and as it grows it will lead to job creation."
Is it OK to hoik the 845 or 1108cc engine out of an original R5 and substitute an electric motor and 10.7kWh battery? Well, it's probably less of a blow to the car's character than it is doing a heart and lung transplant on a Jaguar XK120 or Porsche 911...
In fact, Renault recently maxxed out on the idea with an eye-popping collab with French designer Pierre Gonalons, called the Renault 5 Diamant. "It was about celebrating this timeless design," Gonalons notes. "The 5 was a revolution in form when it was launched. It was never about status, but the freedom of the era. I thought it was important to keep this spirit." Quite where a marble-on-carbon steering wheel fits in with that, who knows, but the matte pink finish and gold accents are brand appropriate. "The first editions of the Renault 5 came in orange," Gonalons says. "This was new, suggestive and even a forbidden colour for the age. In 2022, I think pink has the same connotations, certainly within the car industry."
Our R5 electric is more modest, but has still had a fantastic interior makeover. The seats are finished with a kind of space-age tinfoil and there's a dazzling headlining. Mind you, even a standard R5 interior was a boldly modern place to sit. The EV conversion keeps the four-speed manual gearbox, an anachronism that helps reduce the cost. "We wanted to keep the original architecture," Wimez explains. "It speeds up the process, bearing in mind that the length of time it takes to do the conversion is part of the cost to the customer. It works. When I drive in the city I go everywhere in third gear."
Unlike its experimental predecessor, this electric R5 isn't much heavier than the standard car. The battery pack weighs 92kg, and with the engine, exhaust and fuel tank removed, the overall weight is 765kg. It takes about 25hrs to do the conversion. Inside, only a little LED range display gives the game away.
This is not one of those EVs that snaps your neck back into the headrest when you accelerate. French law demands that any retrofit has between 65 and 100 per cent of the original power output, so we're talking seriously modest horsepower here; the 22kW motor is ponying up just shy of 30bhp. We're advised to start in second gear, and most of the time third is all that's needed. Pulling away from junctions is smooth enough if not hugely zippy, but the biggest problem is the gearbox's rather gnarly change. There's no regen on the brakes, but the speeds remain so amusingly low that stopping is not a problem. The conversion costs £13k on top of the cost of a donor car – about £7k–8k for a really good one.
A spin in a very early R5 TL turns out to be a revelation. This is a car whose designer, Michel Boué, was experimenting with the 5's wonderfully clean form language as early as 1967. Project 122 was done on an accelerated time frame, and one of Boué's proposals was run through something called the 'Renaultrama', a (very) early VR simulation that placed a scale model in a variety of moving backgrounds.
Top Gear
Newsletter
Thank you for subscribing to our newsletter. Look out for your regular round-up of news, reviews and offers in your inbox.
Get all the latest news, reviews and exclusives, direct to your inbox.
"[The R5] has clean sides that are reminiscent of today's electric vehicles," says Nicolas Jardin, who designed the 2021 R5 EV concept. "In 1967, Michel Boué already imagined such an architecture. What is very beautiful is the attempt to integrate the technical functions in a natural corner of the car – the grille and lights, so as not to disturb the form. He wanted to draw an essential object, devoid of aggression."
With its wraparound glassfibre and polyester bumpers – a world first – recessed doorhandles, and vertical rear lights, the Renault 5 was a modernist masterpiece, a stark but clever little car that could trace its inspiration to the bold thinking of controversial but celebrated French architect and thinker, Le Corbusier. Although he may have objected to the pop colour palette (there were 68 shades available, including 15 different blues). The early cars featured the dashboard mounted gearshift, which is initially bamboozling and then lovely to use. The dash itself was designed by Robert Broyer, who concentrated the key controls and instruments in a little module ahead of the driver, and coated the wheel and dash in a protective foam. The cabin defies its half-century age to feel refreshing, spacious and oddly fashionable by 2022 standards. Later cars received a more conventional set-up, but one that was still way more appealing than many cheapskate rivals.
Under the skin, the R5 borrowed heavily from the extant R4, so its dynamics are more firmly rooted in its era. But it rides beautifully, and bobs along the road convincingly enough. And, as we've learned, the body roll is nothing to fear. Rarely has travelling this gently been so much fun.