Big Reads
What's the deal with KOENIG-SPECIALS?
We track down an Eighties-tastic Testarossa to tell the story of the wildest tuner of them all
It was meant to be simple. Park a red wedge in the middle of Tokyo for a few photos. Tell the tale of one of the maddest tuners to ever exist. Leave. But what I appear to have done is take a Stanley knife to the cultural fabric of Japan.
The locals are doing something they never do: reacting. Stopping, staring, even cracking out their phones for a selfie – it's all very un-Japanese. And it's not because some lanky Westerner is doing a really bad job of dressing up as James "Sonny" Crockett. No, they're befuddled by what's in front of them: the visual embodiment of the Eighties, a wide-body KOENIG-SPECIALS Ferrari Testarossa.
Advertisement - Page continues below
Words: Rowan Horncastle // Photography: Mark Riccioni
Quite right too – it's utterly outrageous. Garnished with all the excessive period trimmings (twin-turbos, red leather, crazy speakers, white dials, a boost knob and pop-up headlights) it couldn't get more Eighties if I sparked up the flat-12 engine and fired prawn cocktails out of the exhausts. Either way, the locals are losing their sake-soaked minds. Proof, if anything, that we should stuff some shoulder pads under our proverbial jackets and celebrate the wild time of one man: Willy König.
See, 40 years ago, people were cash-rich and care-free – a perfect recipe for the burgeoning tuning labs in Germany. Being home to the likes of AMG, RUF, Gemballa, Boschert and Treser, when it came to modified cars, the loosest of loose cannons came from Germany. No one embraced the excessiveness of the Eighties quite like Willy.
Advertisement - Page continues below
He was a publishing magnate and dab hand behind the wheel having started his racing career in secrecy (using the alias Robert Frank) aged 17, by borrowing his mother's Ford Taunus 12M. She was under the impression that he was going away for weekend trips, but in reality, Willy was secretly fanging her car around in rallies and hillclimbs. Well, until his cover was blown by a local newspaper publishing a story on him coming first in a race. I mean... weekend trip away. But that was too late, his racing career had already started to snowball and over the years Willy piloted a lottery-winning list of race cars including a Ferrari 275 GTB, Ford GT40, Lola T70, BMW M1 Procar and Porsche 962. He even won the German Spezial-Tourenwagen-Trophy in a Porsche 935K… only to later drop a Porsche 962 engine in it and crash at the Nürburgring. But, as you'll find out, this speaks volumes about his mentality.
In 1962, having won the German Hillclimb Championship behind the wheel of a Ferrari 250 GT SWB Berlinetta, he caught the attention of none other than Enzo Ferrari. Impressed by Willy's performance, Ferrari's chief invited him to an event held in his honour at Maranello. But where most people would tread on eggshells around il Commendatore, Willy didn't mind ruffling a few of Ferrari's feathers. Specifically, when his Ferrari 365 BB arrived.
It was the first in Germany, but Willy didn't like it. It wasn't raw enough, didn't sound good enough and wasn't fast enough. So, harnessing all of his track expertise and crazy chutzpah, he had a crack at making it better himself. He turbocharged the flat-12 engine to give it 450bhp, shod it with better rubber, gave it motorsport suspension, then cloaked it in a wider and wingier bodykit. People laughed, the Tifosi sneered, but when folks saw just how fast it went around a circuit, plenty put their hand up and said they'd have one, regardless of the cost.
Wanting supply to meet demand, Willy officially set up a tuning business in 1974. To save confusion with other König-named automotive outlets in Germany, he threw an 'E' into the naming mix and did the Eighties thing of making it all caps. KOENIG-SPECIALS was soon open for business and the mission was simple: make usable road-going cars with race car performance.
Willy wasn't going into this venture alone, though. He had two great minds on hand: engineering evangelist and horsepower blacksmith Franz Albert, and flamboyant aerodynamicist, Vittorio Strosek. They didn't limit themselves to Ferraris, either. The portfolio quickly became rather extensive, as nothing was too daunting or sacred to be slathered in bodywork and sprinkled with speed.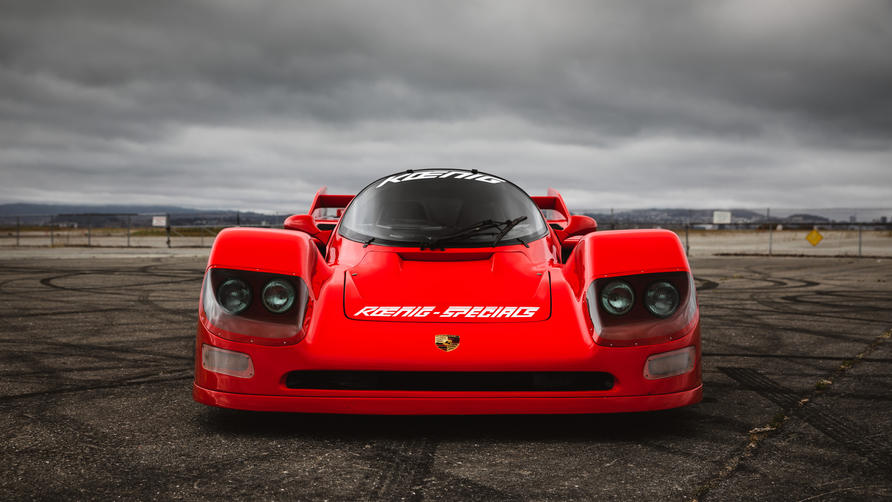 There were crazy wide-body, faux-vented Wildcat Jaguars. Mercs that were the perfect tonic for wrong 'uns (fast, luxurious and sinister). The Road Runner, a highly modified Porsche 930 Turbo that looked like the world's fastest tadpole, but was actually a bulbous 911 with headlights from a Porsche 928 and tail-lights from an Audi 200. BMWs of all shapes and sizes were given track widths to fit tyres fatter than a tractor's. Lambos were given twin turbos. Hell, when the Group C class was banned, Willy started to buy up the now-redundant 962 chassis, rebodied them into the KOENIG-SPECIALS C62, threw in aircon and sold them as road cars for a million Deutsche Mark.
Top Gear
Newsletter
Thank you for subscribing to our newsletter. Look out for your regular round-up of news, reviews and offers in your inbox.
Get all the latest news, reviews and exclusives, direct to your inbox.
As you can imagine, these crazy cars got the attention of famously coy celebrities, with Mike Tyson and Sylvester Stallone becoming customers. But it was the Ferraris that captivated a generation. Mainly because they were effectively automotive Mace capable of stopping you in your tracks, taking your breath away and, depending on your level of appreciation, leaving your eyes streaming. And Willy's magnum opus of madness was the KOENIG-SPECIALS Testarossa.
For many, the standard Testarossa was the definitive car of the Eighties. Not for Willy. Vittorio Strosek took the wedge and made it wedgier, binned Pininfarina's iconic side strakes, fattened out its footprint, then gouged out large NACA ducts in the rear deck to feed the twin turbos. That's where Willy and Franz took over. They modified the engine, first experimenting with compound charging, but settling for two turbochargers good for 1,000bhp – 615 more than standard. It was enough power to shove the Testarossa from 0–60mph in 3.4 seconds and on to 236mph. It was one of the fastest cars in the world.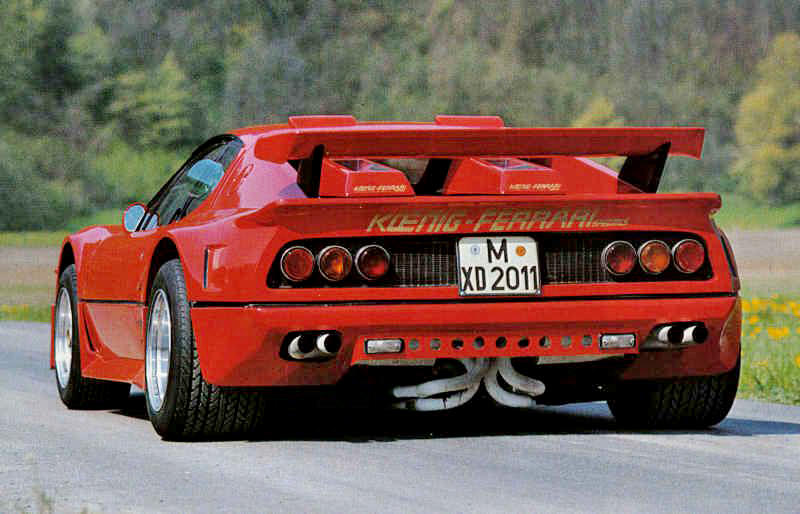 Unsurprisingly, when Enzo Ferrari got wind of Willy's work, years of legal battles ensued. But it was too little, too late. With crazy visuals, potty power and an audio soundscape of chuntering 12 cylinder remixed with high-pitch chirps and whoomphs of turbos, the KOENIG-SPECIALS legend was made, and thousands of machines were produced until production wound down when the planet's fun tokens started to dry up.
Surprisingly, Japan was KOENIG-SPECIALS' largest market. And, as the Shibuya selfies prove 40 years on, people are still mad for them. So grab your SodaStream, it's time to toast the Eighties. And, more importantly, pour some away for the maddest tuner of them all, Willy König.