Bikes
The Zero Black Forest electric bike is as sweet as it sounds
Whether it was named after the cake or not, you want a slice of Zero's off-road bike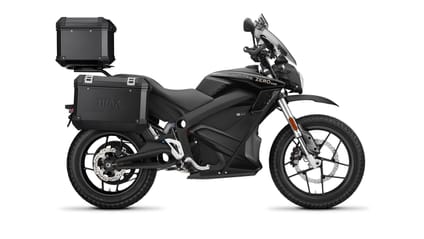 What is the Zero Motorcycles DSR Black Forest?

It's a rather sweetly named special edition of the DSR. Zero calls it a 'dual sport bike', we call it a pretty flipping cool way to go exploring off the beaten track without making too much noise (and thus disturbing the nature around you).

Zero Motorcycles offers a small handful of adventure bikes, but the Black Forest is the icing in the cake (we'll stop soon… probably) being, in its maker's words "the unequalled option for effortless adventure". So long as you can plug it in, obvs, though it claims up to 200 miles of range from a charge. If you're careful…

Advertisement - Page continues below

So who exactly is Zero?

It's an electric vehicle start-up company founded in the mid-2000s in California. No, you draw the parallels with something similar in the four-wheeled world. Zero opened up shop in 2006 as the brainchild of a former NASA engineer, bringing its first plug-in motorcycle to market in 2010.

By 2012 it was offering more than 100 miles of range, while the DSR arrived in 2016 as its top-rung adventure option. Black Forest spec arrived a little further down the line, bringing a visual upgrade, more protection and standard luggage storage with it.

What'll it do?

The DSR comes with a 70bhp, 116lb ft motor and a 102mph top speed. You've a choice of two battery packs – 14.4 or 18.0 kWh, with respective 112- and 141-mile combined range figures and 10- and 12-hour charge times on a regular socket, significantly less with a fast charger or wallbox. In Black Forest spec it weighs 221kg and starts at £18,090.

Advertisement - Page continues below

Isn't 116lb ft quite a lot of torque for a bike?

You're blimmin' right it is. More than most sports bikes. Needless to say there's a whole heap of electronics to ensure you don't wheelie out of every single junction, with full power only available once you're away and rolling above 10mph or so.

Power, torque and top speed numbers are all configurable via phone app too, in very specific increments. Zero's different riding modes go way beyond the usefulness of the driving modes we're familiar with in cars.

If it's so new and fancy, how come it looks like a regular bike?

Zero's chief technology officer, Abe Askenazi, acknowledges there's less room for manoeuvre with electric bikes versus cars, both in commercial and engineering terms.

"We like to believe that motorcyclists are 'the rebels', yet they're actually quite conservative in what they purchase. If it doesn't look like a motorcycle – and it looks like something out of The Jetsons – it'll get all the press, but people won't buy it. So it has to look like a motorcycle."

Will something wilder looking come?

The architecture of a bike is not as flexible as a car's either, Abe says. "It's ultimately two wheels, a rider and the space in between, and there's less real estate to play with on a bike. But there is an opportunity to evolve the design as battery energy density continues to improve. In five to ten years the battery could be half, maybe quarter its current size. Then the design opportunities open up. Internal combustion engines aren't getting any smaller, but batteries are."

So yes, something wilder will come – eventually. In the meantime, if Zero's adventurer doesn't look close enough to Marc Marquez's MotoGP bike for you, then worry not. It'll also squeeze its batteries into a sports bike for you too. With even more torque...