Bond Cars
Bond special: Chris Evans drives the Aston Martin DB10
Where does 007's new ride rank in the great pantheon of Bond cars?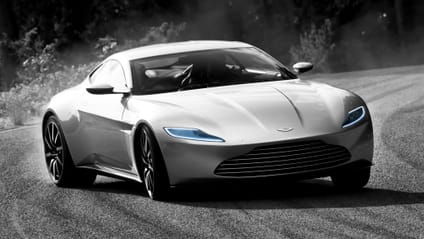 What a ridiculously stunning figure the Aston Martin DB10 has been blessed with. Curve upon curve of sculptured perfection. Lines to die for, an amazing rear end and bullet holes instead of louvres. Yowzer. Look at her wheels, even: spiral-centred, razor-sharp spokes splaying out, giving the impression of movement even when stationary. In fact, that's the car all over. The best-looking cars are designed to look good as they flash by, not as they sit glumly waiting to be let off the leash.

Have I had the pleasure of driving it yet? You bet I have. But, more importantly, I've had the extreme pleasure of being driven in it around the Longcross tree-flanked 'snake', cut through by Mark Higgins, former WRC pilot, current holder of the title of "greatest save in the history of driving" and the chief Bond stunt driver. Was it good? What do you reckon?

This feature was originally published in the November 2015 issue of Top Gear magazine

Advertisement - Page continues below

From where I'm sitting, heart hammering at the red line, Mark Higgins appears to have forgotten we're not on set in Rome anymore.

This DB10 is the actual tricked-up car that we'll get to see in the main car chase in SPECTRE. He has us sideways both left and right with zero margin for error at I-don't-know-how-many-miles-an-hour for 15 minutes. During which he goes through not one, but two, sets of brand-new boots.

It was without question the most frightened/excited/exhilarated/car sick I have ever been in a motor vehicle. It was like Mark was wearing the car. So far ahead of anything I've experienced before.

Bearing in mind I spent an afternoon at a Mercedes test track being scared witless by a perky Mika Häkkinen in a C63 AMG, and have been to Mars and back several times with Jason 'Nutcase' Plato in various machines from Maserati MC12s to Fezzas of one sort or another.

Sure, the Bond DB10 isn't a car that's ever going to be available to the masses as is. But with news that the DB11 name will replace the DB9, Aston has left a convenient gap in the marque's family tree should it want to step back in time at some point in the future.

And Aston just has to, doesn't it? The Aston Martin V12 Vantage remains my favourite manual-shift road car of modern times. If a future roadgoing DB10 was half as exciting as that to drive, along with those new killer looks, it would be an instant classic.

Advertisement - Page continues below

Just for a minute, imagine what it must feel like to be Daniel Craig, to look in the mirror every morning and think, "F+#@! I'm James Bond?" (Second only, I should imagine, to waking up thinking, "Double f+#@! I'm married to Rachel Weisz.")

But not only is he Bond and married to the most beautiful, talented and extremely nice (met her once, she was lovely) Rachel, but he's also the most successful Bond of all time. So, pretty good to be Daniel Craig. Agreed?

I might argue, however, it's even better to be Aston Martin. Sure, it's a two-way street, but is there better publicity for any product in the world than the contra deal AM has going with EON? Priceless.

I love the story about how the deal came together. Apparently, director Sam Mendes and EON (stands for Everything or Nothing – nice) producer Barbara Broccoli visited AM's design headquarters, and after being pitched several ideas by Marek Reichman, AM's chief designer and his team, Sam saw something lurking in the shadows, over in the corner, pointed at it and whispered: "I want that one."

Reichman suspected as much, but was massively apprehensive with regards to an achievable time frame to come up with one drivable chassis and shell. So when Sam said, "Actually we'll need 10 working cars within six months", he nearly passed out on the spot.

That, as they say, is all water under the bridge and, as we know, the request was met and the world has been treated to one of the best-looking cars of all time. Please God, let Aston actually bring this car to production. It has to be the best-looking British car since the E-type first landed on planet Earth back in 1961.

What a lot of water has passed under the Bond bridge over the years. We've got to start with another Aston, haven't we? The silver birch DB5 of Goldfinger fame, beautiful to behold – of that there is no argument – but not really the greatest car in the world to drive. I owned the very same car a couple of years ago. Mine was the minter featured on the Royal Mail 100-year Aston Martin anniversary stamp.

Anyone who knows anything about Astons will confirm that not only is the 5 a bit boaty compared with other Sixties marques, but it's even a bit boaty compared with its predecessor, the DB4. In fact, from a driving point of view, both the 4 and the 6 are much the more preferable options.

But it doesn't matter. Bond drives the 5 in Goldfinger, Thunderball, GoldenEye, Tomorrow Never Dies and Casino Royale. Daniel Craig drove the 5 in Skyfall, all the way to Scotland, though it was actually a field in Surrey.

The DB is it. The DB5 is the one. Always has been, always will be.

That's in the movies, of course. In the books, it's a different matter. JB is a Bentley man first, courtesy of the Bentley 4 1/2 litre in Casino Royale, Live and Let Die and Moonraker, and an Aston DB man in Goldfinger.

Advertisement - Page continues below

The Bentley I can take or leave, but as for the DB MkIII... now there's a car. Stunning, and still a rewarding drive to this day. I must mention here the DB2 as well – it may not be a Bond car, but I drove one just last week.

Not just any 2, mind, but the first-ever Aston to be fitted with the famous Vantage engine. Built in 1950, it drove like a dream. And sounded like sex on wheels. A Dutch guy picked it up for a relative song at auction while the rest of us were asleep in our catalogues. Clever boy.

Now before we go any further, is it true that Sir Anthony Bamford bought the original pair of 5s used in Goldfinger? Yes, it is. He bought them both for £1,500, not that he knew it at the time, he thought it was £1,500 for one, he wasn't even aware there were two, and was as surprised as anyone when the low-loader arrived.

Is it also true that he then soon after swapped one of them for a Ferrari 250 GTO, which he still has and is now worth circa $50 million? Absolutely. True again. The greatest car deal of all time.

But next… is it true that after Dr No back in 1962, Cubby Broccoli actually wanted Bond to drive an E-type, but, due to their popularity at the time, Jaguar didn't have any available to loan for filming? Well, it is if you talk to Jaguar. And I always thought it was the case, but have since been assured by Aston Martin historians that this is a convenient myth and that an Aston of some sort was always going to be Bond's original steed...

There are many "stories" surrounding Bond cars. Another favourite of mine is to do with the second-coolest car James ever jumped behind the wheel of. The snow-white amphibious Lotus Esprit in The Spy Who Loved Me. (Spent weeks of my life I'll never get back chasing one of those. Only for the front axle to snap in two the second time I took it out.)

The Lotus legend is that the head of sales at the time kept one permanently parked at the gates of Pinewood Studios in the hope that Cubby Broccoli would see it, fall in love with it and cast it in a starring role. Apparently that's exactly what happened. Genius if it's true.

Advertisement - Page continues below

The other most famous Bond cars for me have to be Goldfinger's yellow Rolls-Royce Phantom III, which I know for a fact EON still has at its storage facility up in Norfolk, along with the AMC Hornet X, star of one of the greatest stunts of all time – the corkscrew jump in The Man with the Golden Gun. A stunt that simply couldn't go wrong... or else.

Miraculously, it was a one-take wonder, breathtaking to this day.

No Bond article worth its salt would be complete without alluding to at least one secret, though. While sitting next to Mark in the full movie-specced DB10, there was one thing in particular that caught my eye.

"No way. Is that what I think it is, Mark?" I squealed. "Yes, but the producers have specifically asked me to respectfully request you don't mention it in any article that might come out before the movie does. Is that ok?"

My lips are sealed. But, my, we're in for a treat.