British
Ariel Atom, RR Dawn and Pocket Classics: why emotional cars are fun
Us Brits aren't meant to show our feelings. Try telling that to Rory Reid...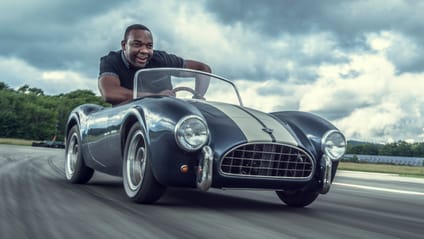 You can keep power. Shove torque up your jacksie, for all I care. What counts for me is the raw emotion that a car drags out of you. Yes, performance numbers play a part in eliciting some emotional response. Brake horsepower, pounds feet and the configuration of the cylinders in an engine are useful theoretical metrics that indicate whether a car might be interesting in some way, but the ultimate benchmark surely has to be a driver's empathic response to a car.

Photography: Mark Fagelson

This feature was originally published in issue 285 of Top Gear magazine.

Advertisement - Page continues below

The Range Rover Sport SVR grabs you by the feels every time, thanks to one brutal addition: it has an exhaust note that sounds like Brian Blessed stepped on a piece of Lego.

It's this noise, allied to the sheer size of the Range Rover Sport SVR that means driving it is such an emotive experience. The lofty driving position makes me feel as if I'm perched on the very roof of the thing, like I've climbed atop my own mobile Everest and proclaimed whatever road I'm on as my own. I wrestle with its heavy steering wheel, feeling as though I'm merely along for the ride. I feel – and this is no exaggeration – as if I'm riding on the back of a particularly ill-tempered T-Rex.

Push the throttle and, sure, the SVR shows a staggering turn of pace – enough to see off many a sports car. But it's a different party trick that stimulates me. I'm loathe to admit it, but cruising past a group of pedestrians in first or second gear, lifting off the throttle and causing an almighty bang from the exhaust gets me off. Watching pensioners, children and pets jump six feet in the air on the whim of my right foot is a temptation often too great to resist. The SVR, it would seem, makes it all too easy to channel your inner douchebag.

The Ariel Atom stirs very different emotions: fear, primarily. Actually, it's more a cocktail of terror and bewilderment. With a shot of awe. The sensations triggered by a full-bore blast down a long straight in an Atom are unlike any I've ever experienced.

I remember popping my Atom cherry like it was yesterday. I strap in, raise the revs, dump the clutch and immediately feel as if gravity's gone violently horizontal. I'm pretty sure I've swallowed my tongue, but I have enough wits about me to grab second gear and keep my foot in. I can't make out much of an exhaust sound. Instead, proceedings are dominated by a loud, high-pitched, supercharger whine that crescendos from the roll hoop above my left ear. It sounds like a deranged Dyson hand dryer.

Advertisement - Page continues below

By the time the car's ready for third gear, I can barely process the world around me. My brain feels like a pocket calculator trying to run an Xbox One game. I can't see the road ahead. My eyes work just fine, it's just that my brain isn't fast enough to process the events around me. Humans weren't designed to accelerate this fast. It's terrifying.

That's not the only emotion the Atom rips out of you. Eventually you'll feel massive frustration – frustration you're not as good a driver as you thought you were. Once you get used to the savage straight-line speed, you'll encounter a corner. You'll try to carry some velocity through the bend and you'll spin.

You'll try again, this time throwing in massive amounts of opposite lock with the power on, but, again, you'll spin. This process will repeat until you realise you are not a driving god – not in an Atom. Its sticky rubber and short wheelbase mean that, unless you're Jenson Button, you're mostly just along for the ride. Eventually, you'll feel a grudging respect for the thing... and a sense that it's defeated you.

If you prefer your emotional engagement to be a little less frightening, there is no better antidote to the Atom than to enter a Rolls-Royce Dawn. If driving the Atom is the equivalent of being pushed off a cliff, driving the Dawn is analogous with being given a massage every time you slide inside it.

You've probably heard countless stories about how comfortable Rolls-Royces are. Those stories are accurate. But what you may not appreciate is how they make you feel. You'll be happy at first – overjoyed, in fact. But then, as the scope of this car's magnificence permeates your brain, you'll begin to feel an abject sadness.

You'll realise that (unless you're filthy rich) you may never drive one again, let alone own one. You'll feel the effortless pull of its whisper-quiet engine, the inch-thick lambswool rug between your toes, the softness of the leather against your thighs and you'll marvel at the peacefulness that comes from the double-glazed windows. Then you'll realise (certainly in my case) you're going to have to give this back and return to your 1-Series.

I panic. How in the name of all that is civilised will I tolerate normal levels of road noise? I'll have to slow for speed bumps. Life is basically over.

Hell, even if I robbed a bank and raised the bonkers cash required to join the Rolls-Royce owners' club, there's a good chance everybody would hate me for it.

Then, surrounded by silence and luxury the like of which most mortals will never experience, you'll weep big, fat tears.

Advertisement - Page continues below

Of course, not all cars evoke the same reaction in all people. Case in point: The Mazda MX-5. Many petrolheads have loved that thing for decades, and the new model is the best example yet. Me? I'm not fussed, no matter how good they're supposed to be on paper. Yes, they follow a marvellous blueprint; rear-drive, open-top, low price, but I won't be buying.

Why does it roll about so much in the corners? Why do I have to operate the convertible roof manually? Everyone else may love this back-to-basics, wind-in-the-hair simplicity, but I like my cars with a backbone, an attitude. I want to step inside and feel something, anything. When I hop into an MX-5, I'm oddly numb. Sure it does slides, yes it's visually acceptable (in a pouty, slightly androgynous sort of way), but it's all slightly characterless, especially in this company.

Advertisement - Page continues below

I want a car that makes me feel good. Or bad. Or like a complete cock. That's why I want a Pocket Classic. I think. True, once wedged in I needed assistance to get out and had to spend the next 10 minutes nursing circulation into my legs, but slicing around Dunsfold in the Cobra and JPS Lotus was, if nothing else, memorably hilarious.

It fed my emotions, as did the Range Rover, Atom and Dawn. All in different ways, but all sharing a common trait: all of them – in their own unique way – make me feel completely alive.