British
Aston Martin Lagonda: old vs new
Aston has revitalised the Lagonda name for the £696k Taraf. We drive them both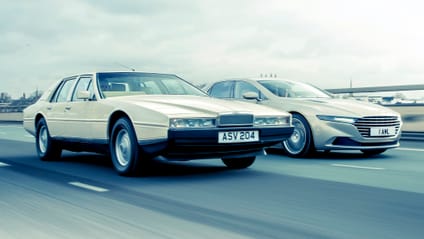 Doctor Who series nine concluded with the eponymous hero plucking his companion Clara out of her time stream, thus evading death but leaving her marooned between a single heartbeat and the next. This is deep stuff for light entertainment on a Saturday night.

Driving the original Aston Martin Lagonda is no less of a temporal shock (not to mention an inverse Tardis: huge on the outside, economic with interior space). Scything around the M25 and down the A1 into London, this isn't a car so much as a mobile pop-cultural mash-up, the intersection of a dozen different ideas, many of which are at odds with each other.

Rivers of traffic part and jaws drop as you swoosh by on a wave of permanently confounding retro-futurism. David Bowie's icy, wasted 1977 masterpiece Low should be on a playback loop on the cassette deck. You imagine one of Anthony Burgess's Clockwork Orange droogs at the wheel. If nothing else, the Lagonda's 5340cc will blast Seventies kids back to the heyday of Top Trumps.

Photography: Jamie Lipman

This feature was originally published in the February 2016 issue of Top Gear magazine.

Advertisement - Page continues below

The truth is more prosaic. Aston Martin, not for the first or indeed last time, was on its uppers following the 1973 energy crisis. It went bankrupt in late 1974, prompting a televised statement of regret on America's huge-rating CBS news by legendary anchorman Walter Cronkite. AML's major shareholder and next saviour was US entrepreneur Peter Sprague, a Yale and MIT graduate who had started a chicken farm in Iran but soon made a name for himself in the nascent Silicon Valley. Together with a team led by engineer Mike Loasby (who would later work on the DeLorean project), the resurrected Aston Martin got back to work.

"As the Lagonda began to take form," Sprague later wrote, "I added my own special contribution – related to my background in the world of micro-electronics. The car looked amazingly modern, why not add an all-electronic, computer-based information and control system and really join the 20th century? It was an excellent idea but about 15–20 years ahead of its time."

No kidding. Unveiled to a bunch of disbelieving journalists at the Bell Inn in Aston Clinton (close to the hillclimb that had prompted the Aston part of the AM name – for some reason, WWII fighter ace Douglas Bader was also there that day) in October 1976, the Lagonda was a design and engineering statement of unprecedented, possibly barmy, chutzpah. The body was and remains the ultimate example of the wedge theme that had gripped the industry's design avatars in the early Seventies. Rather than Giugiaro or Gandini, however, this was the work of Englishman William Towns. Two fuel flaps serviced the tank, and pop-up headlamps added theatre, as if any more was needed. Shown at the Earls Court motor show in 1976, production Lagondas didn't dribble out until 1978 and were plagued by gremlins. Only 643 were made across 12 years, most of which went to the Middle East. Only 80 remain in the UK, but this glorious oddball was still successful enough to hold Aston together during a crucial period.

Advertisement - Page continues below

Ours is a late Series 2, first registered in 1984, and everything is working just fine. The infamous LED instruments somehow still look coolly futuristic despite now being as hi-tech as a wattle and daub outhouse. The single-spoke steering wheel is tiny, low-set, and surrounded by a binnacle festooned with touch-sensitive buttons (funny how Aston returned to those on the latest Vanquish). The seats have that pillowy quality common to most Seventies luxury cars, yet offer decent support.

Aston was coy about power figures, but in this spec the Lagonda's carb-fed 5.3-litre V8 was good for around 280bhp (post-1985 Series 3 cars were fuel-injected), doled out with lazy application by the three-speed Chrysler Torqueflite slush 'box. Handling? Theoretically, yes. But we stay firmly in the cosy centre of the envelope, partly out of respect for the car's owner, partly to preserve the period Avon rubber. Other notes: open the Lagonda's boot and there are exact replicas of the rear lights, an inbuilt safety device that doesn't say much for its maker's confidence. There's also a fantastic bespoke briefcase. Finally, this car is finished in Cheltenham Beige. Well, it may have played better in Bahrain.

There is a point to our foray in this old Starship Trooper – we're hooking up with the Lagonda's new descendant, the Taraf, for a drive that's taken a year to set up. A quick rummage on the interweb tells us that 'Taraf' is Turkish for 'side'. It's also the name of a left-leaning newspaper in that country. Or, if you're in Romania or Moldova, it's a folk music ensemble consisting of up to eight musicians. According to Aston, it's an Arabic term that loosely denotes luxury.

Why the delay? Because the car was originally conceived purely for Aston's customers in the Middle East, the company didn't feel the need to tout its wares too aggressively. So you'd have to buy one if you wanted a go. When Andy Palmer took over as CEO last year, there was a rethink, and now any EU-legislation-compliant market in Europe and various others beyond can stick their oar in.

 The Taraf will remain an extremely rare sight, not least because only 200 will ever be made, costing £696,000. Gulp.

Frankly, this takes us into a land not even Doctor Who has stumbled upon. Mind you, Aston has, er, rich form in this territory. In the past few years alone, we've had low-volume specials like the One-77, V12 Zagato, CC100 Speedster (two of which were built for clients), Vantage GT12 and Vulcan. The all-new DB11 is imminent, complete with AMG-Mercedes transmission and electrical systems, but until then the eternally gestating VH architecture is being rinsed for all it's worth, and collectors' interest will deliver sales. We don't have a problem with that particularly: the GT12 is one of the best cars the company has ever done, and Aston's design department contains some of the industry's most inspired thinkers.

The Lagonda name is also an underplayed but significant part of the company's history. Forget 2009's heinously unattractive SUV concept, and think instead of the pre-war saloons (engineered by W.O. Bentley) and stentorian Le Mans racers. David Brown bought the company and merged it with Aston Martin in 1948. Sprague must have recognised the potential when he arrived on the scene during that dark winter of 1974 and '75. Interestingly, the wedge Lagonda was airbrushed out of Aston Martin's history during the Bez era – insufficient power, beauty and soul presumably – but the Taraf brings it in from the cold.

This regenerated Lagonda is a deeply impressive-looking thing, pretty much what its predecessor would have evolved into had it been allowed. The surfacing is sublime, particularly the line that runs from the top of the front wheelarch and continues the length of the car beneath and past the window. The body panels are made of carbon fibre reinforced plastic (CFRP), and then receive a seven-layer paint job and many hours of polishing and elbow grease. Aston's chief creative officer Marek Reichman ran Lincoln's concept studio in the US and worked on the Rolls-Royce Phantom before joining the company. Like all car designers, he has his signature moves, but you can tell he really enjoyed this one.

There's no getting away from the fact that the underpinnings are knocking on a bit now, not least the 5.9-litre V12 engine. The Taraf is also an imposing 5.4m long, so it's weighing – in more ways than one – into territory currently very effectively patrolled by the likes of the Bentley Mulsanne, Mercedes-Maybach S600 and Rolls-Royce Phantom, all of which are considerably cheaper, never mind the likes of the new BMW 7-Series (gesture control in the Taraf amounts to not giving passing proles the two-fingered salute). But just imagine for a second that you are a telecoms magnate in Singapore, and you want something none of your magnate friends have. What you want is a Lagonda Taraf – according to Aston, anyway.

Advertisement - Page continues below

The Taraf has 540bhp, and despite its more overtly luxurious remit, it still moves and feels like an Aston powered by an impressively voluble V12 with a 'here I come' exhaust bypass valve. It doesn't ride as well as its rivals, but despite its size and physical presence, it handles better than you'd expect. The Touchtronic III eight-speed ZF 'box is as smoothly capable as ever, and everything feels perfectly well tied down.

Top speed is a claimed 195mph, which we couldn't get close to verifying, but the Taraf doesn't feel like a car that would blow its window seals above 150mph or dribble oil all over the valet's brogues. Aston claims to have done 14,000-odd development miles and subjected the Taraf to the full temperature horror of the desert region it's aimed at. Nothing on four wheels can really match a Mercedes S-Class for overall engineering integrity, but the Taraf is a solid piece of work.

Aston's Q division is expert in crafting wood, leather and no doubt other more exotic materials as per oligarchical whim. So fill your boots while emptying your wallet. But the Taraf's cabin is basically a more spacious iteration of the familiar Aston set-up. The rear seats are lovely, of course, with beautifully sculpted armrests, and our car had screens affixed to the front chairs for languid, long-haul entertainment. The audio system is a 1,000W B&O system, and there's HDD navigation. But when it comes to toys, tech and connectivity, the Taraf is outgunned by the new 7-Series and doesn't exude the impossible imperiousness of the Phantom.

Advertisement - Page continues below

In other words, it doesn't really stack up as luxury transport. But Aston prefers to think of it, rather grandly, as a piece of art, and there are surely 200 people out there awash in such a vast reservoir of disposable readies that this is a perfectly plausible argument. As the Lagondas old and new sweep along London's Westway, passing Ernö Goldfinger's beautifully brutalist Trellick Tower and the Battleship Building on the edge of the endlessly reconfiguring Paddington Basin, the 40 years separating them are gone in the blink of an eye. They are now, or they are then. Mobile Time Lords, in fact. Now pass the sonic screwdriver, would you?