British
This is the inside of the four-seat Bentley Bentayga
Bentley's SUV comes with seven or five seats, but what if you want just the four?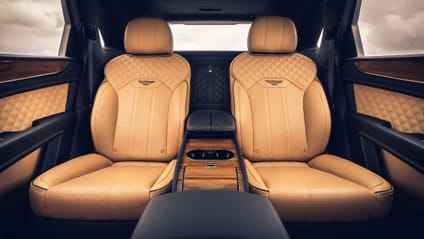 What's this?

According to Bentley, something that has "the greatest breadth of ability of any car on the road". Anyone who's ever driven a rental car or bought a cheap, run-it-into-the-ground snotter may disagree, but there's no denying the Bentayga's ability.

You can enjoy its ability with six other passengers, or four, the Bentayga being offered in seven and five-seat variants. But Bentley says that one in five of the last generation Bentayga – that's some 4,000 SUVs – were specced as straight-up four seaters.

A bit like a posh limo, albeit one with the dimensions of a small tank. Step forth then, friends, into the Bentley Bentayga Four Seat Comfort Specification.

Advertisement - Page continues below

That looks… commodious.

Bentley has upped the max recline angle from 32 to 40 degrees, and increased the fore and aft travel by 35mm. Which has resulted in more kneeroom in the reclined position by 100mm.

That's a fair bit of additional space. Your knees will thank you. If knees could talk.

The seats too, look comfortable.

They should be. Bentley completely redesigned each seat for this new Bentayga, and they all have a new, more sculptured shape – especially around the shoulders – in order "to provide an even greater level of comfort that further improves on the industry-recognised benchmark for seat comfort".

Yes, there are benchmarks for seat comfort. Lamborghini may have misplaced this memo. But then, Lamborghini. So, y'know.

Advertisement - Page continues below

Does it come with more TOYS?

Naturally. In addition to heated/ventilated rear seats, you get six different massage programmes, a winged 'comfort' headrest, and a rear centre console allowing for more storage and two more USB charging sockets. There's a leather-trimmed backboard with a diamond-quilted ski hatch to separate thine own rear from the boot.

The new toys are controlled via an excellent-looking 5in tablet – like the one used in the new Flying Spur – that controls those fancy new seats, media, sat nav, mood lighting and the windows and sunroof blind. Have a glass of something chilled and go wild, we say.

How, exactly, do I have a glass of something chilled?