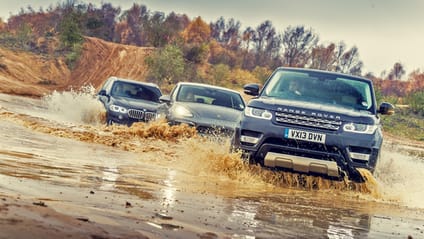 Here I am, swaddled in a leathery womb, Radio 2 bubbling gently in the background like a muttering grandfather, driving a new BMW X5 3.0d through a lake. And it's about as terrifying as a sleepy Labrador. We are being calmly pursued by a Porsche Cayenne Diesel and a Range Rover Sport TDV6, appearing not unlike a triplet of unlikely speedboats in a semi-V formation, both equally unperturbed by the strenuous external conditions. Turning left, I exit up a small sandy bank, feel the big BMW's xDrive AWD system squirm as it makes infinite instantaneous assessment of the tyre's grip and the engine's torque, and the best places to deploy both, and simply potter off across gloopy mud that would swallow your feet.

The lack of fuss blurs the edges of the terrain, makes it all simple, finds clarity in the muck. In fact,
all three of these cars - as long as just one of the wheels can find something to cling to and you equip yourself with at least a measure of restraint - will maintain forward momentum without even noticing.

Pictures: Jamie Lipman

This feature first appeared in Top Gear magazine

Advertisement - Page continues below

Which is nice. But the percentage of people who will ever use a £50k-plus posh SUV for a serious attempt on undiscovered country is a fraction of a little bit of a tiny number. Nobody really cares that the Rangie is easily the most accomplished, the X5 and the Cayenne pretty equally over-capable if not as imperious. Because, like extreme sports and quality time with relatives, most people like the idea, not the practice. But still. Nobody needs a hypercar with a 200+mph top speed, but it's nice to know that the engineering is equipped for redundancy.

Which means that the full-sized SUV - despite protestations to the contrary - is alive and well, and prospering globally. Indeed, most major manufacturers have, or are soon to have, some variation on the theme, mainly to cope with demand from previously emerging markets that have levered themselves out of their economic chrysalises flush with cash and equipped with prodigious appetites for big, shiny 4x4s. The three we have here are the best of the breed, in the specification that swallows most of the order books: 3.0-litre turbodiesel automatics.

In fact, according to the reams of technical info on these three, the one thing that crops up a lot is that they are uncannily similar. All have 8spd automatics with clever acronym-laden explanations for their complex AWD systems. All have 3.0-litre 6cyl diesel engines, the Rangie and the Porsche arranged in a vee, the BMW a straight. They all weigh within 80kg of each other - the RRS the heaviest at 2,160kg, the Porsche the lightest at 2,080kg, the BMW in-between at 2,145kg - and they all get to 62mph within a second of one another - BMW 6.9, Range Rover 7.1 and Porsche 7.6. The Porsche and the RRS both manage just under 40mpg according to the combined cycle (39.2 and 38.7mpg respectively), the newer X5 managing a not-puny 45.6. Oh, and they all produce in the region of 250bhp. But you can actually read the specs if you want to find out exactly how much.

Suffice it to say that if car purchases were entirely based on spreadsheets, then this would be a case of the eenie-meenie-minie-mo school of decision-making. But you buy a car with more than just a points tally, and that's a good thing, because these three are entirely different in character.

Advertisement - Page continues below

First up is the newest, the BMW X5. This is the third generation of what BMW refers to as a Sports Activity Vehicle, itself a thorough reworking of the not particularly rubbish MkII. It looks good, though BMW's own description of 'majestic sportiness' might be overdosing the grandiose a bit, with a truly massive kidney grille on the front flanked by aggressive-looking headlamps. There's plenty of texture, too, with big intakes on the front bumper attached to what BMW refers to as the Aero Curtain in the front apron, and Air Breathers in the front wheelarches that help guide atmosphere around the car.

There's even an Air Blade on the D-pillar, which, apart from being at least one too many draught-themed innovations, also helps to channel sticky molecules. They seem to work - the X5 is quiet and hushed on all kinds of roads, and at least some of that tech helps to achieve the high mpg figure. It's lovelier on the inside, too, feels all-new and a lot more spacious, with a neat and ordered dash, big multimedia screen and familiar BMW feel - tight and precise. A good, soft, calm place to be.

The Porsche is pitching a little differently. This is the second-gen Cayenne, on sale since 2010, and it's more of the same for Porsche's best-selling model. Not a particularly handsome car - still a bit... froggy... from certain angles - but neat and deft, and in this lowly-ish spec at least, a purer shape than the overblown Turbo variants, with noticeably more rake to the rear than either the BMW or the Range Rover, which makes it look smaller. Inside, it gets a rather flashy and high-riding central console, full of twinkly silver and a myriad of only slightly confusing buttons, the dash punctured by large silver vertical air vent lozenges. The seating position is more sports-orientated than the other two cars, but it feels natural enough.

The RRS, on the other hand, is something else again. Fair enough, the 20in wheels look a little lost in those large arches, but the scaled-and-swept themes of the full-sized Rangie suit the Sport to a tee. It's a genuinely handsome car that does without too many visual extras, and it's the better for it. The same goes for the inside, and while the satnav screen looks a bit pokey compared to the widescreen magnificence of the BMW, the Sport feels plush, classy and characterful. A proper gentleman's club of a car. But, in this lower-spec guise at least, the 'Sport' tag feels a bit misleading. Driven hard on the road, it comes across as more of a luxury tourer than anything you actually desire to chuck about for the hell of it. The standard air suspension does a good job of keeping the body in check, but this base version does without Land Rover's Active Ride Control system, so you'll still get a fair few momentous feelings part-way around a corner. It's nothing to worry about particularly, and it rides with a lovely long-legged feel, but this is nothing like the Supercharged V8.

The Cayenne is much, much more performance-biased, and it shows on the first corner. The test car came with Porsche Active Suspension Management to constantly manage the damping of the coil springs, and you really can chuck the car about with gay abandon to the point that you really do need those centre-console grab handles. It's decidedly flat, minutely controlled and has the most accurate steering of all three cars - though that's not particularly saying much, as we'll come to later. The downside is obvious: the ride is on the hurtful side of firm on anything other than glassy tarmac, a situation not helped by the optional (£3,779) 21in wheels also fitted to our test car.

The Cayenne is also technically the least versatile of the three, thanks to a less blocky exterior shape that itself leads to the absence of a seven-seat option, though looking at the third row of seats in both the X5 and RRS, the extra pair are best used only in extremis, for someone else's kids. They really are that limited, and are likely best referred to as a 5+2, not full seven-seaters.

The BMW, as you might expect, deploys its DPC driving performance control and Active Roll Control system to good effect, soaking bumps and controlling the X5's bulk like a tall saloon. But the steering lets the whole thing down. The gearing is decidedly odd, lending the X5 a disconnected, uninterested air, and no matter how well the car carves around a corner, the steering makes it feel like it would rather be doing something else. Where the Range Rover's rack is simply high-geared - probably to stop it rolling into a corner too harshly - and the Porsche just a bit light on actual feel, the BMW's steering is actively annoying.

Advertisement - Page continues below

Interesting, though, that if you really push, all three have a definite rear-wheel-drive feel to the dynamics. Although we're talking about two-tonne, high-riding dynamics rather than genuine fast delicacy. In fact, all three are a bit weird. Going fast in any of them is to be coddled by systems designed to be safe, and they are, and that is a good thing. But these are systems designed to create an impression that they do not exist. They tap brakes and vector torque, and the feedback is similar to that of a very expensive simulator. None of these three should be considered 'sporty' vehicles, because they are essentially the equivalent of driving a car through the medium of a thick plastic bag, a slightly misheard conversation.

Which leads us to a happily definite conclusion. Driving these cars back to back on a variety of surfaces for a couple of days really brings out their characters, and despite the similar on-paper stats, they really do behave in very specific ways. Worth noting that all are genuinely happy commuter-fodder, and there's not a gopping ability vacuum in any of them. Though none actually feels as sprightly as the 0-62mph figures suggest, they perform largely similarly, get along with a decent lick and spend time on the motorway in their respective eighth gears thrumming happily away like cross-channel ferries.

Advertisement - Page continues below

But it's the Porsche Cayenne Diesel that comes last in this test, simply because it's a slightly strange mix in this specification. Not genuinely fast, genuinely comfortable or absolutely practical, it feels like the car that rounded off a range rather than aimed to be the pick of it. It's nice enough, but no stand-out. The BMW is a similar conundrum in that it is hugely improved over the old model, but has become merely a tall BMW, rather than a defined character in its own right. Tot up the points - dynamics, interior, engine, looks - and it seems like the X5 is in for a chance at the title, but everyone that drove it came away with the feeling that they could have stepped from any BMW product. Which then leads you down the inevitable road of comparing it to a 5-Series Touring, at which point the X5 starts to look a lot less attractive. It's good and if you liked the last one, you'll be impressed, but it doesn't seem to have any light behind the eyes in this spec.

Which leaves the Range Rover Sport TDV6 SE. Even this isn't the pick of the range - the slightly higher-powered SDV6 might well be the practical sweetspot for this car - but the Sport has something that the other two don't: proper character. It's a stronger alloy of a multitude of little satisfactions, from the relaxed way you find yourself driving it, to the stylish interior and to the way you glance back when you park it. It's a fabulous all-rounder in a group of the very good. And, sometimes, that little bit extra is all you really need.